The vast majority of us have spent a LOT of time this past year in our living rooms, whether we've been attending school (or parenting those who are), working remotely, or just watching all the TV shows. And all this time spent inside has made many of us think about doing a little … or a lot … of redecorating.
With that in mind, here's how to indulge those whims with minimal environmental impact. If you want to go for a zero-waste living room — or just make some steps to reduce your footprint — here are 7 considerations to keep in mind for your space.
Maximize sunlight
"Orientation is so important in home design," explains Eric Carbonnier, Ph.D., a commercial architect who is building his own sustainable home in Southern California. If you are starting from scratch, position the rooms that you use the most often during the daytime so that they get the most sunlight. The warmth and illumination can limit your use of other heating and lighting sources.
If you're working with an existing living room, maximize your sunlight and situate your furniture accordingly. For example, a dark corner is a cozy spot for an armchair. But think about how much less energy will be used if you read by sunlight instead of lamps.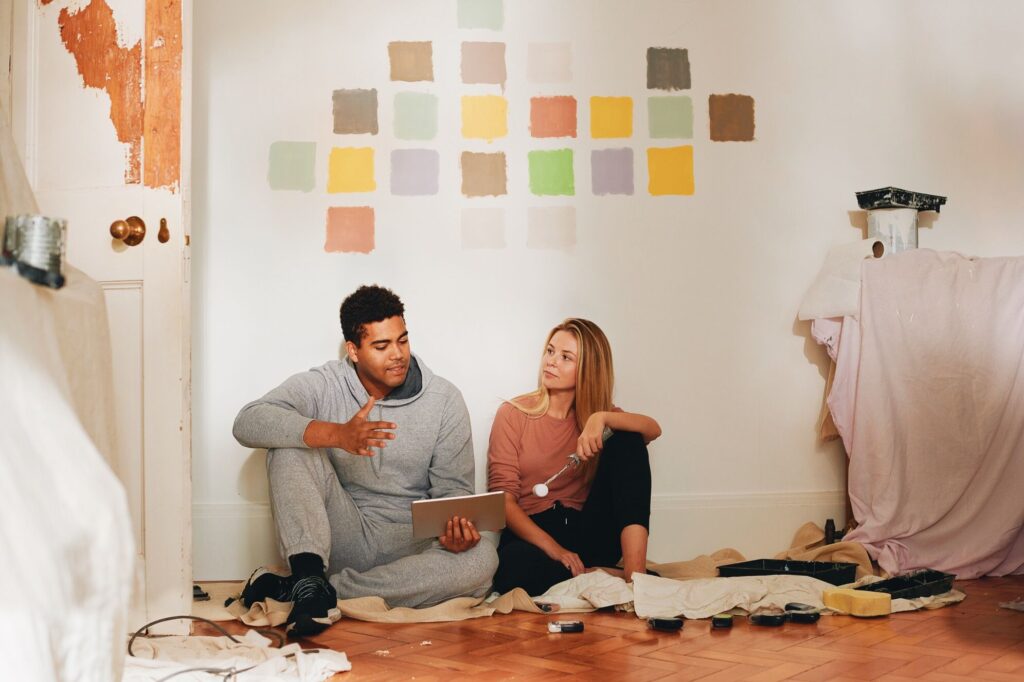 Add some VOC-free color
Let's talk about paint.
Most paints contain volatile organic compounds (VOCs). According to the United States Environmental Protection Agency (EPA), VOCs contain some chemicals that may have short and long-term health effects, including persistent headaches and allergic skin reactions. Some of the more common VOCs found in the home are formaldehyde, benzene and toluene. The agency also notes, "Concentrations of many VOCs are consistently higher indoors (up to 10 times higher) than outdoors."
In addition to paint, VOCs come from stains, coatings, wood sealers or binders, strippers and thinners, coatings, and wood preservatives.
For paint, Of Houses and Trees blogger Larissa Swayze recommends using an "environmentally conscious brand, like Farrow & Ball." Farrow & Ball paints are minimal- or low-VOC; the brand also notes its finishes are cruelty-free and clearly identifies the two finishes that are vegan. On the more budget-conscious end, Benjamin Moore sells no-VOC paints, and Behr Premium Plus is a low-VOC line.
What about eco-friendly paint brushes? The best brushes to use are the ones you already have. Most paint brushes use synthetic bristles, like nylon or polyester. Handles are often made from plastic materials as well. Some "natural" paint brushes use animal products, including ox and hog hair.
Last but not least, store your unused paint properly so it can be reused in the future. Cover the top of the paint can with plastic wrap and then use a hammer to secure the lid.
Heat efficiently
Chances are that you've argued with someone over the thermostat. (Maybe you had a father like mine, whose response to asking to raise the heat was "Put on a sweater.")
What you were actually arguing about was "thermal comfort" — how warm or cool a space feels to a person. Finding eco-friendly ways to achieve thermal comfort in your living area is important, as heating and cooling requires 55 percent of the total energy used by a household.
Most homes in the U.S. use furnaces or boilers for heating, which use fuels including oil, natural gas, and propane. Heating our homes in this way can release the greenhouse gas carbon dioxide. The U.S. Department of Energy (DOE) says that in 2019, the average household released an estimated 17,320 lbs. of CO2 in the air from its energy usage.
It may be possible to retrofit your furnace or boiler for more energy efficiency. This could mean replacing leaky air ducts on a furnace, among other upgrades. For new heating options, Energy Star–certified furnaces are certified as energy efficient by the EPA.
Carbonnier recommends radiant floor heating, which he is installing through his entire house. "We should be heating and cooling from the ground up," he explains.
Radiant floor heating is installed below the floor as coils or tubing; heat rises from the floor to heat the space. Radiant floor heating is also considered to be more allergy-friendly, since it doesn't rely on forced hot air blowing into a room.
There are several types of radiant floor heating, like radiant air floors, electric radiant floors, and hot water. Carbonnier is using a brand called Warmboard, but you can also get radiant floor heating from nationwide chains like Home Depot.
Furniture and decor
The most fun part of home decorating is reusing what you already have. Maybe you can use an old dresser as a TV stand in your zero-waste living room. Or perhaps a side table from your bedroom could find a new home next to your couch.
If you're buying new furniture, there are a few things to consider first. First, ask yourself about the carbon footprint of the item you're purchasing. A bed frame that is shipped from Asia will likely have a bigger carbon footprint than one that's made closer to home.
Also consider your materials. Wood is one of the most sustainable materials that you can use in your zero-waste living room. If you are purchasing wood furniture, look for a Forest Stewardship Council (FSC) certification.
FSC-certified wood has been independently audited to confirm that it was harvested with environmental conservation in mind, such as protecting old-growth forests and eschewing the use of hazardous chemicals. You can find FSC-certified furniture by searching online for products.
If reclaimed wood is more your thing, then Etsy is a treasure trove of sellers that make furniture with a lower carbon footprint. You can also have reclaimed wood furniture made to order from companies like Rusticland.
Another sustainable material to keep in mind is jute, a natural fiber that is the second most popular in the world after cotton. As a natural fiber, jute, which is also referred to as burlap, is biodegradable and it does not require pesticides for growth. You'll often see jute used in woven rugs, but it can also be woven into poufs.
A note about rattan: Rattan is a type of palm and looks similar to bamboo. It's a popular material for furniture in general, especially for chairs, loveseats, and bookshelves. However, given the history of rainforest degradation that has accompanied the harvesting of rattan, it may not be the most sustainable option.
There are lots of popular furnishings brands selling sustainable furnishings and decor. Brands like IKEA and H&M Home tout their sustainable products on their websites.
And speaking of sustainable rugs, you've got tons of options. West Elm makes some lovely rugs made from recycled plastic bottles, while Hook & Loom refurbishes textiles and uses only natural dyes.
If you like shopping secondhand, check out your thrift shops, your local Craigslist, and tag sales. Check Facebook for a local "Buy Nothing" group, where users offer unwanted secondhand items for free. You can sometimes find amazing secondhand furniture or appliances on the curb. (My favorite lamp in my home is one that I pulled out of a trash pile while I was moving out of my dorm in college!)
That being said, proceed with caution when bringing home any used furniture items. Bed bugs can live in more places than just beds.
Opt for sustainable flooring
VOCs are not only found in paints; they can be off-gassed from your flooring as well. Some flooring options, including engineered wood flooring and laminate, can include VOCs such as formaldehyde. Fortunately, there are several options for nontoxic and recyclable flooring.
Swayze recommends bamboo flooring, which is free of VOCs and formaldehyde. There are several different thicknesses of bamboo flooring available, as well as cork underlayments (which can diminish noise).
"Cork is sustainable because it can be harvested from living trees and does not harm the tree," Swayze explained. "Our flooring is also FSC-certified and partially made from recycled material. It was more expensive, but totally worth it as your floor is an investment. It's something you're going to install and then live with for years — hopefully decades."
Brands for bamboo flooring include Teragen and Tesoro Woods. Swayze used the brand TORLYS CorkWood.
Another option for your zero-waste living room is Marmoleum, a natural linoleum made by the brand Forbo. Marmoleum contains raw materials like wood flour, jute and flax plants, so it is biodegradable and recyclable.
Lastly, ceramic tile is one more eco-friendly option for your home. (Plus, the DOE recommends ceramic tile as the most effective floor covering for radiant floor heating.) Swayze recommends the ceramic tile brand Fireclay Tile, which is forthright about being a zero-waste company.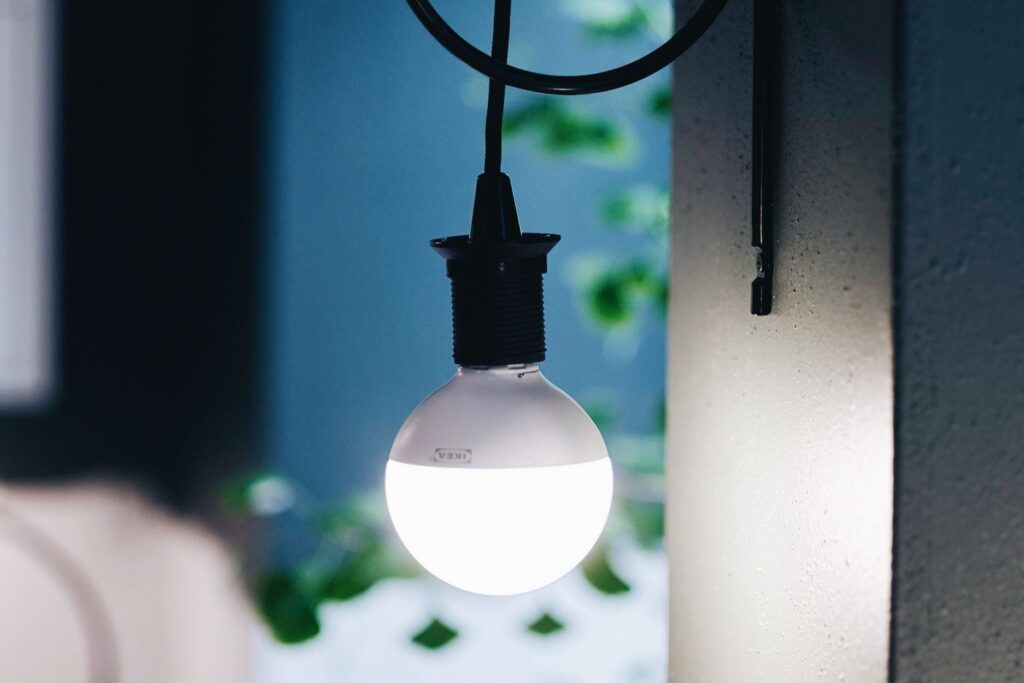 Use LED light bulbs
A zero-waste living room should include the most energy-efficient lighting possible. LED light bulbs use 75 percent less energy and last 25 times longer than incandescent bulbs, according to the DOE. Seek out LED light bulbs with an Energy Star certification to ensure their energy efficiency.
And then where to put those LED light bulbs? Lamps made out of FSC-certified wood and reclaimed wood are two sustainable options. Bamboo is another material to consider. It is an especially popular material for lampshades.
Lastly, recycled glass is a beautiful sustainable option for lamps or light fixtures. Bicycle Glass uses 100% pre- and post-consumer recycled glass for their gorgeous pendant lights. Swayze also recommends shopping secondhand for light fixtures.
Seek out sustainably sourced fabrics
Your couch is going to need some accent pillows and a blanket or two. Once again, the best products are the ones that you already own. But if you're shopping for new items, choose fabric made from organic cotton. Look for Global Organic Textile Standard (GOTS) certification when shopping, as it means the manufacturer has been independently certified to meet environmental and social criteria for the entire supply chain.
Avoid pillows stuffed with feathers and down, as they're derived from geese and ducks.
Looking to up your zero-waste game in the home? Check out our other guides: