Angelina Jolie is a dedicated humanitarian, and she's determined to make the world a better place through a variety of charitable efforts. Though she found fame both as the daughter of celebrities and through her work on the big screen, she continuously uses her massive platform to promote kindness and justice across the globe. Whether she's shining a light on the importance of bees or the plight of refugees, Jolie understands the importance of helping the planet and the people who inhabit it.
The mother of six, who is a special envoy to the United Nations High Commissioner for Refugees, has taken a particular interest in the countries in which her three adoptive children were born—Cambodia, Ethiopia, and Vietnam.

"My role as goodwill ambassador has made my work as a film star relatively dull. I can't find anything that interests me enough to go back to work," she told CNN in 2005. "I'm simply not excited about anything. I'm not excited about going to a film set."
Angelina Jolie: Humanitarian and Conservationist
Jolie is no stranger to using her voice to speak up for others. From highlighting the issues facing refugee populations to promoting animal conservation, here are 10 times the actress used her platform for good.
She Saves Bees and Empowers Women
In May 2021, Jolie was named the "Godmother" of the Women for Bees initiative, a five-year program designed to train women across the world as beekeepers. As such, the actress posed for a photo in National Geographic while covered with bees in an effort to raise awareness about ongoing conservation efforts.
Jolie is rightfully excited about the initiative. "When women gain skills and knowledge their instinct is to help raise others. I'm excited to meet the women taking part in this programme from all over the world," she said in a statement at the time. 

"I look forward to getting to know them and learning about their culture and environment and the role bees play in that. I hope the training will strengthen their independence, their livelihoods and their communities."
She Works to Help Refugees
The Oscar winner has spent nearly two decades working with the United Nations High Commissioner for Refugees (UNHCR.) She began her work with the organization as a goodwill ambassador, and traveled to Sierra Leone, Iraq, Thailand, and more in order to help find solutions for people who were forced to flee their homes.
In 2012, Jolie became a special envoy to the UNHCR, and has since continued her work with refugee populations around the world. 

"My work now involves fighting alongside my colleagues for refugees to have rights and protection, to resist forced returns, and to push for better learning opportunities," she toldVogue in June 2020. "UNHCR is a protection agency. We help those who have fled war and persecution, who've had their rights violated."
She Fights Against Sexual Violence
In 2012, Jolie teamed up with former Foreign Secretary Lord William Hague of Richmond to start The Preventing Sexual Violence In Conflict Initiative.
As a part of the Foreign, Commonwealth & Development Office in the UK, the initiative aims to raise awareness of the extent of sexual violence against children and adults in situations of armed conflict, and to rally global action to end it.
"When it comes down to it, we still treat violence against women as a lesser crime," Jolie told Elle in February 2018. "Over 150 countries have signed a commitment to end impunity for war-zone rape. There are new teams in place to gather evidence and support prosecutions. I was in Kenya last Summer as UN peacekeeping troops received new training, since peacekeepers have been part of the problem. We're working with NATO on training, protection, and getting more women in the military, but there is so far to go."

In 2014, Jolie joined forces with vegan fashion designer Stella McCartney to launch the Draw Me to Safety Campaign. The campaign was designed to help end sexual violence and aid children living in war-torn countries.
She's a Conservationist
In 2003, Jolie founded the Maddox Jolie-Pitt Foundation—a conservation group that works to preserve Cambodia's environment and endangered wildlife. The foundation also aims to alleviate extreme rural poverty in Cambodia, and instituted a landmine clearance program.
"With so much we are worried about around the world and so many people feeling overwhelmed with bad news and the reality of what is collapsing, this is one that we can manage," she said about conservation. "We can certainly all step in and do our part."
Jolie is also patron of The Harnas Wildlife Foundation, a Namibian organization devoted to saving that country's endangered wild animals.
She Fights for Orphaned and Abandoned Children
Jolie has been an ambassador of SOS Children's Villages, which focuses on protecting the interests and rights of orphaned and abandoned kids, for several years. As part of her work with the organization, the Girl, Interrupted star has visited many of the charity's international outposts in Haiti, Jordan, Ethiopia, and more

In the past, Jolie has said she loves working with SOS because she has "seen that the children are growing up in a safe and loving environment."
She Uses Her Platform to Spotlight Refugees
Jolie has used her platform as a movie star to bring visibility to refugee experiences. She has produced several movies that portray their struggle, including her directorial debut, In the Land of Blood and Honey, which she also wrote. The 2011 film takes place during the Bosnian War, and depicts the horrors that came with it.
Jolie actually shot two versions of the movie—one in English and one in the native Serbo-Croatian—and cast local actors from parts of former Yugoslavia. Many of them had lived through the war.
In 2017, Jolie produced, co-wrote and directed another film called First They Killed My Father, which was based on a memoir of the same name written by Loung Ung. As a child, Ung was forced to be trained as a child soldier while her siblings were sent to labor camps during the Khmer Rouge regime.
"I made it for Cambodia. I made it as a kind of thank you, a love letter," she told Screen Daily of the movie in September 2017. "There hadn't been a story on this scale that would reach people in their language, with them being the hero."
She Started a Humanitarian Foundation
In addition to the Maddox Jolie-Pitt Foundation, Jolie and her now ex-husband Brad Pitt created the Jolie-Pitt Foundation in 2006. It aims to aid humanitarian causes around the world.
When the foundation launched 15 years ago, the duo made a big splash by donating $1 million to the now-discontinued Global Action for Children, and an additional $1 million to Doctors Without Borders in an effort to assist families in extreme poverty affected by HIV/AIDS.

Additionally, the foundation has given $333,000 to SOS Children's Villages—another cause close to Jolie's heart—and donated $1 million to humanitarian aid groups working in Darfur in 2007.
She Gives Back Through Fashion
As a movie star, Jolie is no stranger to jewels, so it's no surprise that she's even found a way to use them to make the world a better place.
The Style of Jolie, a collaborative jewelry collection from Jolie and designer ​Robert Procop, was launched in 2012 to benefit a charity co-founded by Jolie called The Education Partnership for Children of Conflict. The purpose of this charity is to build schools and provide education for children in areas of devastating conflicts and high refugee concentrations.
Both Procop and Jolie have pledged to donate 100 percent of the Style of Jolie profits to the charity, which by 2013 had already built a primary school in Afghanistan.

"Beyond enjoying the artistic satisfaction of designing these jewels, we are inspired by knowing our work is also serving the mutual goal of providing for children in need," Jolie said in a statement in 2013.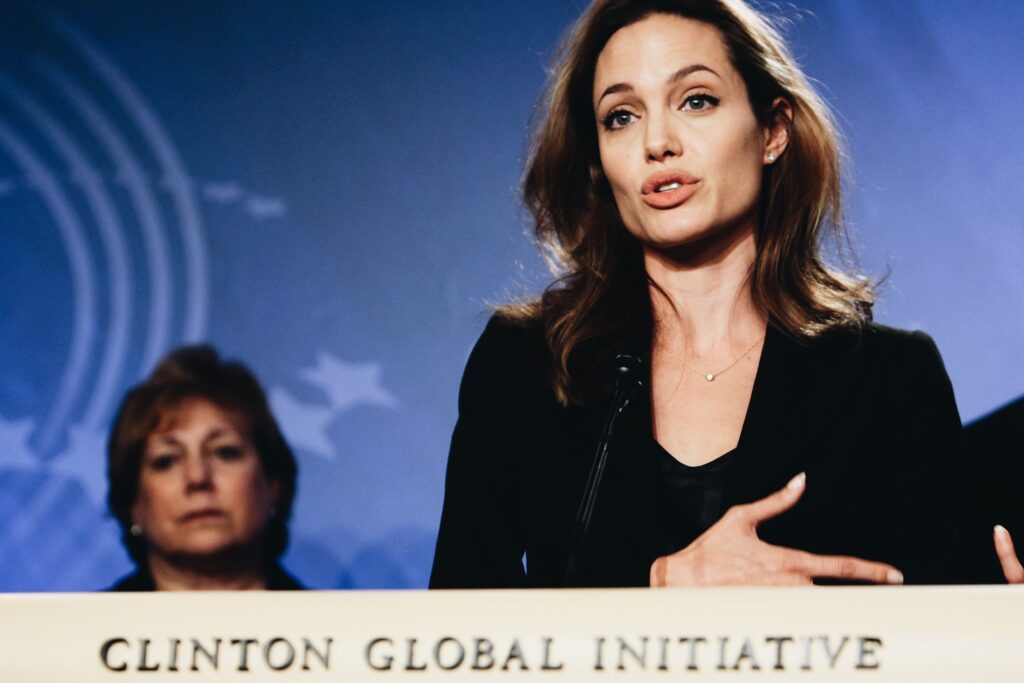 She Empowers Others to Make the World a Better Place
Jolie established The Jolie Legal Fellowship around 2011 and uses it to help others do good. The fellowship, which was created and funded by the Jolie-Pitt Foundation, supports the Government of Haiti's continued efforts to strengthen the Haitian judicial system.
In 2011, Nathalie Nozile, an alumna of the SOS Children's Villages in Santo, Haiti, was chosen as the first Jolie Legal Fellow. She was selected after graduating from the University of Florida's Levin College of Law in 2009.
"I am thrilled that Nathalie Nozile will be our first legal fellow in Haiti – where the need to enhance child protection is so great," Jolie said in a statement at the time.

The actress added: "Now, as a promising attorney, she will draw on her personal experience as she returns to help strengthen the Haitian judicial system. Nathalie will be working to help ensure equal access to justice and the protection of children's rights in Haiti."
She Supports the Black Lives Matter Movement
In June 2020, Jolie donated $200,000 to the NAACP Legal Defense Fund in the aftermath of the unjust murder of George Floyd. The actress made the sizable donation one day before her 45th birthday, and released a powerful statement regarding her decision to give back and support the cause.
"Rights don't belong to any one group to give to another. Discrimination and impunity cannot be tolerated, explained away or justified. I hope we can come together as Americans to address the deep structural wrongs in our society," she said at the time. "I stand with the NAACP Legal Defense Fund in their fight for racial equality, social justice, and their call for urgent legislative reform."
Jolie's NAACP donation is just one way she has supported the BLM movement. The actress has been vocal about the need for change, including criminal justice reform. "There is racism and discrimination in America," she told Elle UK, noting that she fears for her daughter Zahara growing up as a Black woman in the U.S. "A system that protects me but might not protect my daughter—or any other man, woman, or child in our country based on skin color—is intolerable."

Jolie has also talked about changing how American schools teach and cover Black history. In a discussion for TIME 100 Talk with Ugandan climate activist Vanessa Nakate, Jolie said: "What I see in, for example, American history books and how limited they are… they start teaching people who are Black about their lives through the Civil Rights movement, which is such a horrible place to begin."