Mmm, vegan bacon. Crunchy inside a BLT and an essential part of any breakfast. Thankfully, meatless bacon options have come a long way. Whether you enjoy them with a hint of maple, extra-crispy, or savory—there are now a number of vegan bacon brands on the market to try.
But first, what exactly is vegan bacon made of?
What Is Vegan Bacon Made Of?
Although it isn't derived from animal origins, vegan bacon still crunches and tastes similar to conventional bacon. And it can be made from a variety of ingredients.
While many meatless bacon brands make their products from soy or tempeh, vegan bacon can also be made from fruits and vegetables like zucchini, eggplant, coconut, banana peels, parsnips, and carrots. Many brands—including Outstanding Foods with its Pig Out Pigless Bacon Chips—make their bacon from mushrooms.
Consumers could also see lab-grown bacon on store shelves. In July 2020, UK startup Higher Steaks revealed it had produced the first-ever cultured bacon. Cultured meat is not vegan: the production process involves growing meat from animal cells.
Higher Steaks' lab-grown bacon consists of around 70 percent cultivated meat and 30 percent plant-based.
"The production of the first-ever cultivated bacon and pork belly is proof that new techniques can help meet the overwhelming demand for pork products globally," said Higher Steaks CEO Benjamina Bollag in a statement.
The Best Vegan Bacon To Try
Looking for tasty plant-based bacon brands to try? These meatless bacons will take you from breakfast to dinner.
Sweet Earth Benevolent Bacon
These savory, smoky vegan bacon strips are flavored with hickory, sage, and garlic. Organic and non-GMO, the brand is perfect for making a delicious sandwich or breakfast platter. Looking to upgrade your lunch menu? Try whipping up this vegan BLT.
Lightlife Smart Bacon
Featuring two grams of plant protein, you can fry this one up and serve it alongside your tofu scramble. The plant-based meat brand also carries tempeh bacon strips.
Upton's Naturals Bacon Seitan
Vegan company Upton's Naturals is no stranger to making plant-based meats that are as tasty as they are nutritious. In April 2020, the company known for jackfruit and seitan debuted banana blossom fillets in Whole Foods Markets. A good source of protein, the brand's bacon seitan is low in carbs and fat and contains zero trans fat and cholesterol.
Yves Veggie Bacon
Perfect for stacking inside a breakfast sandwich, Yves vegan bacon slices are low-fat, contain no saturated fat, and are cholesterol-free. They also feature 14 grams of protein per serving. And for the ultimate veggie breakfast, try making this delicious-looking breakfast sandwich. It features a crispy tofu patty, melted dairy-free cheese, and a plant-based ham, which you can substitute with Yves Veggie Bacon.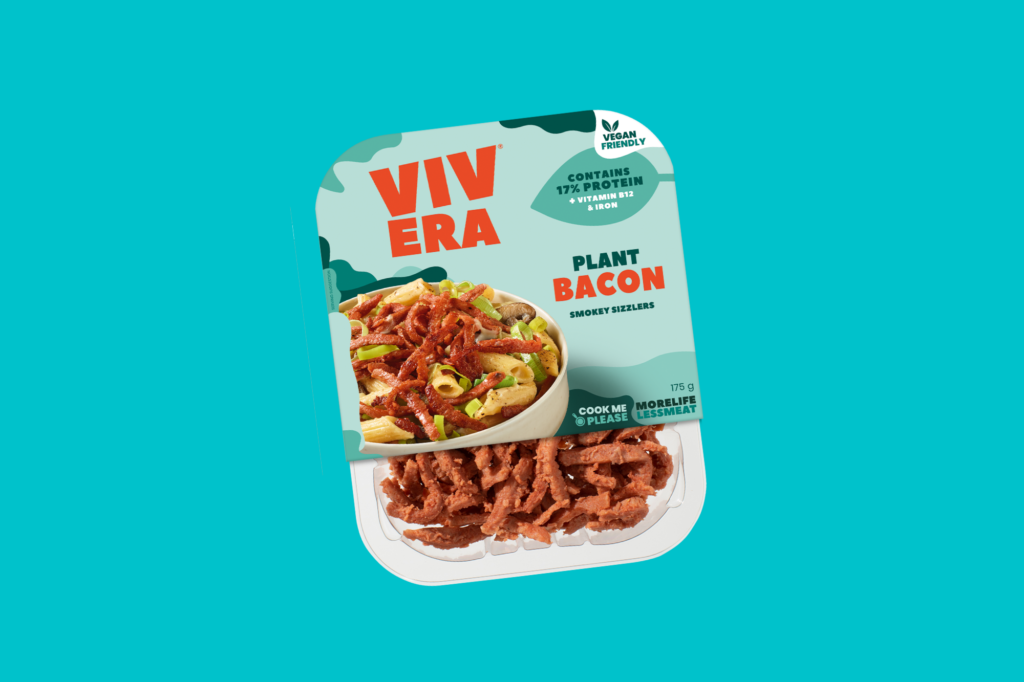 Vivera Bacon Pieces
Founded in 1990, Vivera Foodgroup sold off its meat company, Encko, in 2019 to focus on meatless foods. This Dutch vegan meat brand intends to invest €30 million into expansion over the next three years. Vivera's vegan bacon pieces feature protein, iron, and vitamin B12.
Tofurky Smoky Maple Bacon
Breakfast just got an upgrade with Tofurky's smoky maple tempeh bacon pieces. Featuring 13 grams of protein per serving, this meatless product is as tasty as it is filling. You'll want to serve this one up alongside a generous stack of vegan pancakes. Try making these fluffy pancakes, which you can whip up using only six ingredients!
The Herbivorous Butcher Maple Glazed Bacon
This family-owned brand is known for its fully-cooked vegan meats and cheeses. In addition to its maple glazed seitan bacon, the company makes a hickory variety. Can't choose one? Just try them both!
Be Leaf Vegan Bacon
This meatless brand knows how to churn out vegan meats. The company makes a wide selection of products, including vegan shrimp, hot dogs, drumsticks, and even a fried egg. Pan fry this soy-based meatless protein to crispy perfection. And for a hearty breakfast, try whipping up the ultimate vegan tofu scramble to serve along with the meatless strips.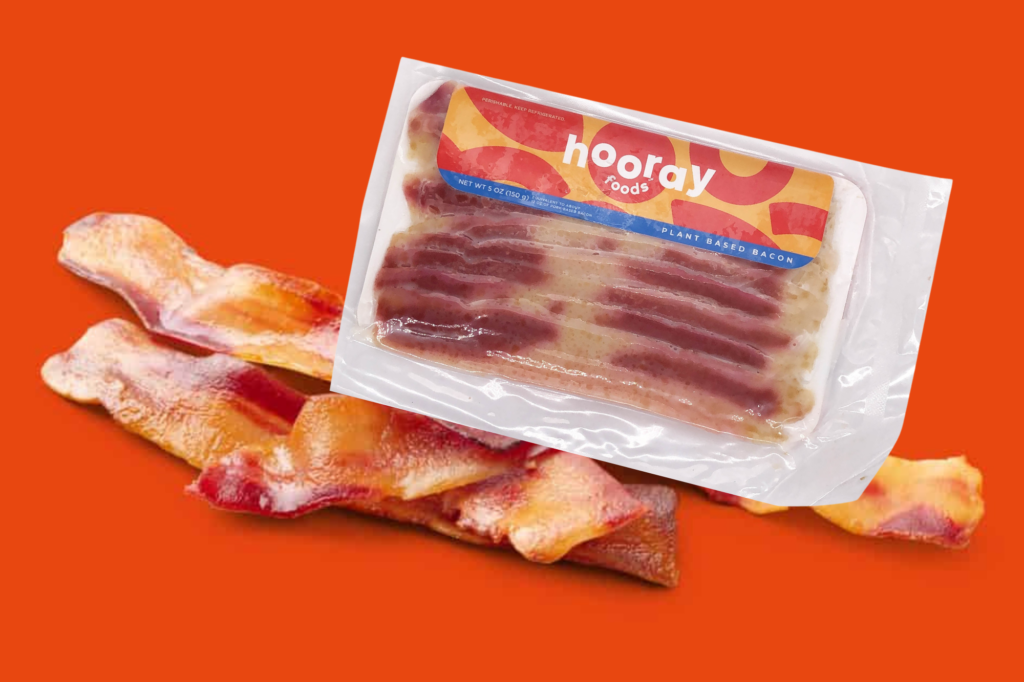 Hooray Foods
This brand's plant-based meats look, cook, and taste similar to their animal-based counterparts. The soy-free bacon is made from a number of plant-based ingredients, including shiitake mushrooms, coconut oil, and rice flour. Hooray Foods' vegan bacon is currently being rolled out to Whole Foods Markets across the country.
THIS Isn't Bacon
Not only are these ready-to-cook, pea- and soy-based meatless bacon strips fortified with vitamin B12 and iron, they're also packed with 25 grams of protein per serving!
Prime Roots
Situated in California's Bay Area, Prime Roots makes its vegan bacon from koji, a type of fungi used to ferment umami-rich ingredients such as soy sauce and miso, but also to make sake. The result is chewy meat-free bacon that crisps up in the pan like the conventional version. Prime Roots bacon comes in four flavors: Hickory, Black Pepper, Maple, and Sriracha. The company also makes vegan bacon crumbles.
Richmond
British meat brand Richmond is officially in the vegan meat game. Made from soy and wheat protein, its Meat-Free Smoked Rashers have the appearance of streaky bacon. With a deliciously smoky flavor, they're the perfect breakfast companion to vegan eggs.
---
LIVEKINDLY is here to help you navigate the growing marketplace of sustainable products that promote a kinder planet. All of our selections are curated by the editorial team. If you buy something we link to on our site, LIVEKINDLY may earn a commission.