Cary Lin loves beauty. For years, it has given her confidence, served as a creative outlet, and, as an industry professional, it has paid her bills too. But one day, walking along a beach in Santa Monica, she saw a very different side to the industry. Sitting on the shore line, Lin saw a huge pile of plastic lotion bottles. And, indicating it had been there for quite some time, it was smothered in seaweed and barnacles. For Lin—who was working in brand management and marketing for a major skincare brand at the time—the sight was a total wake-up call.
"I just felt like, 'wow,'" Lin remembers. "I realized that in my career of putting out, probably, millions of items, I don't know where any of that is sitting now." So she decided to gather up her industry experience and create a brand that gave people a luxurious, indulgent skin care experience, just like the kind she had come to love, but without the plastic. She connected with clean beauty veteran Angela Ubias—who, in a business story for the modern age, she didn't meet in the flesh until after they decided to work together—and they co-founded luxurious, plastic-free skincare brand Common Heir.
Taking plastic out of beauty
Imagine the Great Pacific Garbage Patch, a collection of 1.8 trillion pieces of plastic that's twice the size of Texas, floating between California and Hawaii. You might not be surprised to learn that, while the fishing and beverage industries are big plastic waste contributors, more than a few of the bottles floating in the ocean are also abandoned cosmetics containers. The garbage patch is growing, and around half of that is from consumer waste. Every year, the global cosmetics industry produces 120 billion units of plastic packaging, some of which likely contributes to "Trash Island." But with its plastic-free innovation, Common Heir is one example of a beauty company showing the industry a more sustainable way forward.

The beauty brand combines Ubias and Lin's invaluable industry experience (Ubias was the former vice president of Special Projects for major indie beauty manufacturer GoodKind Co) to create high-performance products. But it is also deeply personal. Common Heir honors Lin and Ubias' experiences growing up Asian American and Latinx, and the packaging and ingredients are a love letter to those who raised them and inspired their affinity for beauty. Its hero product, a brightening, smoothing, and hydrating Vitamin C Serum, is packaged in a floral box, for example, because it reminds Ubias of her grandmother's love for flowers.
But the innovation within that beautiful packaging is entirely down to Lin and Ubias. The serum is contained within vegan, biodegradable capsules that melt in hot water after use. With this forward-thinking solution to plastic waste, Common Heir is leading as a key problem-solver in the cosmetics industry. We recently sat down with Lin and Ubias to chat more about their journey with Common Heir (including how they managed to co-found a company without meeting), as well as why their beauty journeys started as children, and how they picture the future of the industry going forward.
LIVEKINDLY: Cary, this idea started with you, when you saw that mountain of beauty trash on the beach in Santa Monica. Can you talk more about that experience?

Cary Lin: That was sort of the "aha" moment. I thought, "is there a way to create products that don't leave behind a negative impact or an unintended impact?" I realized that of all the places that I have worked (including some real leaders in clean and better-for-you ingredients!), no one was thinking about where containers were going to end up after consumers were done with them.
LIVEKINDLY: And then you took that idea and connected with Angela! Founding a beauty brand with someone you've never met in the flesh must have felt really surreal. Can you talk me through how this came to be?

Lin: I was living in LA and Angela in Austin. A mutual friend connected us and we had a "blind phone-call date!" Almost immediately after our first call, we knew our values and passions aligned. That we would be able to create something amazing.
Angela Ubias: We really felt that "love match" and meeting of the minds when we spoke over the phone. We are consumers who care equally about luxurious beauty products, clean formulations, and sustainable packaging. We knew that we could be the ones to make it happen for others like us.
LIVEKINDLY: As you know better than most, for the most part, plastic inevitably ends up in the waterways and the ocean. And we need new solutions, which is what Common Heir is. But it's difficult to go plastic-free, isn't it? If it wasn't, you'd think every cosmetics giant would be doing it.
Lin: It feels like the last frontier for the industry to crack. Keeping everything plastic-free is incredibly challenging. Our approach, using plant-based materials for our biodegradable, serum capsules, means we have to formulate very differently, both in terms of our process and our ingredients. It's not as straightforward as being able to put a traditional skincare formula into a capsule.
LIVEKINDLY: But that's the power of indie brands, right? You are innovators and problem-solvers in this industry. Angela, after working at Goodkind Co, you must understand the influence of indie better than most.

Ubias: Over the eight years I spent there, I helped build over 50 iconic, clean, and indie beauty brands that are likely on your top shelf! With indie, you can get to know who is behind the product that's being created. Brands can offer visibility and transparency into how things are made and the decisions behind that.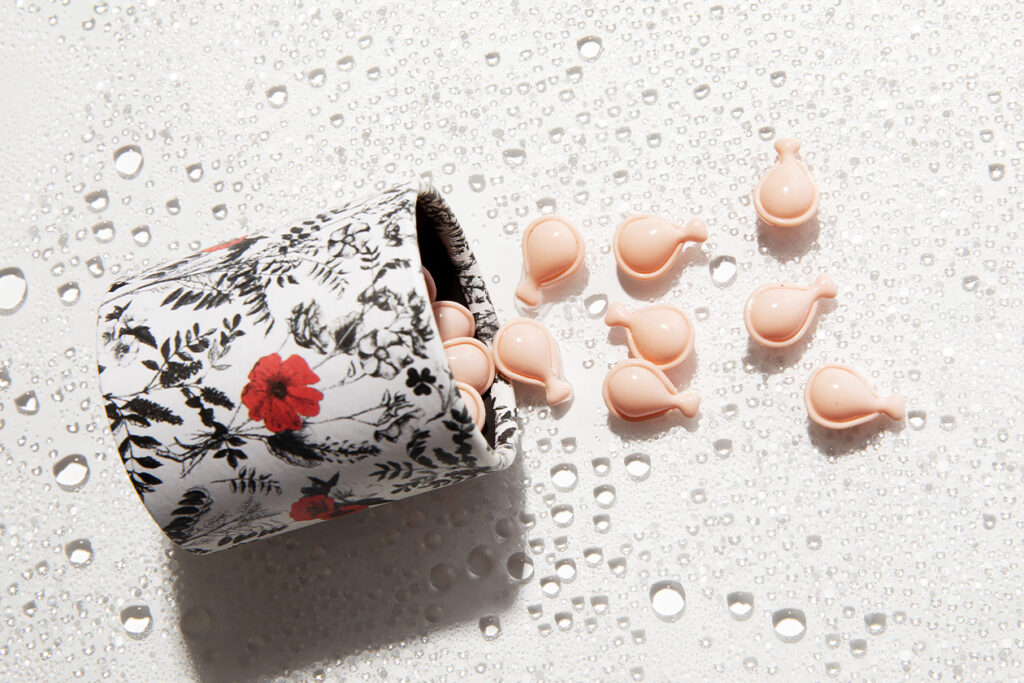 LIVEKINDLY: The market is certainly booming, with more people than feeling empowered to fill in the holes in the mainstream industry with their own brands. So what separates Common Heir?

Lin: Most indie brands have unique concepts. I just didn't see one that was tackling things in quite the same way as us. There was nothing that was going so far as to remove plastic from the packaging, as well as from the sourcing of the ingredients, while also doing it in a way that's approachable, beautiful, and aesthetically pleasing.
Ubias: Historically, women of color have not helmed luxury brands. We want to upend people's expectations about inclusion and sustainability in luxury, to build a unique brand that makes us feel like we're the best version of ourselves.
I'm hoping that we are able to drive genuine innovation by redesigning the way things are created and continue to upend people's expectations for what their beauty rituals can look and feel like.
LIVEKINDLY: The best indies have a purpose, like we've talked about. They also have effective products, of course, which you have covered. But often, they also have great storytelling—a love of beauty that runs deeper than products. Can you each talk to me about when you first fell in love with makeup and skincare?

Ubias: My grandmother has always been and continues to be the epitome of glamor to me. She comes from a different era. There was always so much care and thought into getting ready for special occasions. I witnessed the care that she took with applying her creams and then makeup and the final spritz of perfume. I thought: "This is a very glamorous adult. I can't wait until that happens for me." It's a look back at self care before it was dubbed self care. That's absolutely what she was doing in those moments.
Lin: For me, we grew up very immigrant and very modest. But my mom would always love going to the Macy's counter and getting those Benefit catalogs. I would go with her and steal all her Lancôme samples! I never was very into makeup and skincare except for watching her. I think we get so many things by watching our moms. I was more of a tomboy in high school. But when I had to be professional and I was in front of clients, that's when it really resonated with me. How she took that time for herself.
LIVEKINDLY: And of course, looking to the future is just as important as drawing inspiration from the past. In your minds, what does the ideal future of beauty look like?

Lin: I would love to dispel the notion that beauty products have to come a certain way. That there has to be a plastic pump, a glass jar. We want to really challenge what the future of the industry can be. I'm hoping that we are able to drive genuine innovation by redesigning the way things are created and continue to upend people's expectations for what their beauty rituals can look and feel like.
Ubias: I would obviously love for Common Heir to become a household name, synonymous with sustainability and luxury. But beyond that, I hope, and I see this change coming, that we see diversity, inclusivity, and accountability for brands, both large and small. That, to me, is just ultimate. To get to a point where the fact that Cary and I are two women of color creating this plastic-free, premium skincare line, and it's not headline- or attention-grabbing, right?