From colorful Buddha bowls to perfectly spiced chickpea tikka masala, more and more, people are embracing the abundant flavors and textures of plant-based foods.
A 2019 survey found that plant-based foods are now in more than half of all U.S. households. And it's no surprise why: The positive impacts of a plant-based diet are far-reaching. Not only does eating plant-based alleviate animal welfare concerns, it also comes with a significantly smaller environmental footprint and can be beneficial for one's overall health.
Consuming less meat helps to reduce greenhouse gas emissions, deforestation, and water usage. To put this perspective, the production of one quarter-pound burger requires 425 gallons of water. That's enough to fill ten bathtubs. Even incremental changes like opting for Meatless Mondays can be impactful. Foregoing just one serving of beef once a week for an entire year can reduce emissions equivalent to driving 348 miles.
Whipping up tasty vegan meals in the kitchen is a phenomenal way to create change. And whether you're a culinary wizard or a newbie in the kitchen, you can help make the world a better place starting with what's on your plate. From comfort food staples to vegan recipes for beginners, we've got eight of the best plant-based cookbooks for 2021 that will make cooking meat-free extra easy.
Best plant-based cookbooks to give in 2021
The options for plant-based adaptations of favorite dishes are limitless. Name a cuisine, a cultural food staple, or favorite comfort food and there's a way to make it plant-based. These cookbooks are both inspirational, and practical—even reluctant home cooks will find something to love.
The Korean Vegan Cookbook: Reflections and Recipes from Omma's Kitchen
Release date: October 12, 2021
Chicago-based lawyer Joanne Molinaro started her cooking blog, The Korean Vegan, in 2016 after going plant-based. Since then, she's amassed a huge following: more than 530,000 following on Instagram and 2.6 million followers on TikTok. It's not just her recipes—mouthwatering veganized takes on her favorite Korean dishes—that are a draw, but also the personal stories she shares with them. Molinaro has paired recipes with tales of heartbreak, abuse, resilience, and empathy. She's the social media influencer you wish was your friend IRL.
Molinaro spills more heartfelt stories, and all her culinary secrets, in her debut cookbook, which features more than 80 plant-based recipes inspired by her family. From childhood staples like jjajangmyun, a black bean noodle dish that her family served on birthdays, to her father's specialty, a potato leek soup, this cookbook is sure to fill your soul, and your belly.
Vegetable Kingdom: The Abundant World of Vegan Recipes
Release date: February 11, 2020
James Beard Award-winning chef and author Bryant Terry knows his way around the kitchen. A proponent of food justice, the food activist works to create a healthier and more sustainable food system by showing that veggie-centric meals can be budget-friendly and delicious. His fifth book, Vegetable Kingdom, showcases colorful, nutrient-packed recipes and various techniques for enhancing a recipe's flavor and texture.
Learn how to make barbecued carrots with slow-cooked white beans or a millet roux mushroom gumbo. Whether you're looking to expand your cooking prowess or want to reduce your meat intake, this cookbook makes the perfect gift for vegans and non-vegans alike. Just make sure that you snag one yourself, too!
The Plant Kitchen: 100 Easy Recipes for Vegan Beginners
Release date: January 14, 2020
For the newbie plant-based eater—or the cooking-impaired—this vegan cookbook is for you. It includes 100 super simple to make recipes, featuring delicious meal-ideas for using seasonal produce throughout the year. Learn how to make veggies like peas, tomatoes, peppers, asparagus, and baby carrots alongside vegan proteins like lentils, beans, and nuts. Trust us, these meat- and dairy-free recipes are sure to tantalize any and all taste buds.
Great for learning how to enhance flavors, this cookbook isn't just for beginners. It's also perfect for those who like to plan out their meals for the week. The cookbook is divided into recipe sections for breakfast, snacks, dinners, desserts, and more.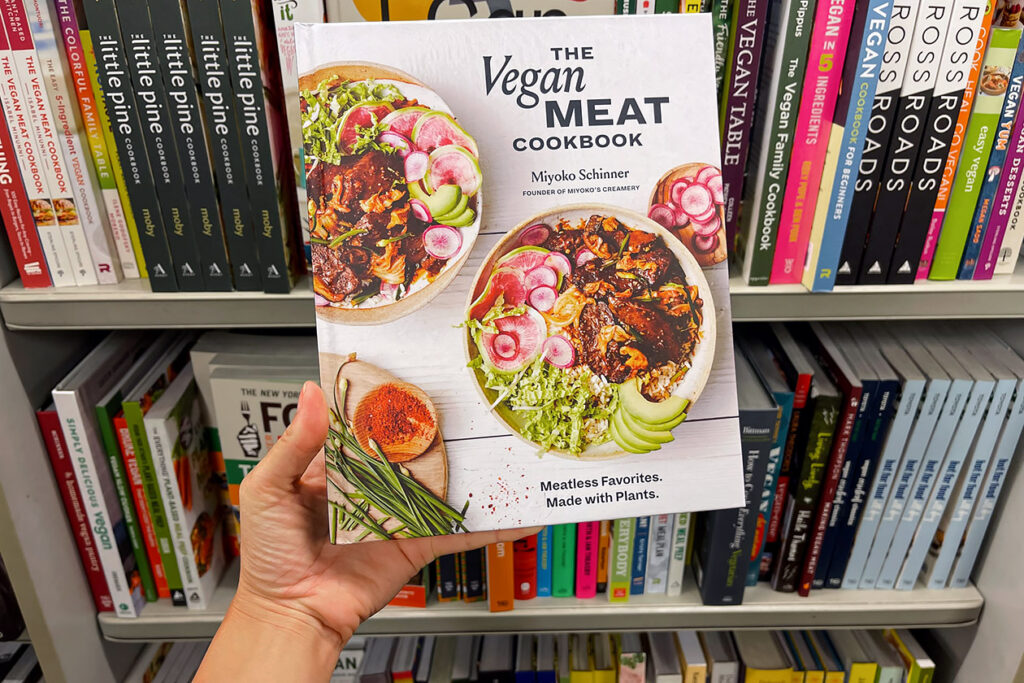 The Vegan Meat Cookbook: Meatless Favorites. Made With Plants.
Release date: May 11, 2021
Miyoko Schinner is well-known for her vegan dairy creations through her brand, Miyoko's Creamery. They sure do have it all: non-dairy butters, cream cheese, and artisanal cheeses. She also loves to share personal recipes in her social media feeds. (We're still drooling over her chocolate chestnut cannoli made with her brand's vegan cream cheese…) But now, Schinner is taking on the world of vegan meat with her latest plant-based cookbook.
From shepherd's pie to sausage calzones, it offers ideas on how to use products from popular vegan meat brands like Impossible Foods and Beyond Meat. Perfect for someone looking to elevate their weeknight dinners, Schinner even gives recipes on how to make homemade meats and cheese, such as mushroom bacon and buffalo mozzarella. If the cookbook's recipe pictures are anything to go by, even the carnivores would love it.
Omari McQueen's Best Bites Cookbook
Release date: January 7, 2021
This teen chef has done it all. After going vegan at the age of eight, he launched a cooking YouTube channel and founded his own vegan food company, Dipalicious. The young entrepreneur even became the host of his very own cooking show in 2020. And now, you can learn how to make all of his favorite meals. Featuring 35 plant-based recipes, this cookbook has everything—snacks, smoothies, pasta, and even cheesecake—that even kids can make. Blend up a fruit smoothie for breakfast, rice and peas for lunch, and barbecue jackfruit for dinner. And don't forget about dessert… strawberry coconut cheesecake.
Snag this book to Inspire your nieces or nephews to get creative in the kitchen, or keep the cookbook all for yourself.
The Little Pine Cookbook: Modern Plant-Based Comfort
Release date: September 7, 2021
Moby is known for many things. He's a musician, a DJ, and a passionate animal rights activist. He's a songwriter, a producer, and even a photographer. And he's also a vegan cookbook author. His plant-based cookbook features a collection of his favorite vegan recipes—inspired by Little Pine, a vegan restaurant he founded in 2015. Create a panko-crusted piccata, or whip up a simple fried cauliflower with kimchi aioli. (And if you know someone who's a huge fan of Little Pine's ultra-creamy mac n' cheese—it's in the book, too.)
While the recipes are simply hunger-inducing, the best part about this cookbook is that all proceeds from sales go to charities that help animals, such as The Humane League, Mercy for Animals, and the Animal Legal Defense Fund.
Vegan Soul Food Cookbook: Plant-Based, No-Fuss Southern Favorites
Release date: June 16, 2020
Hungry for more scrumptious soul food? You've come to the right cookbook. In 2014, vegan chef and holistic nutritionist Nadira Jenkins-El founded her own gluten-free bakery, Global Fusion. Now, she runs The Cutting Board Bakery and Café in Mesa, Arizona. With this cookbook, you can learn how to create her favorite soul food staples sans meat and dairy, using only plant-based ingredients. We're talking biscuits and gravy, gumbo, Cajun fried chicken, barbecue ribs, and much, much more.
Order this cookbook for your soul food-loving best friend. Or get it for your meat-loving coworker who doesn't think they can give up animal products. One look at this book will have them swooning over its meat-free recipes from cover to cover.
The Modern Tiffin: On-the-Go Vegan Dishes with a Global Flair
Release date: November 2, 2021
Rich in flavor and abundant in veggies, many Indian dishes often skew meat-free, especially in Southern Indian cuisine. Take your vegan meals on-the-go with this plant-based cookbook. It features 55 recipes from around the world, which are designed for a tiffin—an Indian-style lunch box. Self-taught Indian American chef Priyanka Naik, winner of Food Network's "Cooks vs. Cons," skillfully blends her love for traveling and cooking, giving each recipe her own Indian-inspired twist.
With recipes like green chutney quesadillas and Indian home fries with peanuts—you won't put this cookbook down.
---
LIVEKINDLY is here to help you navigate the growing marketplace of sustainable products that promote a kinder planet. All of our selections are curated by the editorial team. If you buy something we link to on our site, LIVEKINDLY may earn a commission.