Put your best foot forward this year with a pair of sustainable vegan sneakers.
Sneakers get a lot of hype in the footwear scene. And the shoe industry is certainly booming. According to German market research firm Statista, retail sales in shoe stores amounted to $2.02 billion in January 2021. But, not all shoes are created equal. Some have a larger environmental footprint than others.

At a 2017 panel discussion on climate change, Nate Aden—senior associate at the World Resources Institute, a global research organization—said the fashion and footwear industries emit the same amount of greenhouse gases as Russia.

"The apparel sector is one where there's a lot of uncertainty about what exactly the impacts are," Aden explained.

"The best number we have now is about five percent of [global] greenhouse gas emissions [come from] this sector," he continued. "To give you some sense of perspective, that's about equivalent to the impact from the aviation sector, so all the planes flying in the world. So it's pretty significant."
Environmental Impact of Shoes
The carbon footprint of the footwear industry is substantial. According to a 2018 report from sustainability consulting firm Quantis, the apparel and footwear industries were responsible for between five and 10 percent of all global pollution in 2016.

Footwear alone generates 700 million metric tons of carbon dioxide equivalent (CO₂e) per year. To put this figure into perspective, it's equal to the greenhouse gas emissions produced by nearly 149 million cars driven for one year.

Some of the most common materials for shoes include leather, rubber, synthetics, foam, and plastic.
In addition to animal welfare concerns, leather production negatively impacts the planet. Raising livestock has a massive impact on the environment, accounting for 60 percent of the greenhouse gas emissions generated by animal agriculture, according to the Food and Agriculture Organization of the UN. So, what does this have to do with shoes? Cowhide happens to be a co-product of the beef and dairy industries. And, once those hides are obtained, they are tanned using a number of toxic chemicals, including chromium and formaldehyde, which produce highly pollutive waste.

The leather industry is also harmful for its workers. Research shows occupational hazards for tannery workers include a higher risk of developing certain skin conditions, respiratory problems, as well as certain types of cancers, such as bladder and pancreatic cancers.

Unfortunately, just because a shoe is labeled "vegan" doesn't mean it's necessarily better for the environment. Some animal-free materials—such as polyurethane (PU) or polyvinyl chloride (PVC)—used to make the shoes have substantial environmental footprints. Both PU and PVC are made from fossil fuels, which means that carbon dioxide is emitted during production.
So, What Are Sustainable Sneakers Made Of?
In lieu of animal-derived leather and plastic, sustainable vegan shoes are made of materials that have a lighter environmental footprint. These include organic cotton, cork, hemp, bamboo, recycled materials like plastic bottles and airbags, pineapple leaf fibers, and more.
Even prominent shoe brands like Nike, Reebok, and Adidas are embracing sustainable materials. Reebok is set to launch a plant-based version of its Nano X1 training shoe. The Nano X1 Vegan features a cotton and wood spun yarn upper, castor bean oil and EVA foam midsole, and a rubber outsole. The athletic wear company is also launching the Floatride Energy GROW, which features sustainable materials like eucalyptus bark and an algae-based sock liner.
Nike's latest round of new sneakers includes one of its most sustainable designs to date. The shoes, which are made with recycled materials, are part of the company's Move to Zero initiative. In an effort to achieve zero carbon and zero waste, the brand uses materials, such as recycled polyester made from plastic bottles, recycled nylon, and recycled cotton.

Even Adidas' Stan Smith range got a sustainable upgrade. The company is launching new styles, which feature PRIMEGREEN, a virgin plastic-free material that's made from recycled polyester.
Staff Picks: 10 Best Vegan Sustainable Sneakers
Find a sustainable vegan shoe that fits. Here are ten brands churning out eco-friendly sneakers you never knew your closet needed—until now.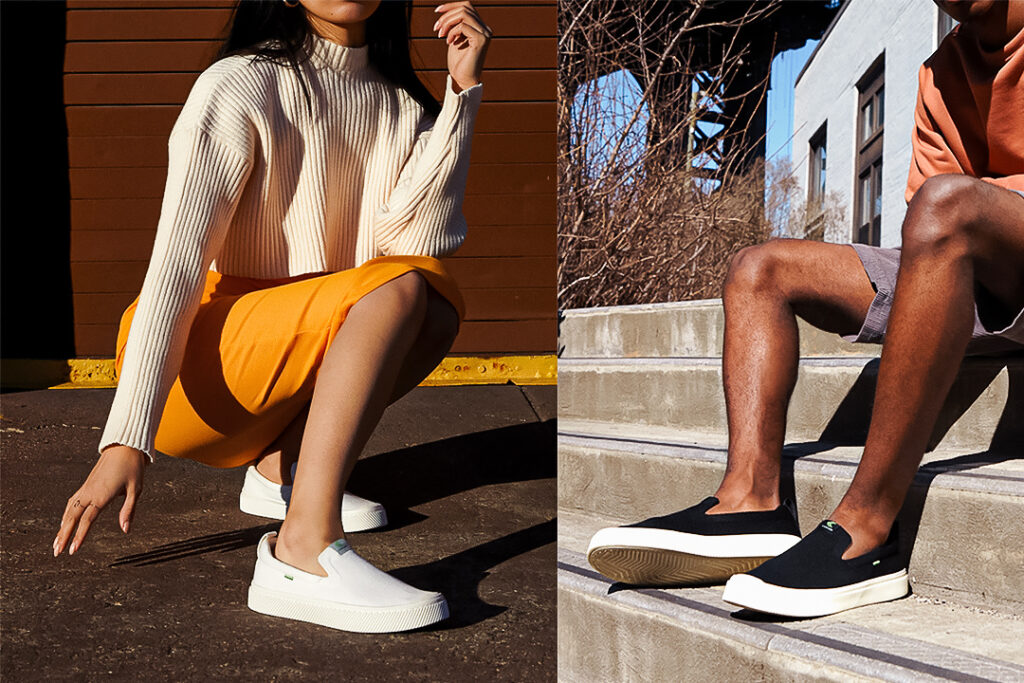 Cariuma IBI Slip-on
Sneaker company Cariuma is no stranger to sustainability. The brand exclusively sources natural and recycled materials to craft its shoes and only works with ethical factories. And for every pair of sneakers sold, the company plants a pair of trees in the Brazilian rainforest. This helps to support reforestation efforts and increase endangered species' habitats.
Cariuma has an extensive vegan range. The IBI Slip-On, the company's latest style, "comes with the lowest ever carbon footprint for any sneaker on the market to date," according to the company. The shoes have a carbon footprint of 5.48kg CO₂e, which is three times fewer emissions than the average pair at approx 14kg CO₂e, Cariuma states in a press release.
What makes the shoes even more sustainable? Their lining, threads, and logo labels are made with recycled plastic bottles. The kicks also feature a one-piece lightweight Bamboo-knit upper and a sugar cane EVA outsole. And their signature memory insoles—which are made of cork and organic mamona oil—are super comfortable and help keep bad odors at bay.
SUAVS The Zilker Gum
This sustainable brand's shoes feature uppers that are digitally knitted with post-consumer recycled water bottles. The Women's Zilker Gum shoes are perfect for taking you from point A to point B—in style. The on-the-go shoes feature cotton laces, a removable and washable foam insole, and moisture-wicking technology to help keep your feet from getting sweaty.
Vivobarefoot Geo Racer II Womens
Vivobarefoot's range of vegan shoes also feature recycled materials. The brand's Geo Racer II shoes are made from post-consumer plastic waste. The ultimate running shoe, these kicks are foot-shaped and feature an ultra-lightweight design to help you tear through the trails with ease.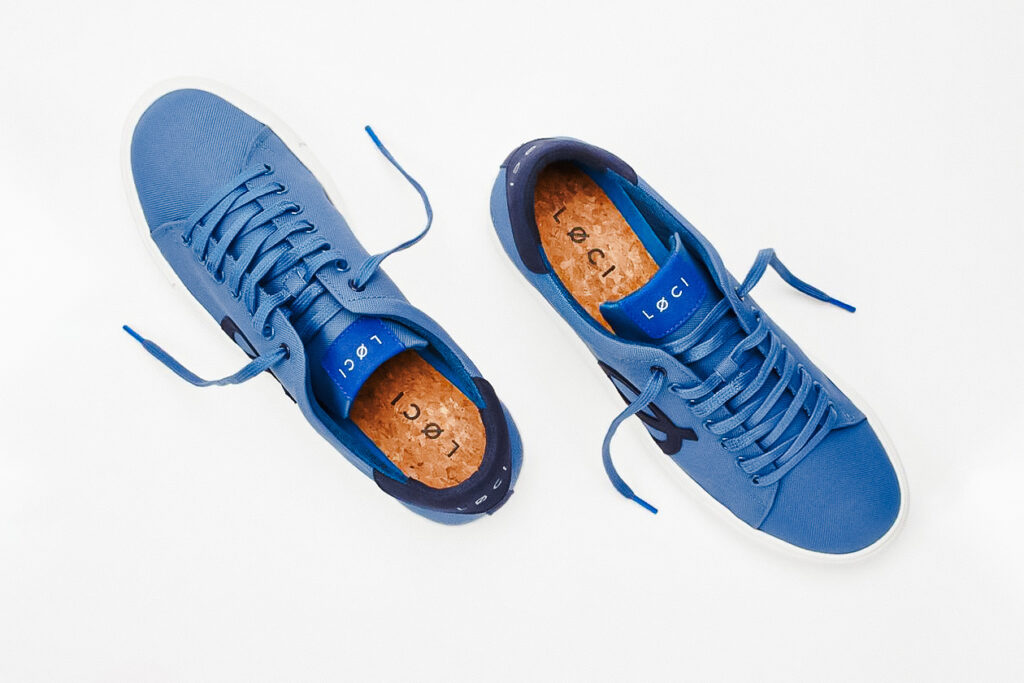 Loci Vegan Sneaker
This vegan footwear brand's leather-free sneakers are made with 100 percent recycled materials. Handmade in Portugal with durable and breathable materials, the LOCI Vegan Sneaker features a water-resistant upper and a custom-made cork insole for a soft cushion with every step. Designed for the utmost comfort, the trainers' sole is made with recycled rubber for a no-slip grip.
Vessi Women's Everyday
For casual, everyday sustainable sneakers, head to Vessi. The vegan company was able to cut down its knit time from 45 minutes to 7 minutes, which helps reduce the brand's carbon footprint.
The shoes come in especially handy on the days when you're caught out in the rain: They're 100 percent waterproof. The shoes' breathable materials and cushier sole will have you feeling light on your feet. Slide these sneakers on for yoga, a quick run, or for brunch out with friends.
Matt & Nat Marci Sneakers
Canadian brand Matt & Nat is no stranger to sustainability. While the company does use PU and PVC in many of its products, it also uses eco-friendly materials. These include recycled bicycle tires, cork, rubber, recycled nylon, and recycled plastic bottles. Made with recycled materials, Matt & Nat's Marci sneakers deserve a coveted spot in your closet.
Native Shoes Mercury 2.0 Liteknit
Featuring an upper made of recycled polyester and an Elastilite insole made of upcycled EVA waste, the Mercury 2.0 Liteknit allows you to put a sustainable foot forward any day of the week. Dress them up or down, these shoes are so comfortable you'll even want to wear them in bed.
Veja Condor 2 Alveomesh White Pierre
In 2020, this French footwear brand launched a line of sneakers made from veggie scraps. Dubbed Urca, the collection features Veja's signature corn waste leather, a biodegradable material made from a waxed canvas with 50 percent corn waste leftover from the food industry.
Featuring bio-based materials, the brand's Condor 2 Alveomesh White Pierre's are your go-to petroleum-free running shoes. Made with 100 percent recycled plastic bottles, the shoes feature a heel support insert and rubber sole for ultimate comfort.
Avre Swift Icon Sweet Lilac and Jet Black and Charcoal Grey
This brand uses recycled plastic bottles to craft its sustainable sneakers. The Avre Swift Icon's sock-like upper provides a snug fit that's so comfortable, you'll forget you have them on. Flexible and durable for a trail run; stylish enough for any lunch date.
Ethletic Fair Sneaker Randall II Shell
The description for this trainer says it all: "Fair. Vegan. Sustainable." The company makes its Randall skateboard shoe with Fairtrade-certified organic fairly traded canvas twill cotton. The sole features natural FSC-certified rubber from sustainably farmed Sri Lankan plantations to leave you feeling like you're walking on air and three air holes to keep your feet cool and sweat-free.