Looking for the best vegan protein powders to add to your pre-workout shake? We've got you covered. From vanilla to chocolate, these plant-based powders are sure to boost your protein intake for the day. 
What Is Vegan Protein Powder Made Of?
A lot of conventional protein powders are whey-based. A dairy byproduct, whey is the liquid drained from the fat solids during the cheese-making process.
The environmental and animal welfare implications of the dairy industry are staggering. Dairy cows are a big source of greenhouse gas emissions from food, which contribute to global warming. According to researchers from the University of California, Davis, cattle are the number one source of greenhouse gases around the world.

Aside from these factors, some may opt against consuming whey-based protein because it contains lactose, a sugar found in milk, which some have trouble digesting.

On the other hand, vegan protein powders are made with plants. And according to registered dietician Melissa Rifkin, plant proteins stack up well against their whey-based counterparts. "Plant proteins contain high levels of fiber and antioxidants, two important nutrients that are in low or even non-existent quantities in animal sources," she writes for Eat This, Not That.

Plant proteins—such as wheat, soy, or pea are alkalizing and considerably more friendly on the gut. "Plant protein has a higher nutrient-density and is more environmentally friendly than whey," Rifkin continues. "For these reasons, plant protein gains an edge over whey."
10 of the Best Vegan Protein Powders
Get powered by plants. Stock up on these vegan powders to boost your protein intake.
Vega
Plant-based nutrition brand Vega has it all: protein snack bars, pre-made shakes, protein crisps, and more. Their range of vegan protein powders is equally as extensive. Get more greens in your diet with Vega Protein & Greens. Or get the energy you need to power through the day with Vega Protein & Energy.
Packed with 30 grams of pea protein, Vegan Sport Premium Protein Powder may help support recovery post-workout and build muscles with ingredients like tart cherry, turmeric extract, and probiotics.
Get it here.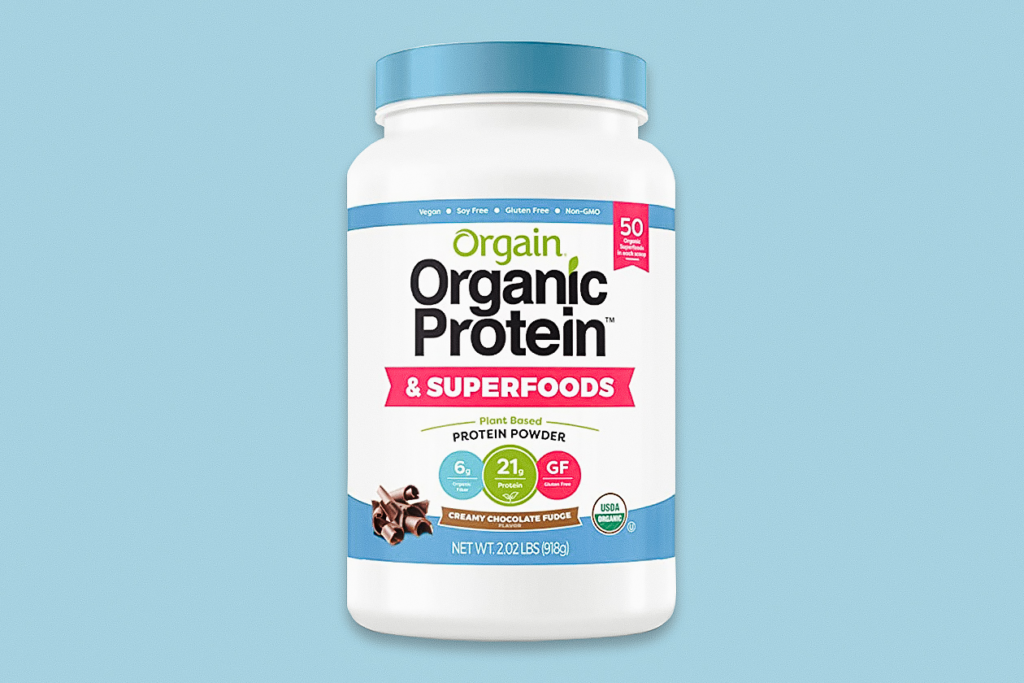 Orgain Organic Protein
Serving up 21 grams of protein, Orgain Organic Protein is high-protein, non-GMO, and contains no added sugar or artificial sweeteners.
The company's Organic Protein & Superfood Plants Blend contains 50 superfoods, such as grains like millet and quinoa and berries and fruits like acai and tart cherry. Add this pea and brown rice-based protein to your next shake.
Get it here.
KOS
For all the chocolate lovers in need of fuel, KOS's chocolate-flavored Organic Plant-Based Protein Powder comes in clutch. Packed with 20 grams of protein and only 170 calories per serving, the protein powder tops the list.
The company also carries an ethos for boosting nutrition and maximizing food production with a plant-based diet. "Our role at KOS is to support your journey—the transition, at your own pace—into a plant-centric nourishment lifestyle that helps the whole wobbly world find its food balance," KOS's website reads.
Get it here.
Garden of Life
Although not all of the brand's products are vegan, it does offer a wide range of vegan-certified protein products. Garden of Life is a great resource for those looking to get more plant protein. For a delicious-tasting morning shake to help you fuel through the day, the company's Raw Organic Protein Powder Vanilla Spiced Chai makes an excellent option.
And for the athletes—stock up on SPORT Organic Plant-Based protein, which contains 30 grams of protein.
Get it here.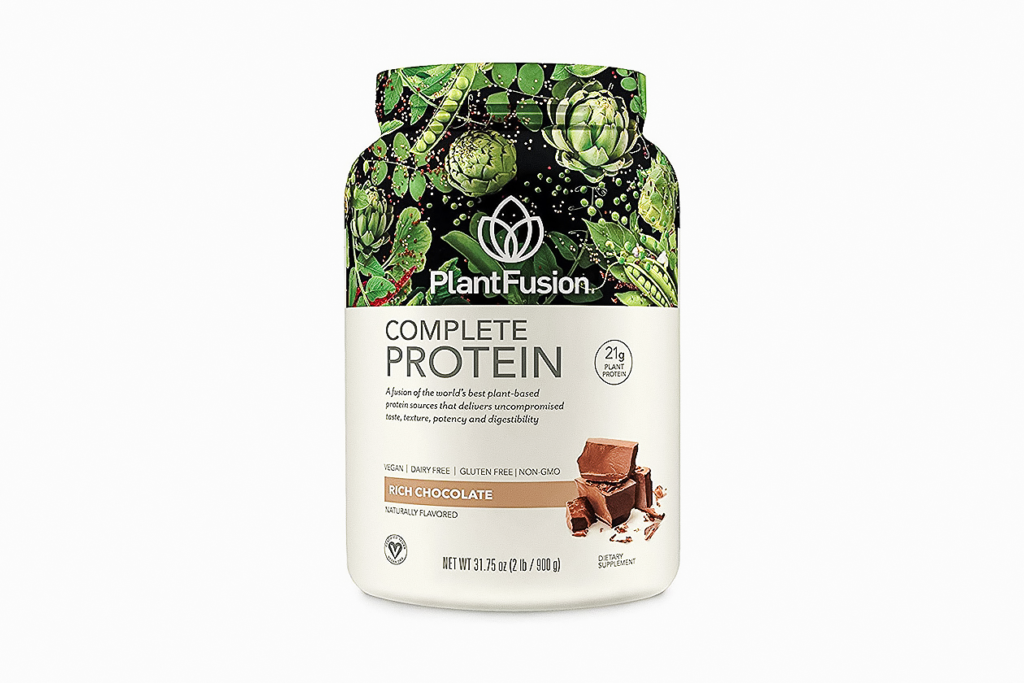 PlantFusion
Known for its 100 percent plant-based, nutrient-dense, and allergen-friendly products, PlantFusion carries a number of vegan protein powders. Get more fiber in your diet with the company's PlantFusion Protein + Fiber, which contains 15 grams of protein and 5 grams of fiber.
To maximize performance, opt for PlantFusion Complete Protein. The pea protein-based supplement works to sustain energy and build and repair muscles with its BCAAs. It also contains a digestive enzyme blend that helps make it easier to digest.
Get it here.
Naked Pea
For a pea protein-packed power, try Naked Pea. The Pea Protein Powder contains only one ingredient: pea protein. The company extracts the protein from yellow split peas grown on U.S. and Canadian farms.
With 27 grams of protein and 120 calories per serving, this protein powder is also free of additives and artificial sweeteners.
Get it here.
Sunwarrior
Protein and superfood supplements maker Sunwarrior carries a number of vegan products. The brand even carries vegan collagen, available in capsule and powder form.
Give your shake a boost pre- or post-workout with the company's Protein Warrior Blend. It provides a full amino acid profile and contains pea protein, hemp seed protein, and goji berry protein.
Get it here.
Vegansmart
Kareem Cook, Claude Tellis, and John Lewis founded this Black-owned company back in 2013. The trio launched the nutritional shake in order to give consumers a healthier option. They also wanted to raise awareness for common health problems like obesity, heart disease, and pre-diabetes.
The brand's All-In-One Nutritional Shake features non-GMO protein, omega 3, prebiotics, dietary fiber, and digestive enzymes for a shake that packs a nutritional punch.

Get it here.
No Cow
No Cow is known for churning out dairy-free, high-protein, and low-sugar protein bars. And with flavors include s'mores, cookies 'n cream, and sticky cinnamon roll—you can't go wrong with these.
The company recently upped its protein game with the launch of its protein powders, available in two varieties: vanilla and chocolate. In addition to containing 22 grams of protein per scoop, the powders come in a 100 percent recyclable canister making them a more eco-friendly option.
Get it here.
Amazing Grass
Seeking plant-based protein? Look no further. Amazing Grass's Organic Protein & Kale features 20 grams of protein. The pea protein-based supplement contains barley grass, wheat grass, chia, quinoa, and alfalfa for an exceptional nutritional profile.
Featuring one full serving of leafy greens and a decadent vanilla flavor, you'll be sure to savor every last drop of your shake.
Get it here.
LIVEKINDLY is here to help you navigate the growing marketplace of sustainable products that promote a kinder planet. All of our selections are curated by the editorial team. If you buy something we link to on our site, LIVEKINDLY may earn a commission.