Wondering what the best vegan protein sources are? We've got you covered.
In this LIVEKINDLY With Me episode, registered dietician Desiree Nielsen answers all of your pressing questions in regards to plant-based protein. She also ranks 10 of the best vegan protein sources.
"I became a vegetarian when I was a teenager. And becoming vegetarian was probably the first time in my life that I thought about how our food choices can impact our bodies," Nielsen explains. "That whole thing is probably why I'm a dietician today."
Five years ago, Nielsen says she started her transition to being 100 percent plant-based. "But whether you're an omnivore, vegetarian, or vegan, there are so many reasons to eat more plant proteins," she explains.
Benefits of Vegan Protein Sources
Nielsen adds that there are a number of benefits to consuming vegan protein sources.
The first of which, she explains, is fiber. "You're not going to find fiber in the animal world. And as a gut health dietitian, I am a fiber fan," she says. "Fiber is not only good for healthy elimination, but it feeds your gut microbiome."
She adds that vegan protein sources have fewer saturated fats and no cholesterol. "Cholesterol is only found in animal products," Nielsen says. "And because they're plants, they have a ton of antioxidants and anti-inflammatory phytochemicals that just help your cells clean up like all the regular junk from eating, breathing, living, sleeping."
Lastly, Nielsen says that plant-based proteins are sustainable. "On average, plant-based proteins require less energy, less land, and less water to feed a human than animal source proteins," she adds.
Vegan Protein Sources, Ranked
So, how do the various plant-based sources of protein stack up? Nielsen ranks 10 vegan proteins as great, good, or not the best, but still tasty.
Lentils
"Lentils are one of the most wonderful plant-based proteins because a half a cup of cooked lentils has nine grams of protein in addition to plenty of fiber and iron," she explains. "So, they're a great protein in my book."
Avocado
Nielsen says that avocados have tons of healthy fats. "But you have to eat a whole avocado just to get two grams of proteins," she adds. "In my book, they're not the best, but still tasty and healthy."
Soy
Nielsen says that despite the misinformation about soy that can be found on the internet, it's not actually bad for you. "The evidence confirms that not only is soy nutrient-dense, a half a cup of tofu has 12 grams of plant-based protein in addition to plenty of calcium and iron," she explains. "So soy is a great protein choice in my book."
Quinoa
Up next: quinoa. The complete protein has more limited amino acids than other plant protein sources. "But you might be surprised to know that quinoa doesn't actually have a lot of protein," she says. "A half a cup cooked is four grams," she adds. Therefore, she ranks quinoa "good, but not great."
Kale
Packed with vitamins and minerals like vitamin A and K, kale is not a concentrated source of protein. With only three grams per cup of chopped kale, Nielsen ranks it "not the best."
Peanut Butter
With 7.5 grams of protein per two tablespoons, Nielsen ranks peanut butter as a good protein source.
Oats
One cup of cooked oats contains seven grams of protein. So you can mark this one as a good source of protein in Nielsen's book.
Almonds
"A quarter cup of almonds contains about 7.5 grams of protein, which I feel is the magic number of this episode," she jokes. "So, they are a good source of protein and a great snack."
Chickpeas
Just like their cousin lentils, chickpeas are a great source vegan protein source: 7.5 grams.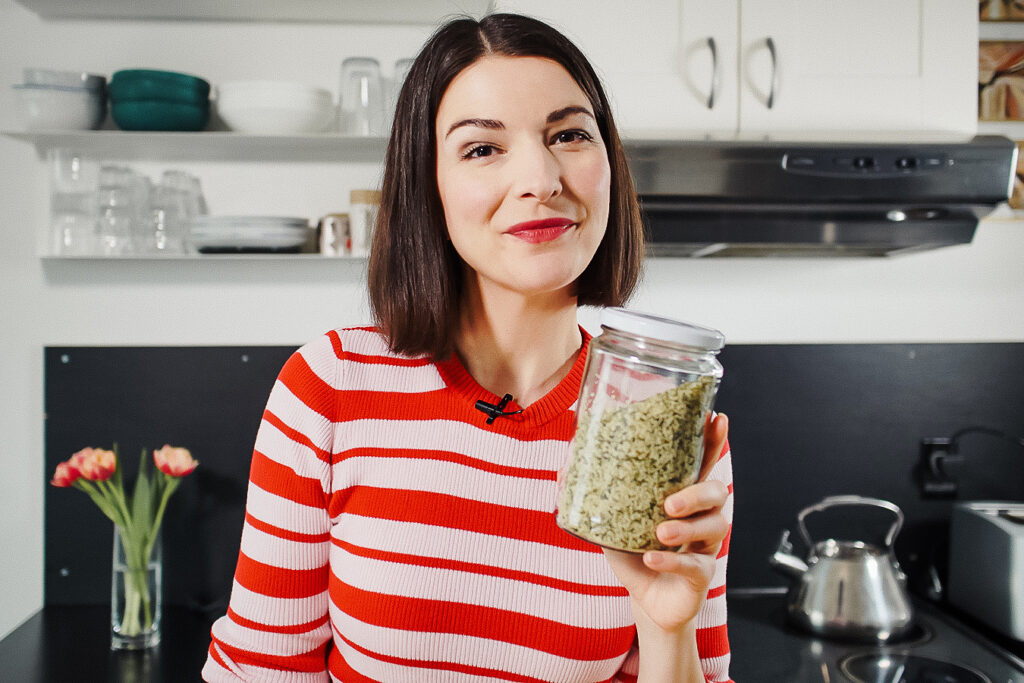 Hemp Hearts
If it's protein you're after, you should definitely opt for hemp hearts. Three tablespoons of hemp hearts have ten grams of plant-based protein, plus a whole host of minerals like zinc, magnesium, and manganese. "Hemp hearts are a great source of protein and worth eating more of," she says.
Plant Protein-Packed Meal
Nielsen also shows us how to whip up her Edamame Hula Bowl recipe from her cookbook, Eat More Plants. "It's filling and satisfying," she says.
"Whenever I'm making a nourishing plant-based bowl, I think of the plate method. You want half of a plate of fruits and vegetables, a quarter plate whole grains, and a quarter plate of proteins alongside a little bit of healthy fats," she adds.
"I am always inspired by the sights and tastes of Kauai, Hawaii—one of my favourite places on earth. Sitting in the sunshine, relaxing, and eating healthy homegrown produce is my idea of a good time. Poke, a Hawaiin-Asian fusion of raw marinated fish, is everywhere on the island, as are the poke bowls they have inspired back at home. This is my take on building a hearty grain bowl, inspired by the Asian-Hawaiin vibes of poke. Edamame, immature green soybeans, are high in protein and isoflavones, anti-infammatory flavonoids compounds that are also thought to be beneficial to gut health," she writes.
Excerpted from Eat More Plants by Desiree Nielsen. Copyright © 2019 by Desiree Nielsen. Published by Penguin an imprint of Penguin Canada, a division of Penguin Random House Canada Limited. Reproduced by arrangement with the Publisher. All rights reserved.