This is not a drill: Beyond Meat is launching chicken tenders to retail. And we are itching to try them.
According to the California-based food tech company, its new Beyond Chicken Tenders look, cook, and taste just like traditional chicken tenders. The meatless tenders combine a variety of plant-based ingredients, including faba beans and peas.
Featuring a crispy breading and 14 grams of protein per serving, they are also made without GMOs, antibiotics, hormones, and contain zero cholesterol.
"We're innovating the poultry market with the new Beyond Chicken Tenders—the result of our tireless pursuit for excellence and growth at Beyond Meat," said Dariush Ajami, Chief Innovation Officer, Beyond Meat.
"As with all our products, Beyond Chicken Tenders offer delicious taste and an exceptional culinary experience, along with strong nutritional benefits," Ajami added.
Those eager to get their hands on the plant-based tenders are in luck. Beyond Meat will launch the vegan chicken tenders at select Walmart, Jewel-Osco, Safeway NorCal, Harris Teeter, Giant Foods, and ShopRite stores nationwide from October with additional availability expected later in the year.
Beyond Meat successfully launched the new tenders to nearly 400 restaurants earlier this summer, including Next Level Burger/Next Level Clucker, Dog Haus, and Detroit Wing Company. To locate a restaurant or store serving Beyond Chicken Tenders near you, click here or here.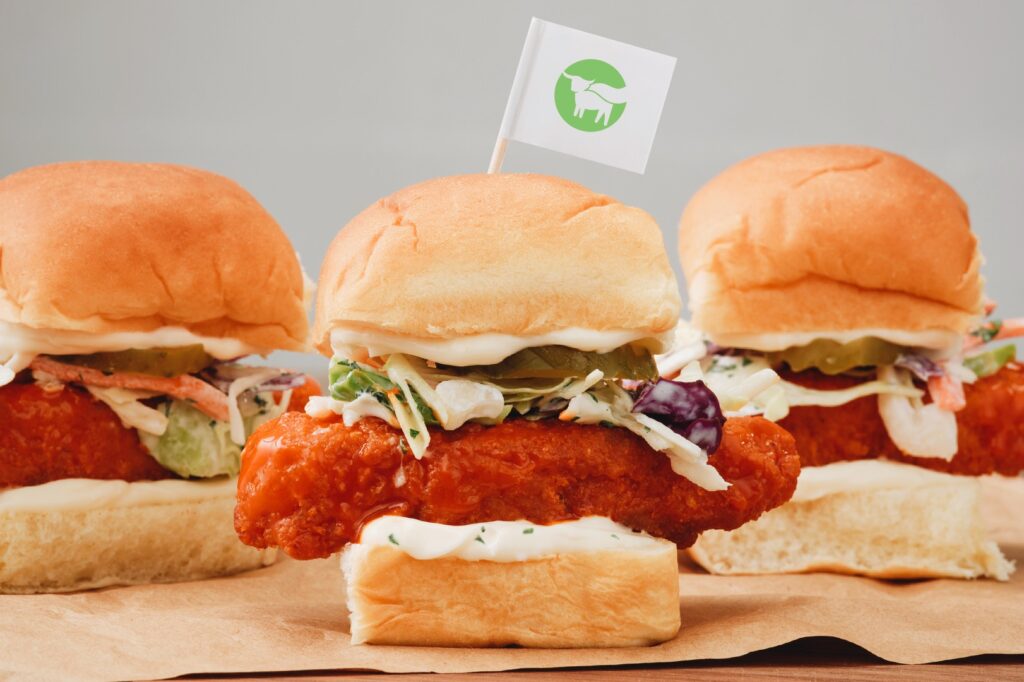 Beyond Meat Chicken Tenders
The plant-based tenders are Beyond Meat's latest meaty creation. But they're certainly not the brand's first foray into chicken.
Beyond Chicken Strips were the company's first product, released back in 2012. However, Beyond Meat discontinued the frozen strips in early 2019 due to a lackluster consumer response. This certainly didn't hurt business, though. It's beef-like Beyond Burger was a success, and in May 2019, Beyond Meat became the first vegan meat company to IPO. Its stock prices soared 163 percent on its first day of trading.
In November 2020, the brand began testing minced vegan pork in restaurants across Shanghai, China. Beyond Meat created the vegan meat specifically for the Chinese market, as animal-derived pork is the most popular meat in the country.
In April of this year, the company further expanded its meat-free range. It released another vegan beef burger, which contains vitamin B12 similar to conventional meat. An "even-meatier, even-juicier" version of the Beyond Burger, the new patties contain 35 percent less total fat and 35 percent less saturated fat.
They also contain fewer calories than conventional 80/20 beef burgers and feature B vitamins and minerals "comparable to the micronutrient profile of beef."
"Innovation is at the heart of Beyond Meat," Ajami continued. "And Beyond Chicken Tenders are the latest example of our mission to create groundbreaking, tasty options that are better for people and for our planet."
The Beyond Meat Chicken tenders are available at select retailers nationwide for an RRP of $4.99 per box.