Big Oil is on trial. For the first time ever, fossil fuel executives will have to testify about their companies' role in the spread of climate change disinformation over the last half-century.
A series of internal documents leaked in 2015 publicly revealed that Big Oil knew about—and actively undermined the science behind—the role of fossil fuels in global warming. The wealthy and incredibly destructive industry has still escaped almost all legal and financial responsibility for its deception so far, but now that could finally change.

On October 28 the CEOs of ExxonMobil, Chevron, BP, and Shell will appear before the House Committee on Oversight and Reform to explain their companies' calculated, comprehensive, and long-term efforts to mislead the public on climate change and petroleum products.
These four companies alone reported almost $2 trillion in profits between 1990 and 2019 while continuing to pump out pollution, and in 2018 the fossil fuel industry contributed 89 percent of all CO2 emissions. Last year, at least 22 individual billion-dollar disasters took place that were directly caused by or related to climate change. And that's just in the U.S.
Big Oil on trial: greenwashing and disinformation
Critics directly compare fossil fuel companies to the tobacco industry, whose executives spent years disguising and denying health risks before their collective, public humiliation in front of Congress in 1994. The wave of lawsuits that followed cost tobacco companies hundreds of billions of dollars and permanently changed public perception of their products.
It's possible (read: hopeful) that the hearing on October 28, will lead to a similar, long-overdue downfall for big oil. But even if these overpaid executives are held accountable in some way, how can fossil fuel companies possibly pay for decades of planetary-scale, irreversible treachery?
Over the last quarter-century, in particular, they've been guilty of countless instances of disinformation and contradiction, propaganda, greenwashing, gaslighting, and outright lies. Here are some of the worst examples.
6 times the fossil fuel industry lied (and got away with it)
1997 – Exxon's former CEO denies climate change (he knew about it)
Lee R. Raymond, Exxon's CEO at the time, addresses the World Petroleum Congress in Beijing, explicitly saying that climate change is not happening and that cutting fossils for the sake of the environment is "neither prudent nor practical."
Furthermore, he claims that even if climate change is happening, the fossil fuel industry's contribution is not "rock-solid," and that nobody can predict future temperature changes and warming effects. Unfortunately for Exxon, the company's own research (dating back to the mid-1950s) confirms that global warming is happening, fossil fuels are responsible, and that they knew about it.
1997 – BP's former CEO vows to take action on climate change (and fails)
The same year, BP's former CEO John Browne gives an incoherent speech that publicly, sort-of acknowledges the reality of climate change, making the company the first in the industry to do so. Unfortunately, the speech itself (along with BP's embracing of its newfound image as an 'eco-conscious' fossil fuel company), is pure greenwashing.
In 2001, the company launches a new slogan, "Beyond Petroleum," as part of a $200 million corporate rebranding effort to lean into its eco-conscious image. However, BP later abandons its much-criticized new slogan in the wake of the Deepwater Horizon disaster—the largest oil spill in the history of the industry. (Though it does keep the Helios-inspired sunflower logo.)
1998 – Shell continues to spread disinformation
In 1998, Shell publishes a handout titled "Climate Change: What does Shell think and do about it?" to explain the company's evolving stance on the steadily growing evidence for global warming. Despite finally acknowledging its existence, the pamphlet still embraces obfuscation and encourages increased fossil fuel extraction over the coming years.
"We don't know whether [climate change] will be catastrophic, or whether it might be slightly beneficial," reads the handout. (The same year, Shell researchers predict 2012's Superstorm Sandy, right down to the responsibility of climate change and the increased legislative and environmental action against the oil industry that follows.)
2007 – Exxon breaks promise to stop funding climate change denial
Exxon, now ExxonMobil, pledges to cut all funding of special-interest groups and politicians who deny climate change and advocate for fossil fuels. Instead, the company says, it will focus on the renewable energy "required for economic growth in an environmentally responsible manner."
However, even today's ExxonMobil continues to fund climate deniers. In 2014, the Union of Concerned Scientists and Greenpeace publish an analysis of tax forms and investment reports proving that ExxonMobil continues to donate to climate-denying groups and individuals. It remains a member of the American Legislative Exchange Council (ALEC) until at least 2018.
2015 – Exxon publishes cutting-edge climate research (then denies its findings)
Pulitzer Prize-winning publication Inside Climate News publishes a detailed analysis of ExxonMobil's climate change research (which dates back to the 1950s) after months of investigation. Despite increasing public awareness of the industry's active role in global warming (and its attempts to cover that up), the company downplays the relevance of its own data and continues to misdirect, evade, and lie.
Once again, the Union of Concerned Scientists and countless other groups compare the actions of the fossil fuel industry (and ExxonMobil, in particular) to those of Big Tobacco two decades before, something that the company flatly denies. ExxonMobil releases a blame-shifting and petulant response to Inside Climate News worthy of any conglomerate caught red-handed, though its former scientists continue to endorse their own research as accurate.
2021 – Chevron buys tens of thousands of greenwashing commercials
Chevron pays for more than 30,000 greenwashing advertisements throughout the first three quarters of 2021 but retains its terrible track record for actual spending on low-carbon energy. In March, a group of environmental NGOs lodge a complaint with the Federal Trade Commission over the enormous disparity between what Chevron says it's doing and what it's actually doing.
"We are taking action to reduce the carbon intensity of our operations and assets, increase the use of renewables and offsets in support of our business and invest in low-carbon technologies to enable commercial solutions," says a company spokesperson. But Chevron plans to spend just three percent of its astronomical annual budget on clean technology between now and 2028, while potentially increasing oil and gas production by up to 15 percent by 2025.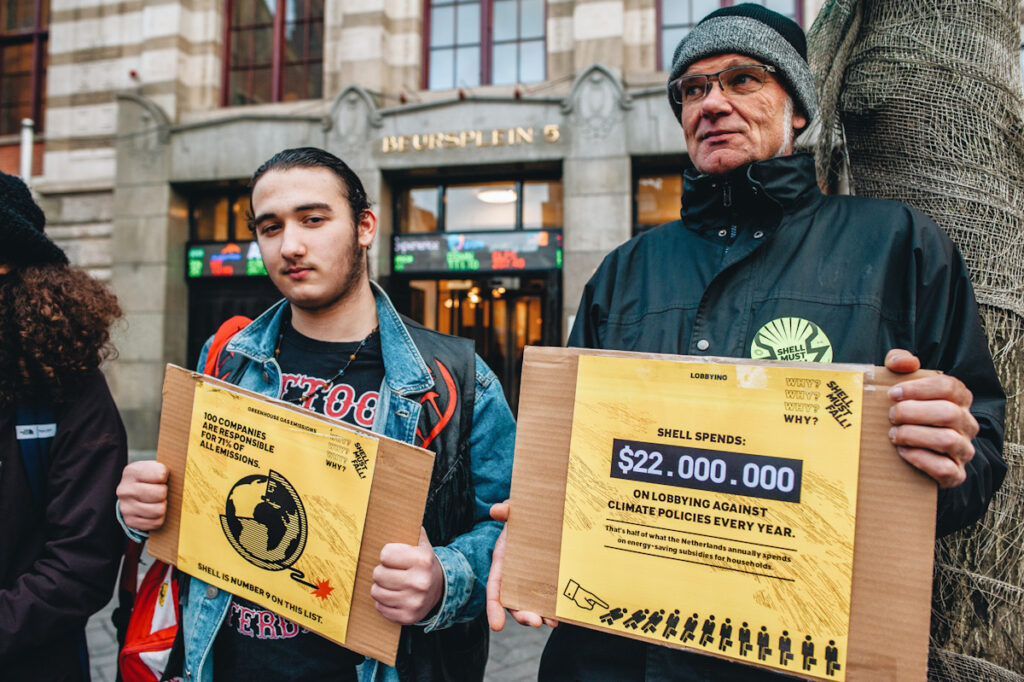 Big Oil on trial: What happens next?
What happens to Big Oil next still remains to be seen. But the responsibility for making the industry pay for its crimes ultimately rests with the world governments who, arguably, could have stepped in long before now to reduce the corrupting, oppressive influence of these companies as they willfully and successfully subverted scientific integrity.
Due to their similarities, some have suggested that regulation of oil and petrol companies (including their advertisements) is treated in much the same way as tobacco.
For example, the World Health Organization's tobacco control guidelines help to "limit interactions with the tobacco industry and ensure the transparency of those interactions that occur," curtailing misinformation and limiting—or directing—the industry's influence.
As seen with the automobile industry, fossil fuel companies are still likely candidates to lead the charge on renewables and clean energy in the coming years. However, some argue that they should be kept as far away from our collective, global future as possible.
Speaking to the Guardian, Polluters Out founder Ayisha Siddiqa said "abolish these oil companies, finish them, get rid of them, no more," and added "the next stop cannot be for us to let the people who previously harmed us have a seat in the new world."