In the mood for vegan waffles? What about traditional Japanese dango?
In this episode of EATKINDLY With Me, Lisa Kitahara—vegan food blogger behind Okonomi Kitchen—teaches us about all things black sesame seeds. She also gives two delicious-looking recipes for vegan waffles and dango, a Japanese dumpling.
"Black sesame seeds is one of my favorite ingredients to cook and bake with," Kitahara says. "It's very different than white sesame seeds because it has a nutty, earthy, and very deep flavor."
Black sesame seeds can be used in a variety of foods, including cakes, bread, ice cream, and ramen. "The nutty, earthy flavor of black sesame seeds goes really well with red bean paste and matcha so those are some common pairings you might see," she adds. "It's also commonly used in savory dishes like dressings, ramen broths, and as garnishes on top of noodles."
Black sesame comes in three different forms: whole, powder, and paste. All three forms can usually be found readily at Asian markets. Kitahara notes that if you're having trouble finding one, you can take black sesame seeds and grind them into a powder or a paste using a blender or food processor.
Shiratama Dango
The first recipe Kirahara whips up with black sesame seeds is the Japanese dango. She says the dumplings' texture resembles that of Play-Doh. "You want the texture to kind of be the softness of your earlobe," she explains.
The dumplings are filled with a black sesame coating, which is made using only two ingredients: black sesame powder and sugar.
"Super simple and easy and such a great snack or dessert," Kitahara says. "I really wish I had some vegan ice cream here with me. That would take it to the next level."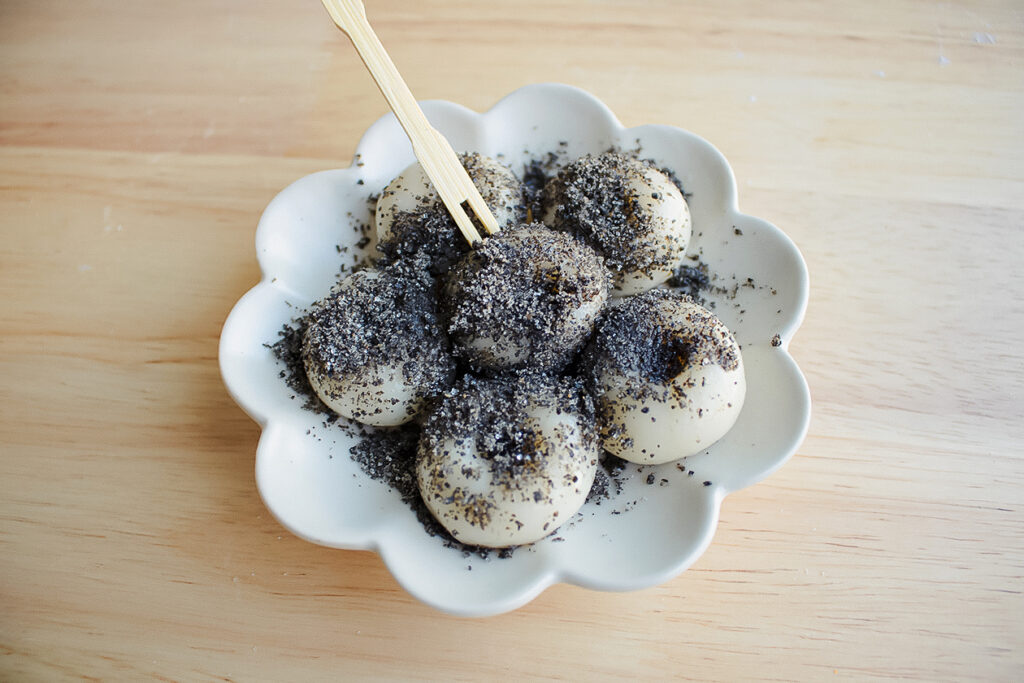 Black Sesame Vegan Waffles
The star ingredient of this vegan recipe is black sesame paste. While mixing up the batter, Kitahara says, "The smell of black sesame really comes through. It smells super good."
To make this recipe, you will need a waffle maker. "Oh, wow. That smells amazing. It looks really good," she says once the vegan waffles are done. Kitahara says the black sesame waffles are good on their own as they're naturally sweet, but you can always top them off with maple syrup. "Adding a little maple syrup or condensed milk really brings out the earthy or nutty flavors of the black sesame seeds," she says.
LIVEKINDLY is here to help you navigate the growing marketplace of sustainable products that promote a kinder planet. All of our selections are curated by the editorial team. If you buy something we link to on our site, LIVEKINDLY may earn a commission.