There are cauliflower recipes for just about anything: Rice, pasta, cake, pizza crust—you name it, and there's probably a vegan recipe for it.
The cruciferous vegetable is incredibly nutritious. Cruciferous veggies, part of the Brassica genus of plants, include a wide range of vegetables like broccoli, kale, cabbage, arugula, Brussels sprouts, and radishes.
According to the University of Maine, cauliflower and other cruciferous vegetables are a good source of It's a good source of fiber, vitamins, and minerals. Cauliflower is also packed with choline, an essential nutrient. Choline is responsible for many important roles in the body, including liver function, muscle control, brain development, and metabolism.

Ready to whip up some tasty vegan cauliflower recipes?
9 Vegan Cauliflower Recipes for Every Meal of the Day
Here are 9 vegan cauliflower recipes that will take you from breakfast to dinner—and even dessert! 
Cauliflower for Breakfast
Make the most important meal of the day count with these vegan cauliflower breakfast recipes. 
Cauliflower Oatmeal
Upgrade your mundane bowl of oatmeal and enjoy a breakfast of champions with this cauliflower oatmeal bowl. A terrific way to sneak veggies into your morning meal, this cauliflower oatmeal features coconut milk, vanilla extract, cinnamon, and pink salt for good taste. This recipe is also a great option for those looking to cut grains out of their diet.
"I was inspired to create this simple cauli-oatmeal recipe when I was experimenting with going grain-free," Maria Marlowe tells LIVEKINDLY. "I love that it's super creamy and coconut-y, and that you can make it your own by adding any variety of fruit, nuts, and seeds. Toppings are always the best part! The base recipe is not sweetened, which I personally prefer as I like to use fruit to sweeten it, but others may want to add monk fruit, date syrup, maple syrup, or their sweetener of choice."
Get the recipe here.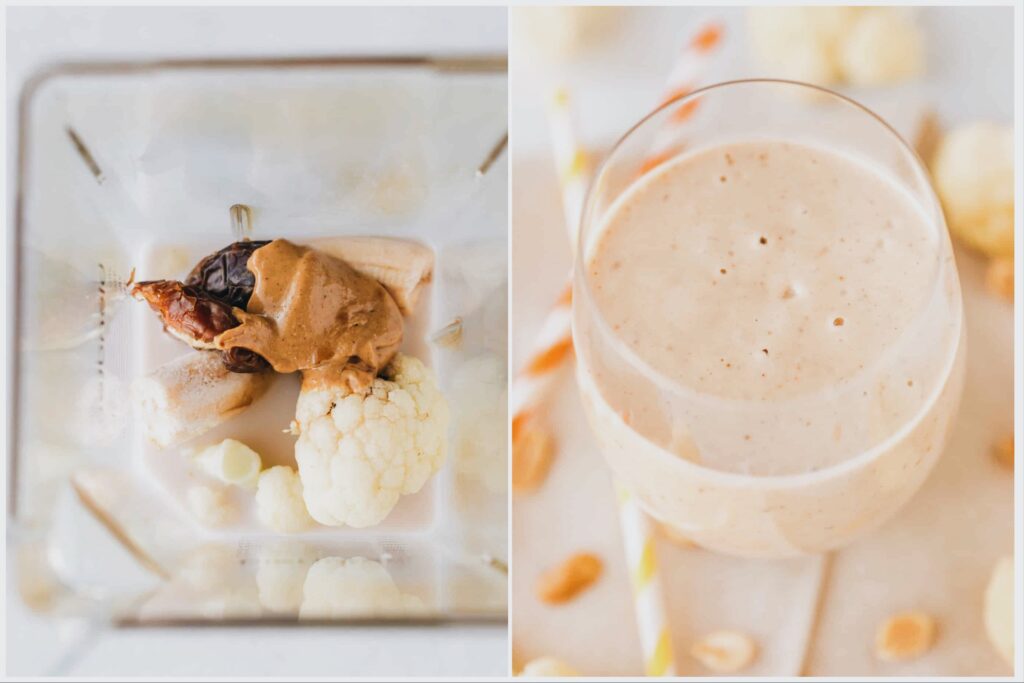 Peanut Butter Cauliflower Smoothie
For a protein-packed meal for taking the on-the-go, this cauliflower smoothie is it. It takes just 10 minutes to make, and it only requires six ingredients: almond milk, cauliflower, banana, peanut butter, vanilla extract, and Medjool dates.
"This smoothie recipe is perfect for peanut butter lovers. It is thick and creamy like a milkshake, but 100 percent plant-based and healthy," the recipe's author, Carrie Forrest, tells LIVEKINDLY. "I was inspired to make this recipe to try and make a smoothie that included a serving of cauliflower but tasted like dessert."
Get the recipe here.
Cauliflower for Lunch
From breakfast to lunch, put your cauliflower to use with these tasty recipes.
Sticky Sesame Cauliflower
This takeout-inspired recipe features crispy, battered cauliflower that's covered in a flavor-packed, sticky sesame sauce. The recipe for the sauce calls for either honey or maple syrup for a sweetener, so opt for the latter to make this recipe vegan.
"This cauliflower is subtly sweet and balanced by a savory soy sauce with hints of spice," the recipe's creator, Claire Cary, tells LIVEKINDLY. "It's inspired by my old favorite sesame chicken!"
Turn this tasty dish into a complete meal by serving it with rice or noodles.
Get the recipe here. 
Kung Pao Cauliflower
Another great Asian-inspired option, this kung pao dish is savory, spicy, salty, and sweet. Plus, no chickens need to be harmed to make it.
For a chicken-like texture, the cauliflower is covered in a batter made with chickpea flour, cornstarch, plant-based milk, and soy sauce. Serve this cauliflower dish with Basmati or Jasmine rice or rice noodles for a meal to remember. In addition to being vegan, the recipe is low in fat and calories and is gluten-free.
Get the recipe here.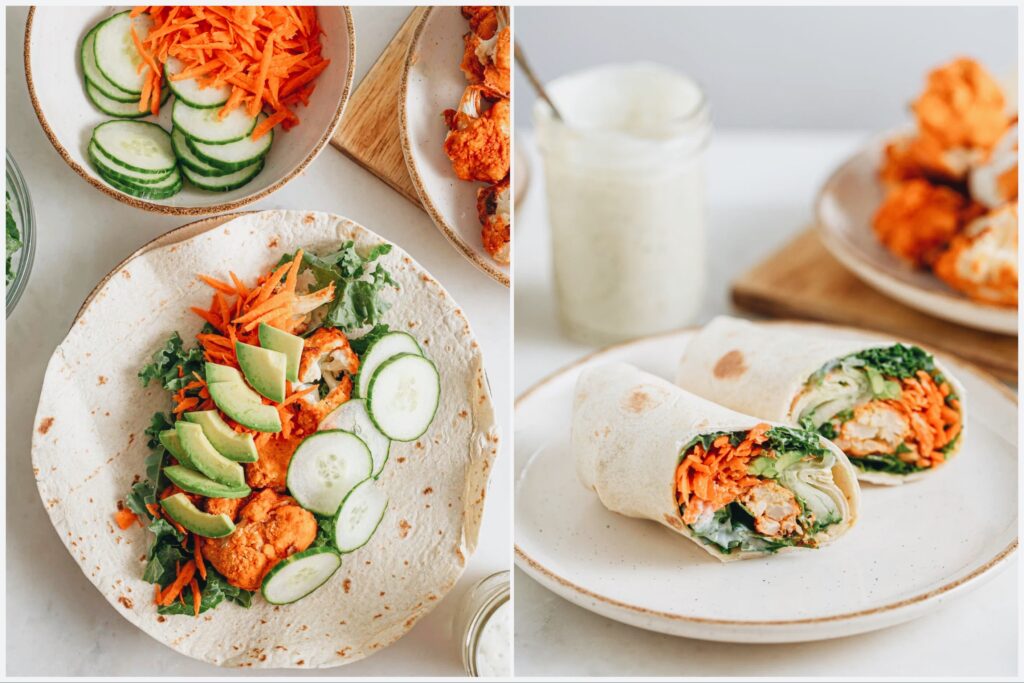 Buffalo Cauliflower Wrap
Lunch is served with this vegan Buffalo wrap. For the wrap, you'll need kale or romaine lettuce, cucumber, carrot, avocado, and tortillas. The wraps feature a vegan ranch dressing made with soft tofu, lemon juice, apple cider vinegar, garlic and onion powder, sea salt, and fresh parsley. And for the cauliflower, depending on how spicy you like, a lot—or a little—of Frank's Buffalo Sauce.
For the ultimate comfort food meal, serve this veggie Buffalo wrap with a plate of fries. Try eating just one, we dare you.
Get the recipe here.
Cauliflower for Dinner
Your dinners just got an upgrade.
Cauliflower Burrito Bowl
Take your dinners to the next level with this loaded burrito bowl by Pinch of Yum. In addition to the cruciferous vegetable, this Mexican-inspired dish features rice, pico de gallo, sweet corn, black beans, avocado, and lime juice.
It's the perfect blend of hearty and nutritious.
Get the recipe here. 
Cauliflower Fettuccine Alfredo
This fettuccine alfredo's creamy, dairy-free sauce is made possible by puréed cauliflower.
The recipe's author notes: "This cauliflower Alfredo sauce has a light, creamy texture, and I love how the cauliflower flavor isn't too noticeable, thanks to the addition of sauteed garlic. When you add it to your favorite pasta, it's hard to tell that you're eating an entirely vegetable-based sauce!"
Get the recipe here.
Breaded and Fried Cauliflower
The ultimate comfort food of all comfort foods, you won't miss chicken after eating a piece of these breaded and fried cauliflower nuggets. The batter is super simple to whip up; You only need flour, salt, paprika powder, turmeric powder, and water. For a crispy breading: breadcrumbs, Panko flakes, flour, sesame seeds, paprika powder, salt, and dried rosemary.
Fry them up and dunk them in your favorite sauce. Sharing is optional.
Get the recipe here.
Cauliflower for Dessert
Make a dessert of champions with these plant-based cauliflower recipes.
Chocolate Chip Cauliflower Cookies
Serve these chocolate chip cauliflower cookies with a generous cup of your favorite nut milk. "Our chocolate chip cauliflower cookies balance the delicate taste of cauliflowers with the nutty flavour of almonds and the richness of dark chocolate," the recipe's author, Edward Felici, tells LIVEKINDLY. "Being vegan, gluten-free and sugar-free, they are excellent for people with food allergies or on a weight-loss diet."
The best part? You only need eight ingredients to make them. These include dark chocolate, chia seeds, almond meal, and cashew butter.
Get the recipe here.
LIVEKINDLY is here to help you navigate the growing marketplace of sustainable products that promote a kinder planet. All of our selections are curated by the editorial team. If you buy something we link to on our site, LIVEKINDLY may earn a commission.