Chef Charity Morgan stood dutifully at her prep station at West LA's Lemon Moon, chopping the same veggies until her fingers blistered. Not far from her station, she could see head chef Nyesha Arrington directing the flow of the kitchen, creatively repurposing ingredients, and redistributing labor like a chessmaster. Morgan looked down at the mirepoix she was chopping for the hundredth—or maybe thousandth—time, and knew it was time to make a life-defining change.
"I was frazzled, bored, and I wasn't happy to go to work every day," Morgan says. "I was too young and dumb to understand that unless you're the head chef, and unless it's your restaurant, you're stuck at a prep station and working the same items every day, with no flexibility in creativity."
That frustrating moment was a game changer for Morgan—one that would lead to her becoming the chef who converted 13 of her husband Derrick Morgan's fellow Tennessee Titans teammates to a plant-based diet. We talked to Chef Morgan about her childhood food memories, catering Miley Cyrus and Liam Hemsworth's plant-based wedding, and her mission to dispel gendered preconceptions about plant-based diets. Her new cookbook debuting today, Unbelievably Vegan, features over 100 of her plant-based recipes.
LIVEKINDLY: You credit your frustration as a prep chef in your twenties with kick-starting your career in creative, culturally-focused vegan cuisine. What were you feeling at that moment, and how was it instrumental to your eventual success as a chef?
Charity Morgan: My antsy self was like, "Oh my god, I cannot do this anymore—I need to create; I have this bursting fire of creativity that I need to explore." I said to myself, "How can I not make the same thing every day?" That's how I ended up transitioning into catering, which is what I do now.
LIVEKINDLY: But it wasn't an easy path—you had a long road from quitting Lemon Moon to becoming the chef to star athletes you are today.
Morgan: Oh, definitely. I did what other young twenty-somethings do: comparing myself to other people. I started working for a large Hollywood craft services company on the sets of films like Along Came Polly, but I was still struggling to figure out who I was and what my role in life would be. I considered becoming an esthetician or a marine biologist, but there was only one thing I couldn't see myself not doing: cooking. So I started catering and meal prepping, delivering home-cooked meals across LA and working as a private chef, and after a while, I thought, "I can see myself doing this as a career." Eventually, God lets you rely on him, so you can find your niche.
LIVEKINDLY: That niche is creating culturally-focused sustainable vegan dishes that drive optimal health and strength. We love the new recipes in your new cookbook, Unbelievably Vegan, especially comfort dishes like the sopa azteca. What inspires your cuisine?
Morgan: My mom, being Puerto Rican, loved sharing her culture, and she had friends from all walks of life. When I was five, her Indian friend would be over making homemade roti and curry, and her Filipina friend would be making fried rice and homemade lumpia. So I got exposed to all these amazing flavors very early on. [My mom] was also very good at adapting to my dad's Creole culture and stealing little tips and tricks from how my paternal grandmother cooked. After my grandmother passed, we got her gumbo recipe and her special recipe book. It was amazing that my mom was very eager to learn so much from other cultures, and was very happy pleasing others. I have all these early childhood memories of food and cooking, and that's why I love food so much.
LIVEKINDLY: How does that melange of influences reflect in your cookbook?
Morgan: Unbelievably Vegan is a compilation of how I eat now and how I was raised. I went down the road of comforting, warm, nostalgic food, so you'll find all these southern comforts in my book. But then you'll also get the pho inspired by my Vietnamese friend, the gochujang bowl inspired by my Korean friend, and then Creole and Hispanic cuisine. Puerto Rican food is a blend of native and Spanish cultures, and Creole food is a blend of French, Native American, and African elements. I love and embrace these cultures, and it shows in my food. If you don't love food in all its layers, I just think you're boring (laughs).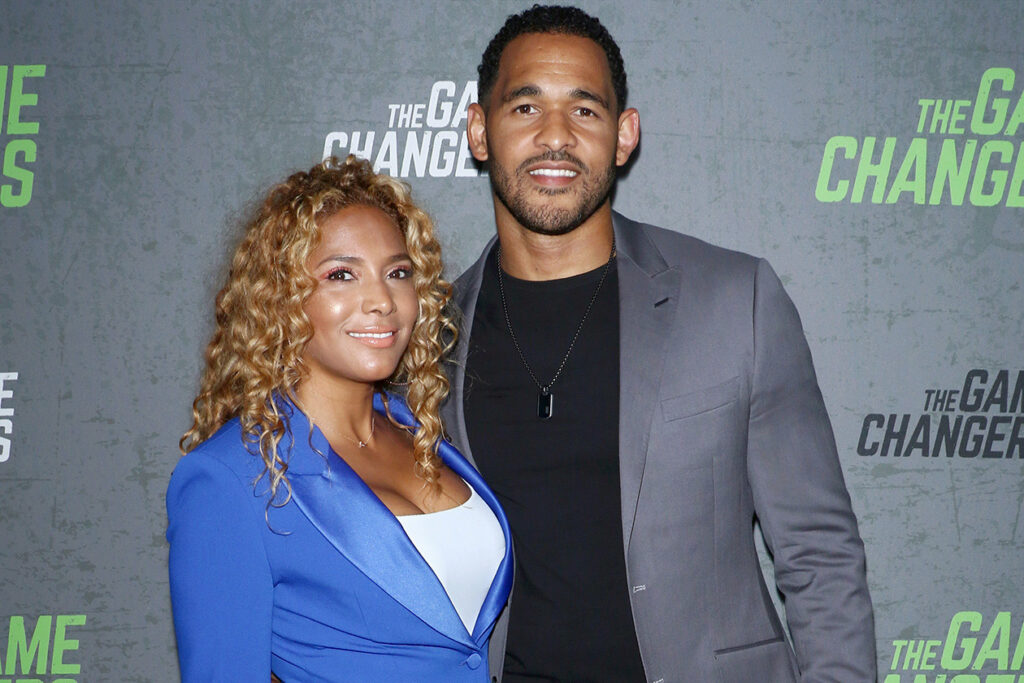 LIVEKINDLY: That diversity of cuisine is one of the reasons you've been so successful, because your food is so flavor-packed and culturally-focused. In the documentary, The Game Changers, your husband Derrick Morgan's Tennessee Titans teammates devour a plant-based feast of your soulful comfort food. How did you convert NFL linebackers from skeptical of meat-free food into true believers?
Morgan: Most athletes will do anything to be at the top of their game. [Derrick's] nutritionist said to him one day, "Have you ever decided to get rid of meat and dairy, because that will lower your inflammation?" He said, "I don't know about giving up my tomahawk or Wagyu steak, but let me look into it." He did tons of his own research because he's not the kind of person you can just tell to do anything. He found out athletes have been going plant-based for decades and no one was talking about it—before The Game Changers, this diet wasn't public knowledge. He tried it and said, "Babe, my six-pack finally came back," and was walking around with his shirt off (laughs). He had the best sleep of his life in the past 10 years, and said, "It's this plant-based diet." He had all this energy and was the poster child for it, so the teammates who never got insight into what fuel really looks like, who were drinking Gatorade and surviving on pizza and wings, saw those health benefits.
LIVEKINDLY: How do you translate the science behind eating plant-based to these athletes?
Morgan: When [Derrick's] teammates tried my food, I said to them, what kind of gas do you put in your Porsche or Maserati? They said, "I gotta put that 93 in—it's expensive, but you know I can't even think about that 87." I said, "Well, isn't your body more sophisticated than a $300,000 car? If you want performance and energy, and you put 87 in your car right now, give it two days and it's going to stop running. You're better than a Ferrari." They were like, "Sign me up."
LIVEKINDLY: You've since helped many athletes adapt a flexitarian or vegan diet. Is working with athletes to create performance diets your life mission?
Morgan: I love working with athletes, but more so, I love my work projecting the testimony of the millions of men who are plant-based. Every single day, I get messages and comments that say, "Because of what you've done with athletes, I've finally been able to take my husband off his blood pressure medication, and he has his diabetes under control." These men believe that if a 300-pound athlete can do it, then they can do it, too. I say to them, "If an elephant eats plants and is as strong as it is, then what about you?" It's this really mind-blowing myth that plant-based diets are for women—we've been able to show the world it's about our health.
LIVEKINDLY: After you and Derrick fielded criticism for being part of the football world, where players wear leather shoes and play with a pigskin football, you coined your personal philosophy of "pleganism," referring to a transitional space for people who eat a plant-based diet, but might still use leather or other animal byproducts. What is the context around this community, and how did giving it a name empower other plegans?
Morgan: I got attacked by certain animal rights folks, and I was like, "Are you kidding me?" I'm getting a football team to eat plants, and you're talking about the wrong thing. If you're being judgy like this, you're cutting off an entire group of humans. These guys have millions of dollars of Nike shoe contracts, and they're not going to drop them because most football players are taking care of multiple families. People don't understand the background of being a football player, which can be very short-lived.
LIVEKINDLY: Everyone just assumes a plant-based chef is doing it for the animals, but you've said before that you're also motivated by compassion for other human beings.
Morgan: While my connection with animals isn't as deep as most vegans, what I understand and really love is people, because I feel like a lot of people are just broken and hurt, and had some kind of trauma in their lives, but they find different ways to express it. A lot of people are lacking that love, and we're getting so cold as a society, and we just don't care anymore and say what we think. Sometimes when I read comments, I think, "Damn, what type of evil miserable person would say this?" But then, I come to the point of "hurt people hurt people." They're just individuals, but I'm taking a stance for humans to show more love and more compassion. Instead of, how dare you eat an animal, I say, let me empower them.
LIVEKINDLY: In 2018, Miley Cyrus and Liam Hemsworth requested that you cater their Nashville wedding. Was that a thrill, and a chance to showcase some showstopper plant-based dishes?
Morgan: I was already cooking Miley stuff like vegan chicken and dumplings with gravy, and she said, "Your food is insane—you've got me over here flipping out." One day she said to me, "Hey, nobody knows this, but Liam and I are getting married, and you're going to cook all the food for it." So I did all the Southern classics, including fried chicken, chicken and dumplings, and a few fun things like spicy Buffalo egg rolls with a ranch dip that Billy Ray [Cyrus] loves. Miley didn't tell anyone that everything was vegan until they demolished the food. When her grandmother found out, she lost her mind. Miley's mom Tish [Cyrus] texted me and said, "Mamaw can't believe she just ate an entire vegan meal."
LIVEKINDLY: Your recipes include fluffy pancakes as well as well-spiced stews, lentils, gumbo, jambalaya, and salsa. What are a few of your inside tricks for evoking flavors and textures that satisfy a wide range of palates?
Morgan: The trick to make fluffy pancakes is that instead of using all-purpose flour, you use self-rising flour. In my cookbook, I show you how to spice walnuts to taste like chorizo. For the sopa azteca, nature gives us all these aromatic tricks, from soaking spicy chilis and grinding them, to sauteing spices in oil to bring out their flavor. When I make a Vietnamese "fish" sauce, I use kelp powder with lots of lime juice and Himalayan salt. Since I don't use bone broth, I use aromatics like cinnamon, and I use techniques like charring vegetables, ginger, and garlic.
LIVEKINDLY: Since your appearance on The Game Changers, have you considered branching out into hosting your own show or documentary, doing a podcast, or more television?
Morgan: Yes to everything—it's all on its way. I have a virtual book tour, an appearance on Good Morning America, and a lot of other opportunities to bring people together over food. We're not going to judge you—we want to crawl before we walk. I'm encouraging people, because good god, we're such a depressed and anxious society already. And then, there are the last two years of what we've been going through—let's just come back together. I don't care what background you're from and what you grew up eating—if you put out an amazing spread of food no matter what it is, everybody forgets about their differences real quick. What is the common denominator? It's food, and I've witnessed that happening.
Charity Morgan's comfort food recipes
Charity Morgan has shared two exclusive recipes from her new cookbook, Unbelievably Vegan. These fluffy vanilla pancakes are a delicious, protein-packed option for a weekend brunch, while her sopa azteca bubbles with spicy chilis and golden, sautéed spices.