Conservationists were delighted last week when hidden wildlife cameras captured the elusive pine marten in the south of the UK. While pine martens have a secure foothold in Scotland and remote parts of Wales, they were thought to be all but extinct in England—until now. Meanwhile, Californian birds could benefit from AI technology that monitors wildlife health in real-time, China's roaming elephants are finally heading for home, Canada has announced significant funding to protect its valuable wetlands, and a recent study indicates the many benefits of rewilding for both workers and the environment.
Here's this week's positive environmental news.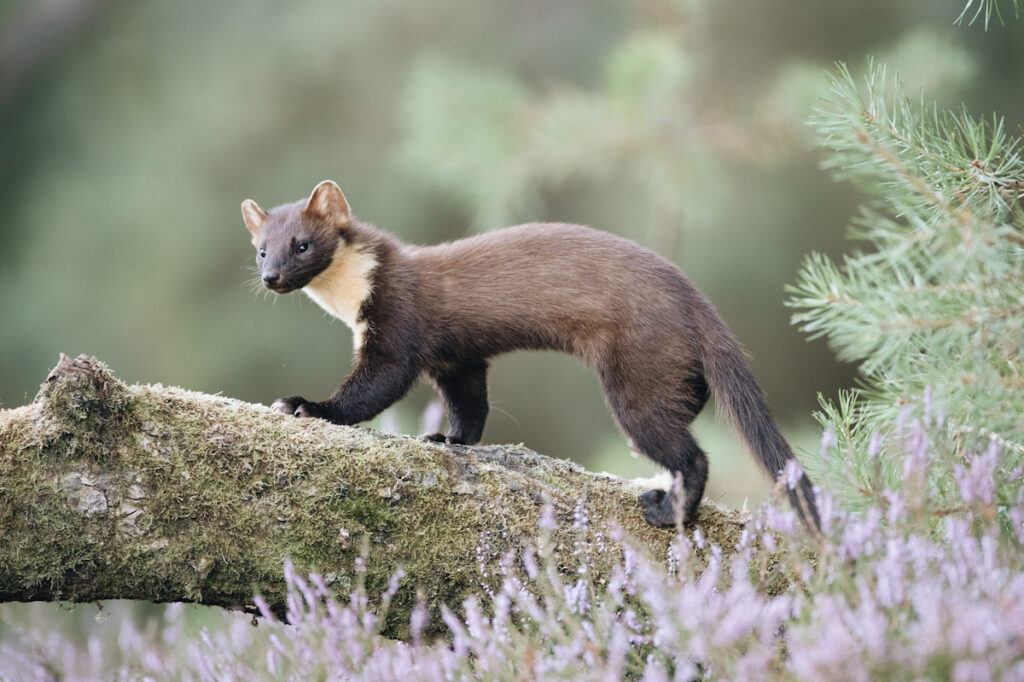 The good news: The presence of a potentially well-established and sustainable pine marten population in the New Forest has been confirmed after more than 100 years of functional extinction in England.
Hidden cameras captured the solitary animals moving across fallen trees. Marcus Ward, a representative of the conservation group Wild New Forest, says that the stunning footage indicates that there are "more [pine martens] here than we thought."
The impact: Pine martens—brown, cat-sized relatives of weasels and otters—play an important role within their forest ecosystem. The small, opportunistic predators have a rightful place within the forests of the UK, from north to south. Their return to England is symbolic of the country's huge, but dwindling, opportunity to repair and rewild in the coming years.
Did you know: Every pine marten's cream-colored bib is unique, which makes it possible to identify and monitor individuals. The marten was hunted throughout the 1800s for its lustrous fur, as well as for sport and in routine gamekeeping work.
According to Forestry England, 95 percent of Britain's woodland cover had also disappeared by around 1900. Despite this, pine martens managed to survive, their populations bolstered more recently by several successful recovery and relocation projects.
How you can help: You can write to your MP to let them know that British wildlife continues to need national protection, and the Wildlife Trust has a handy guide here. This is particularly important right now, and the Guardian reported last month that the British government could roll back any legislation that stands in the way of construction projects, endangering pine martens, adders, and red squirrels alike.
You can also support organizations carrying out pine marten recovery projects, such as Vincent Wildlife Trust, Gloucestershire Wildlife Trust, and Wildlife Vets International.
New AI technology could monitor wildlife health in real time
The good news: Researchers at UC Davis are testing a new early detection system that will share patient admissions information between wildlife rescue centers up and down the California coast. The project is called the Wildlife Morbidity and Mortality Event Alert System and is based on researchers Devin Dombrowski and Rachel Avilla's earlier Wildlife Rehabilitation Medical Database (WRMD).
Using the early detection system, reports from 30 different rescue centers are collated and cross-referenced in order to send out "prediagnostic" alerts to frontline wildlife experts about emerging issues before they become widespread. This type of system could also directly benefit humans in the detection of certain diseases that appear first in wildlife and other animals.
The impact: Dangerous algae bloom caused by fertilizer runoff and other pollution kills marine birds every single year through domoic acid poisoning. But a lack of simple information sharing between centers hampers preventative measures.
This new system could enable early detection and improved preparation—something that is increasingly important as algae blooms become both more common and more problematic. According to the researchers, marine birds including Pacific loons, red-throated loons, Western Grebes, and California brown pelicans have all been impacted by domoic acid intoxication in the past.
Did you know: California's coastline is home to a diverse, complex, and fascinating ecosystem. Birds affected by algae blooms, such as the brown pelican, play a central part in the food chain. While these diving specialists are not currently considered endangered, humans have driven them to the brink of extinction twice. First by hunting and then with DDT pollution.
The relatively recent return of the brown pelican is widely considered one of the most notable wildlife success stories in the U.S., alongside the recovery of the American bald eagle. Brown pelicans, the smallest of the eight pelican species, still have a wingspan of up to 7.5 feet.
How you can help: WRMD and the Wild Neighbors Database Project (also founded by Dombrowski and Avilla) both accept donations to support their work. You can also contribute to organizations such as International Bird Rescue, California Wildlife Center, and the Water Education Foundation. To learn more about brown pelicans, check out this post by Oceana.
Canada just announced a $25 million fund to protect wetlands
The good news: At the end of July, the Canadian government announced a brand new C$25 million fund to protect wetlands and grasslands in its western states. The fund will be divided between individual projects and groups to fund their conservation, restoration, and protection work in the Prairie provinces' critical wetland ecosystems.
The impact: Ducks Unlimited Canada will receive $19.28 million, Nature Conservancy of Canada will receive up to $4.05 million, and Manitoba Habitat Heritage Corporation will receive up to $2.4 million. An additional 11 projects will also receive funding from the Nature Smart Climate Solutions Fund from 2021-2022. Collectively, their work will conserve up to 30,000 hectares, restore up to 6,000 hectares, and enhance the management of 18,000 hectares.
Did you know: Canada's wetlands help to protect humans and wildlife alike from flooding, drought, and climate change. The diverse terrain includes marshes and bogs, swamps and prairies, and can be found along coastlines, in forests, and even on the frozen tundra. Wetlands are home to small mammals such as shrews and voles, medium predators such as mink and otters, and hundreds of unique and vitally important bird species.
How you can help: Researching and joining a local conservation group is the best way to support wetlands in your area. Volunteering for the removal of litter and invasive species helps to protect the ecosystem, plus it can be a fun way to meet like-minded folks who care about the environment. To learn more about wetlands, read the WWF's informative post here.
Rewilding just 5% of England could create thousands of new jobs
The good news: Rewilding Britain has published "myth-busting evidence" that rewilding boosts employment and volunteering opportunities in addition to fighting climate change and restoring biodiversity. The conservation group analyzed 20 sites with a total of 75,000 rewilding acres to reveal a 47 percent increase in full-time equivalent jobs and nine times as many volunteering opportunities. The Guardian has extrapolated this to 5 percent of England, which would create approximately 20,000 new jobs nationwide.
The impact: Many of those who work and live in rural areas worry that rewilding efforts will lead to a drop in employment. But this new analysis shows that conservation efforts are not synonymous with land abandonment—or completely ceasing food production.
Additionally, many of the new jobs are hands-on roles based in nature tourism, monitoring and restoration, and education, and offer a much higher rate of employment than the intensive agriculture and ineffectual conservation efforts that currently dominate the British countryside.
Did you know: Overall, building a more sustainable future should lead to increased job opportunities for all. This phenomenon is not only limited to rewilding and conservation; a recent publication by the think tank Green Alliance reported that moving to a circular economy could create more than 450,000 jobs by 2035. Renewable energy is another fast-growing sector, and as the world moves away from fossil fuels there will be increased demand for skilled workers in wind, solar, and hydropower.
How you can help: You can learn more about Rewilding Britain and donate to support its work here, as well as similar international organizations such as WILD and Rewilding North America. Once again, writing to your representative or MP about the importance of environmental protection, rewilding, and green economic growth shows that these issues matter. A worldwide, inclusive green recovery is an essential part of fighting climate change in the coming years.
China's roaming elephant herd is finally heading home
The good news: A herd of elephants from Yunnan's Xishuangbanna National Nature Reserve have roamed hundreds of kilometers across China over the last one and a half years and captured the imaginations of people around the world. While the herd left Yunnan with around 15 individuals, some returned early and others were born on the way. Drones that followed the elephants captured mud baths, plenty of snacking, and some light breaking and entering. Earlier this month, Chinese officials announced the animals are nearly home again.
The impact: In addition to entertaining the internet with their wandering exploits (check out the #followtheelephants tag on Twitter), the herd has also brought attention to the conservation needs of elephants in general. Admirable protection efforts since the 1980s have helped to nearly double the number of wild elephants in China to 300 as of 2021, but the animals remain on the endangered list. So far, they have lost approximately 65 percent of their habitat to urban development, infrastructure, and commercial farming,
Did you know: China's elephants are known to roam freely in the wild, in part due to their enormous appetites (they spend up to 18 hours per day eating). While the herd's unprecedented decision to wander for hundreds of kilometers for months at a time remains somewhat of a mystery, some experts believe that they went looking for more food.
The creatures' declining habitat, coupled with an extreme drought, had reduced the availability of food in the reserve prior to their departure. It's likely that the depleted resources prompted the elephants' decision to roam across China. The gigantic animals are ecosystem engineers, which means they are absolutely essential in the maintenance and preservation of biodiversity in general. To preserve the environment, their wellbeing and safety must be guaranteed.

How you can help: Only buying Fair Trade coffee and Forest Stewardship Council (FSC) certified timber helps to preserve dwindling elephant habitats. Learn more about Asian elephants from the WWF here (and support the organization's work).
Charities such as Asian Elephant Support, Save the Elephants, and Save the Asian Elephants, all carry out valuable work. A combination of petitions, lobbying, protest, and education is responsible for the protections that elephants receive today, and continue to be important tools moving forward.
Looking for more positive news stories? Read the previous selection here.