This article was originally published on November 2, 2021.
During the United Nations' annual climate change summit, COP26, which took place in Glasgow, Scotland, women from around the world appealed to leaders to recognize that people need to be at the center of climate policy. The problem is, the leaders making critical decisions that will shape our future (namely, white men) aren't listening. This isn't just offensive, it's downright dangerous.
Scientists say that unless we, as a global community, act now to stop burning fossil fuels, we will continue to experience catastrophic environmental collapse. Women around the world have been sounding this alarm for years: climate action is urgent. Women, too, have been proposing some of the boldest, most innovative ideas and solutions to slow down climate change. So, why are women still underrepresented in these worldwide meetings?
Women are claiming their seats at the climate table
During COP26 (which stands for "Conference of the Parties"), 20,000 heads of state, diplomats, and activists joined together for the most critical climate talks of our lifetimes. Each of the 192 countries who signed on to the Paris Agreement had delegates representing them in the negotiations for two weeks. Yet only one-third of them are women, according to the 2021 Gender Composition report published by UN Climate Change, which highlights the lack of consistent progress towards gender balance.
"While women and girls around the world are demanding more climate action at the national and international level and have received increasing recognition for their leadership, in the international climate decision-making process, women's voices are not yet equally represented," the report says.
What's more is that only 12 percent of the heads of national environment ministries are women, Abdulla Shahid, president of the UN General Assembly said in an interview at discussions in Glasgow. Fewer than 30 percent of climate and biodiversity scientists at the talks are women. "It would assist the climate debate having a gender perspective more accurately reflected," he said.
Daphne Frias, who traveled from West Harlem to Europe for COP26 as part of The New York Times Generation Climate, says it's not just women who are underrepresented. It's also BIPOC and disabled communities, some of the most affected by the climate crisis. The most vulnerable communities are the ones that are already suffering the most from extreme weather events, housing crises, health problems, and climate change-driven immigration.
"My background as a disabled Latina informs every single part of my organizing," says Frias, who has cerebral palsy and uses a wheelchair to ambulate. "My communities are wholly and critically important to me, and all the work I do."
Groups like The Internal Displacement Monitoring Centre are tracking and researching communities worldwide who are the most vulnerable, and have been displaced due to rising temperatures, land, and forest degradation, loss of biodiversity, and sea level rise. For example, drought caused 2.4 million new displacements globally between 2017 and 2020.
"When we talk about the climate crisis being a public health crisis, we mean that it impacts your health and the health of the people around you," adds Frias, a first-generation college student who's currently in medical school. "We are not treating it this way, and this needs to change."
For so many years, we've talked about climate change in terms of how we need to personally take responsibility for the crisis. We've felt guilty and individually accountable. But as three journalists—Georgia Wright, Liat Olenick, and Amy Westervelt—point out in a recent issue of The Guardian. "The reality is that only a handful of powerful individuals bear the personal responsibility."
They expand on "these 12 enablers and profiteers," who are all men. "The nation's worst polluters managed to evade accountability and scrutiny for decades as they helped the fossil fuel industry destroy our planet," write Westervelt, Wright, and Olenick. "The actions of these climate supervillains have affected millions of people, disproportionately hurting the vulnerable who have done the least to contribute to global emissions."
Big ideas, bold solutions: Why women should lead global climate policy
While COP26 will shift the way the world's major polluters operate, many women on the frontlines of climate activism say it's not enough.
"A complete overhaul of who has a say in the crafting of climate policy is the only acceptable solution," says Ayisha Siddiqa, who co-founded Polluters Out, a youth-led mobilization to demand that COP26 refuse funding from the fossil fuel industry.
"Polluters out is not just a rallying cry, it is the last chance we have to save humanity and prevent irreversible damage," she says. "We need the UN to create a conflict of interest policy with fossil fuels and bind nations to it."
Andrea León-Grossmann, Director of Climate Action at Azul in Los Angeles, agrees. "We just want clean energy, clean water, and clean air for everyone," she says. "The solution is straight up regulations, not carbon offsets or carbon trading." Born and raised in Mexico City, León-Grossmann has lived in Los Angeles for more than two decades, where she works with the Latinx community to protect and conserve our coasts and oceans.
León-Grossmann explains, for example, that the country of Israel recycles 90 percent of its water, yet the state of California only recycles 13 percent. "We shouldn't be dumping all of this water into the ocean if we can re-use it," she says.
Climate activists have pointed out that some corporations and leaders are greenwashing us all by suggesting they can use new technologies or plant trees to offset carbon emissions, instead of actually divesting from fossil fuels altogether. Moreover, developing countries have pointed out that the wealthiest countries—the ones most responsible for carbon emissions—are the same countries pushing for these "net zero" carbon methods without actually reducing their emissions and actually phasing out fossil fuels. Smaller countries have pointed out that the U.N. needs to recognize that different countries have different responsibilities to address the climate, and groups like COP26 Coalition are calling for reparations and redistribution to indigenous communities and the global south because climate action must be based on who has historically profited and those who have suffered.
Women see the solutions
One obvious way to support women making decisions at a global level is to fund women-led organizations working in the communities most affected by climate change.
"We really need to change the system," says Violet Wulf-Saena, founder and executive director of Climate Resilient Communities in Palo Alto, CA. This starts with funding the most vulnerable communities around the world, who are most often people of color. "What really makes a difference is seeing the commitment to policies with funding," she says, explaining that these communities are on the ground, worried about basic needs like clean air, safe drinking water, sufficient food, and secure shelter.
Vanessa Nakate, a climate activist from Kampala, Uganda, and author of the forthcoming book, A BIGGER PICTURE: My Fight to Bring a New African Voice to the Climate Crisis, talks about these disparities on a global level. Nakate points out, for example, that Africa has the least fossil-fuel emissions in the world, but it's one of the most vulnerable continents to global warming. Across the world, the effects of climate change, including heat waves, droughts, and rising seas, often hit BIPOC communities the worst, even though they have emitted such a small fraction of the greenhouse gases causing these impacts.
In Africa today, 30 percent of the population has no access to clean water. Yet the world's financial resources, including the media, are concentrated in the Global North.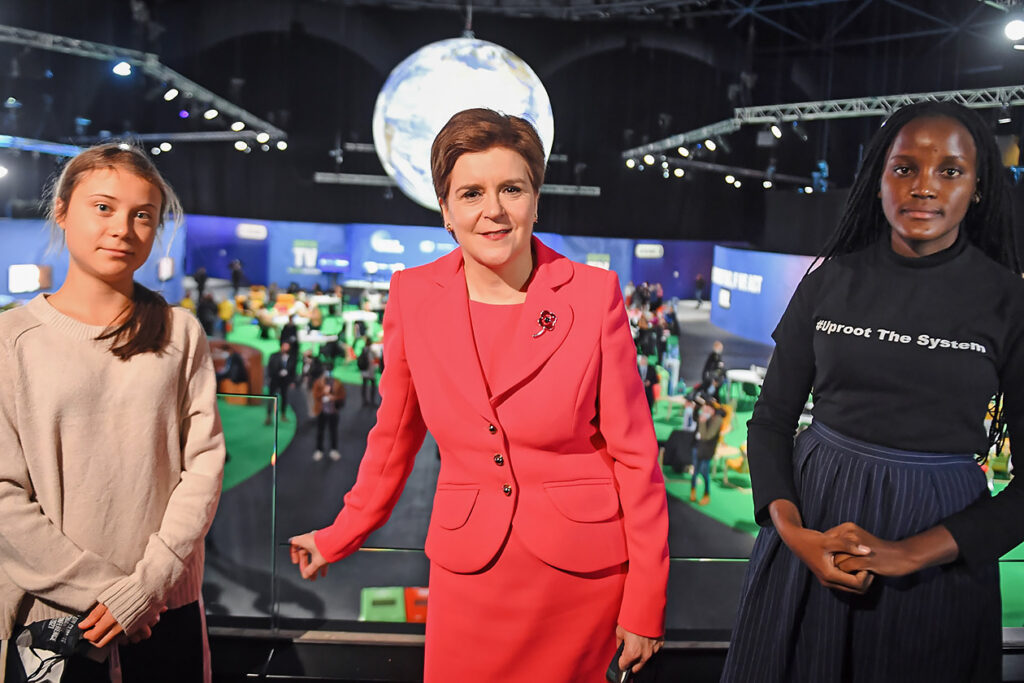 Let women have a say in policy
In a press conference last month, COP26 President Alok Sharma acknowledged that "It's very humbling, to speak to those who are suffering because of climate change, which is not necessarily of their own making." He added, "I think that is why as a world we need to make sure that we deliver at COP26. Not just for our generation, but indeed for future generations as well."
The question is, how will he and other delegates "deliver"? For decades now, it's women who've been pointing out the disparities in communities of color around the world. From reshaping climate polity to advocating for BIPOC families who are disproportionately impacted by the effects of climate change of color, women are stepping up with ambitious plans.
Women are preparing for disasters and enforcing land rights. They are promoting renewable technologies. They are integrating climate change resiliency, adaptation, and mitigation. They are making sure people have basic needs, such as food, water, and housing. It's time to listen.
"We can't just be silenced anymore," says Aryana Henthorne, a member of the Sherwood Valley Band of Pomo Indians in northern California. Henthorne, who's currently getting her Ph.D. in Cell and Molecular Biology at the University of Hawaii, says that her community has been trying for years to regain access to their homeland on the coast, where salmon and red abalone used to be abundant. Due to coastal development, including roads and dams, wildlife has declined in abundance as they've lost their habitat.
"So much has been lost. It's been 15 years since I've seen starfish. The urchin population has exploded. We never see eels anymore. This is what I'm hearing in my community," says Henthorne, who says it's time for leaders at every level to let native people be stakeholders, come up with strategies, and make decisions to slow down climate change. "Aren't we the stewards who've kept the system going until now?" she asks. "Climate change won't let us be silent. We're all stakeholders, and we have to act together."
Reporting for this story was supported by a grant from the Institute for Journalism & Natural Resources.
The views expressed in opinion pieces are those of the author(s) and do not represent the policy or position of LIVEKINDLY.