Somewhere between the history of enslaved Africans, Indigenous peoples, and agriculture in America lies the intersection of protecting both the planet and the people on it. Despite systemic racism, the ancestors were supernatural, armed with the skills to transform bits of nothing into a way of life. Generations of indigenous and enslaved people turned scraps into seasonings, rations into refreshments, and what some considered weeds into nourishment that fed entire communities. But human-caused impacts on climate are resulting in a rapid decline of our ecosystem and threatening the lives of billions of people around the world. The most recent report from the International Panel on Climate Change (IPCC) confirmed that without immediate and urgent action, food and water insecurity will become prevalent, especially among lower-income populations.
Today we need this magical wisdom more than ever. Climate change continues to weaken and deplete food systems around the world, threatening the most vulnerable communities. Without a just and equitable resolution to the climate crisis, food insecurity will grow and those on the frontlines, most often Black, Brown, Indigenous, and low-income people, will suffer most. Climate Justice is our superpower—a weapon against both the climate crisis and racism.
How climate change and racism are linked
Tackling the climate crisis, and its consequential food insecurity, requires that we center race in both the discussion and the solutions. The IPCC report directs us to look specifically at Africa, Asia, and Central and South America as regions that will suffer greatly without a response that addresses social inequities and restoration of natural resources. It further specifies that the vulnerability of people to climate change varies by certain factors including, but not limited to, colonialism and marginalization. Talking about the effects of colonialism without talking about race is akin to referring to the Civil War as just a disagreement between states. When the direct metric of race is excluded we fail to directly address the cause of a problem and risk missing groups of people that should rightly benefit from a solution. We cannot do anti-racist work in any arena, including climate change, if the elements of race are disguised, devalued, and ignored.
BIPOC communities have always led climate action
And so, we look back to the original sustainability superheroes. Black, Brown, and Ingenious Americans have a lived experience of survival in the harshest environmental, mental, and physical conditions and are prime to provide innovative ideas that not only reduce food disparity but also anchor climate justice in food systems around the world.
Indigenous environmental advocate Nemonte Nenquimo of the Ecuadorian Waorani tribe has long practiced the protection of lands while highlighting the nourishing and medicinal relationship between people and forest. She stated,
"Our ancestral knowledge as Indigenous peoples has enormous value for the rest of the world," she says. "But it is under grave threat and quickly disappearing. When this wisdom is lost, humanity becomes weaker, and nature is destroyed even faster."
A similar relationship exists among the Gullah Geechee people off the coast of the Carolinas. Sitting on the front lines of rising sea levels, floods, and extreme weather events, the island people sustained themselves with the knowledge brought with them from their native countries and respect for nature. And the best climate scientists in the world know this to be true. IPCC Working Group II Co-chair Debra Roberts says, "By bringing together scientific and technological know-how as well as Indigenous and local knowledge, solutions will be more effective. Failure to achieve climate-resilient and sustainable development will result in a suboptimal future for people and nature."
Anti-racist work will yield climate solutions
Everyone's work begins with abandoning the stereotypes and dispelling the myths. There is historic intersectionality of climate and environmental issues with equity and social justice issues that can be addressed. Tackling food disparity is a good place to start. These are not two separate issues but instead, two ends of a knot tangled by a history of systemic oppression and racism that overlaps food security and climate. Compassion and action for the planet cannot exist without compassion and action for all the people on it, especially the underserved and marginalized. And so perhaps the biggest myth of all to unpack and deconstruct is tied to the historic love-hate relationship between Black Americans and agriculture.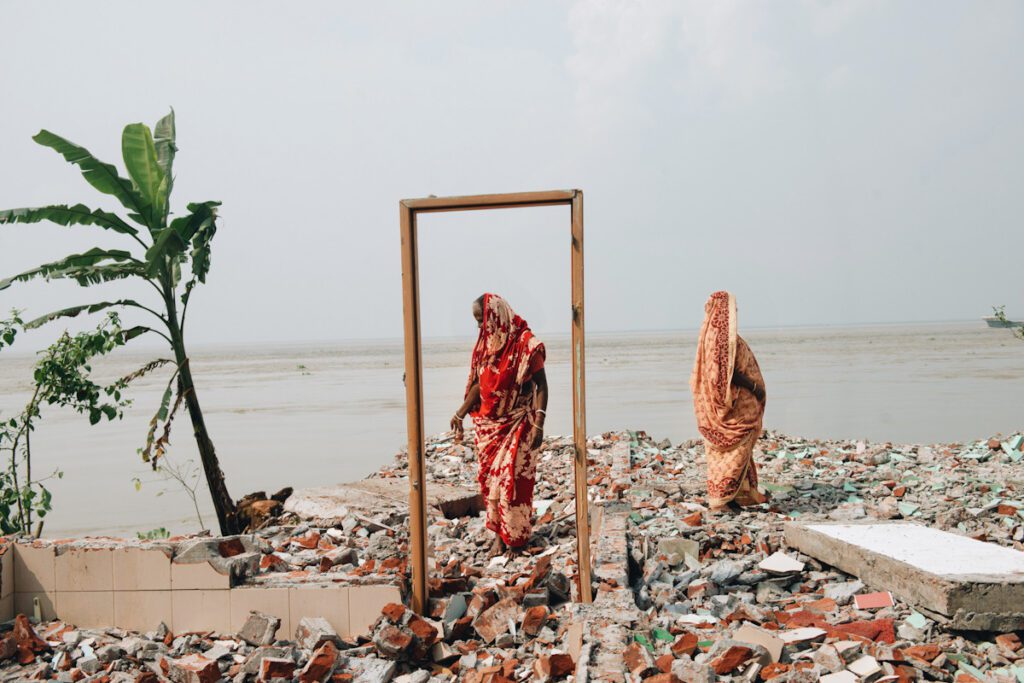 Dispelling myths about race, food, and environmentalism
In the Black community, eating greens and vegetables has always been part of the staple diet. In 2016 the Pew Research Center found that Black Americans are more likely to identify as vegetarian or vegan compared to all other Americans. A third of Black Americans are cutting back on their meat intake versus one-fifth of white Americans. And while the United States remains at the top of meat-consuming nations in the world, among the Black American populace who are reducing their meat intake, the reasons most listed are to "improve health" and "the environment." In 2020, Vegan enthusiast and Tiktok sensation Tabitha Brown, completely revised her role to become an overwhelmingly successful social media influencer with bacon-flavored carrots. Something about the soothing way she sprinkled garlic powder on carrots with such love that it just sounded like an incantation of the ancestors saying, "thank you for remembering the old ways…we are pleased."
Marketing teams took note and now even Kentucky Fried Chicken has a plant-based chicken option. Still, mainstream veganism, similar to mainstream environmentalism, is largely considered as being founded, maintained, and grown by white people. In fact, Black experts with lived experience can be a trusted voice to other Black people when it comes to a food lifestyle that is not only germane to Black history, culture, and future existence but is also central to understanding the climate crisis. So often, these voices are excluded and even disenfranchised from participating in the conversation. In 2014, the vegan food site, Thug Kitchen, faced well-founded accusations of cultural overstep. At face value, it appeared to be a Black American vegan space, full of Black American vernacular, ideas, and community. In reality, it was run by a white couple that used Black American terminology to gain an audience. Real and authentic Black vegan food experts described the debacle as a cultural food appropriation. As one expert put it, people rarely go to the second page of the Google search.
Communities of color are disenfranchised from sustainability
If you peek through the lens of the American period of enslavement, one can begin to understand why it's difficult for Black Americans to embody the words, "Eat more vegetables because it's good for the planet." It ignores our existing cultural affiliation with plant-based living and does not account for post-Civil War systemic barriers that prevented us from doing the very things we were told are good for the environment and our bodies. Most stinging is the self-inflicted victimization it presents to us, assuming that the economic and environmental position with which we find ourselves is of our own doing. How can I plant a garden in the backyard when years of systemic racist housing policies have prevented me from owning the property where the yard sits? If I am able to plant a garden, how do I keep it watered when the water source isn't fit to drink? Mapping Inequality—a collaborative effort of the University of Richmond, Virginia Tech, The University of Maryland, and John Hopkins University–outlines a clear picture of the communities subject to discrimination yet fall victim to the growing effects of climate change. It is victim-blaming at its worst, accusing and chastising the abused for not having sense enough to do something so obviously good for all of humanity when in fact, we've been well aware of the benefits but have been blocked from access to do the work. Our superpowers are ignored. The ability to bring solutions and justice is cast aside due to the construct of race and the inherent oppression it creates.
The feeling not only breed resentment but also creates yet another barrier to overcome if we are to tackle the looming climate crisis. "We" did not all poison the planet equally so why are "we" being told that "we" must change our lifestyle to accommodate something we had little part in screwing up? The very reason we're eating what we eat is born from the traumas of slavery and the plain "old school" magic our ancestors were able to accomplish with what was given to us and the cultural accommodations made to adjust to what we had. It becomes very difficult for a person of color to resonate with white, mainstream, environmentally moved, vegan supporters of "cruelty-free" eating for the sake of the planet in the future, when at times, these same people do not exhibit the same sense of compassion for the hunger, suffering, and cruelty of minority people by the police in the here and now. Understanding these racial-based dynamics are crucial to deploying and empowering minority communities to recover just solutions that work.
Climate justice is a global effort
But there is a middle ground where justice and anti-racism working together has the potential for tremendous and expedient benefits if everyone is willing to listen. That middle ground is called climate justice and it is spreading. FoodPrint is a program that not only helps people understand the footprint of what they eat but also the connection between social justice, climate change, and food production. And more importantly—why it matters. Footprint Farms in Jackson, Mississippi, helps eradicate food deserts through urban farming to entrepreneurship. The shift is happening as all environmental leaders, regardless of race, class, or creed; recognize the short time left to take bold implementable actions on climate that can innovate and balance our food systems before time runs out. We all have access to climate justice as a powerful weapon to fight climate change.
---
Broadly adapted from the chapter entitled, "The Cultural Appropriation of Collard Greens" in Heather Toney's forthcoming book, Before the Street Lights Come On: Black America's Call for Climate Solutions, forthcoming from BroadLeaf Publishing April, 2023
The views expressed in opinion pieces are those of the author(s) and do not represent the policy or position of LIVEKINDLY.