Vegan Easter eggs make hopping into the holiday spirit easier than ever.
The weekend of bunnies, flower festooned bonnets, and of course, chocolate, is nearly upon us. For those who've given up chocolate for Lent, the annual feast day probably can't come soon enough.
Combining chocolate and eggs, a pagan symbol of new life and fertility, the ancient holiday is perhaps the most un-vegan sounding of celebrations. However, the plant-based chocolate market has grown considerably in recent years. Ditching dairy no longer means missing out on Easter indulgence or forgoing a proper Easter egg. If you're looking for some inspiration, here is our ultimate guide to vegan Easter eggs.
Best Vegan Easter Eggs
https://www.instagram.com/p/CMuN_BDJqa0/
Moo Free
Created by Mike and Andrea Jessop, all of Moo Free's products are organic and made with fair-trade cocoa. The multi-award-winning, family-owned business uses high-quality, natural ingredients in its creations and holds a focus on being environmentally-friendly
Sea salt and caramel Easter eggs, "Bunnycomb" eggs, Rosie Rabbit chocolate bars, and "Cheeky Orange" Easter eggs are all on offer. Its products are stocked at leading retailers including ASDA, Sainsbury's, Tesco, Morrisons, and Waitrose.
Get it here.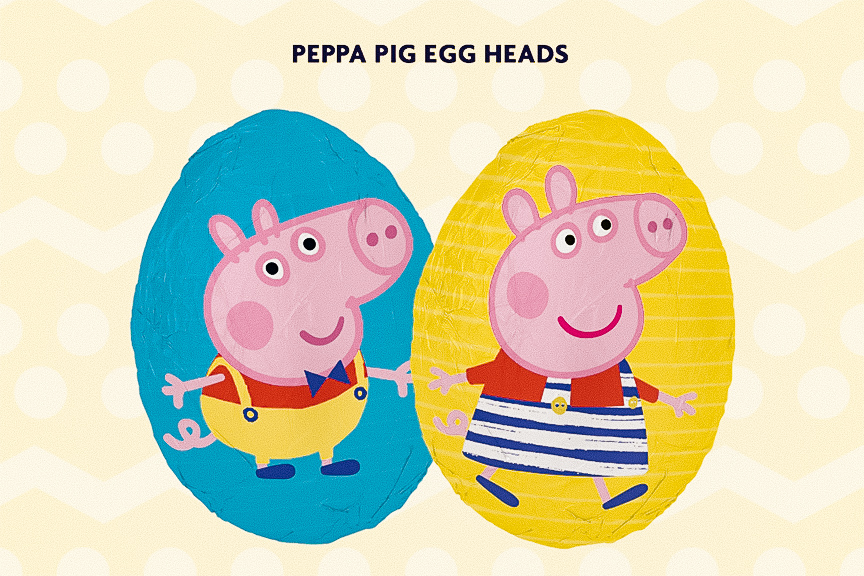 Nomo by Kinnerton
Founded in 1978, Kinnerton is a "child's chocolate dreamland," according to its website. Its products—which include Easter Eggs, chocolate bars, and advent calendars—are made in a "pioneering" nut-free environment.

Though not a vegan brand, in 2019, the company launched a dairy-free range of products, called NOMO. NOMO Easter eggs are available from a number of UK supermarkets, including ASDA and Tesco.
Get it here.
Hotel Chocolat
For people who take their chocolate very seriously, Hotel Chocolat sells a few vegan Easter delicacies. The top pick is its Splat Easter Egg, which is comprised of a dark chocolate egg decorated with white vegan chocolate, cunningly decorated to look like its suffered an eggy mishap.

Other vegan options include the Extra Thick Easter Egg, the Hard-Boiled Easter Egg (in mint chocolate and ginger varieties), and dark chocolate bunnies.

Get it here.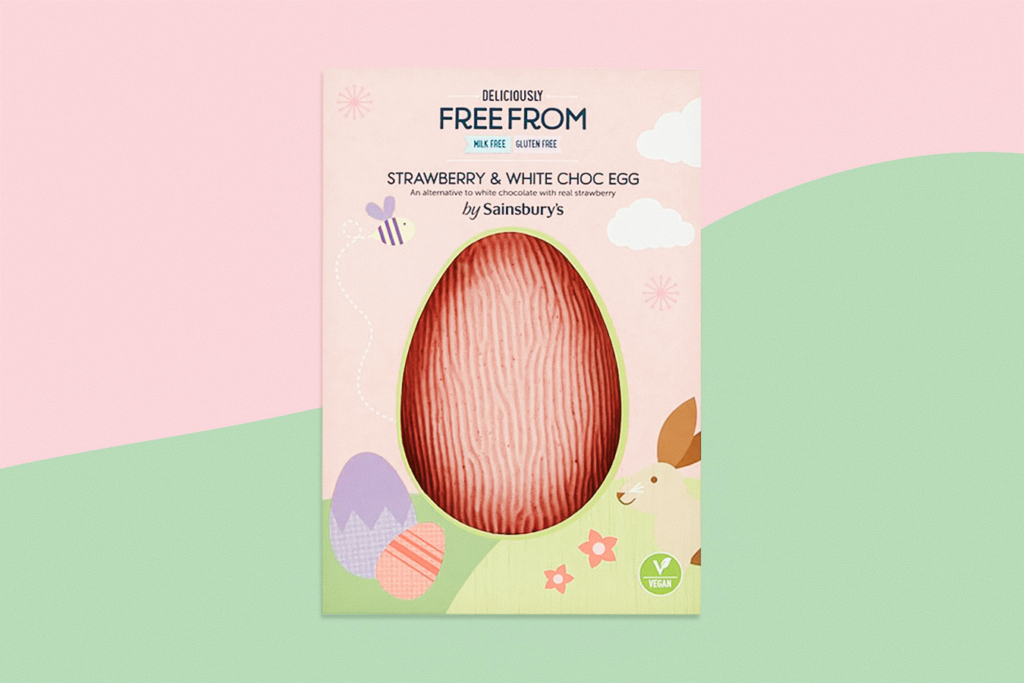 Sainsbury's Deliciously Free From
This British supermarket, founded in 1869, is getting fruity with a vegan white chocolate and strawberry egg. Not only is this £3.50 egg from Sainsbury's Deliciously Free From range a fetching shade of pastel pink, but it also contains real chunks of freeze-dried strawberry.

The Easter egg is also available in dark and white chocolate varieties.

Get it here.
Buttermilk
For a more luxurious "eggsperience," this Cornwall-based confectionery company makes vegan eggs in flavors Choc Orange and Choc Honeycomb. Buttermilk typically produces non-vegan fudge, honeycomb, and brittle, but launched the animal-free Easter treats in an effort to be more inclusive.

You can buy Buttermilk's dairy-free Easter eggs from Sainsbury's for £6 each.
Get it here.
Divine
Fairtrade chocolate company Divine offers a range of vegan Easter egg options, including a Dark Chocolate & Raspberry Easter Egg.

The company uses high-quality ingredients; its eggs contain 60 to 70 percent cocoa and Divine supports cocoa farmers in Ghana by offering them shares in the company. Divine doesn't use palm oil, artificial flavors, or soya in its recipes.

Get it here.
Melt
This specialist chocolate shop based in London's Notting Hill handcrafts all of its chocolatey wares from fresh ingredients. Its bespoke strawberry egg is made with 70 percent dark chocolate, freeze-dried strawberries, and passion fruit. An especially nice touch is that the artisanal egg is filled with vegan confectionery in the old-school style.
At £29.99, this is the sort of Easter egg one gives as a very fancy present. Of course, we all deserve to treat ourselves now and then. Try the brand's other varieties of vegan Easter eggs, including white chocolate and dark sea salt.
Get it here.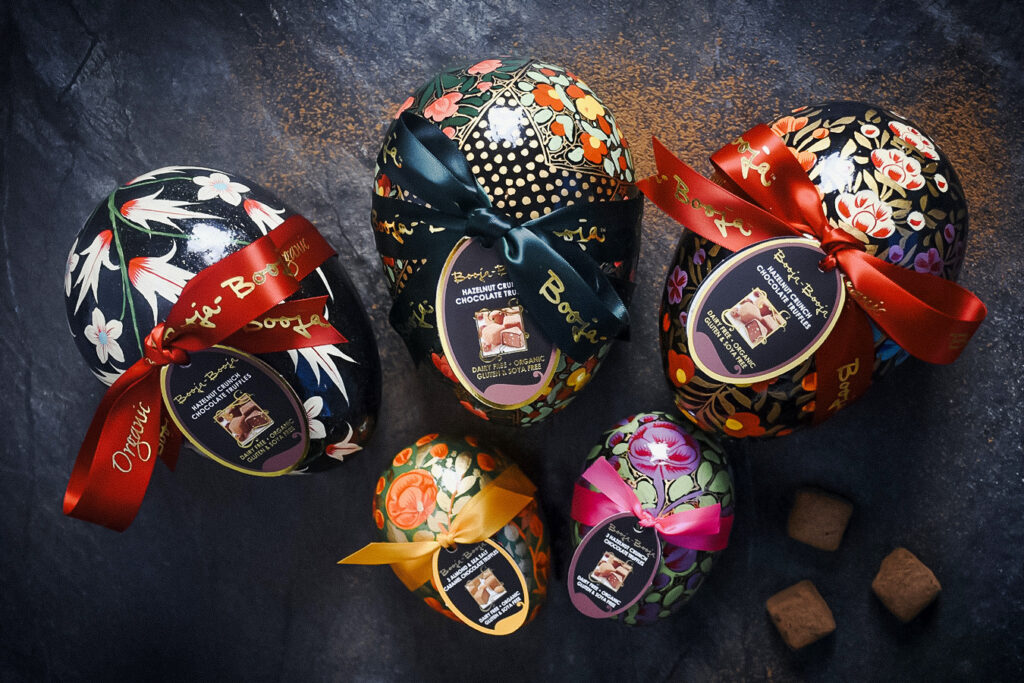 Booja-Booja
Booja-Booja makes its luxury dairy-free creations with just a few natural ingredients, like agave syrup and almond paste. Its Easter chocolates are kept cozy in hand-painted shells made in Kashmir, India. Inside, you can find three truffles or 12, depending on your appetite for all things chocolate. Flavors include almond and sea salt caramel, fine de champagne, and hazelnut crunch. They're organic and free from gluten and soya.
Get it here.
Mummy Meagz
Yorkshire-based Mummy Meagz has made a fully vegan version of the classic creme egg: the Chuckie Egg. The gluten-free and soy-free dark chocolate eggs feature a sticky vegan fondant filling, colored to resemble the white and yolk of a raw chicken egg.
Get it here.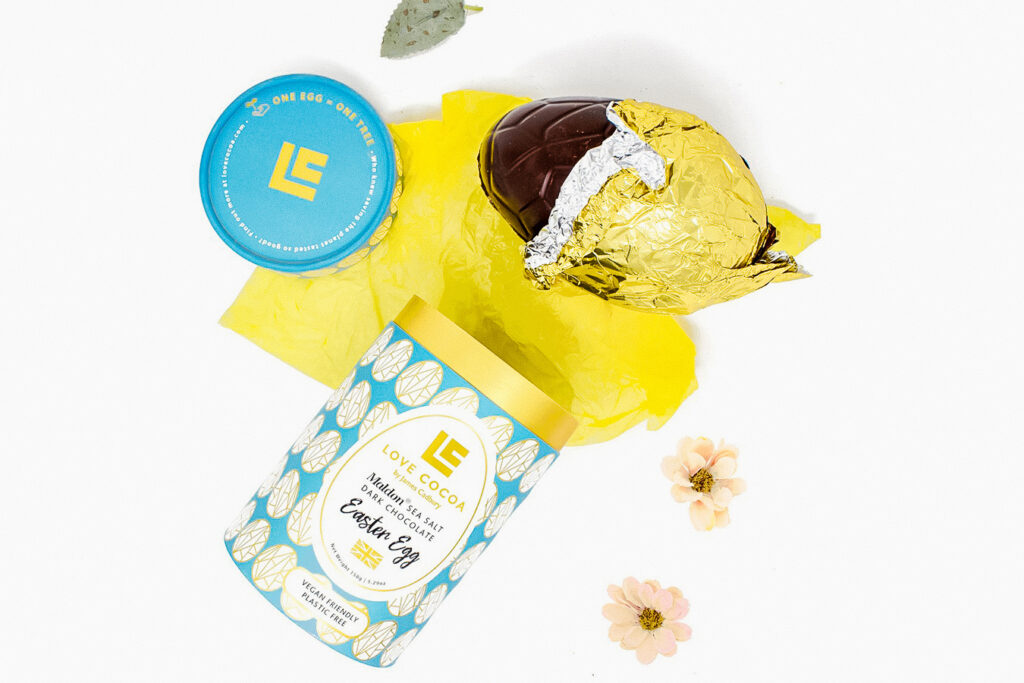 Love Cocoa
James Cadbury's ethical chocolate brand, Love Cocoa, carries a number of vegan chocolate goodies. For a delectable, Easter-worthy treat, dig into the company's Giant Dark Sea Salt Easter Egg With Vegan Truffles. Featuring 70 percent cacao dark chocolate from Colombia and 72 percent Dark Peruvian Chocolate Truffles, the giant egg is garnished with sea salt flakes.
Get it here.
Happi Free From
Founded in January 2021, this oat milk-based chocolate range is allergen-free and sustainably sourced and packaged. In addition to chocolate bars—the company also carries vegan Easter eggs. Flavors include plain milk, salted caramel, and orange.
Get it here.
Hames Chocolates
Although not a vegan brand, the UK-based Hames Chocolates carries a range of dairy-free chocolates, including luxury vegan chocolate eggs in flavors like dark raspberry and milk chocolate honeycomb.
Get it here.
No Whey
No Whey Foods carries an extensive vegan Easter collection. In addition to dairy-free chocolate bunnies and Easter-themed chocolate lollipops, the company offers Mini Cream Veggs and Milkless Suprise Eggs–perfect for any Easter egg hunt.
Get it here.
LIVEKINDLY is here to help you navigate the growing marketplace of sustainable products that promote a kinder planet. All of our selections are curated by the editorial team. If you buy something we link to on our site, LIVEKINDLY may earn a commission.