Updated April 27, 2021. Food giant Tesco may have over 100 candles on its birthday cake, but the chain has remained ahead of the game with market trends. The UK's biggest supermarket has cornered the UK market in vegan products, offering everything from sandwiches to vegan-friendly haggis.
According to a recent survey by nutrition brand Garden of Life, Tesco now stocks at least 76 own-brand vegan products, making it the number one choice for consumers shopping for plant-based food. The rise of meat reducers, flexitarians, and plant-based eaters has seen the vegan food market skyrocket and Tesco has been firmly strapped into the cockpit.
Not only has the company developed and launched two plant-based ranges — Wicked Kitchen and Plant Chef — but it has also been quick to stock popular branded products such as Beyond Meat, Violife, and plant-based Goodfellas' pizzas.
'Every Little Helps' the Environment
Tesco's mantra "Every Little Helps" applies not only to its competitive pricing but also to its policies on food sustainability, climate action, and zero hunger.
As part of its UN Sustainable Development Goals model, Tesco has highlighted 17 key areas to focus upon as a company. All the highlighted areas are geared towards limiting Tesco's environmental impact and being a force for change.
One key way to reduce environmental impact and carbon emissions is to reduce the production and consumption of animal products. With this in mind, Tesco has championed vegan food in recent years. And the supermarket has even appointed a Director of Plant-Based Innovation in the form of vegan chef, Derek Sarno.
Assisted by his brother Chad, Sarno launched the private label Wicked Kitchen range to coincide with Veganuary 2018. While you won't find the word vegan on any of the range's items, the varied line is completely plant-based and, as the brothers say on the Wicked Healthy website, "80 percent healthy and 20 percent wicked."
Wicked Kitchen
This gourmet ready meal range includes everything from vegan enchiladas and sausage rolls to dirty fries topped with BBQ pulled mushrooms, dairy-free cheese, and jalapeños. The Wicked Kitchen range sold a whopping 4 million meals in just 33 weeks following its launch.
Sarno told LIVEKINDLY that compassionate eating is at the core of the Wicked Kitchen business model, and said that "the main practice behind everything we do is compassion combined with being connected and aware of what we're eating."
"We're pushing plants on the largest scale, focusing on creating foods free from animals and making wicked awesome dishes everyone can enjoy, especially meat-eaters," he added. "By making food simple, recognizable, sexy, and friggin delicious, it's a no-brainer way to make more plant-based choices."
Vegan products effectively meet a whole range of different dietary requirements in one fell swoop. And as such, Tesco has been a trailblazer for making vegan-friendly foods everyday and accessible. So whether you're a veritable vegan, full-on flexitarian or just someone who likes to try new foodstuffs, here is a rundown of Tesco's most popular vegan offerings.
Tesco's Vegan Cheese
As well as stocking popular brands such as Violife, Tesco launched its own line of dairy-free cheeses in early 2017 as part of its "Free From" range.
Made from coconut oil, this vegan cheese line proved so successful that Tesco extended the range to an impressive 11 products later that year. To avoid any quibbling over its products being called cheese, Tesco describes each product as a "coconut alternative." The full range now includes products from day-to-day classics to artisanal varieties.
Continuing the cheese theme, Tesco's Free From line also includes cheese flavor nachos, a vegan macaroni cheese ready meal, and an instant cheese sauce. Some nights, there just isn't time to get creative with cashew nuts.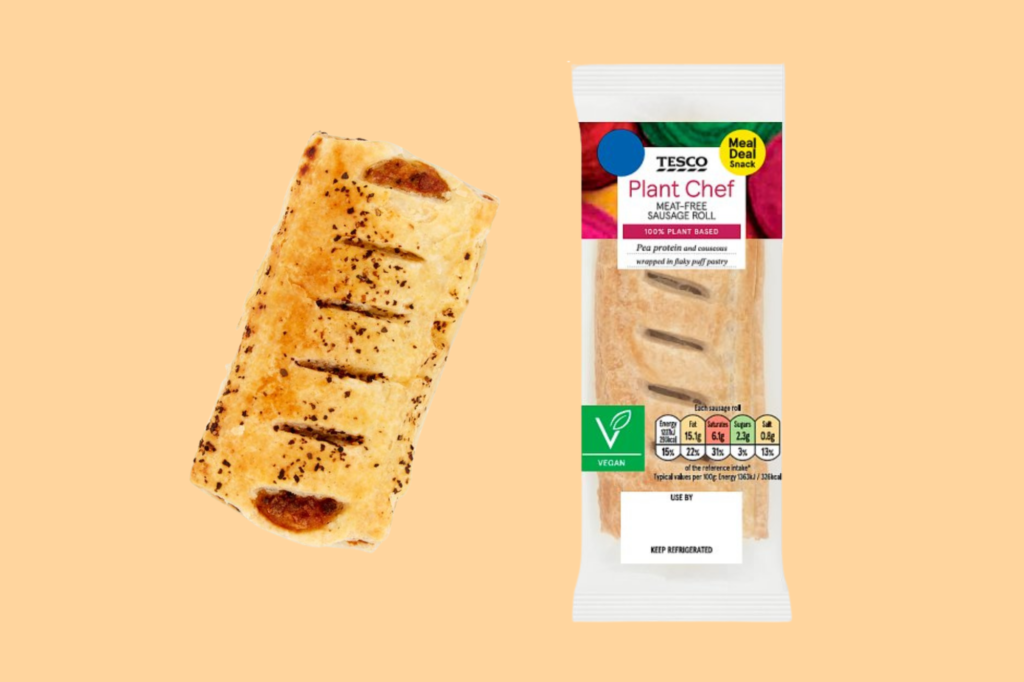 Tesco's Vegan Meat
While Tesco's more obviously plant-based products — such as its peanut and avocado burger — are enjoyed by many customers, there remains a demand for "realistic" vegan meat. New innovations in plant-based protein are fuelling the market and Tesco is ready to cater to customer demand for new, meaty products. It even stocks vegan haggis.
The Beyond Burger
Tesco was also the very first UK supermarket to stock the Beyond Burger, produced by the award-winning California company Beyond Meat.
Beyond's "bleeding" burger crafted from pea protein isolate and beetroot extract has changed the face of vegan meat, making it everyday and affordable. This is demonstrated by the fact that, according to Beyond Meat's founder, Ethan Brown, 93 percent of the people buying the Beyond burger are meat-eaters.
For Brits who can't be bothered to trek to Honest Burger or All Bar One for a taste of the Beyond Burger, the quarter-pounder patties can be found in Tesco's meat aisle and retail at £5.50 for two.
Oumph!
Another addition to Tesco's plethora of plant-based products is Swedish brand, Oumph!.
The soy-based items were introduced to 400 branches of the UK's largest supermarket chain in March 2018 and were selected by Sarno. The brand proved so popular, it was extended to Irish Tesco stores in January 2019.
Tesco currently stocks the following products from Oumph! Which can all be found in the freezer section.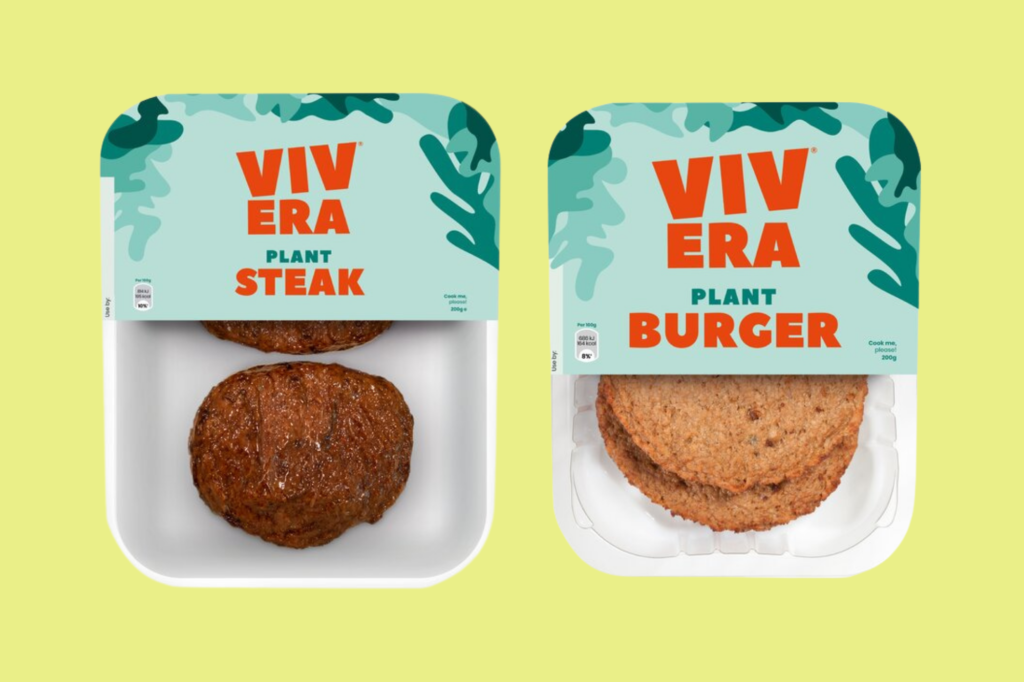 Vivera
Tesco first started stocking vegan products from Vivera in May 2018 and managed to sell 40,000 of the brand's plant-based steaks in the first week. Most of the Dutch company's organic products are soy based and protein rich. Like Tesco's other vegan meats, they are stocked alongside the animal products.
Quorn
One of the oldest vegan meat product brands in the UK, Quorn has begun altering its recipes to make them vegan-friendly. It has also brought out a range of vegan products, spear-headed by its answer the Beyond Meat burger, the Ultimate Burger.
Vegan Grab-and-Go
Tesco has made being vegan on-the-go a great deal easier with its extensive range of grabbable plant-based products. As well as its signature falafel wrap — which is also included in the daily £3 meal deal — the company also sells a number of quick plant-based lunch options.
In 2019, Wicked launched a Caesar Wrap consisting of pea protein tenders, V-Caesar dressing, chickpea croutons, and fresh salad greens. It was the first pea protein item in the Wicked Kitchen range, and is now available as an affordable Plant Chef version.
Tesco also offered a Wicked Kitchen Easy Entertaining Platter, but this is currently unavailable. The brand's website does advise they need two working days' notice to be able to deliver the platter, which is made up of Smashin' Pumpkin Falafel Sandwiches, Turmeric, Cauliflower & Coconut Bite Wraps, and Spicy Mexican Style Wraps.
Vegan Ready Meals
As part of its ongoing campaign to make vegan food more accessible, Tesco has developed a varied range of plant-based ready meals. The chain offers its own brand vegetable biryani, chickpea bulgur wheat, and vegan pizza as easy dinner options.
It also offers 11 Wicked Kitchen ready meals. These are:
The launch of the affordable Plant Chef range in 2019 included even more vegan-friendly ready meals. These include:
Vegan Milk and Yogurt
Alongside its rather impressive line of vegan cheeses, Tesco's Free From range also includes numerous other vegan dairy products. The supermarket has its own line of plant milk, which costs 95 pence for a liter of soy, coconut or almond milk. It also carries dairy-free brands such as Oatly, Alpro, and Koko.
It also sells its own soy-based vegan yogurts, which come in plain, blueberry, mango, or raspberry and passion fruit, as well as Coconut Collaborative and Alpro yogurt. Not forgetting children who are swaying off cow's milk, Tesco also sells soy fromage frais in either apricot and banana or strawberry and raspberry flavor. These cute little pots look and taste rather like the lunchbox favorite, Petits Filous.
Tesco's Vegan Desserts
In addition to brands such as Magnum, Cornetto, Ben & Jerry's, Gü, and more, Tesco produces plenty of its own products to satisfy your sweet tooth.Whether you're vegan, lactose intolerant, or just fancy some plant-based indulgence.
Vegan Wines
Tesco stocks an extensive selection of wines from many different producers, and its own-brand selection includes many vegan options. However, not all of them are clearly labeled, so it's always worth checking carefully!
Tesco's Summer BBQ Range
It already feels like summer is on the way, and Tesco just announced the launch of 13 new products in its veggie and vegan BBQ range, starting from just £1.15 per item. Products include burgers, kebabs, sides, and even dairy-free ice creams — perfect for enjoying outside in the sunshine. The new meat-free range includes these vegan options:
Tesco also stocks a whole host of other vegan-friendly BBQ products. Gone are the days when vegans have to rely on a selection of side dishes and salads to join the barbeque fun. As well as offering customers the Beyond Burger, Tesco's existing vegan BBQ range includes:
---
LIVEKINDLY is here to help you navigate the growing marketplace of sustainable products that promote a kinder planet. All of our selections are curated by the editorial team. If you buy something we link to on our site, LIVEKINDLY may earn a commission.