After 13 seasons of playing for the NBA, Brooklyn Nets center DeAndre Jordan has taken on a new role: vegan cooking show host.
The plant-based athlete is now the host of the vegan cooking show Cooking Clean, which debuted on May 30. "I don't just throw down on the court, I throw down in the kitchen, too," Jordan says during an episode of the show.
The show—which airs on PlayersTV, an athlete-owned media network—features eight episodes. Jordan pairs up with a different chef each episode to whip up a tasty vegan recipe.
"You've seen me finish plenty of plays on the court," Jordan said during the show. "But here on PlayersTV, those alley-oops will be coming from some of my favorite chefs from around the country."
A myriad of cuisines will be featured on the show. For example, Joanne Molinaro—better known as The Korean Vegan—shows the Olympic gold medalist and NBA All-Star how to make kimchi fried rice. While Brooklyn-based chef Latisha Daring, founder of the restaurant Greedi Kitchen, helps the baller make veggie omelets.
Jordan even whips up a vegan scramble using the JUST Egg. "As a professional athlete, I'm always looking for ways to nourish my body and enhance my performance," he explains. He says the brand is a breakfast favorite because it's "delicious, filling, savory, fluffy, cooks and tastes just like eggs."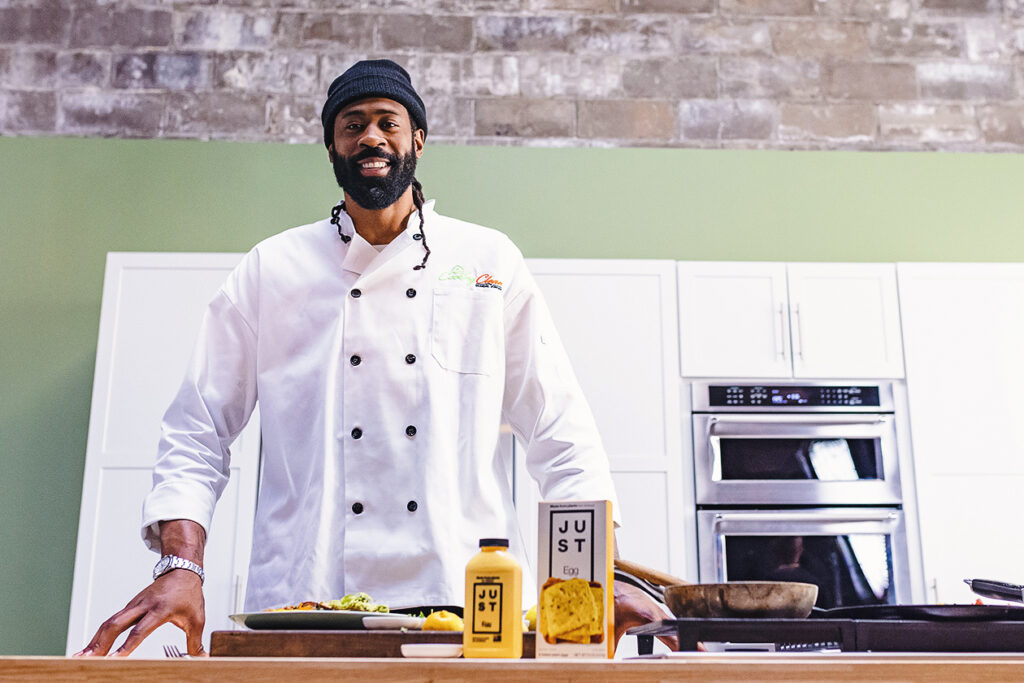 DeAndre Jordan: Vegan Chef Extraordinaire
Cooking Clean is an extension of the 32-year-old Texas native's Mindful Life program, which follows Jordan's wellness journey. The show also explores how mindfulness can be incorporated into people's daily lives.
After going pescetarian and then vegetarian, the 6′ 11″ basketball player converted to a plant-based diet in 2018. He cited a desire to eat healthier for the switch. "Now that I look back at it, the red meat definitely weighed me down a little bit," he told Forbes.
"For me, I care about my body, so whatever I put in it, I want it to be good to where I want to produce that," he told CloseUp360. "I'm a true believer in whatever I put in my body, that's what I'm going to produce."
In 2019, Jordan—along with 13 other professional athletes, including Shaquille O'Neal and Chris Paul—invested in California-based food tech company Beyond Meat. "I believe in the product, and it's something that I really do care about," Jordan told Forbes. "And hopefully it'll be a company that other people care about in the future."
Jordan is no stranger to speaking out about the benefits of a plant-based diet. In November 2020, he launched a Meatless Monday challenge in honor of World Vegan Month to encourage his followers to eat less meat.
But the Brooklyn Nets center isn't the only pro NBA star proving you don't need meat to compete. Kyrie Irving, Chris Paul, Javale McGee, and Bismack Biyombo have all taken on the court while powered by plants.
Former NBA champion John Salley says he went vegan after his doctor warned him about the health risks of his eating habits.
"A vegan diet changed my life," Salley told Holistic Voice in 2017. "My message I want everybody to know is: Eat a plant-based diet, or don't. A plant-based diet keeps you alive, the other diet keeps you in the hospital."