It's an understatement to say that 2020 has been a wild ride. COVID has forced even the most extroverted of us indoors for the majority of the year while even introverts started to feel cabin fever setting in. And with winter here, now more than ever it feels important to elevate our self-care routine to create the most comfortable living space possible. Here's how.
How to Make Your Self-Care Routine More Sustainable
You want to be more sustainable, but where do you begin? The best place to start is with your daily routine. Avoid buying new things unless it's something you really need and if you do, choose a vegan brand that has certifications to back up its sustainable claims. Or better yet, thrift it. Learn more about how to shop sustainably here. Learn how to read beauty labels (pro-tip: "clean" beauty doesn't always mean "sustainable." Learn more about that here.). If you're looking to start a new exercise routine, are you picking workout clothes that are made from new or recycled materials? Learn more about what to look out for here.
Being more sustainable includes what you eat, too. A plant-based diet isn't just good for you, but it's also good for the planet.
Get a Better Night's Sleep
According to the American Psychological Association (APA), a whopping 60 percent of Americans have trouble sleeping, and 40 percent report dealing with daytime sleepiness. This affects much more than how many cups of coffee you need to power through the day.
Chronic sleep loss can stress you out. It can also affect what decisions you make, your ability to concentrate, your learning, and it can also make it dangerous to drive. A study published in the journal Annals of Neurology found that insufficient sleep could lead to risky decision-making. It compared two groups of people. One got five hours of sleep every night for a week and the other got eight hours. It then presented the members of each group with a task with two outcomes: either receiving money or gambling for a higher amount and getting nothing if they lost. The majority of the sleep-deprived group chose to gamble.
How to Get More Z's
So, how can you ensure that you get a good night's rest? The APA recommends getting at least eight hours of sleep each day, minimizing caffeine consumption and avoiding it at least four hours before you call it a night, avoiding alcohol and heavy meals before bed, exercising regularly, and not hitting the snooze button on your alarm clock (guilty).
This also means avoiding phone use right before bed.
"Artificial evening light delays the release of melatonin," Vy Nguyen, co-CEO of Brentwood Home, a mattress and bedding brand, tells LIVEKINDLY. "That's the hormone that regulates the sleep-wake cycle, so lights make it much harder for us to fall asleep. Just 8 to 10 lux, the power of a dim bedside lamp, has been shown to delay the release of melatonin."
Instead, keep a book at your bedside table.
"A study found that using an iPad for two hours before bed limited melatonin levels by 23 percent," Nguyen adds. "Another study discovered that compared to reading a book in print, reading on an iPad blocked melatonin release by over 50 percent, and delayed its rise for up to three hours."
Sleep on a Good Mattress
Not surprisingly, your mattress plays an important role in providing you with a good night's rest. Your mattress gives added support to your neck and back. And a comfortable night's rest can help you get a full night's sleep, which can in turn help prevent stress.
Nguyen explains that mattresses need to be replaced after seven years of regular use.
"Mattresses get worn out," she says. "They sag, get lumpy, and generally lose their shape and functionality. The result is that your body might not be getting the support it needs for a thorough night's rest."
"Given how critical sleep is to our physical and mental health, a mattress that supports quality sleep is one of the best investments you can make," Nguyen adds.
Materials Matter
If you're looking for a new mattress, it's important to pick one that works for you. Most people start with firmness. If you're looking for an eco-friendly, vegan mattress, that narrows down your choices.
Brentwood Home's Crystal Cove Mattress features organic cotton and is free from animal products like wool and feathers. The core of the mattress features 1,414 individually pocketed coils made from recycled steel. These evenly distribute your body's weight and relieve pressure points for an ultra-luxurious sleeping experience.
Plus, it's dual-sided to support your firmness preference. The memory foam side is infused with naturally-cooling charcoal, which supports active recovery while you sleep. Nguyen explains that our nighttime melatonin levels are controlled by temperature, too.
"To successfully fall asleep, your core temperature has to decrease by 2-3 degrees Fahrenheit. That's why it's always hard to fall asleep in a room that is too hot." she says. "That's one reason we make our Brentwood home mattresses and bedding with organic, breathable, and temperature-regulating materials that help keep you cool and in a deep sleep."
And it's Certi-PUR-US® certified, which means that it's made without ozone depleters and chemical flame retardants.
If you need pressure relief, opt for the gentle-firm latex side. It's is made from anti-microbial and eco-INSTITUT® certified Dunlop Latex, which means the manufacturing process is low in emissions and hazardous substances. Dunlop Latex is also derived from a natural source: rubber tree sap. The sap is harvested, whipped into a froth, and then baked into durable, firm foam sheets that support your body while you sleep.
"The amount of support our bodies need from a mattress can change," says Nguyen. "That's why we created the innovative, dual-sided Crystal Cove Mattress. We specifically designed the 5-zone coil support system and the multiple support levels to promote therapeutic recovery and deep, restorative sleep."
Americans spend an average of 90 percent of their time indoors, Nguyen explains (probably even more now because of COVID.) While there are regulations for outdoor air pollution, that's not the case with indoor pollution. And indoor air can be five times more polluted than what's outside. This is due to cleaning products, furniture, flooring, cabinets, paint, and other building materials.
The Crystal Cove Mattress is GREENGOLD Certified, which means that it's one of few mattresses that are free from chemical pollutants that affect indoor air quality, such as volatile organic compounds, formaldehyde, and phthalates.
On top of that, it comes with a one-year risk-free trial and a 25-year warranty, so you can ensure that you have the right mattress to help you sleep well. Check out the Crystal Cove mattress on the Brentwood Home website to start shopping.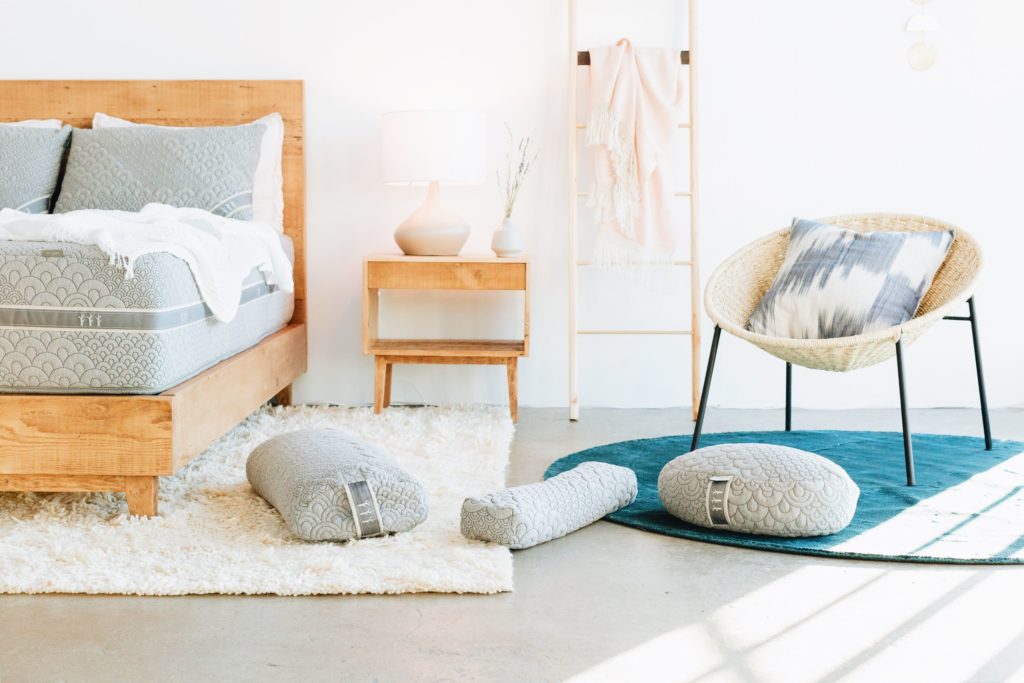 Be Kind to Yourself
Set an intention for the day. Record your mood — what made you feel happy that day? What stressed you out? Did something you did that day help ease any tension? Get into the habit of practicing self-gratitude (Did you know that it has psychological benefits?).
Add a daily meditation or yoga practice to your daily routine. According to the Mayo Clinic, meditation can help you gain new perspectives on stressful situations, help you manage stress, increase creativity and patience, and help you focus on the present. Yoga is also known to reduce stress, plus it helps improve flexibility and fitness.
Brentwood Home's Crystal Cove yoga and meditation pillows were designed to support and add stability to your daily practice. That way, you can maintain the structural integrity of your poses, no matter what your level is. The collection includes the Meditation Oval Yoga Pillow, the Meditation Square Yoga Cushion, the Yoga Bolster, and the Pranayama Yoga Pillow.
Bonus for the WFH crowd: the meditation pillow doubles as a seat cushion!
"Like our Crystal Cove Mattress, we designed our Crystal Cove Yoga Collection to harness natural and organic materials in support of wellness," says Nguyen. The Crystal Cove yoga collection features a plush cover with an organic cotton lining. And instead of polyester, everything is filled with buckwheat hulls.
"The hulls are a renewable, low-impact resource," she continues. "Stuffed inside our yoga and meditation pillows, the material provides ample support that adjusts to your body, so the curves of your spine fall into place for extended periods of comfortable sitting — and more mindfulness."
To learn more, check out the Brentwood Home Crystal Cove yoga collection home page.
This is a sponsored post.