If you're looking to immerse yourself in the traditions of Latin American holiday Día de los Muertos, these vegan recipes provide a lens into its deep cultural traditions.
What is Día de los Muertos?
Día de los Muertos is celebrated every year on November 1 and November 2. The annual holiday honors loved ones who are deceased, and is widely regarded as a family time to visit cemeteries, create ofrendas, and eat traditional foods together.
While many sources quote Mesoamerican (specifically Aztec) cultural practices as the source for the holiday's traditions, such as the ofrenda, the direct relationship has been debated. However, when the Spanish conquered the Aztec empire in the 16th century, the Catholic Church created a syncretically-blended holiday by moving indigenous customs honoring the dead throughout the year to the Catholic celebrations of All Saints Day on November 1 and All Souls Day on November 2.
On November 1, or El Día de los Inocentes, many believe that childrens' spirits can rejoin their families for 24 hours. Meanwhile, it is believed that adult spirits can rejoin their families on November 2, or All Souls Day (otherwise known as the Day of the Dead).
How is Día de los Muertos celebrated?
Friends and families engage in a variety of activities at cemeteries, including sharing favorite drinks of the deceased, telling fond stories of the dead, playing music and singing, and organizing a solemn processional. Families also create home ofrendas, or altars, where they honor the dead with photographs of them, as well as their favorite food, alcohol and personal items.
"On Día de los Muertos, we honor the lives of our lost loved ones by setting up private altars with pictures and items that they most enjoyed," Gabriela, blogger at Conflicted Vegan, says. "Some things that you can find in the altars are strong drinks, amazing parties, activities that our ancestors enjoyed, and main dishes such as tamales."
The ofrendas also feature the bright plumage of flowers like marigold, baby's breath and cockscomb, along with tortillas, fruit, and pan de muerto, which is sweet pastry bread shaped like skulls and crossbones.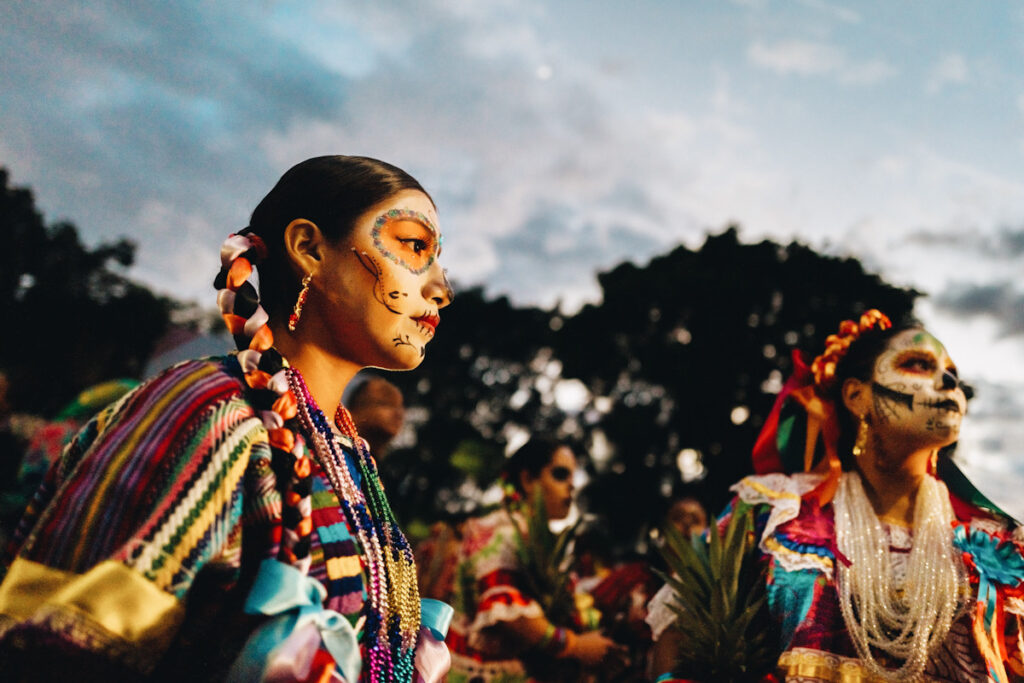 In Mexico, the enduring tradition of La Catrina, an early 20th century symbol of the dead embodied in a skeleton woman, can be seen in artwork and traditional dress, as well as in calavera, or skeleton, makeup, masks, and artwork. Joyful processionals can also be seen in the streets featuring music, dance, puppets, cross symbols, and parade floats.
"Día de los Muertos is so symbolic for me because, first of all, I'm Mexican and all the festivities in Mexico are always so amazing—so colorful, meaningful and fun," Annie of vegan blog, Happy Vegannie, says. "But especially because on this day, we honor and celebrate the lives of the people that are no longer in this dimension with us—it's a way to connect with them and feel closer to them."
What foods are eaten during Día de los Muertos?
Families who gather to celebrate the lives of loved ones eat a wide variety of foods, differing from country to country. Tamales, mole, pozole, calabaza en tacha, pan de muerto, alegrias, flan, champurrado, atole, coffee, tequila, and mezcal are among the appetizing dishes and drinks shared.
Vegan Día de los Muertos foods
While cheese and meat are commonly-used ingredients in some Día de los Muertos dishes, including tamales, they can often easily be replaced with vegan cheese or vegan meat.
Since the holiday places an emphasis on fresh pumpkin and homemade dishes featuring masa and wheat flour, it's not difficult to prepare a vegan Día de los Muertos meal.
Celebrate vegan Día de los Muertos with these recipes
LIVEKINDLY reached out to Latinx food bloggers for some of their favorite vegan Día de los Muertos dishes, and what each dish means to them.
Calabaza en tacha
According to Nancy, who runs the popular cooking blog Mexican Made Meatless, pumpkins make the perfect dish to celebrate Día de los Muertos. "Pumpkins are a seasonal harvest and are always present on the altars. This traditional dessert is slowly simmered with water and sweetened with piloncillo and piced with aromatic spice."
Nancy continues: "The best way to serve it is still warm and drizzled with some evaporated milk. The recipe is vegan and you can drizzle over some warm soy milk or your favorite vegan evaporated milk. It's just sweet enough and embodies the autumnal flavors, scents and the ancient rituals of Mexican Day of the Dead."
Make the calabaza en tacha recipe here.
Chocolate and amaranth skulls
"Día de Muertos is a celebration of life, and a mocking of death and the power it holds over us," says Dora Stone of cooking blog Dora's Table. "The indigenous peoples of Mexico believed that death was not an end, but a passageway to another life. Día de Muertos is a homecoming festival, where we receive our loved ones with open arms, and party like only Mexicans know how to, with food, color, music, and dance."
She adds: "This recipe is a wonderful representation of this, full of color and flavor, all in the shape of a skull. It is super easy to make vegan with the help of vegan chocolate chips and aquafaba to make the royal icing."
Get the recipe for these pretty chocolate and amaranth skulls here.
Pan de muerto
"Pan de muerto is hands-down my favorite kind of bread," Annie of vegan blog Happy Vegannie says. "Making it and eating it brings back so many great memories—plus, it's so delicious."
And it's not harder than making non-vegan pan de muerto, the cook and blogger says. "Making vegan Pan de Muerto is so easy. You just have to switch one ingredient up (potatoes instead of eggs) in order to get the same consistency—and of course, flavor."
Get this vegan pan de muerto recipe here.
Vegan tamales
Gabriela of Conflicted Vegan says she often sees main dishes like tamales on Día de los Muertos altars.
Bonus: With her Instant Pot recipe, they're easy to make. "You will find that these vegan tamales use minimal ingredients and can be tailored to your preference, and the addition of the Instant Pot cooks them in under 30 minutes time," the blogger says.
Gabriela lists various fillings options, including jalapenos, vegan cheese (she uses Follow Your Heart Mozzarella Cheese), refried beans, mushrooms, poblano peppers, and Butler Foods Soy Curls. A chile guajillo sauce adds spice and flavor to the fillings.
Get the Instant Pot tamale recipe here.