Hoisin eggplant, gochujang-roasted Brussels sprouts, and tofu make a power trio in this recipe where you cook everything on one sheet pan. Pair this with rice and another roasted vegetable for a complete dinner, or pack it as a light lunch that doesn't skimp on flavor.
This recipe starts with fresh Brussels sprouts and tofu tossed with gochujang, a Korean condiment with a sweet-salty-spicy flavor that's made from red chilies and fermented soybeans. If you've never had gochujang, it has a sweet-salty-spicy flavor similar to Sriracha. But the difference is that the former is a paste while the latter is a thin sauce for drizzling. Here, gochujang is mixed with sesame oil, garlic, balsamic vinegar, and soy sauce before being brushed over the Brussels sprouts and tofu.
The star of the show is the eggplant, which is roasted until tender and browned. It is then tossed with hoisin sauce and fresh ginger before being roasted again to allow for the eggplant to take in the sweet and salty flavors of the sauce. This simple meeting of flavors will quickly become a regular in your weeknight recipe rotation.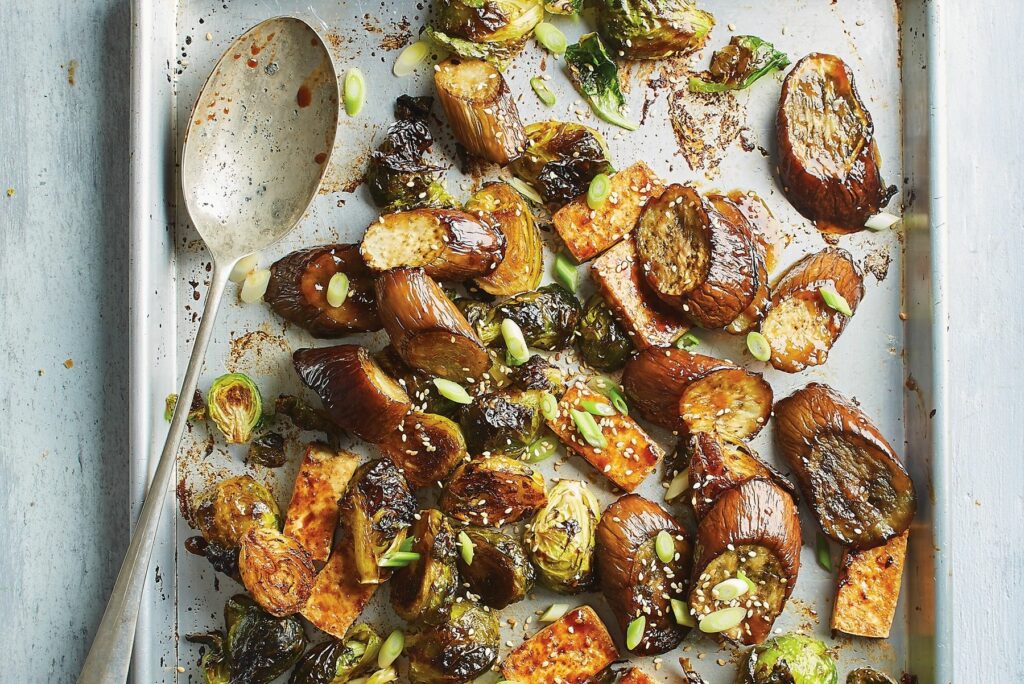 Hoisin eggplant, spicy Brussels sprouts, and tofu
Excerpted from Sheet Pan Suppers Meatless by Raquel Pelzel (Workman Publishing). Copyright © 2017. Photographs by Ken Carlson, Waterbury Publications, Inc., Des Moines, IA