After spending her childhood without holidays, Nzingah Oniwosan, a former Seventh Day Adventist, didn't identify with any end-of-year festivities. But then she found Kwanzaa, and the December celebration of African American heritage connected with her. "It reflects who I am," says Oniwosan, who now organizes one of the largest celebrations of the holiday at Fort Lauderdale's African American Research Library and Cultural Center. "It isn't rooted in a religious practice or consumerism." Instead, Kwanzaa is about honoring African ancestry, learning about the past, and celebrating family and community. It's also cooking up delicious recipes rooted in culture and tradition.
Every year, Kwanzaa begins on December 26 and runs for one week. And while there is music, dancing, and storytelling, the food is a central event, and one of Oniwosan's favorite parts. (That figures, because she is the founder of plant-based food and wellness blog, Yes Baby I Like It Raw.) "We come together to reflect, celebrate, and eat," says Oniwosan. "Usually it's a potluck, which I always love, because everyone brings out the signature dishes. It makes for a great feast."
If you're planning on celebrating Kwanzaa this year, the cultural aspects of its dishes lend deeper meaning to the holiday. Oniwosan, along with cooking show host and actress Madison Amara, and TV host and chef Bren Herrera, share the meaning and history behind their plant-based Kwanzaa recipes. But first, let's take a look at the origins of the holiday and its principles.
Kwanzaa: A brief history
Compared with other holidays in December and throughout the year, Kwanzaa is relatively recent, as it started in the mid-1960s. And for many, it has deeper meaning than the other gift-centric holidays.

In August 1965, riots took place in the Watts neighborhood of south Los Angeles, and lasted six days. The unrest was a reaction to the arrest of Marquette Frye, a Black man, who was assaulted by a white highway patrol officer after being pulled over for driving under the influence of alcohol. But also, the uproar was a response to increasing racial and social tension in the area. It's reported that more than 30,000 people participated in the riots, 34 people died, and more than 3,400 were arrested.

At the time, activist and academic Dr. Maulana Karenga—who now works as a professor and chairman of Africana Studies at California State University, Long Beach—wanted to do something to bring together the African American community in a meaningful way. So, the following year, he came up with Kwanzaa.
Celebrating Kwanzaa
Karenga decided that for each day of the new holiday, friends and family would gather to acknowledge and celebrate their African heritage. To help them do so, he came up with seven principles, each named using the language KiSwahili (also known as Swahili), which is spoken by some 80 million people across the African continent, predominantly in the east and central regions. (The word Kwanzaa also comes from the KiSwahili phrase matunda ya kwanza, which translates to "first fruits.")

The seven principles are: Umoja (unity), Kujichagulia (self-determination), Ujima (collective work and responsibility), Ujamaa (cooperative economics), Nia (purpose), Kuumba (creativity), and Imani (faith). Each day focuses on a principle, starting with Umoja and ending with Imani.

Karenga also came up with seven symbols for the celebration of Kwanzaa. There's Mazao, the crops, fruits, nuts, and vegetables to represent the African harvest; Vibunzi, a stalk of corn to represent fertility and the children of the future; Mishumaa Saba, three red candles, three green, and one black, each representing the seven principles, and the Kinara, the candleholder. There's also Kikombe Cha Umoja, the unity cup, which is passed around during the feast to promote unity, and Zawadi, the gifts. Finally, there's the Mkeka, a place mat for all of the symbols made from straw or cloth, just like the kind that Ancient societies in Africa would make.
The activist and educator's idea for a new type of holiday resonated with many across the U.S. And now, Kwanzaa is celebrated by millions.
3 Plant-Based Kwanzaa Recipes
Nzingah Oniwosan's Collard Green Salad and Black-Eyed Pea Fritters
When she's not organizing celebrations for hundreds of people, putting together workshops, performances, and community-building activities, Oniwosan, a first-generation Haitian, likes to cook up food from her home country for Kwanzaa. But she also likes to honor her African heritage, by using ingredients that hail from the continent.
"I wanted to create a recipe that reflects the collision we see in Kwanzaa, between the African diaspora and the continent," says Oniwosan. She chose black-eyed peas, as they're native to West Africa. ("They're associated with a 'mystical and mythical power to bring good luck' as well as fertility.")

And for her recipe, she paired the fritters with collard greens. One of many dishes brought to the U.S. by enslaved people from West Africa, collard greens have a deep and meaningful history in the African American community. Plus, "they're green like money," says Oniwosan. "They'll ensure you have a financially prosperous new year."
Find Oniwosan's recipe here.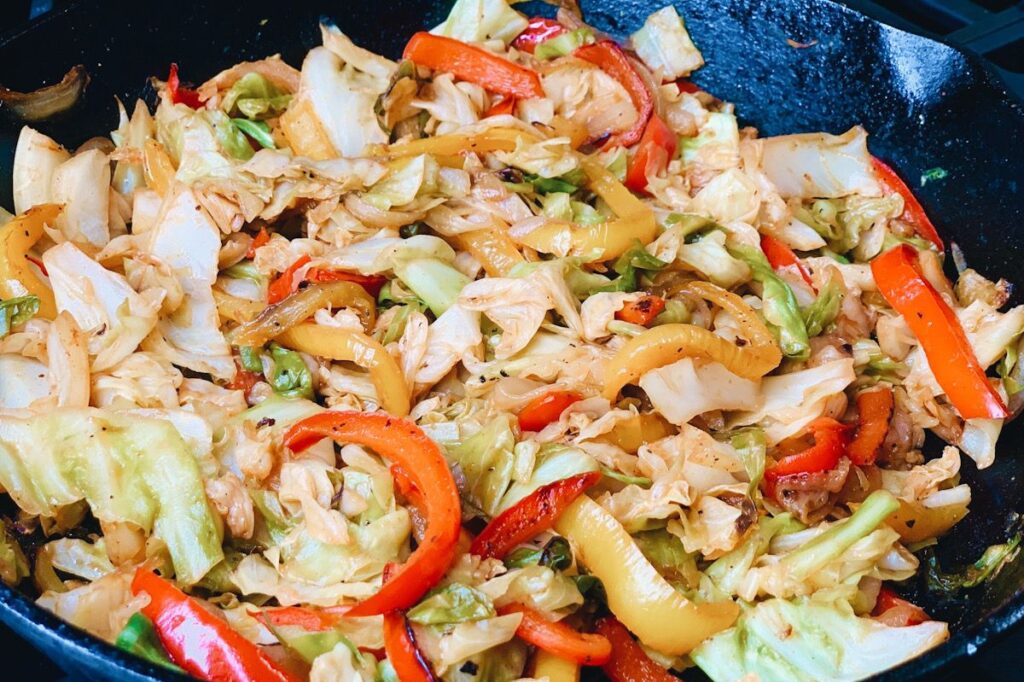 Madison Amara's Southern Fried Cabbage
Amara has celebrated Kwanzaa every year since she was a little girl. For her, it's a nostalgic, fun time of year, filled with music, laughter, family, and friends. But it's also an important time for reflection. "It is a reminder to look back on my ancestors' past and have gratitude for where I am today," she says.

For Amara, the holiday is also an opportunity to get creative in the kitchen. While the dessert is normally a team effort, she takes charge of the main courses, and fried cabbage is one of her specialities. (So you can trust that this recipe is going to be delicious.)
"Both of my parents are from the South, so fried cabbage is something that I grew up eating," says Amara. "Both of my grandmothers made it with bacon grease. But when I make it, I forgo that and use some good ole' vegetable oil to make it completely plant-based. The smoked paprika really does the job to replace the smokiness of the bacon."
Find Amara's recipe here.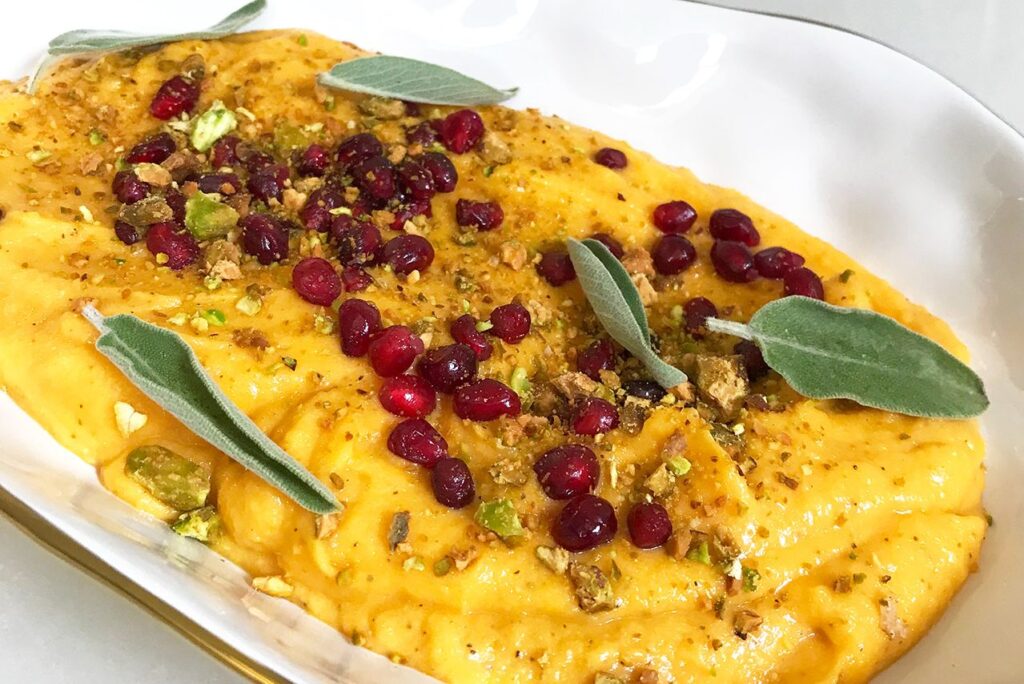 Bren Herrera's Butternut Squash Puree with Sage and Pistachios
Cuban-born Bren Herrera didn't grow up celebrating Kwanzaa, but after she moved to the U.S, a visit from her New York-raised cousins prompted her to learn more about the holiday. "We wanted to switch things up and really invoke our ancestors," says Herrera. "Since then, I've been much more intentional about celebrating Kwanzaa. In a society where so many things are celebrated and practiced from a European perspective, it's important to keep our culture and roots alive."
For Herrera, Kwanzaa is about honoring ancestors and their traditions. And one way to do that is through food. To help others cook up delicious cultural recipes for the holiday, Herrera co-founded a website called Kwanzaa Culinarians, which she is working to revive again soon. "We had a lot of contributors that provided context, stories, and recipes that represented not only Kwanzaa, but the diaspora," she explains. "It was really well-received."
Herrera now lives in Washington D.C., but her home country still influences the way she eats today. Butternut squash, for example, is a favorite. "My mom incorporated it into many dishes," she recalls. "It's very ubiquitous in Cuban cuisine."
That's why the vegetable forms the basis of one of her favorite Kwanzaa dishes, a butternut squash puree with sage, pistachios, and pomegranate seeds. "The pomegranate seeds make it festive, and they introduce a new flavor profile that the diaspora is not commonly exposed to," she explains.
Herrera uses butter in her recipe, but this can be replaced with a dairy-free equivalent.

Find Herrera's recipe here. And check out Kwanzaa Culinarians here.