Celebrate Pride with a special vegan brunch. On this episode of LIVEKINDLY With Me, Suresh Seneviratne enjoys a virtual plant-based brunch with vegan drag queen Honey LaBronx, who was mentored by Bob the Drag Queen of RuPaul's Drag Race season 8.
The two picked their favorite vegan restaurants in their respective cities, Seattle and New York City.
Honey—who has been vegan for more than 11 years—opted for Urban Vegan Kitchen because of their all-day plant-based brunch options. "Like, I'm a strong advocate of animal rights. But what I'm really after is I just want a reliable source of pancakes," Honey jokes.
Suresh's pick? Family-owned vegan Thai restaurant Araya's Place. "As a South Asian, for me brunch has to have a little bit of curry something in it," he explained. Suresh has been vegan for nearly 15 years. "Everyone has their own journey," Suresh says. "But if we all could be a little more compassionate wouldn't that just be magic?"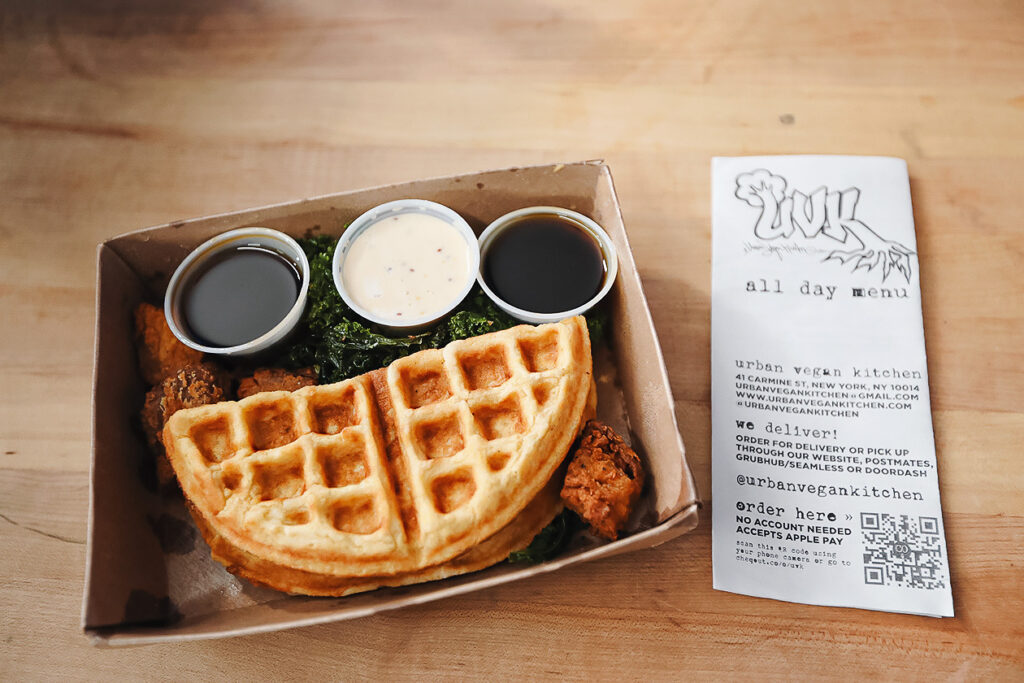 Vegan Pride Brunch
"Suresh, I'll show you mine if you show me yours," Honey says as she shows off her plate of vegan chicken and waffles. She also ordered a side of chickenless buffalo wings with extra dairy-free ranch.
Suresh's vegan Pride brunch includes pineapple curry and Thai fried rice with jackfruit. "Jackfruit has been so popular in all parts of Asia," he explains. "And I think it's finally making its way to the states, which is fantastic."
While enjoying their vegan brunch, the duo discuss all things drag. Honey—who uses her platform to spread the message about veganism—talks about her song "Tofu". The song is a hilarious parody of CeeLo Green's song "F*** You".
"I see you chowing down cows with a fork and knife and I'm like tofu," she sings in the song. "I think a change in your diet could lengthen your life, so try tofu."
Honey also shares how she gets her iconic drag queen look. "It's a traumatic experience every time," she jokingly says. "It normally takes me 90 minutes to two hours to do my face."
Suresh and Honey also discuss the latter's work in campaigning for marriage equality. An LGBTQ activist, Honey was one of eight activists arrested for blocking New York City traffic while demonstrating for marriage equality.
"Everything has to have a starting point," Suresh says. "And like I said earlier, that really comes down to compassion."
He adds, "We really need to elevate queer voices 365 and not just in June. Pride Month isn't just one month, it should be every day of every year. We exist. Every day of the year."