Food tech is a fascinating thing. Mung bean protein can yield a viscous, bottled liquid that scrambles like conventional eggs. Scientists can create meat alternatives using mycelium, the long, stringy root system of fungi. Someday soon, milk, butter, coffee creamer, and yogurt will be made with vegan milk proteins created via fermentation—ice cream like that is already on the market. And now, California-based MeliBio aims to sweeten the vegan alternatives market with honey made without bees.
MeliBio recently announced the closing of an $850,000 pre-seed round funding.
With this funding, the company will produce "real" honey that's made without bees. Darko Mandich, MeliBio CEO, co-founder, and eight-year honey industry veteran, tells LIVEKINDLY that no bees are used during the production process. "The technology we are developing is powered by bio-fermentation," he says.
Conventional honey production is a big issue, Mandich adds.
"Farming bees to produce honey is destroying bee biodiversity and hurting honeybees," he says.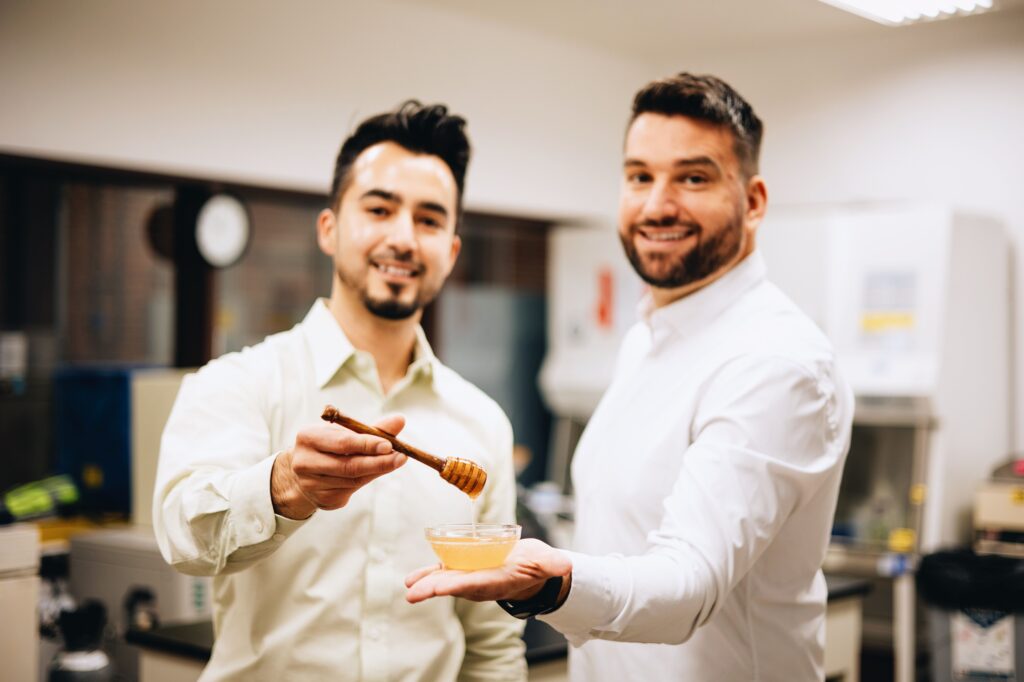 Is it ethical to eat honey?
Honey can be a complicated and controversial food. There are those who avoid it completely while others are comfortable purchasing honey from local beekeepers.
The commercial honey bee industry treats the insects similarly to livestock. There are about 2.8 million in the U.S., averaging 30,000 per colony. But, these honey bee populations affect wild pollinators.
"Reports are showing that the increased population of honey bees is negatively impacting other 20,000 wild and native bee species," says Mandich. According to a global analysis published earlier this year, the number of wild bee species has declined by a quarter since 1990.
These colonies put pressure on native pollinator populations that are already in decline, increasing competition for forage. Insect populations, in general, have been declining by 10 to 20 percent every decade, with losses driven by climate change, agriculture, introduced species, and pollution. However, fully understanding the cause of these declines requires more research.
There are more issues tied to these bees, ranging from how they're transported to pesticide use. And, according to a 2020 study, pollinator declines can lead to decreased crop yields. These crops include apples, blueberries, and cherries.
The global honey market is valued at nearly $10 billion. It is also one of the few growing submarkets of the $100 billion sweeteners market. That, Mandich believes, is why it's critical to provide an alternative that tastes and functions as honey would. Many plant-based liquid sweeteners fall short when it comes to texture; maple syrup and agave nectar are far too thin. Brown rice syrup is far too thick to be a true replacement for honey. There is also vegan honey.
What sets MeliBio's honey apart is that it will provide the same micronutrients as conventional honey. MeliBio will offer its product on the B2B segment later this year. This is because many manufacturers make food products that include honey as an ingredient. But Mandich isn't counting out an eventual retail launch, so you might spot a bottle of real vegan honey down the line.