From the outside looking in, Dan McKernan had it all. Founder of Barn Sanctuary, a Michigan-based, farm animal rescue, he was at the pinnacle of his career. His non-profit was thriving, and his work gave him the rewarding opportunity to help abused and abandoned farm animals in need. His work gained national attention: He amassed a large following on social media and landed a television deal. He was bringing the plight of farm animals into the limelight. It was his dream come true. But it nearly killed him.
Resilience: The ability to bounce back and recover from a difficult experience. Like water, food, and oxygen, it's necessary for survival. It's something that McKernan says he learned from one of his animal rescues, Andy. And boy, was Andy resilient. The Holstein calf miraculously survived a barn fire in Southern Ohio, suffering burns to 65 percent of his body. He required around-the-clock wound and pain management care. But through it all, McKernan says Andy's joyful, kind spirit remained unwavering. "I witnessed his will to live and his enjoyment of being comforted by people—I swear that steer smiled at you," he says.
Andy put up one heck of a fight. His soul was mighty, but the damage to his little body was too great, and he ultimately succumbed to his injuries. McKernan was there for Andy during his hardest and most traumatic experience. And Andy made sure to return the favor. At the time, McKernan was going through a separation with his longtime partner. "He was there during a time when I needed to connect with someone," McKernan explains. "He made me really feel the human-animal connection. I'm still kind of speechless about him."
The connection between human and non-human animals has long been documented. In 1898, Florence Nightingale, a founder of modern nursing, wrote that "a small pet animal is often an excellent companion for the sick."
Studies have shown that a positive relationship between humans and animals has numerous mental, emotional, and physical benefits. As a result, animals—such as dogs, cats, and horses—are often used in animal therapy settings, also known as animal-assisted intervention. The animals visit the likes of hospitals, nursing homes, retirement homes, hospices, and schools to help adults and children heal from a wide variety of mental health conditions like anxiety, grief, and depression.
"We have connections with all different types of animals across every culture around the world. Different types of animals are important to different types of communities and cultures in different ways," explains Philip Tedeschi, a clinical professor at the University of Denver's Institute for Human-Animal Connection. "This concept of the human-animal bond is getting at the significance of a mutual relationship between a human animal and a non-human animal. As we've started to study the importance of these kinds of relationships, we have found that one of the more remarkable outcomes is our need for social support and companionship. It doesn't have to be a human being, it can be a non-human animal that can provide this kind of connection."
The human-animal bond
Animals have certainly provided companionship to McKernan. You could even say they're one of the reasons he's alive today.
Five months after Andy passed, McKernan landed the deal of a lifetime: His own television show on Animal Planet. But on a personal level, he was strapped firmly into an emotional rollercoaster that showed no signs of slowing down. "I was feeling all the pressure of an animal rescue…of the TV show and running a sanctuary. And the pressure was just insane to deal with. When I tried to talk to people about it—how I was struggling—they'd tell me, 'You need to just keep rescuing animals. You need to get back to work.'"
McKernan was grappling with intense feelings of hopelessness. Like a volcano on the verge of an eruption, the hot, smoldering magma of emotions coursed through his body until the pressure could not be contained: McKernan decided to end his life.
"When you make that decision to try to commit suicide, you are the loneliest person on earth," he explains. "People that do decide to end their life are very lonely. And they don't seek help. They don't think there's any other way out of what's happening. And that's how I felt."
McKernan survived. And he realized it was time to seek help. "I didn't want to continue this endless cycle in my head," he says. "So I committed myself to a hospital to get treatment for what I was going through." He suffered from a borderline personality disorder, he had anxiety, and he was severely depressed. He'd lost 45 pounds. "The best thing I ever did was to go to group therapy," he adds.
The healing power of animals
McKernan worked hard on his recovery, allowing himself time to understand his triggers, and find the right treatment. When he left the hospital, he went straight back to the farm to be with the animals, a kind of therapy he says was calling to him. He says he favored his four-legged companions because they simply let him be. "They didn't judge me. And I didn't judge them. We just sat in silence—in peace—and were content with each other," McKernan says.
According to the National Institutes of Health (NIH), studies show human-animal interactions help to decrease levels of cortisol, a stress hormone that can cause a spike in heart rate and blood pressure. Interacting with animals also boosts the feel-good hormone oxytocin.
Animals are also particularly adept at alleviating feelings of loneliness among people, according to Tedeschi. ​​Loneliness is often associated with higher rates of anxiety, depression, and suicide, as well as health issues like obesity and substance abuse.
"One of the things that we do is evaluate someone's support system to see if they have healthy relationships in their lives. And that's almost the best place to start in a clinical intervention," Tedeschi explains. "Therapeutic animals are fantastic at joining somebody in their life and providing these very unique, very intentional ways of interacting each and every day." The reassurance and comfort animals provide can be incredibly helpful to a person who is grieving or has experienced loss.
Animals like dogs can encourage people to get out of bed or off the couch and get physically moving. On a physiological level, being in the presence of an animal activates a person's biological systems, or their interpersonal neurobiology. "So people are actually more friendly, more approachable, more optimistic, more likely to engage in conversations with other people," Tedeschi continues.
This ties into the concept of biophilia, the idea that in order for humans to be healthy, they must be in connection with other living parts of the world that are also healthy. "So if you're in the presence of an animal that is enthusiastic because you got home, because you're interacting with it, you can literally see the changes in a human being, such as voice tone or body posture, that are activated through this neurobiological system through this interaction with a living being," says Tedeschi.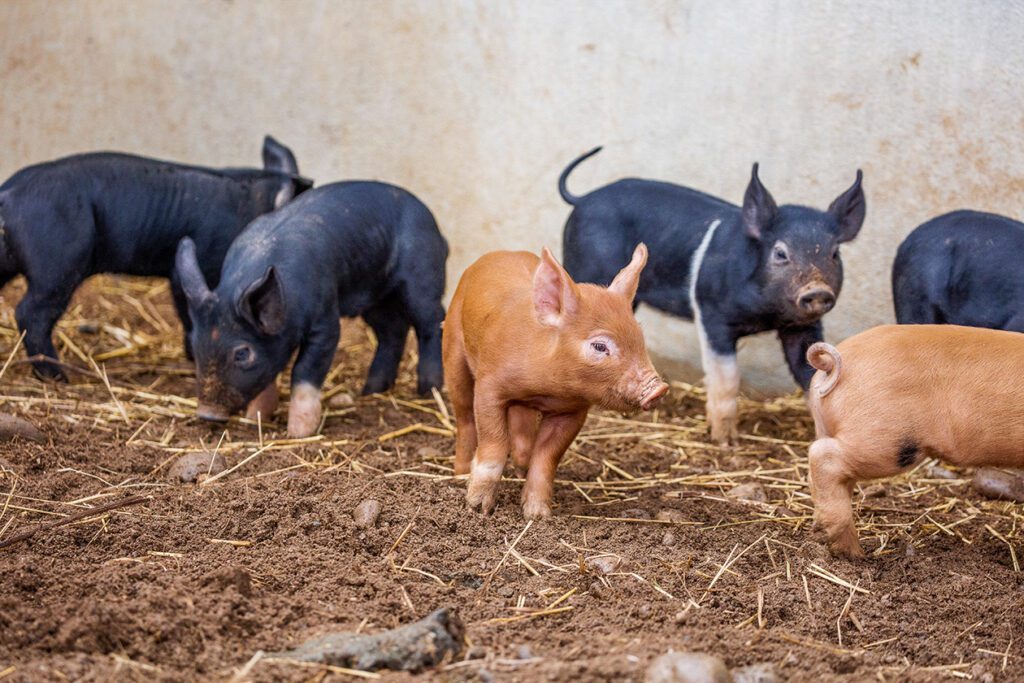 How animals and humans can heal each other
Humans are designed as social creatures and exist on a framework of interconnectivity. But humans have lost much of their connections to non-human animals. Once essential to communities for their survival, animals have now been commodified. Humans destroy animal habitats for profit and farm animals for food in a manner that's not only wasteful but also insufficient. And it's all due to their disconnection with animals and the natural world.
According to Tedeschi, healthy connections with animals are "important supportive relationships that build social capital into our lives."
"[They] build the kinds of support systems that do things like activate our neurobiology," he continues. "It's the very same experience you'd have from interacting with other members of your family."
A 2011 study out of the ​​California Institute of Technology found that neurons located in the amygdala, the region of the brain that regulates emotions, respond favorably to images of animals. "The presence of an animal that is doing well and living with us, in our community or in our home, provides us with a preconscious awareness of our own safety and wellbeing," Tedeschi adds. "When we're interacting with other living beings that are demonstrating that they feel comfortable and safe, we are able to take that information and utilize it ourselves to also feel safe."
But animal-assisted interventions aren't just beneficial for humans; they're enriching for the animals, too. Of course, therapeutic animals may experience some level of stress from being in clinical settings. But, Tedeschi explains, not all stress is bad.
"Sometimes it can be beneficial to our systems as well," he says. "If we're attentive to their wellbeing and give them the things that they need to flourish, they often can work with us in complex settings without significant challenges to their wellbeing."
Finding healing at Barn Sanctuary
For McKernan, animals have provided him an emotional outlet—they've helped him cope. They still do.
Barn Sanctuary, previously a farm that'd been in McKernan's family for more than 140 years, has a number of animal residents: cows, goats, turkeys, pigs, and more. McKernan says that when the animals first come to the sanctuary, they're often frightened. "They've been abused, and neglected. When I go hang out with the animals, they're like: 'It's okay Dan. We've been through it, too.' And I can feel the energy of how they're encouraging me to feel better," he explains. "They're rooting for me. I was there to support them and at the same time they're going to be there to support me."
Now that he's in therapy, McKernan says he doesn't depend on the animals at the sanctuary for emotional support as much as he used to. "I don't want to just depend on the animals to make me happy. If I did that, I would never be able to grow as a person and communicate with my own kind," he explains.
But he says the animals still help him to recharge, especially on the difficult days. "Being around the animals allows me to breathe and calm down when I feel anxious or stressed. It centers me to think about the present," he says. "I had a panic attack the other day, and I left the office and I went and sat with the animals and they re-centered me. It felt so good. I'm sure a human will do that for me one day."
McKernan is now using his experiences to help others. He's about to publish his first children's book, This Farm is a Family. Out on April 5, 2022, all proceeds of the book go to helping the sanctuary. The kids' book follows the story of how a group of rescued farm animals living at the sanctuary help newcomer Buttercup the cow fit in with her new surroundings.
Buttercup's story mirrors McKernan's own life as a child. He moved around a lot growing up and often felt shy and anxious with each new school he attended. "I thought this would align perfectly with Buttercup, a cow who was also very shy," he explains. "I thought it was the perfect story to show the individual stories of the farm animals but also explain that the farm animals are just like you when you're going to a new school."
Nowadays, McKernan has a new companion. Mabel, one of McKernan's more recent rescues, is a freemartin cow that was born with leg deformities on a dairy farm in Wisconsin. Her pen is nestled right next to Andy's memorial tree. Like Andy, she was in and out of the hospital and required 24/7 care. "We were told she wouldn't make it," McKernan says. "But now, she's like a powerhouse. She's running around. She has wonky legs, sure. But she loves being around humans just like Andy did. And I love watching her watch me."
McKernan sees a bit of Andy in Mabel. And he believes she understands how long and how hard they've fought for her to make it. "I think she appreciates it. And I know when I get stressed or depressed—because it's going to happen again, it's mental health and that's normal—she'll be there for me."
Vulnerability. That's what McKernan says Mabel has taught him. "She taught me how to recognize when I'm down. And that it's okay to feel that way. When I'm very sad I can just go out there and sit with her and be a part of it. And I can speak about being vulnerable and sad, which I'm working on doing more. Being vulnerable is okay."
If you are experiencing suicidal thoughts or urges to self-harm, please contact the National Suicide Prevention Lifeline at 800-273-8255 or text the Crisis Text Line (text HELLO to 741741). The services are free and are available 24 hours a day, seven days a week.