Compared to moisturizers, serums, and toners, face mists are relative newcomers to the beauty scene. Take a walk down the beauty aisle (or a leisurely scroll through an online retailer) and you'll notice a number of products that promise hydration with one or two spritzes. Like pimple patches, essences, and so many other cosmetics, they were popular in Korea for years before they came into their own on the Western beauty market. But do face mists work?
How Do Face Mists Work?
Face mists look very similar to another mist-able beauty product—setting sprays. But while setting sprays keep your makeup in place, quenching your skin is a face mist's primary objective. Some mists may be formulated with some extra perks, such as ingredients that soothe stressed skin or help fight acne.

While skin care is typically locked into AM and PM routines, you can use face mists whenever you feel like your skin needs an extra boost of hydration. A little cooling spritz in the middle of the day can feel refreshing, especially during hot summer months.
Do Face Mists Actually Work?
So, the question of the hour: are face mists worth the cost? Or are we just throwing our money away? Kelly Dobos, a cosmetic chemist with over 15 years of industry experience, says that they do. But it depends on the ingredients.
"Face mists are mostly water and humectants so that they are thin and sprayable," she says. "They provide a quick burst of hydration to the surface of the skin." She adds that they can be used any time of the day for a refreshing hit of hydration, and she personally keeps one at her desk. (Top tip: keep one in the fridge to help you survive sticky humidity during the summer months.)
In order to be effective, face mists must be formulated with humectants. A moisturizing agent, humectants sit on top of your skin and draw in moisture from your environment, be that your home, the office, or the great outdoors.
According to SkinKraft Laboratories, humectants form hydrogen bonds with water, which slows evaporation. (And that's what helps keep your skin soft.) There are multiple types of humectants. Dobos recommends keeping an eye out for a few: "Humectants like glycerin and propanediol, a less sticky alternative, are good ingredients to look for. Sodium hyaluronate is another."
Hyaluronic acid, which makes appearances in all kinds of skincare products, from sunscreens to moisturizers, is also a humectant.
Dobos adds: "Some face mists are very thin emulsions that contain oils and other lipids that help replenish the skin's barrier."

This is because humectants alone won't get the job done. They need to work in tandem with a family of ingredients called occlusives, an agent that forms a protective barrier on the skin, locking in moisture. Without an occlusive, your face mist may have the opposite effect. This is especially true if you're in a low-humidity environment because the humectant has no moisture to draw from. (For that reason, hyaluronic acid-infused moisturizers may make your skin feel dry.)
Ingredients with occlusive properties include petrolatum, silicones, waxes, vitamin E and other oils, most butters, and even certain algae extracts.
7 Cruelty-Free Face Mists That Actually Work
From sprays for dry and sensitive skin to those that address acne, dullness, redness, and dark spots, here are our top picks for cruelty-free face mists that can get the job done.
InnBeauty Project Power Up Dual-Phase Face Mist
This 3-in-1 mist can be used as a makeup setting spray, as a hydrating toner, or as a quick pick-me-up for your skin throughout the day. Dobos explains that this mist "has two phases, one oily/lipids phase that is shaken to combine just prior to use." These lipids then help replenish the skin.
This combination of moringa seed and ginger root oils helps to nourish and soothe the skin, while witch hazel, aloe, and electrolytes work to hydrate and clarify. It's also boosted by turmeric, pine bark, and boerhavia diffusa—a flowering plant used in herbalism for its anti-inflammatory properties—to help even out your complexion.
Honest Beauty Elevated Hydration Mist
This Jessica Alba-owned brand's face mist provides a burst of hydration, thanks to watermelon extract and two types of hyaluronic acid (which help attract moisture). It also includes celery seed extract, an antioxidant-rich ingredient that contains vitamins A, C, and K, which can help slow photoaging (that's fine lines and dark spots as a result of exposure to sunlight) as well as reduce redness and the appearance of your pores. It also has a lovely botanical fragrance, courtesy of lavender.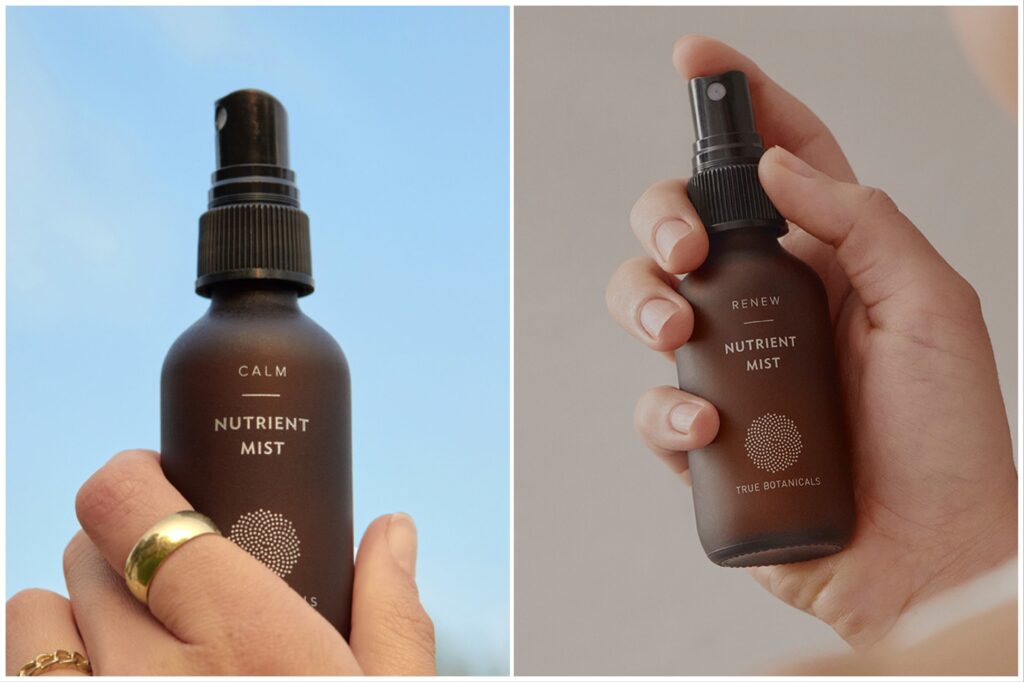 True Botanicals Nutrient Mist
Described as a "daily multi-vitamin for your skin," this face mist's main job is hydration. But you can also use it as a makeup setting spray. It contains a wide array of antioxidant-rich ingredients, including green and white tea extracts, kombucha, two kinds of algae extracts (remember, algae is an occlusive ingredient, which means it helps lock in moisture), and milk thistle oil. It is oh-so-subtly scented with jasmine, neroli, and rose, so even those with sensitive skin can reap the benefits.
E.L.F. Glow Dewy Mist
For the low price of $8, this mist by budget-friendly darling E.L.F. hydrates your skin with an infusion of coconut water, hyaluronic acid, and antioxidant-rich argan oil, which is rich in antioxidants that help protect the skin against environmental damage, like polyphenols and vitamin E. It's also high in fatty acids, which provide moisture and nourishment. (Specifically, it contains oleic and linoleic fatty acids, which have anti-inflammatory properties)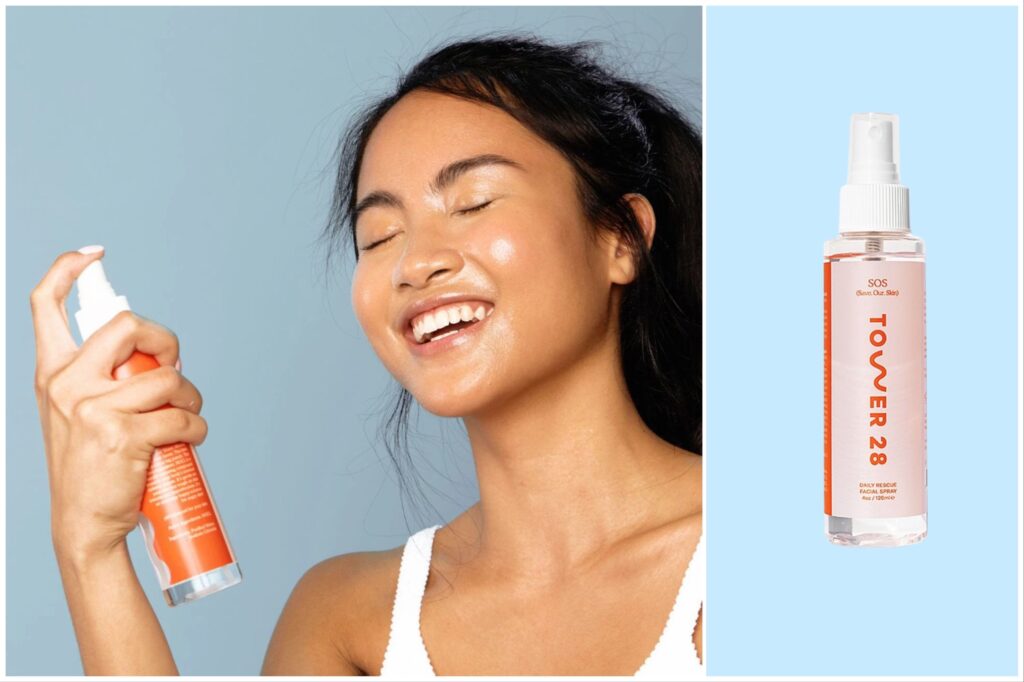 Tower 28 SOS Daily Rescue
Formulated for all skin types, but especially for inflamed skin, the SOS Daily Rescue by Tower 28 is a 3-ingredient daily treatment spray that helps soothe skin and reduce the appearance of redness.
The product contains hypochlorous acid which has antimicrobial properties to inhibit acne causing bacteria.
Its hero ingredient is hypochlorous acid, a naturally-occurring molecule produced by your white blood cells to fight infection, bacteria, and injury to the skin. Dobos explains that this skin-safe acid has antimicrobial properties that inhibit acne-causing bacteria. It also contains electrolyzed water and sodium chloride (aka salt), which is commonly used in skincare products for its binding and preservative properties.
This gentle mist has received the National Eczema Association's Seal of Acceptance, meaning it is safe for sensitive skin.
Vertly CBD Infused Soothing Face Mist
Formulated for all skin types—dry, mature, sensitive, acne-prone, combination, you name it—the Vertly CBD Infused Soothing Face Mist is a 3-in-1 toney, makeup setting spray, and hydrating mist. One bottle contains 100mg of full-spectrum CBD, which, as it turns out, is more than just a wellness supplement. In skincare, CBD acts as an antioxidant, which helps to reduce inflammation. And no, it won't sink into your skin and make you high. Unlike fellow cannabinoid THC, CBD is not psychoactive.
This cruelty-free face mist also contains skin-nourishing vitamins A, D, and E, plus Omega 3 and 6 essential fatty acids. And, it gets an extra boost of benefits from calendula flowers, which address redness. It also contains aloe vera (seals in moisture) and rose (which tones, moisturizes, and imparts a natural floral fragrance).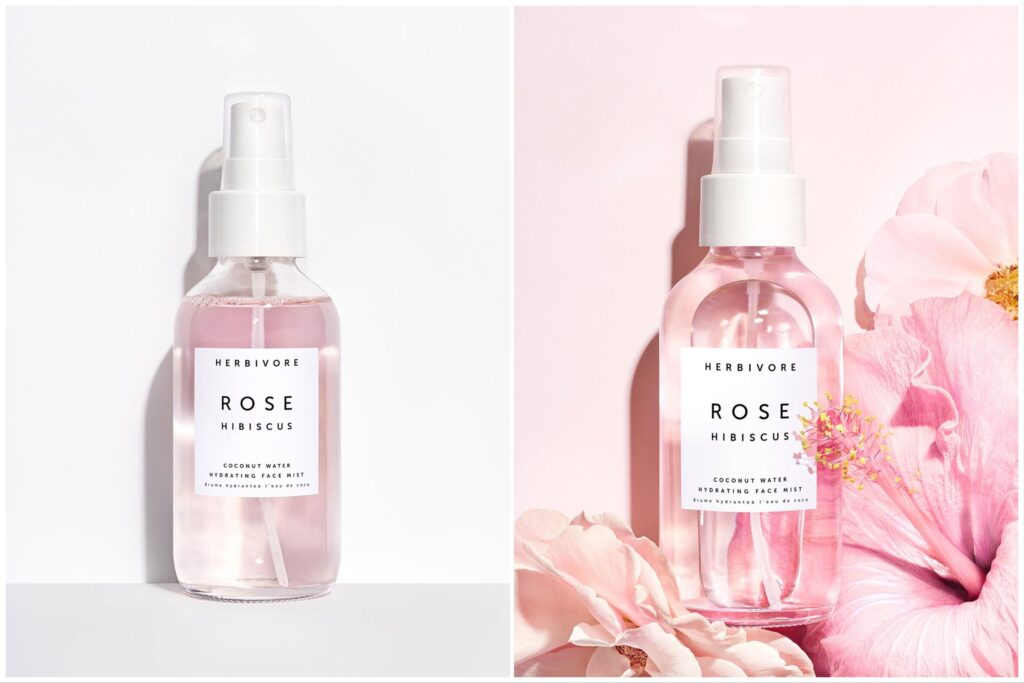 Herbivore Rose Hibiscus Hydrating Face Mist
Cruelty-free and vegan skincare brand Herbivore's Rose Hibiscus Hydrating Face Mist targets dullness and dryness with a gentle cloud of hyaluronic acid, organic rose hydrosol (aka rose water, a hydrating and skin-soothing ingredient), coconut water, and hibiscus extract, which contains skin-softening malic acid.
You can use it on freshly cleaned skin or over makeup for a hydrating refresh throughout the day. It is also free from synthetic fragrances, preservatives, and dyes—that baby pink color is all natural.
---
LIVEKINDLY is here to help you navigate the growing marketplace of sustainable products that promote a kinder planet. All of our selections are curated by the editorial team. If you buy something we link to on our site, LIVEKINDLY may earn a commission.