Harry Styles knows a thing or two about putting on a show-stopping live performance. (We may or may not have "Watermelon Sugar" playing on repeat right now…) Since breaking onto the music scene in 2010—joining the band One Direction on the British singing competition series, The X Factor—he's certainly made quite the name for himself. He also has plenty of awards to prove it—26 as a solo artist and 177 as part of the band, to be exact.
The 28-year-old, English singer-songwriter recently wrapped up his second concert tour, Love on Tour. And he's currently set to take the stage at Coachella in April as a headliner alongside Billie Eilish, Ye, and Swedish House Mafia. (Send tickets, please…)
But when he's not making hit records, Styles is busy breaking down barriers. He regularly uses his musical outlet and social media presence to stand up for the causes he's most passionate about. From dismantling toxic masculinity to advocating for social justice issues, here's how the musician uses his platform for good.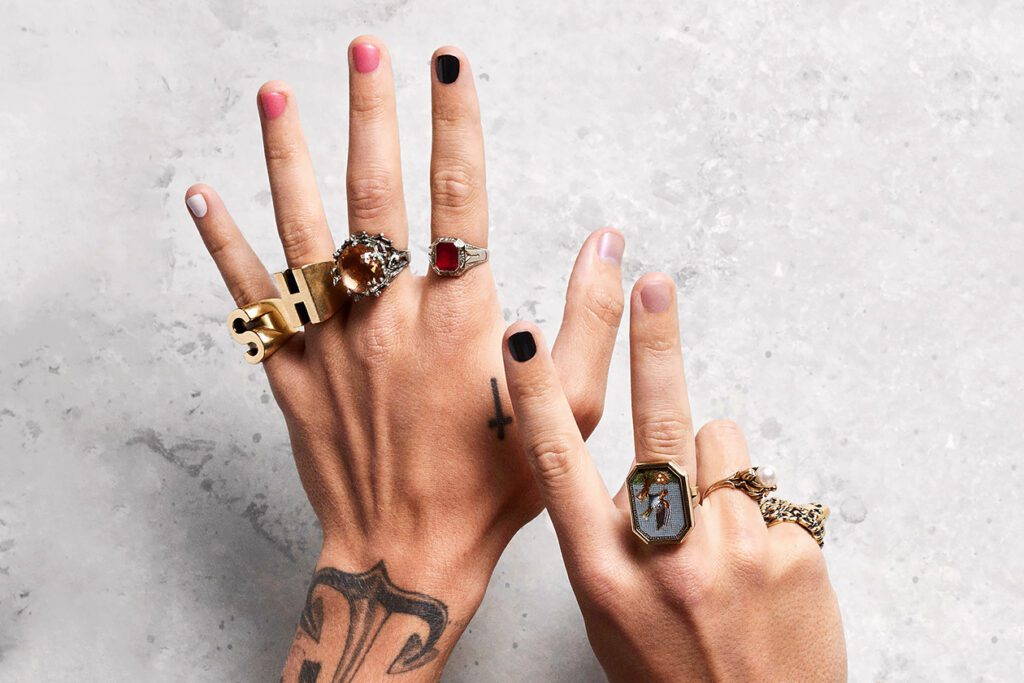 Harry Styles is shattering gender norms
In December 2020, Harry Styles made history as the first man to appear alone on the cover of Vogue. Even more barrier-breaking was the fact that he donned a lacy white dress and a black tuxedo jacket.
​​"Clothes are there to have fun with and experiment with and play with," he told Vogue in an accompanying interview. "What's really exciting is that all of these lines are just kind of crumbling away. When you take away 'There's clothes for men and there's clothes for women,' once you remove any barriers, obviously you open up the arena in which you can play."
Styles' status as an androgynous fashion icon is long-standing. Harry Styles previously challenged gender norms, being photographed in dresses on numerous occasions. He donned heels in an editorial for Dazed magazine. And he regularly sports colorful, manicured nails. He even launched a gender-neutral beauty brand. Fashionistas, take notes.
He advocates for social justice issues
Styles also showed solidarity during the 2020 protests of police brutality and systemic racism that arose after the killing of George Floyd while in police custody. He took to social media to encourage his followers to "listen, read, share, donate, and vote."
"I do things every day without fear, because I am privileged, and I am privileged every day because I am white," he wrote. "Being not racist is not enough, we must be anti racist. Social change is enacted when a society mobilizes." Following the death of Floyd, Styles also attended a protest in Los Angeles.
He's big on philanthropy
Styles doesn't just Tweet about social causes, he donates to them too. During his 2017 concert tour, Live on Tour, the singer raised $1.2 million for 62 charities around the world, including Help Refugees and March For Our Lives. A portion of proceeds from merchandise and ticket sales from his 2020 tour also went to charities like Physicians for Reproductive Health and Choose Love. In support of Black Lives Matter activists, he also pledged to donate to a bail fund for those arrested while protesting.
He doesn't eat meat
It's highly unlikely that you'll find red meat on Harry Styles' plate—watermelons for him, please. During a 2020 interview with NPR, the musician told NPR Music's Stephen Thompson he no longer eats meat.
That same year, he also confirmed his diet during his Vogue interview, saying he's been a pescetarian for three years. He says all of the vegan meals his bandmates prepared while on tour inspired him to eschew meat. "My body definitely feels better for it," he explained. 
The former One Direction-er doesn't just stand up for people, he speaks up for animals too. During a 2015 concert in San Diego, home of one of SeaWorld's largest theme parks, he urged his fans to boycott the attraction.
He supports the LGBTQ community
In addition to speaking up for racial injustice and animals, Styles has been a champion for the LGBTQ community. His 2019 single Lights Up, which was released on National Coming Out Day, has been called a "bisexual anthem."
He's a regular at waving the Pride flag onstage during his shows. For Pride month in 2018, he released ​​limited-edition clothing, the proceeds of which went to the non-profit GLSEN (formerly known as the Gay, Lesbian & Straight Education Network). During his 2014 performance in St. Louis, Missouri, he donned a jersey with professional football player Michael Sam's number on it. Sam was the NFL's first openly gay draft pick.
And after seeing a sign that read "I'm gay and I love you" during a 2018 show in Los Angeles, Styles proclaimed: "I mean, we're all a little bit gay, aren't we?"