Ah, the scent of freshly-wafting popcorn, peanuts and crackerjacks. The sound of the crowd roaring at an instantly legendary play. And the vendors in the stands belting, "Get your vegan nachos, jackfruit chili and Impossible cheesesteaks right here." Wait, what?
Yup, that's right—you heard us. At sports games this year, you'll be able to order up an astounding array of mouthwatering plant-based options, from fully-loaded jackfruit nachos to potato tacos with roasted avocados and warm tomato salsa. Whether you're relaxing in the heated indoor arenas of the NBA or shivering in the chill of the NFL's open-air stadiums, you'll no longer be stuck with fries and a pretzel. Instead, you'll be dining deliciously, tucking into a vegan po'boy stuffed with marinated crispy tofu, spicy pickles and creole Vegenaise or getting fancy with a local, seasonal, herb-roasted veggies and cheese platter.
If you're excited that these proteins, snacks and apps are making their way onto sports menus, you'll need this handy guide to the best plant-based stadium food.
How to Eat Vegan at Sports Stadiums: Baseball
Dodgers Stadium, Los Angeles, CA
This renowned Los Angeles arena features a wide variety of plant-based snacks. Baseball fans can chow down on plant-based burgers, Dodger dogs, teriyaki bowls, tostada salads, big papa and hot mama pickles, and garlic fries in a helmet. For the sweet tooth, load up on Dippin Dots rainbow, Dole whip, king-sized pretzels, plant-based soft serve, Red Vines, Sour Patch kids.
Yankee Stadium, Bronx, NY
In addition to one of baseball's most famous teams, Yankee Stadium is home to plenty of vegan eats. Food for game-goers includes avocado bites, Beyond Sausage, churros, Field Roast burgers and even veggie sushi. Check out all the delicious and diverse offerings here.
Citi Field, Queens, NY
At the Mets' home base of Citi Field, a stand called "Vegan City" offers a whole bunch of delicious options. Hungry fans can dig into Vegan City nachos made with jackfruit chili, vegan cheese, pico de gallo and roasted salsa, or order up a Beyond Sausage with balsamic roasted onions and peppers on a house roll. If you never thought you'd have a grain salad at a stadium, you'll be pleased to try the Southwest grain salad with wild rice, black beans, black-eyed peas, roasted corn, roasted peppers, arugula and pico de gallo.
Oracle Park, San Francisco, CA
San Francisco's vegan-friendly attitude has spilled over to the ballpark, home to the Giants. Just this year, the park opened a new concession stand dubbed "That's Impossible" serving only Impossible products. While some items come with cheese or sour cream, they can easily be requested without. Options include Impossible chili with Impossible meat, beans, tomatoes, cilantro and spices topped with shredded cheese, diced onion and sour cream, plus an Impossible burger with cheddar cheese, caramelized onion and dijonnaise on a seeded bun. Other vegan-friendly items at the park include Field Roast franks, açaí bowls and chocolate Guittard Gelato bars. 
RingCentral Coliseum, Oakland, CA
Oakland Athletics fans can get their plant-based food fix with either an Impossible "cheesesteak" sandwich topped with melty vegan cheese and tender bell peppers and onions; or a flavorful, grilled Impossible burger topped with a fresh, crisp trio of lettuce, tomato and onion.
How to Eat Vegan at Sports Stadiums: Football
Empower Field at Mile High, Denver, CO
While the Denver Broncos are still working through supply chain challenges, they're already offering a variety of vegan-friendly selections. Entree options include Ozo plant-based burgers and Frank Bonanno's Tuscan sandwich (if requested to be made without the mozzarella), topped with basil pesto, roasted red peppers, pickled red onions, vine ripe tomatoes, baby arugula, red wine vinaigrette, kosher salt and cracked black pepper on a hoagie roll. Or you can get a simple cauliflower hoagie with roasted peppers, onions and mushrooms. On the side, grab some hot tomato bisque and made-to-order loaded baked potatoes. Snackable choices around the stadium include chips and salsa, Bavarian pretzels, candy, peanuts, French fries and kettle corn.
State Farm Stadium, Glendale, AZ
Arizona Cardinals fans are in luck with a wealth of vegan options available at their home stadium. The plant-based foodie fare includes fresh cut fruit, J&J's soft pretzels, popcorn and chips and salsa in the main and upper concourse and club levels. In the lofts the options get even more enticing with a vegan cheese platter featuring local seasonal herb roasted veggies with vegan cashew cheese spread, pistachio cheese and smoked cashew "gouda," served with toasted baguettes and lavash. You can also get vegan papas tacos with seasoned steamed potatoes and Daiya cheese wrapped and baked in corn tortillas served with roasted avocados, warm tomato salsa and marinated kale and corn salad, or vegan flats flatbread with spinach, potato, shiitake mushrooms, Daiya cheese and truffle oil. For dessert, dig into cinnamon sugar-baked apple "roses" in pastry crust served with vegan lavender whipped cream.
Lumen Field, Seattle, WA
Lumen Field, home to the Seattle Seahawks, has a variety of veg-forward options for fans looking for plant-based choices. Selections include savory vegan hot dogs at Local Dogs and Brats, buns at Din Tai Fung, colorful veggie burrito bowls at Cantina and more.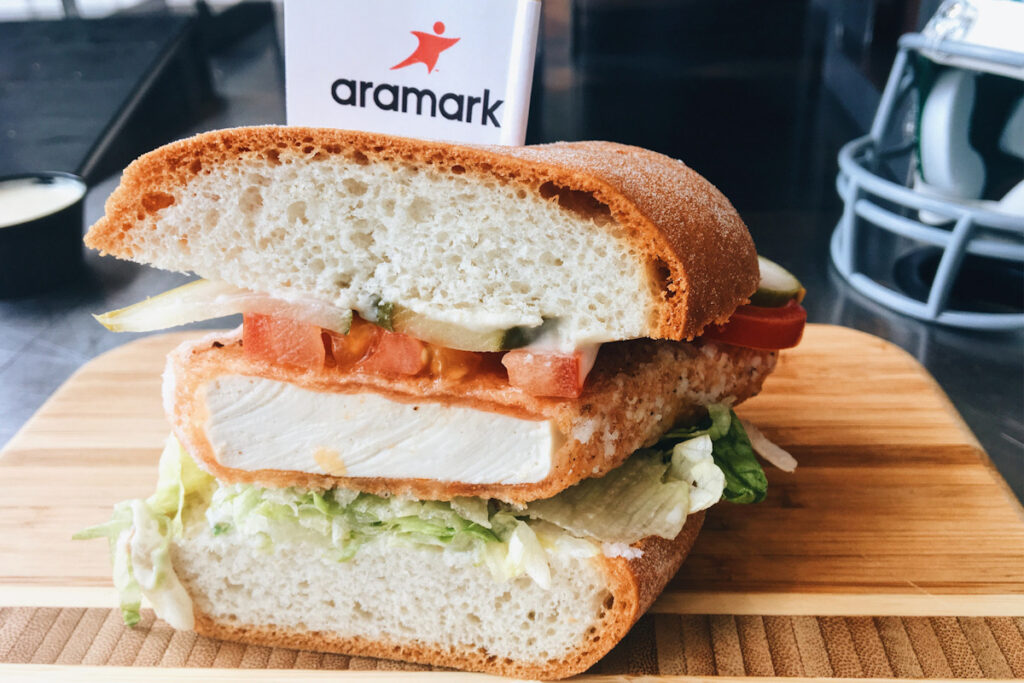 Lincoln Financial Field, Philadelphia, PA
The Philadelphia Eagles' home turf highlights a droolworthy vegan po'boy made with crispy marinated tofu, shredded lettuce, ripe tomatoes, spicy pickles and creole Vegenaise on a gluten-free baguette. Also available for stadium snacking are decadent twisted soft pretzels and butter or caramel-flavored corn from Popcorn for the People.
How to Eat Vegan at Sports Stadiums: Basketball
Madison Square Garden, New York, NY
This iconic Manhattan basketball arena, home to the New York Knicks as well as ice hockey team the New York Rangers, boasts a "Simply Vegan" stand stocked with an array of irresistible eats. Menu selections include The Big Deal, with two Impossible patties with vegan cheese, pickles and Rafter sauce on a sesame seed bun; grilled bratwurst with Beyond Brats, caramelized onions and classic German mustard on a toasted roll; and chili made with Impossible protein topped with vegan cheese, scallions and cilantro.
Golden 1 Center, Sacramento, CA
Serving Sacramento Kings fans, the "Burger Patch Cart" is a 100 percent plant-based purveyor with a nostalgic take on arena eats. The choices include two scrumptious sourdough burgers. Choose between the Patch Burger, a Beyond Meat patty topped with a cheddar-style sauce, lettuce, tomato, two cheddar-style slices and grilled red onion; and the BBQ Patch Burger, which is essentially the same burger, but with barbecue sauce and Sweet Earth hickory strips. Munch on the Patch Brats and Spicy Patch Sausage menu item, which features a Beyond Meat sausage topped with mixed bell peppers and onions, cheddar sauce and creamy mustard on a sourdough bun. 
Chase Center, San Francisco, CA
The Golden State Warriors have plenty of vegan-friendly food to keep fans fueled before or after a game. Among the options at this arena are "The Sarap Shop," a stand that offers an array of plant-based goodies including the vegan loco moco made with Impossible Burger, Just Egg, vegan brown gravy, and rice; and a chippy pie served with a vegan Impossible chili, vegan aioli, green onions, and corn chips. At the nearby "Room for Dessert," you can satisfy your sweet tooth with a vegan brownie milkshake made with vegan chocolate ice cream, soy milk and vegan whipped cream, all topped with a toasted vegan housemade vanilla marshmallow.