Celebrated anthropologist and conservationist Dr. Jane Goodall — Ph.D., DBE, founder of the Jane Goodall Institute, and UN Messenger of Peace — has been instrumental in shaping the modern understanding of chimpanzees.
But her life's work has also helped revolutionize the scientific and public perception of non-human animals, in general. Now, at 86, she's as active as ever, and an outspoken voice for conservation, vegetarianism, climate action, and grassroots activism.

She is a particular advocate for young people around the world, in part through the Jane Goodall Institute's youth-led community program, Roots & Shoots. But Goodall herself remains best known for her extensive work with chimpanzees, which began over 60 years ago in East Africa.
Jane Goodall and the chimpanzees
Goodall's study of chimpanzees started when she arrived at Tanzania's Gombe Stream National Park in 1960. "Actually arriving in Gombe was magic," Goodall tells LIVEKINDLY. "But, then, arriving in Africa was magic."
She was 26 at the time and had no formal education, but had already impressed paleoanthropologist and archaeologist Louis Leakey with her knowledge of African wildlife. It was Leakey who first gave her the opportunity to study chimpanzees as a researcher in Gombe.
Primatology was a male-dominated field then, and Goodall says women were generally not accepted when she first began researching. But through her groundbreaking work, Goodall helped to change that, inspiring countless young people to pursue scientific careers.
Shortly after arriving in Gombe, Goodall met a chimpanzee whom she named David Greybeard, now known as the first chimp to "lose fear" of humans. Greybeard was also the first-ever chimpanzee to be documented using and making tools.
Her time at Gombe and work with Greybeard was widely publicized by National Geographic, and challenged several long-held scientific beliefs of the time about chimp behavior.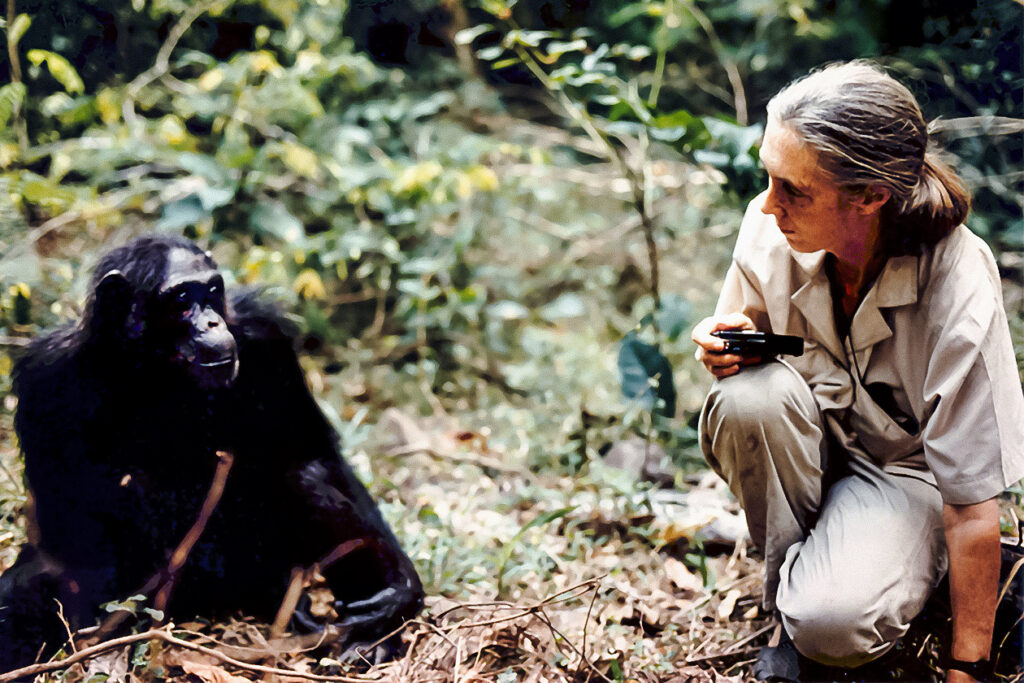 Redefining the scientific perception of chimps
"[Use of tools] was supposed to be unique to humans," explains Goodall. That early discovery brought in National Geographic — including photographer Hugo van Lawick, who became her first husband — and engendered the public perception of Goodall as a cultural icon.
The captivating footage Lawick captured showed Greybeard creating and using tools to "fish" for termites. The chimpanzees skillfully employed grass stalks and twigs stripped of their leaves in order to capture and eat insects.
"It was his footage that went around the world," says Goodall. "So all the scientists who refused to believe this young woman — why should they bother, she hadn't even been to college — they had to believe because they saw the film."
Goodall's observations had an enormous impact on the scientific community, and Leakey famously wrote: "We must now redefine man, redefine tool, or accept chimpanzees as human."
Naming the chimpanzees she studied also defied scientific convention, and while working on her Ph.D. in 1962, she was explicitly told by her professors that she couldn't talk about chimps having personalities and other "human" traits.
"[Not] minds capable of solving problems, and certainly not emotions," she adds. "[Chimps are] so like us that scientists had to stop thinking about us as being completely separate from the animal kingdom."
'That symbolizes fear, pain, death'
Despite her professors' comments, Goodall's work with chimpanzees confirmed what she knew already; that non-human animals are capable of thoughts, emotions, and sensitivity.
"I won the battle and went on talking about chimp personalities," she says. "And because of that, and because of the biological similarities, it means that other animals have been regarded in a different way."
A lifelong animal lover, Goodall became a vegetarian in the 1970s. "For me, the starting point was ethical," she says."It all began when I read Peter Singer's Book."
Singer is an Australian moral philosopher with a secular, utilitarian approach. His book, Animal Liberation: A New Ethics for Our Treatment of Animals, was first published in 1975. In it, Singer explores non-human animals' ability to experience suffering, particularly within factory farming.
Animal Liberation is often cited as a formative influence on the entire modern animal rights movement. The book also popularized the term "speciesism" to describe human oppression of non-human animals.
"I didn't know about factory farms up until that point, I was out in Gombe and I had no idea that they existed," continues Goodall. "The next time I saw meat on my plate I thought 'ah, that symbolizes fear, pain, death.' And I didn't eat anymore ever again."
'I try to be vegan now I'm at home'
"The thing is that it's the factory farming that is so absolutely cruel and horrendous," she says. Factory farming relies on intensive methods and animals frequently spend their lives in in barren and cramped spaces. Critics cite it as one of the most widespread and violent forms of animal cruelty in the world.
According to the Sentience Institute, factory farms raise around 99 percent of farmed animals in the U.S. While in the UK, Compassion in World Farming reports that 70 percent of all farmed animals are intensively raised.
Globally, the meat industry rears approximately 70 billion farm animals every single year. In addition to causing animal cruelty, this creates significant greenhouse gas emissions and pollutes air, water, and land. Overall, it is responsible for varied and comprehensive habitat destruction worldwide.
"A lot of water is needed to change vegetable to animal protein," explains Goodall. "Then all these billions of animals all over the world they produce methane gas in their digestion, which is a very virulent greenhouse gas."
"I try to be vegan now I'm at home," adds Goodall, who is working from the UK during the coronavirus (COVID-19) pandemic. "I can be more or less entirely vegan."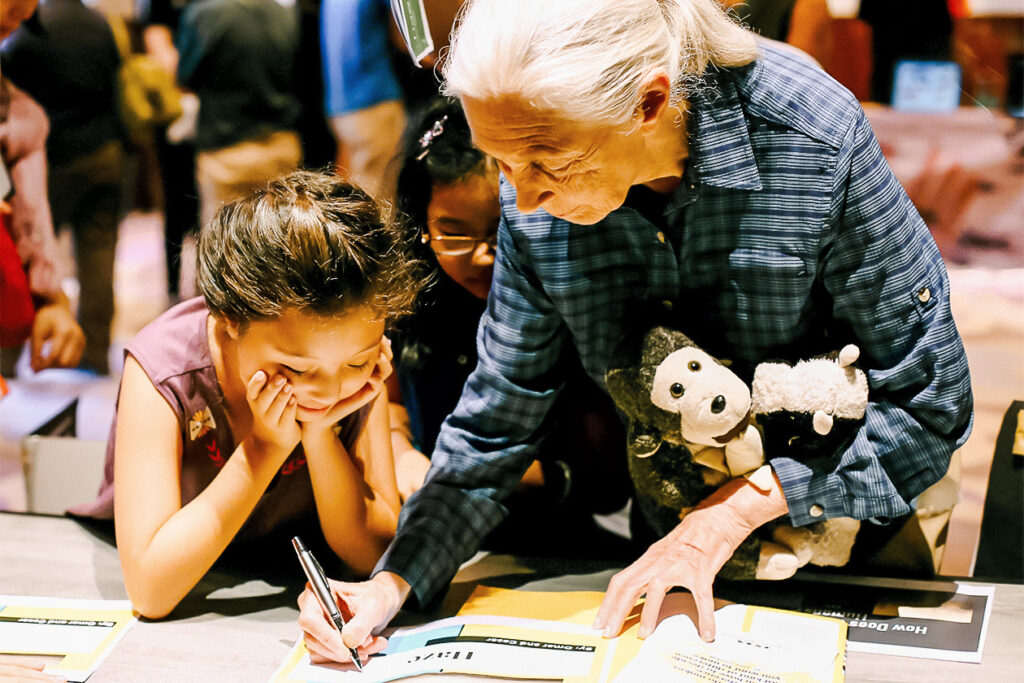 The Roots & Shoots Program
A dedicated environmental advocate, Goodall is also vocal in her support of younger generations, particularly youth climate and environmental activists. "We have compromised their future," says Goodall. "We have been stealing it and we're still stealing it today."
She started the Roots & Shoots program back in 1991, "because I found so many high school and university students who had lost hope." She describes the young people she was meeting back then as "depressed, apathetic, and angry."
"Different people have different responses to their loss of hope. And they told me they felt that way because we had compromised their future and there was nothing they could do about it," says Goodall."I told them to get together and choose projects to make the world better."
The Roots & Shoots Program supports young people from preschool to university level around the world. It focuses on providing customizable, educational projects for different individuals and groups. The program is now in more than 65 countries, with thousands of local chapters.
"We decided that each group would choose three projects," explains Goodall. "One to help people, one to help animals, and one to help the environment. And the main message would be each one has made some impact every single day."
The Roots & Shoots program encourages participants to find issues within the community and take action themselves. Many alumni who have been through the Roots & Shoots Program are now out in the world, and frequently occupy prominent or influential positions.
"They somehow hang on to the values they acquired when they were members of Roots & Shoots," adds Goodall.
"That's what I love about Roots & Shoots," she continues. "It's the young people choosing what to do and getting out there and doing it. Feeling empowered. And that's the way to stop feeling hopeless."
What Happened When We All Stopped
In 2020, Goodall narrated a short film based on the illustrated children's book What Happened When We All Stopped (2020). The book, written by best-selling author Tom Rivett-Carnac, also sends a message of hope and empowerment and was first published as lockdown restrictions lifted in certain parts of the world.
Carnac has been working to mitigate global warming for the last 20 years, and he is one of the key architects of the landmark Paris Agreement on climate change.
What Happened When We All Stopped encourages conversations with young people about climate change, specifically within the post-pandemic recovery period. Carnac aims to empower and educate, showing children that what happens next is something they can affect.
Goodall says she hopes that the children's book inspires people "of all ages" to play their part in healing the harm humans have inflicted on the natural world. "So that together we can create a new future," she continues. "We must find a way of living in harmony with nature so that both may thrive."
"I've often considered it strange that the most intellectual creature ever to walk the earth is destroying its only home," adds Goodall.
On a conference call for the National Geographic documentary Jane Goodall: The Hope (2020) last year, she discussed COVID itself.
"It is our disregard for nature and our disrespect of the animals we should share the planet with that has caused this pandemic," said Goodall at the time. "That was predicted long ago."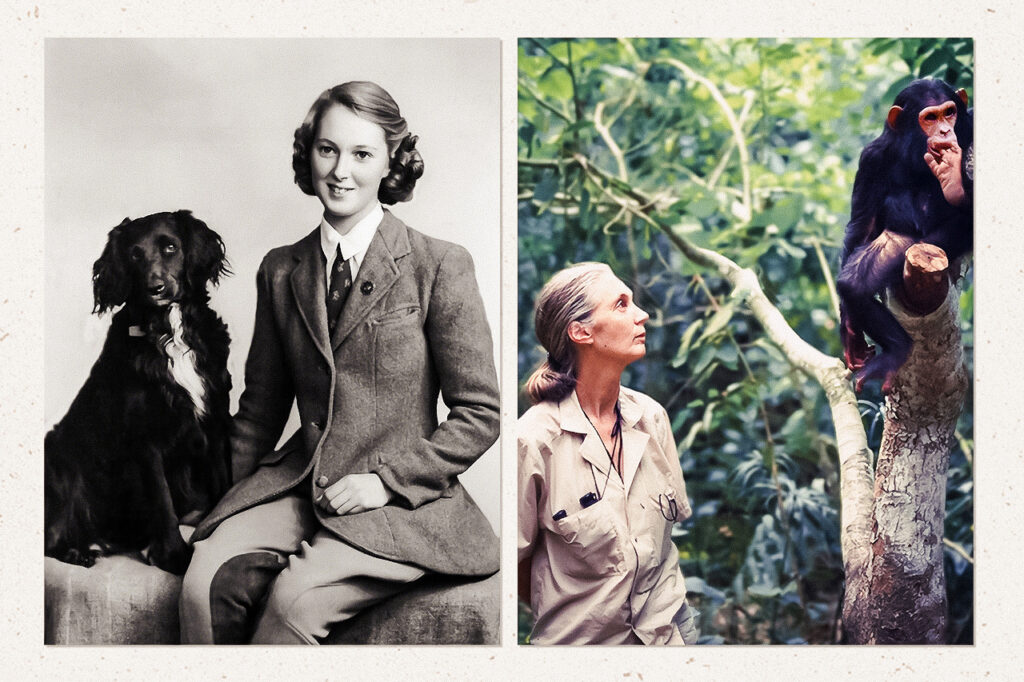 'Because you did it, I could do it too'
Like much of the rest of the world, Goodall is currently working from home due to the coronavirus. But that's not slowing her down. "I've never been as busy in my entire life," she says. Along with What Happened When We All Stopped, Goodall has been working on various interviews and podcasts.
While speaking with LIVEKINDLY, Goodall sits in front of tall shelves full of books, postcards, and photographs. She holds up one particular picture of her childhood dog, Rusty, to the webcam.
"One last thing," she says. "Here's my teacher." Describing his intelligence and sensitivity, Goodall explains that his friendship is what first shaped her perception of animals as a young person. "He told me the professors were wrong, and I needed that reassurance," she continues.
Along with what she learned from Rusty, Goodall also highlights her mother's unwavering support in enabling her to pursue the career she did — thereby challenging the dominant opinions on animal behavior, completing her Ph.D., and continuing her study of chimps for over 60 years.
"When everybody else laughed at my idea of going to Africa she just said: 'well if you really want this you're going to have to work awfully hard. Take advantage of every opportunity, and if you don't give up maybe you'll find a way.' Which is what I have said to children all around the world," says Goodall.
"So many young people have written to me or said to me 'I want to thank you because you taught me that because you did it, I could do it too.' Which is fantastic," says Goodall. "I wish Mum was around to hear the result of her work."
World Chimpanzee Day
On July 14, 2020, World Chimpanzee Day, the Jane Goodall Institute celebrated the 60th anniversary of Goodall's first arrival in what is now Gombe Stream National Park.
To celebrate, the Jane Goodall Institute officially partnered with One Tree Planted — the fastest-growing reforestation company in the U.S. — to focus on critical restoration across western Uganda.
This effort will plant more than three million trees in the region, a diverse ecosystem and prominent habitat for endangered chimpanzees.
For more information on Jane Goodall, visit the Jane Goodall Institute or learn more about the Roots & Shoots program here.