After the hottest decade on record, rapid action from President Joe Biden's administration is necessary to resolve the catastrophic Trump-era damages which are estimated to increase United States carbon pollution by 1.8 tons by 2035. But POTUS must go beyond investigating and reversing the 100-plus Trump administration climate-related setbacks. Joe Biden's climate plan calls for environmental justice and a clean energy revolution in line with a 1.5˚C future to reverse the course of the climate crisis.
Otherwise, Earth is slated to warm by 3.2˚C by 2100 which would result in glacier's disappearing, an increase in landslides, and sea levels rising which would displace 10 percent of the global population. Avoiding the irreversible will take swift, deliberate action.
During his first months in office, Biden showcased a stark contrast to his predecessor. The first day of his presidency, Biden signed an executive order to rejoin the Paris Climate Agreement (PCA) and pledged that the U.S. would be carbon-neutral by 2050. POTUS should release his 2025 targets to reach the PCA goals before November's United Nations Climate Change Conference. Here's what President Biden must do to reverse course on the climate crisis.
Shut down oil pipelines
On his first day in office, Biden canceled the Keystone XL pipeline, but many other oil pipelines remain to be shut down. The environmentally-destructive Line 3 pipeline in Minnesota, which despite years of protests from tribal groups and environmentalists, is now under construction. The 337-mile pipeline will carry 760,000 barrels of crude oil daily from Canada to the U.S. while passing through about 200 bodies of water and protected Anishinaabe treaty lands. Biden should revoke Line 3's presidential permit, as he did with Keystone XL's. Additionally, Biden must make his temporary halt on oil leases in the Arctic National Wildlife Refuge permanent immediately.
Break up with fracking
To preserve our planet, Biden should break up with fracking and take measurable action against fossil fuels. The oil and gas industry are major contributors to methane gas, polluting the atmosphere, and warming the planet. According to the Environmental Defense Fund (EDF), methane is responsible for over a quarter of today's global warming. It's imperative that Biden reinstate methane protections rolled back by Trump. 
Phase out factory farming
To further reduce methane, Biden must reform the agricultural industry. This would reduce methane gasses released from livestock as well as emissions of greenhouse gasses caused by deforestation for fields and pastures, agrochemicals, and running farm machinery. The Farm System Reform Act, proposed by Senator Cory Booker and co-sponsored by Senator Elizabeth Warren, should be passed and enacted while Biden is in office. The Act's goal is to phase out factory farming by placing an immediate moratorium on new large factory farms, known as concentrated animal feeding operations, phasing them out completely by 2040.
Prioritize renewable energy
While transitioning the country to a greener future, Biden must prioritize renewable energy. Biden pledged that by 2035 all greenhouse gas emissions from the nation's electric sector will be eliminated. He's approved an off-shore wind farm in Massachusetts—such projects build the clean energy economy and fulfill his promise to create millions of union jobs. The United States is the second-largest greenhouse gas emitter making it urgent for the U.S. to transition to clean energy. China is the largest emitter of CO2 emissions and also the leading producer of clean energy-based technologies. The United States can exceed China's efforts and set a precedent for the rest of the world. Clean energy improves air quality and directly impacts human health. 
Transition to electric vehicles
As of 2017, transportation is the largest source of greenhouse gas emissions in the United States. Biden's clean energy plan requires $2 trillion in funding and calls for an emissions-free electric grid in 15 years. The EDF has called for Biden's administration to fast-track the use of electric trucks, buses, new passenger vehicles and the electric grid infrastructure to power e-vehicles. EDF reports it's possible to deliver 100 percent zero-emitting cars by 2035 and 100 percent zero-pollution freight trucks and buses by 2040. In the meantime, Biden should implement strict auto emissions standards with hefty fees for violators. 
Protect U.S. lands and waterways

Today, only 12 percent of U.S. lands are permanently protected. To prevent further deforestation, Biden has pledged to protect 30 percent of U.S. lands by 2030 (over 400m acres of land and waterways). To reach the conservation goal, Biden must meet with Indigenous leaders and environmentalists to identify areas of biodiversity to preserve, including prairielands, mountain ranges, forests using the Antiquities Act. He should also restore national monuments that lost protections during the Trump years and establish new national monuments, including Owyhee River's Canyonlands in Oregon which is home to an array of wildlife including antelope, bighorn sheep, and at least 200 other species. Biden must work with the federal Department of the Interior to protect new mounments to preserve biodiversity and wildlife.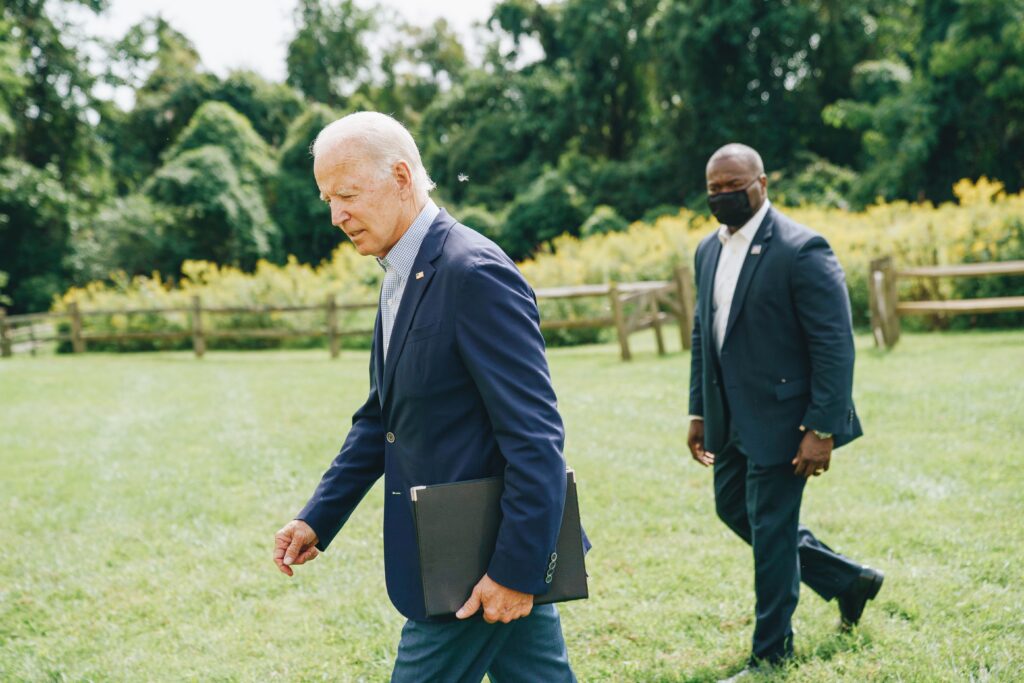 Combat environmental racism
Joe Biden's climate plan must address the disproportionate impact of climate pollution and environmental hazards on BIPOC communities, because of systemic racism, income, and health disparities. For example, he needs to repair the damage in Flint, Michigan and rebuild a potable water system. Biden has to reevaluate his stance on the Green New Deal. During the first presidential debate, Biden stated he doesn't support the bill co-authored by Representative Alexandria Ocasio-Cortez and Senator Ed Markey, which would create housing for low-income communities facing environmental racism and introduce policies to achieve net-zero greenhouse gas emissionsBiden should demand that Congress pass the legislation.
BIPOC representation in Biden's Cabinet is crucial to dismantling environmental racism. He appointed Representative Deb Haaland as the first Indigenous Cabinet Secretary to lead the Department of Interior, Michael Regan as the first Black Environmental Protection Agency (EPA) Administrator, and Brenda Mallory as the first Black person to chair the Council on Environmental Quality. Biden needs to create a climate council of environmental experts of diverse backgrounds led by Presidential Envoy for the Climate John Kerry, who negotiated the PCA, to spearhead climate mobilization.
End the filibuster
The biggest obstacle for Joe Biden's climate plan is the 117th Congress. The filibuster, which in practice, requires most legislation to have a supermajority of at least 60 votes to pass. Biden's window to move green bills through the Senate will be during the annual federal budget reconciliations by connecting aspects of his climate bills to taxation, revenue, and spending, such as the cost of carbon, wind, and solar tax credits, and clean energy research and development. Biden must call on Congress to kill the filibuster immediately.
Meanwhile, Senate Majority Leader Chuck Schumer, Senator Bernie Sanders, Representative Alexandria Ocasio-Cortez, and Representative Earl Blumenauer have called for Biden to declare a climate emergency. Doing so would unlock 136 presidential powers including the National Emergencies Act, Public Health Service Act, and the Disaster Relief Act to tackle the climate crisis. To achieve Joe Biden's climate plan, a climate emergency must be declared to allow POTUS to distribute billions allocated for defense projects toward renewable energy, re-institute a ban on crude oil exports, and send emergency climate aid to states.