Karl Lagerfeld has launched a collection of sustainable vegan designer bags, featuring leather made from cactus and organic cotton.
The famed fashion house worked with 1990s supermodel Amber Valletta, a longtime friend and muse of the late German designer.
The Karl Lagerfeld x Amber Valletta collection includes a vegan leather version of the brand's house signature K/Kushion bag, inspired by the childhood cushion that Lagerfeld used to take on his travels.
The bag features a pleater design and folded silhouette, made from an earthy green cactus-based leather engineered by Mexico-based fashion tech firm, Desserto. The collection also features a quilted K/Kushion bag reimagined in recycled cotton, as well as cactus leather totes and cardholders.
Profits from the K/Kushion bag will go to The Ocean Cleanup supported by The Fashion Pact, a global coalition of fashion and textile companies that have committed to mitigating climate change. Karl Lagerfeld joined it in 2019.
What Is Cactus Leather?
Desserto's vegan cactus leather is the main feature of the collection, but what is it? The material is derived from nopal cactus, which has environmental advantages over conventional cowhide leather.
Cactus acts as a natural carbon sink and it naturally regenerates the soil. According to Desserto, it takes approximately three cactus leaves to make one linear meter of the material. And, Desserto uses only mature leaves, which enables repeat harvest from the same cactus.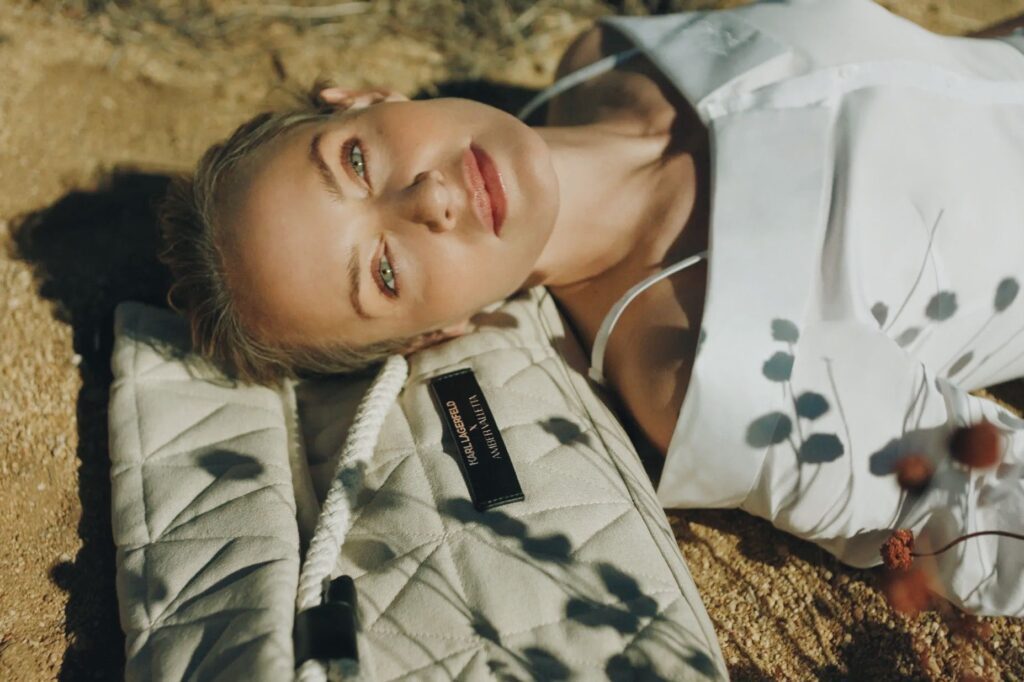 Who Is Amber Valletta?
Valletta has spoken out about the fashion industry's impact on the environment on a number of occasions. She became British Vogue's first sustainability editor in January 2020. Earlier this month, the 46-year-old hosted the sustainability-themed "Changemakers in Action" conference at the Fashion Institute of Technology in NYC.
Speaking to WWD about the launch, Valletta said she considered the environmental impact of every aspect of the collection. This includes the social media photoshoot, which took place in a desert just two hours away from her California home.
Additionally, the Karl Lagerfeld brand allowed Valetta to interact with all aspects of the supply chain, such as factories and certifications, in order to further minimize the collection's carbon footprint.
"They were very open, conscientious and took the time to answer difficult questions," Valletta said. "That's really how we're going to change things: being able to ask difficult questions, pivot once we know we found a better solution, and make better choices."
Valletta is also currently advocating for the Karl Lagerfeld brand to adopt a take-back program. And, it appears that her relationship with the fashion house will be ongoing. Her second sustainable collection is set to launch in 2021.
The Karl Lagerfeld x Amber Valletta collection is now available online.
---
LIVEKINDLY is here to help you navigate the growing marketplace of sustainable products that promote a kinder planet. All of our selections are curated by the editorial team. If you buy something we link to on our site, LIVEKINDLY may earn a commission.