Sustainable living is about making intentional choices to lighten our footprint on the earth. But it's also about teaching the next generation how to tread lightly on our environment. Especially if you're a parent looking for some playroom ideas.
Parents can find teachable moments every day to model zero-waste living. And one area of the home where you can impart those values most indelibly is the kids' playroom. A zero-waste playroom is your opportunity to teach children about sustainability, recycling, and caring for our possessions to prolong their lifetime — and, of course, have fun doing it.
6 Kids Playroom Ideas to Reduce Waste
Ready to achieve the room of your kids' dreams? Here are 6 zero-waste playroom ideas.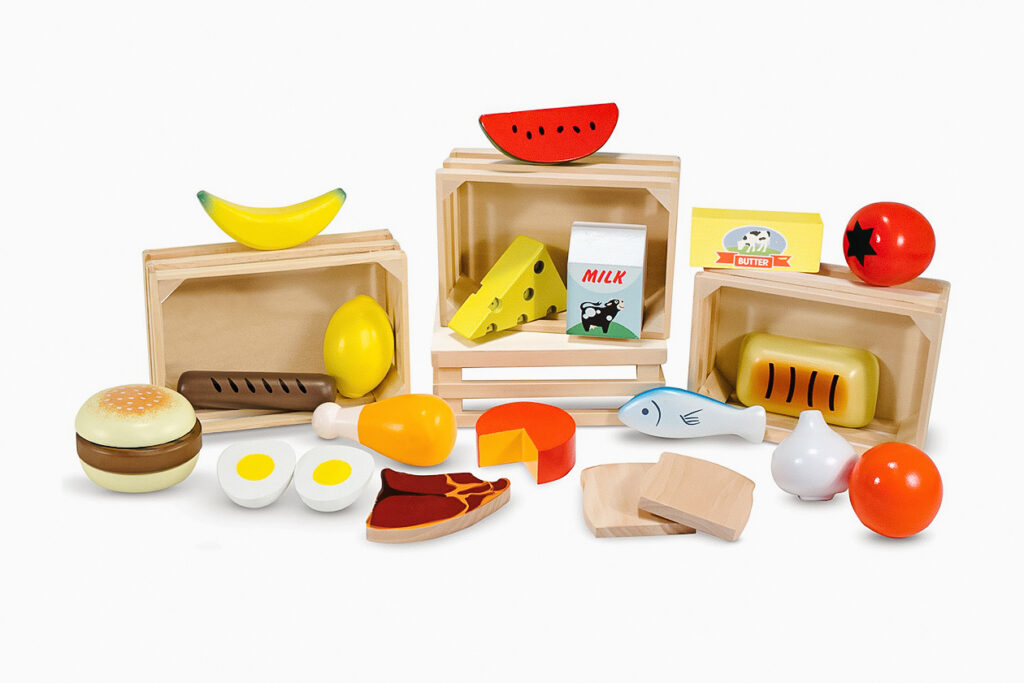 Choose sustainable toys
Take a stroll through most toy stores and you'll find plastics, plastics, plastics. Alas, plastic is used in everything from board games to dolls to play food. And if you're aiming for a zero-waste playroom, you'll want to minimize the amount of plastics in your kids' toys.
Plastics are primarily made from fossil fuels like petroleum. The U.S. Environmental Protection Agency (EPA) warns that some plastics contain chemicals like polyvinyl chloride (PVC), phthalates, polystyrene, and bisphenol A, that "may be toxic to children."
PVC, for example, can appear in children's products ranging from baby bottles to dolls to inflatable swimming pools. Manufacturing PVC releases dioxins, which are known carcinogens, into the atmosphere. Dioxins are released when PVC is destroyed as well. And, PVC contains chlorine, which harms the ozone layer. PVC is the least recyclable of all plastics due to its number of additives.
In addition to toxic chemicals, plastics can be particularly harmful to our oceans when they are broken into small pieces. These microplastics can be consumed by sea life, including sea birds, fish, and "filter feeders" like clams. And plastics do not fare much better in the landfill at the end of their lifetime, as they will not biodegrade for hundreds of years.
Plastic toys may be the first item you come across at the toy store (or when you're shopping for your kids online). But with a little extra legwork, you can usually find a similar toy made out of wood. For example, this doctor's kit from Kid's Concept is entirely made out of wood; so is this play food set from Melissa & Doug.
Wood can be a renewable material if it is sourced sustainably; the best guarantor of this is a Forest Stewardship Council (FSC) certification. FSC-certified wood is harvested with environmental conservation in mind, such as preserving old-growth forests, protecting endangered species, and eschewing the use of hazardous chemicals. The aforementioned Kid's Concept sells many FSC-certified wooden toys for babies, toddlers, and kids. Oompa is another brand that sells plenty of FSC-certified wood toys.
Finally, while plastic is bad, recycled plastic is way better. The brand Green Toys uses recycled plastics, such as milk jugs and yogurt cups, to make toys such as this adorable tea set. Green Toys also notes when the toy is printed with nontoxic soy inks and is made of recycled and recyclable materials.
Use storage made from sustainable materials
You need a place to store toys in your zero-waste playroom so you don't accidentally embed a LEGO in your foot. (Although, real talk, that's an inevitable part of the parent life.) Look into using woven baskets, either from natural materials or a combination of natural and recycled materials. This handwoven basket from MadeTrade, for example, is a combination of dried cattail stalks and upcycled plastic strips.
Rattan, which is a type of palm that looks like bamboo, is a common material for baskets. However, given the history of rainforest degradation that has accompanied the harvesting of rattan, it may not be the most sustainable option at the moment. Water hyacinth is another natural fiber that is frequently used on baskets, such as these from The Container Store. Palm leaf, reed, and sisal are three more natural materials that are often used to make baskets.
Using woven baskets made from natural materials instead of plastic bins is another smart way to reduce the amount of plastics in your home.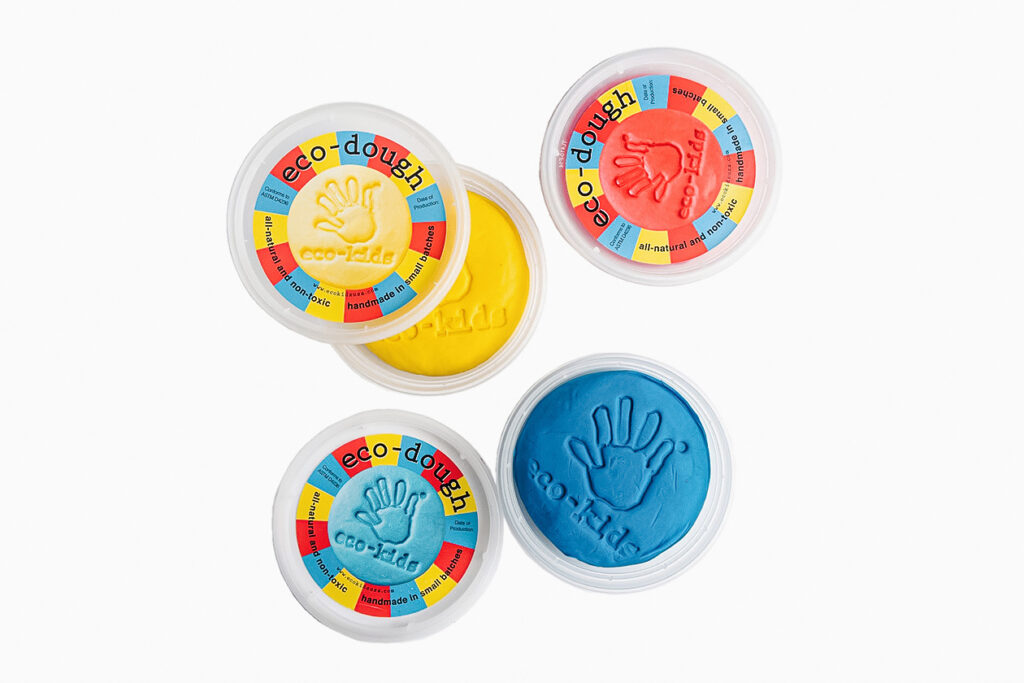 Indulge their inner artiste with nontoxic art supplies
Art supplies are one area where you'll want to read ingredient lists carefully. Many crayons, for example, are made from paraffin wax, which is a petroleum byproduct. And some markers contain an ingredient called xylene, which can affect the central nervous system. There's a plethora of nontoxic art supplies out there, so it should be easy to encourage your budding artist while treading lightly on the earth.
Consider stocking your zero-waste playroom with nontoxic finger paint, and soy crayons.
Raising a budding young sculptor? Eco-kids sells tubs of modeling clay called eco-dough, which is made from non-GMO flour and cream of tartar. Of course, one way to while away a rainy afternoon is by making your own DIY modeling clay at home. You can find a variety of DIY modeling clay recipes using ingredients like peanut butter or cornstarch from TeachNet.
The great thing about arts and crafts is that you can get creative with anything you might have around the house. Want to make a necklace? Open up that bag of macaroni noodles! Care to do a collage? Break into a pile of old magazines. Before you toss anything in your recycling bin or trash can, consider whether you can make it, well, art.
Decorate with sustainable furniture
Your zero-waste playroom has a few options for sustainable furniture.
One material often touted as sustainable in the furniture department is called medium-density fiberboard (MDF). However, the jury is out on this one. Some folks like MDF because it's made from recycled wood waste. But other green folks say that MDF contains too many chemicals in the adhesives and sometimes contains formaldehyde, which is a known carcinogen. MDF is also, quite simply, rather flimsy.
If MDF isn't an option for you, shop for wood furniture bearing an FSC certification. As mentioned above, FSC certification means that the wood was harvested with forest conservation in mind. The brand Kid's Concept makes kids' furniture made from FSC-certified wood, including a table, chairs, and a toy chest.
And when you purchase new furniture for a zero-waste playroom, consider the carbon footprint of the item you are buying. How far did it have to travel in order to get to you? Bookshelves shipped from overseas will likely have a bigger carbon footprint than ones built closer to home.
Paint the walls with VOC-free paint
There's nothing like bright, fun colors in your playroom — so let's talk about paint.
Most paints contain volatile organic compounds (VOCs), which are emitted as gases from some solids or liquids. "VOCs include a variety of chemicals, some of which may have short- and long-term adverse health effects," according to the EPA. "Concentrations of many VOCs are consistently higher indoors (up to 10 times higher) than outdoors."
For paint, try using a brand like Farrow & Ball. These paints are minimal- or low-VOC; the brand also notes its finishes are cruelty-free and identifies the two finishes that use animal products. On the more budget-conscious end, Benjamin Moore sells no-VOC paints.
Invest in washable slipcovers
One component of zero-waste living that doesn't get enough attention is the importance of caring for our items to lengthen their lifetimes — and keep them out of landfills.
On that note: Small children can be messy, to put it politely, and your zero-waste playroom is likely to gather all manner of stains. A washable slipcover for the couch or an armchair slipcover can prevent your furniture from being damaged. If an arts and crafts project goes awry, simply remove the slipcover and wash it.
---
LIVEKINDLY is here to help you navigate the growing marketplace of sustainable products that promote a kinder planet. All of our selections are curated by the editorial team. If you buy something we link to on our site, LIVEKINDLY may earn a commission.