Although Latin America is known for heavy meat consumption, things today are changing — with plant-based food tech leading the way.
Five brilliant Latinx food tech companies are paving the way for this regional revolution. But why is food tech taking Latin America by storm at this very moment?
Matias Muchnick, Founder and CEO of Chile's NotCo, believes that conscious consumers are pushing the sea change. "They're looking at the impact their actions have on the planet and each other, and are looking for brands and products that share the same mission," he said.
Muchnick also credits the growth of locally-made products in Latin America that are non-GMO, more sustainable, and use regionally sourced ingredients—and wants to see widespread production and distribution. "The technology is right at our fingertips, waiting to be used to break through and produce groundbreaking innovation," he says. "We are seeing everything from start-ups to big players making moves in Latin America as more consumers adopt these options. As they do, they'll need to be more readily available."
Meanwhile, Iván Jiménez de Sandi, co-founder of Asanté Foods and Exponential Foods, credits the U.S. with beginning the plant-based trend in Latin America, since "the Latin American market follows trends that begin in the U.S.," he says. Jiménez de Sandi hopes that Latin America will be able to follow the U.S. in overcoming the challenge of a meat-centric culture that is heavily tied to beef and poultry. He also credits the surge to technological advances and the "wealth of opportunity" in plant-based spaces.
The future certainly looks bright for plant-based food tech companies in Latin America — and across the world. These five companies, in particular, are making waves in the market with their innovative products. 
NotCo, plant-based milk and other products, Chile
What happens when you combine plant-based products and artificial intelligence? The result is NotCo, an industry-changing leader in food tech that was founded in Chile by Founder and CEO Matias Muchnick and recently raised $235 million in Series D funding.
Currently, their products—which include NotMeat™, NotBurger™, NotIceCream™ and NotMayo™ in addition to NotMilk™—are available in six countries, including Chile, the U.S., Canada, Brazil, Argentina, Colombia, and Mexico, as well as in Paraguay through Burger King.
In order to develop their products, NotCo uses a patented AI technology named Giuseppe, which analyzes thousands of plants to create unique flavor combinations. Muchnick credits much of NotCo's success to Giuseppe. "Giuseppe allows us to analyze thousands of plants to come up with unique combinations that replicate animal-based products almost to perfection," he says. However, Giuseppe wouldn't be able to work its magic without NotCo's four-nation team of scientists, culinary chefs, and engineers.
Muchnick says NotCo will continue to innovate plant-based products that can disrupt animal-based meat, dairy, and eggs. He also hopes to partner with other companies to share Giuseppe's AI genius. "We also know it's about more than NotCo but about the future of the food industry. Giuseppe will eventually enable us to partner with other companies to accelerate the transformation of the food industry."
The biggest question on many people's minds when they decide to switch to a plant-based diet is how they will be able to enjoy their favorite foods. And when the foods you love are full of flavor, such as many of the meat dishes made in Mexico, the answer can be difficult to find. Thankfully, two Mexico-based companies founded by Iván Jiménez de Sandi and Gabriela Rivera—Asanté Foods and Exponential Foods—are here to answer the call with authentic-tasting, plant-based meats featuring mycelium protein.
"Currently, if you want a plant-based version of a taco or burrito, you have to use one of the animal-free meats on the market," Jiménez de Sandi says. "While they are all very tasty, they weren't crafted specifically for Mexican and other Latin American dishes. Asanté was."
Today, Asanté Foods makes 100 percent plant-based Mexican food products, including barbacoa, cochinita pibil, and pastor, with filet asada coming soon. According to Jiménez de Sandi, Asanté is leading Latin America as the first company in the region to develop mycelium protein for its products by working with a team of biotechnology and molecular biology PhDs. The goal is to create a shelf-stable, abundant source of protein that will add flavor to their products, Jiménez de Sandi says. Their foods are crafted in Mexico from authentic, award-winning chef recipes that feature plant-based versions of authentic Latin American cuisine. In the U.S., Asanté products are distributed through Exponential Foods.
"We are passionate about our culinary heritage and our ethos of being planet- and people-forward," says Jiménez de Sandi. "Our foods all have a delicious, authentic sauce made from fresh organic ingredients from local Mexican growers."
The company wanted to transition away from the energy-hungry refrigerated supply chain to a shelf-stable technology, so it developed products that don't require refrigeration, reducing carbon emissions. Asanté also offers gluten- and soy-free options without preservatives and cholesterol.
Aldo González was raised vegetarian by his father Aniceto González, so when they combined forces to debut Mexican plant-based dairy company Heartbest Foods in 2017, they brought years of life experience to the workbench. When combined with Aniceto's experience as a food scientist for over 37 years and Aldo's experience in finance administration, they knew they had an unbeatable formula for a mission-driven, family-powered business creating four main plant-based dairy categories: milk, cheese, spreads, and yogurt.
The father and son duo's ultimate goal is to help create a more sustainable, inclusive, and healthier food system for everyone. "We are on a mission to create the most impactful Mexican plant-based brand in the world by combining best-in-class operations with relentless innovation, seeking to 'upgrade people's lives' through the connection between love and plants," says Aldo.
Both father and son are on a mission to deliver the same satisfying taste, texture, and aroma as animal-based dairy because they intimately understand that "contemporary consumers are looking for culturally-relevant ingredients and flavors that connect us with our Latin American roots."
But what the father-son duo really care about is the quality of their product. "We believe [they] closely replicate the sensory experience of dairy—from the look of the package and raw product, to the melt on the grill, to the creamy and protein-packed satisfaction of eating and drinking a 'dairy' milk or cheese," says Aldo.
When it comes to Heartbest products, they don't want their products to just appeal to vegans and vegetarians, "who represent less than 5% of the Mexican population," Aldo says. Instead, Heartbest is sold in the dairy case at grocery retailers so that dairy-loving consumers have the opportunity to try this innovative product. This approach has helped Heartbest grow to more than 900 points of sales throughout Mexico, including the most relevant supermarkets, wholesalers, and marketplaces. Aldo concludes: "From a business standpoint, we are the fastest growing food tech company in Mexico."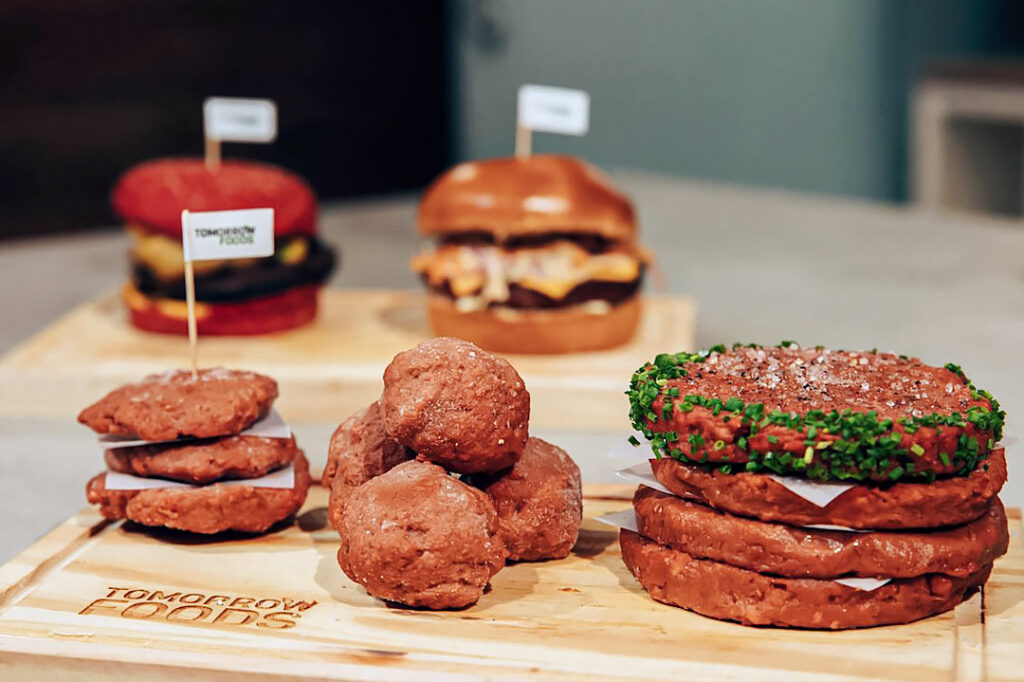 Tomorrow Foods, plant-based protein, Argentina
For consumers that care about the promise of tomorrow, Tomorrow Foods may be the ideal company. Although many plant-based companies care about the planet, the co-founders of Tomorrow Foods really take it seriously when it comes to their food products, the Tomorrow Burger and Tomorrow Mayo, and the methods of sourcing them.
With a mission to improve the health of the planet and its communities through better nutrition, Tomorrow Foods delivers sustainable and carbon-neutral plant-based solutions for the global food industry. Co-founders Agustin Belloso (who is also CEO of Tomorrow Foods), Cesar Belloso (Agustin's father), Gonzalo Segovia, and Guillermo Lentini began their company in 2018 and saw quick success with a pre-seed funding round in 2019 and a $3 million dollar seed round in 2021.
Sustainability is a key tenet of Tomorrow Foods—one it's approaching at the root, with farming. Since Argentina is a pioneer in no-till and other sustainable practices, Agustin says that Tomorrow Foods leverages Latin American biodiversity and "over 30 years of regenerative agriculture experience in the region." The company employs not only a sustainable and vertically-integrated approach from farm to fork, but also a proprietary extraction and isolation process.
Tomorrow Foods is compiling a comprehensive and diversified proteins portfolio that will allow them to develop products with various amino acids and nutrition profiles. The company currently works with pulses and cereals and is seeking to add peas, mung beans, and chickpeas, with a plan to have over six proteins by 2022.
"We are very close to opening the first Plant-Based R&D Center in the region," says Agustin. "It consists of a food lab, a pilot plant and a full-scale industrial plant. This will enable us to deepen and accelerate our research and development projects, and develop new plant-based products and solutions from lab prototype to MVPs (minimum valuable products) at scale."
Agustin feels confident that Latin America has the opportunity to "reposition itself from the bread basket of the world to ag-food tech innovation hub." Tomorrow Foods, with their commitment to biodiversity and sustainable and efficient production, is poised to be one of the leaders in this revolution.
Founded in 2019 by Marcos Leta and his business partner Alfredo Strechinsky, Fazenda Futuro is a Brazilian plant-based meat company that offers meaty vegan products like the Future Burger, Future Beef, Future Meatballs, and Future Sausage.
Fazenda Futuro was "built on the belief that plants have the power to build a better future for everyone," says Alexandre Ruberti, the CEO of Future Farm U.S.
Fazenda Futuro, which means "Future Farm," has grown exponentially in just two years — and they're not slowing down. Previously in 24 countries around the world and now launching in the U.S., the company also has a smoked burger, tuna, and chicken.
Fazenda Futuro's packaging is made partially from sugarcane. Its Future Chicken, created with what the company calls True Texture Technology, imitates the long fibers of chicken while offering 18 grams of protein. The company asks that its Future Tuna, which boasts 15 grams of protein, 183 milligrams of omega-3, olive oil and coloring done naturally by radishes, is stocked in the dry goods area of grocery stores, next to the tuna cans. With Leta and Strechinsky's consumer-centric approach, Fazenda Futuro has grown to over 10,000 retail locations.
Ruberti, who joined Fazenda Futuro founder Leta in 2021 to lead the rollout of its U.S. component, Future Farm, says that the company is here to do one thing and one thing only: "Accelerate the extinction of animal protein to make Earth a place our future selves will want to enjoy, not escape."
Ruberti credits Fazenda Futuro's instant success with their products evoking immediate joy. "There's no need to 'acquire' a taste for them," he says. "Everything is made with real food and living plants."