LIVEKINDLY Collective, a collection of heritage brands and startups, has announced today a successful capital raise of $335 million. This brings its total raise in its first 12 months to $535 million.
The Rise Fund, a global impact investing firm that invests in companies that are driving measurable social and environmental impact alongside strong business performance, led the round. It was joined by Rabobank Corporate Investments, the investment arm of Rabobank, and S2G Ventures, which invests in companies that are reducing the environmental impact of food production.
Raising Half a Billion Dollars
LIVEKINDLY Collective, which recently celebrated its one-year anniversary, has raised more than half a billion dollars so far. This round makes the company one of the top three highest-funded and fastest-growing plant-based food companies in the world.
This marks The Rise Fund's second major investment in the plant-based space. The first was Hong Kong's Green Monday, a social venture platform that also owns vegan food brand, OmniFoods. Steve Ellis, the co-managing partner of The Rise Fund, joined the LIVEKINDLY Collective Board of Directors as of this month.
The board of directors includes author and environmental leader Suzy Amis Cameron, Whole Foods Market co-founder Walter Robb, former global Unilever CEO Paul Polman, former chairman of the board at Whole Foods Market Gaby Sulzberger, longtime investor focused on China Shujun Li, and experienced director focusing on sustainability Barbara Kux.
What Is LIVEKINDLY Collective?
The funding will help accelerate LIVEKINDLY Collective's expansion into global markets, like the U.S. and China. It will also aid in the company's acquisition of additional companies, its key partnerships, and new investments. The Collective owns a number of plant-based food brands and startups, including Fry's Family Food Company, LikeMeat, Oumph!, and The No Meat Company as well as LIVEKINDLY.
"This is a fantastic moment not only for LIVEKINDLY Collective but the future of the plant-based industry as a whole. What our team has accomplished within such a short period of time is not a small feat and we will continue to accelerate the growth of LIVEKINDLY Collective," says Roger Lienhard, founder of LIVEKINDLY Collective.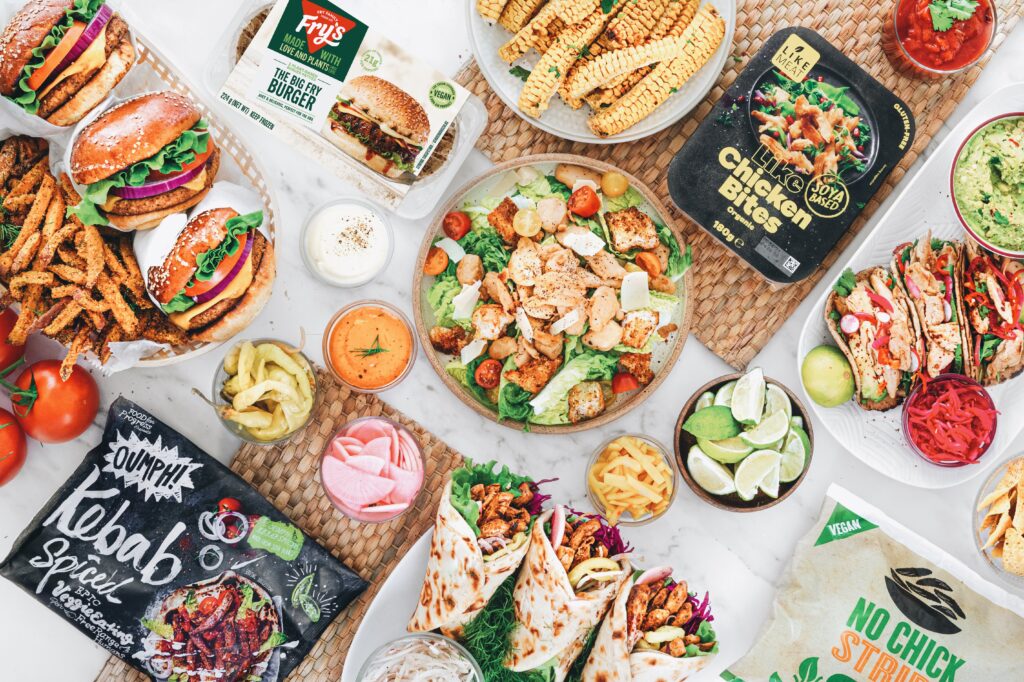 LIVEKINDLY Collective Brands
Each brand has a unique background driven by entrepreneurs aiming to make a positive global impact.
South African brand Fry's Family Food Company began on a goat farm in 1991. Co-founders and married couple Wally and Debbie Fry originally began hand-crafting veggie burgers as part of their vegetarian journey.
Timo Recker, a third-generation member of a family in the meat industry, founded Germany-based LikeMeat after he learned of animal agriculture's negative effects on the environment.
Swedish brand Oumph!, launched in Sweden in 2015 and quickly landed in major supermarkets across the UK and Europe. Co-founders Anna-Kajsa Lidell and Anders Wallerman began talking about how to create a more sustainable global food system in 2012.
The No Meat Company, founded by British supermarket chain Iceland in 2018, was developed to appeal to the growing demand for plant-based foods. LIVEKINDLY Collective acquired the brand earlier this year. And LIVEKINDLY, where LIVEKINDLY Collective got its name from, was created by CEO and founder Jodi Monelle.
Monelle created a platform that spoke to the growing movement of consciousness toward how individual actions impact the planet. But, the message had to be accessible for everyone—vegan, vegetarian, flexitarian, and meat-eaters alike.
"I'm incredibly proud of this team and what we've built in just the last four years. When I started LIVEKINDLY my main goal was to create an inclusive, non-judgmental platform for people to learn more about the benefits of a plant-based lifestyle," says Monelle. "I never imagined this would grow to be part of a global organization all coming together, driving one mission. For myself and our team, this investment is a reminder to us all of the importance of the work we do, the content we create, and the message we're spreading."
Why Invest in the Plant-Based Sector?
The food on our plates is a personal issue. But, it is also global. More than one-third of human-caused greenhouse gas emissions (GHGs) comes from processing and packaging food, according to a UN-backed study. And animal agriculture—the meat, dairy, and eggs that are a staple in most diets—accounts for 14.5 percent of GHGs.
The need to change the way we eat to mitigate the effects of climate change is urgent. But, that change doesn't mean "giving up" beloved foods. The market for plant-based versions of conventional animal products is fast-growing. And, it's not just exclusive to the U.S. market; foreign brands are gaining traction as well. Earlier this year, LikeMeat and Fry's Family Food Company, launched in the U.S.-based chain, Sprouts Farmers Market.
This quick growth is a result of synergy: Rising consumer interest in plant-based foods, eco-conscious founders, and financial backing. Many investors are turning their focus toward ESG, investments that support environmental, social, and governance goals. This means that an investor is seeking to put their money into a venture with a core mission that ties to making a positive impact on the planet and society at large. According to the Financial Times, pressure for companies and investors to be more conscious of sustainability comes from customers.
Research shows that a global shift toward a plant-based food system could greatly reduce our carbon footprint. A major Oxford study that assessed the environmental impact of 40 commonly eaten foods, found that plant-based foods have the lowest environmental impact overall. The plant-based food market is set to reach $74.2 billion by 2027, according to a report by consumer insights platform Tastewise.