London's vegan restaurant scene just got a lot more colorful. Flower Burger, a plant-based fast food chain from Italy, has brought its vegan rainbow burgers to the UK.
Founded in Milan five years ago, Flower Burger has since expanded to 14 locations across Italy and France. The company is currently working in collaboration with multi-brand food and beverage operator Gerry's Group to launch its unique burgers in the UK.
Well-known for its vegan and brightly colored fast food, the new London restaurant is located on Charlotte Street, Fitzrovia — the southern end of which is a now-affluent stretch of nightlife, pubs, and other eateries.
Flower Burger is best known for its brightly colored burger buns. These include bright yellow, pink, and purple, dyed with turmeric, cherry and beetroot, and purple carrot, respectively. All of the company's food is vegan, including vegetable, legume, and cereal-based patties.
The UK debut will include a brand new menu item: the Jungle Burger. This features a turmeric and spirulina-infused green bun, an oat and red bean-based burger patty, salad, BBQ sauce, and signature "Flower Cheddar" cheese.
Sides include wedges, edamame beans, and patatas bravas, Spanish-style spicy potatoes. The menu also includes a raw vegan dessert called the "Coco-Nuts," featuring coconut and espresso. The "Chocolate Salami" features dark chocolate and whole wheat biscuits.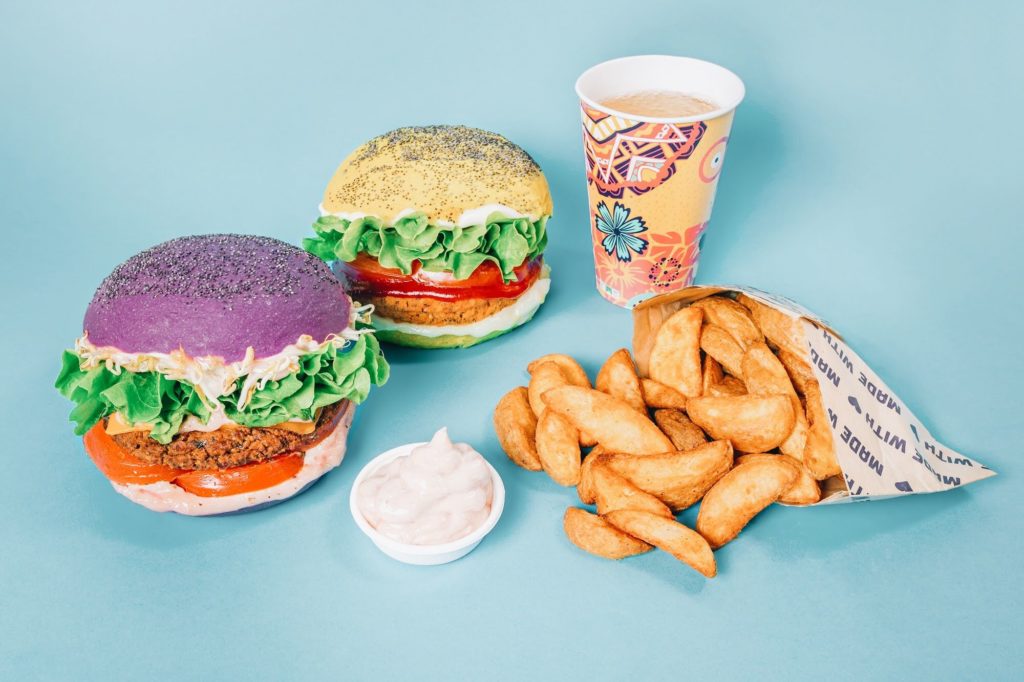 'Inclusive, Universal, Colorful, and Playful'
Italian architect Andrea Langhi helped design the interior of the restaurant. It will feature kaleidoscopic graphics and a mural of The Beatles' Yellow Submarine.
"People do not always associate vegan food with fun and enjoyment. Flower Burger is about changing this perception, with a psychedelic brand and restaurant décor that fits a natural, great tasting and unique product that we produce ourselves," said Matteo Toto, founder and managing director of Flower Burger.
"We have an ambitious and strong opening plan with the mission to bring a year-long summer atmosphere in all our future locations with passion and love. An inclusive, universal, colorful and playful love that spreads like music and brings cheer," he added.
When fully open, Flower Burger will seat 65 guests across two floors, or 30 to comply with social distancing rules. The vegan restaurant is currently offering takeaway and collection with plans to offer full delivery across London by early February.