I've always loved a more-is-more aesthetic—so much so, that I became dismayed over the past five years as I watched a flood of minimalist, beige living rooms take over my Pinterest home decor feed. Moaning that these living rooms lacked color, personality, and anything remotely resembling a pulse, I longed for vivid rooms that bucked the trend of that sunwashed, Joshua-Tree-casita aesthetic.
So I was thrilled when I found that interior designers were heralding a new era of maximalist design, complete with layered wallpapers, color-bursting chandeliers, and ornate sideboards. Ah, my time has come, I thought vaingloriously.
There was just one problem. Our current system of fast decor is harmful to the environment, with the Environmental Protection Agency (EPA) noting in 2018 that end-of-life furniture and furnishings in the United States comprised 12.1 million tons of waste—and that's not even counting carpets and rugs. Along with my stuff-loving aesthetic, I'd also just vowed to go more sustainable and low-waste, which begged a million-dollar question: How does one live  a zero-waste lifestyle as a maximalist?
Figuring out how to go low-waste my way had to start with getting to the root of why I loved maximalism so much. Maximalism is associated with self-expression and, for me personally, my upbringing. I grew up in the eighties and nineties, emulating my beautiful, brightly-clad mother, who wasn't afraid to don a full outfit composed of fuchsia or bright turquoise. I remember her tennis outfits fondly, complete with bright headbands and skirts with the neon squiggles that were so popular in the eighties. She'd pile layer upon layer of clothing upon one another, somehow making it all work together. And she'd crown it all with a hot pink lipstick kiss and Aquanet-sprayed bangs.
On special occasions, my mother dressed me in the saturated colors of traditional hanbok that we would buy during summers in South Korea, but for daily wear I would layer two neon skirts on top of one another, and sometimes two t-shirts and four necklaces (one a Bonne Bell Lip Smackers, natch). Madonna wasn't extra enough for me; I wanted to be a cross between Paula Abdul, Debbie Gibson and Salt-N-Pepa. Accessories were vital: hot pink Keds with beaded safety pins and the signatures of your friends, electric blue scrunchies, and at least four or five neon slap bracelets. Capitalist choices, like choosing the pink rollerskates over the staid white ones, felt like freedom and expression to teenage me.
As a thirty-something in a tiny Brooklyn apartment, my style was a cross between Lemonade-era Beyoncé (the freedom and movement of that mustard-colored, off-the-shoulder Cavalli dress with all its flouncy layers!) and Louis XIV (more mirrors, more gold, and more brocade, please). But my excess stuff ended up in the landfill. When I moved out of my apartment to go cross-country, I threw away what I couldn't give away, from an ornate dresser, to linens and candlesticks. I felt horrible sending those items to the landfill, and vowed never to do it again.
But I still wanted to express my personal style and "more is more" maximalism in my new west coast home. Though it's more streamlined, I've figured out a few ways to go low-waste—and in some cases, even zero waste—while still enjoying life as a maximalist to the fullest.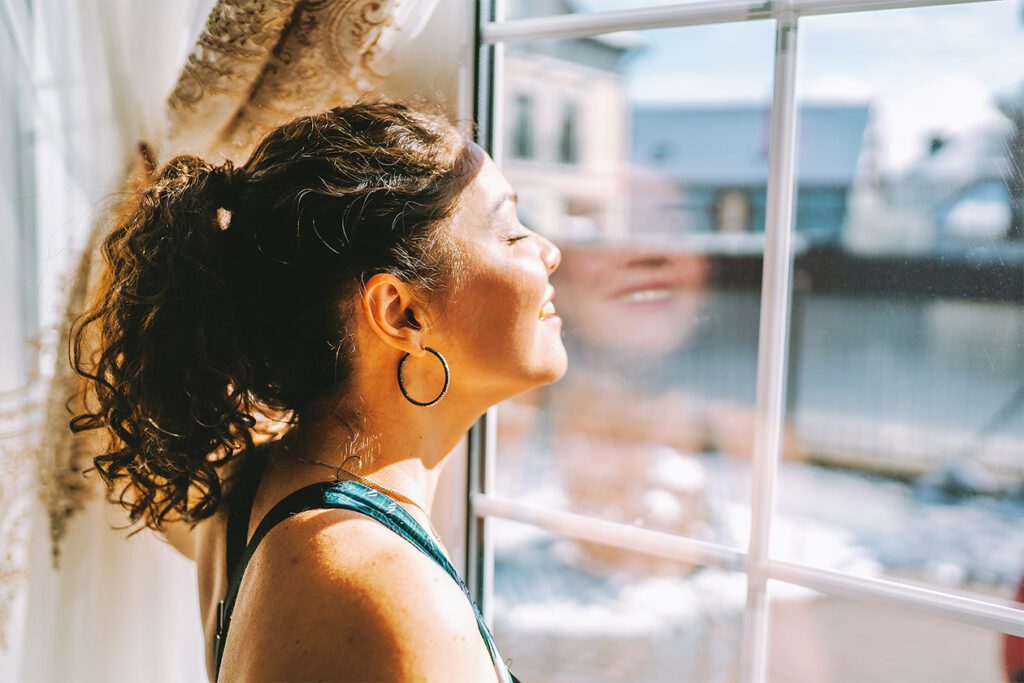 Express maximalism beyond materialism
My central view toward expressing maximalism is playfulness and openness to ideas, philosophies, and conversations that your space can perpetuate. The first tenet of doing zero-waste maximalism is learning to express your more-is-more aesthetic beyond materialism. Maximalism is about expressionism that paints the house with your mood, whatever it may be. Use the power of your five senses to enliven your house. So for example, place speakers in the right places in your house, so you can hear your music wherever you are. Your moment of maximalism in the day might be opening up the windows to soak in nature or city sounds. Flinging open the curtains to let in all the sunshine might be your approach to maximalism—or conversely, closing the curtains and turning your lamps and spotlights so that they hone in on a wall of gothic black velvet paintings might be your approach to more. Your maximalism could be using what you do have in other configurations, like piling pillows on the floor and gathering textured faux fur blankets around them, or painting a mural on the wall with leftover house paint—whatever helps you add flair without purchasing more. 
Repurpose everything
It can take creativity or fresh eyes to devise a second life for an item, so ask your community for suggestions. Instead of throwing out artificial flowers you already have, can you turn them into a piece of apparel or your children's outdoor fairyland? Instead of throwing out a bookshelf, can you transform it into a shoe rack, a record shelf, or a bench? Your sofa could be the perfect addition to your neighbor's ADU or garage hangout, while a van's seats could make a cool vintage-themed theater. Your leftover fabric makes a fun Halloween costume for your friends, and old towels and rugs may be helpful at the local animal shelter.
Be the lifeblood of a local gifting group
The high-waste issue with being a maximalist and having a lot of stuff is that when you get tired of an item, you want to get rid of it—and there's a lot to get rid of. If you can't repurpose an item by sanding it down and painting it another color, give it away in a local gifting group like Freecycle or Buy Nothing, which has an app as well as various hyperlocal groups. These groups, which exist across the globe, help you find a recipient for your trash who will love it like it's brand-new. You can also find your new home decor or organization items in these groups, and even ask for them by posting what's called an "ask."
I furnished my baby's room almost entirely with cute paintings and rugs from Buy Nothing, as well as clothing him in stylish, colorful outfits without any of the waste of kids' fast fashion. The best part was the friendships I made in the group, which helped me befriend other maximalists, DIYers, and vivid expressionists.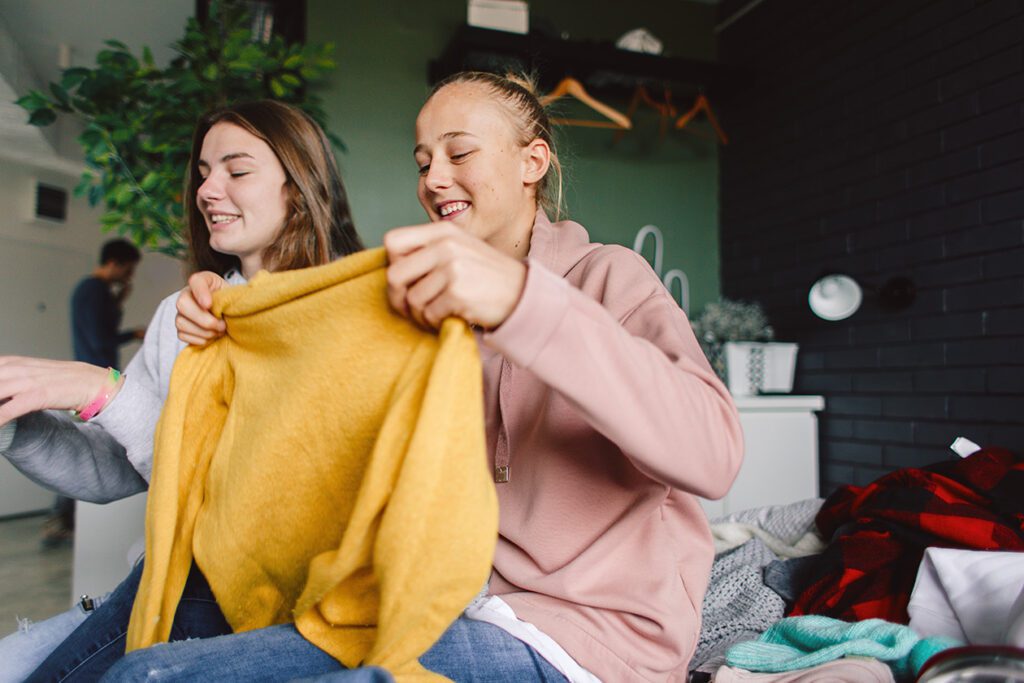 Master the multi-step barter system
Do you remember the famous story of the person who started with just one red paperclip and bartered his way up to a house? This brilliant soul knew that each item along the way had inherent value to someone, as long as he could find that someone.
Facilitating a three-way trade isn't as hard as you think, but if it's easier, organize an interior design swap or a clothing swap where lots of friends can come together and barter at once, eliminating your need to store anything over time. If shopping is what you love, there are few things better than a swap party, because you can take all you want without shoppers' remorse. If you took too much, bring the items back to the next swap. My friends and I often laugh when we show up for drinks and someone is sporting a pair of pants that five of us have owned—we're literally The Sisterhood of the Traveling Pants.
Be patient
The tendency nowadays is to furnish a house or an apartment as soon as you move in. My mother told me that she didn't decorate her first house right away, but instead collected meaningful items over the years from travels, friends, and thrift shopping. I think it's so much more beautiful to furnish a house this way. I want the items within to express the maximalist me, instead of whatever trendy items CB2 happened to be selling that year (no shade, CB2–love you, but I believe our fast furniture habit needs to slow down and recycle). So resist trends and assimilation, and wait for what intuitively makes your heart sing when you see it (yes, I believe in furniture love at first sight).
DIY it before you buy it
Sometimes, your house holds all the ingredients you need to craft an item—and you can make it extra by designing it yourself. Craving a sunny yellow item? The answer is turmeric, which I use to dye my canvas totes, bedsheets, t-shirts, and pants, soaking them longer to make them extra bright. When the tie-dye trend was in full force, I followed YouTube videos to make wildly tie-dyed shirts at home using a mixture of natural and synthetic dyes. During the macrame rage, I joined a fiber arts group online and made my own macrame wall hangings with leftover rope, string and yarn. When store-bought Christmas wreaths bored me with their simplicity, I invited friends over and we harvested from our yards to make our own, the base of the wreath fashioned with luscious fir branches and leftover craft wire, and the branches weighed down with an excess of bougainvillea flowers and mandarins from a neighbor's tree.
I'm not a crafty person at all, so some of these projects took me several tries—but it felt better than buying one more trendy item that I knew would end up in the landfill. If you're struggling to DIY, check out library books and YouTube, classes at your local botanic garden, craft shop, and mall, and online courses like Skillshare.
Get thrifty
To decorate your maximalist way—without the guilt—head to thrift shops like Habitat for Humanity's ReStore and Goodwill. My local hospital also has a furniture shop where it sells gently used chairs and sofas. Check local wallpaper shops for leftover samples, and fabric stores or thrift shops for reupholstering. Head to your hardware store or local junkyard for creative solutions—hanging vintage nails or hooks in your kitchen so you can see all your bright aprons won't cost much, or create any waste. And of course, ask your local community center, church, or Buy Nothing group for what you need, too.
My journey to low-waste maximalism has actually been a lot more fun than I expected to be. Along the way, I've learned a lot of skills and knowledge, sharing them with my community to help them low-waste their lives. I've also met a lot of people who feel similarly: we all want to live life to its utmost (no FOMO here), while boosting the environment. Learning the tactics of low-waste maximalism has allowed me to express myself fully, without contributing to fast furniture. Who says you can't have it all?
---
The views expressed in opinion pieces are those of the author(s) and do not represent the policy or position of LIVEKINDLY.