Marie Kondo isn't just an organizational goddess, the author of the paradigm-shifting bestseller The Life-Changing Magic of Tidying Up, or the star of two Netflix series, including this year's Sparking Joy with Marie Kondo. She's also a normal person with three kids and a husband, who has to work, cook, and KonMari her own house—while, of course, prioritizing the environment and sustainability.
This holiday season, she's giving us practical ideas sourced from her own life and work. From a Japanese philosophy that guides her purchasing habits, to the genius fridge hack that helps her family maximize their food supply, the guru of tidying up reveals her best sustainability tips for an organized, low-waste lifestyle.
LIVEKINDLY: We loved the tip on your website that recommended using linen covers for bowls, rather than plastic wrap. What made you commit to a low-waste, sustainable lifestyle?
Marie Kondo: There is a Japanese philosophy known as mottainai, which advocates for minimizing waste in life. The idea is that the longer an object is in your life, the fewer objects you will have to purchase over the course of life. This is one aspect of Japanese culture that I incorporate into my life.
Another thing I have tried to instill in my family is a Japanese tradition in cooking. We cook vegetables in whole—with the tops on versus chopping off the ends. Now, certain parts of the vegetable aren't edible like onion peels, but that doesn't mean they can't be used for flavor. I take all of those vegetable pieces and create soup stock from them.
LIVEKINDLY: You keep your fridge at home 30 percent empty. Can you tell us more about this fridge technique and how it helps you stay low-waste?
Kondo: Living a sustainable lifestyle can be a challenge in today's busy world. I think the first thing to strive for is living mindfully. A refrigerator that is too full doesn't allow you to see and appreciate what you have in it. By leaving the refrigerator 30 percent empty, you limit food waste as the result of expired food that you forget about.
LIVEKINDLY: The holidays can be a time where there's a lot of waste, from food to unwanted presents—in fact, Americans create 25% more waste from Thanksgiving to Christmas. What are some examples of how you advise your clients to stay low-waste during the holidays, whether with furoshiki wrapping cloths or through conscious gift-giving?
Kondo: Gift wrapping and food storage can create a lot of waste during the holiday season. Furoshiki is a traditional cloth item in Japan that people use to wrap, carry, and store items. This is a creative and waste-conscious way to present a gift. The wrapping itself is part of the gift that the recipient can use for many years as a paper napkin alternative, dish towel, or re-gift as wrapping for the next birthday or holiday!
In terms of food storage, I avoid plastic wrap, bags, and foils whenever possible. For grocery items, I recommend reusable product bags, not just during the holidays, but year-round. When storing food, I generally avoid large plastic food storage, including single-use, non-recyclable plastic containers and multi-use containers as well when possible, or cling wrap as that can be very wasteful. Instead, cover food in bowls, cups, and plates with stretchable, reusable lids that fit multiple sizes of bowls and serving wear. They are really durable and can be used again and again throughout the year.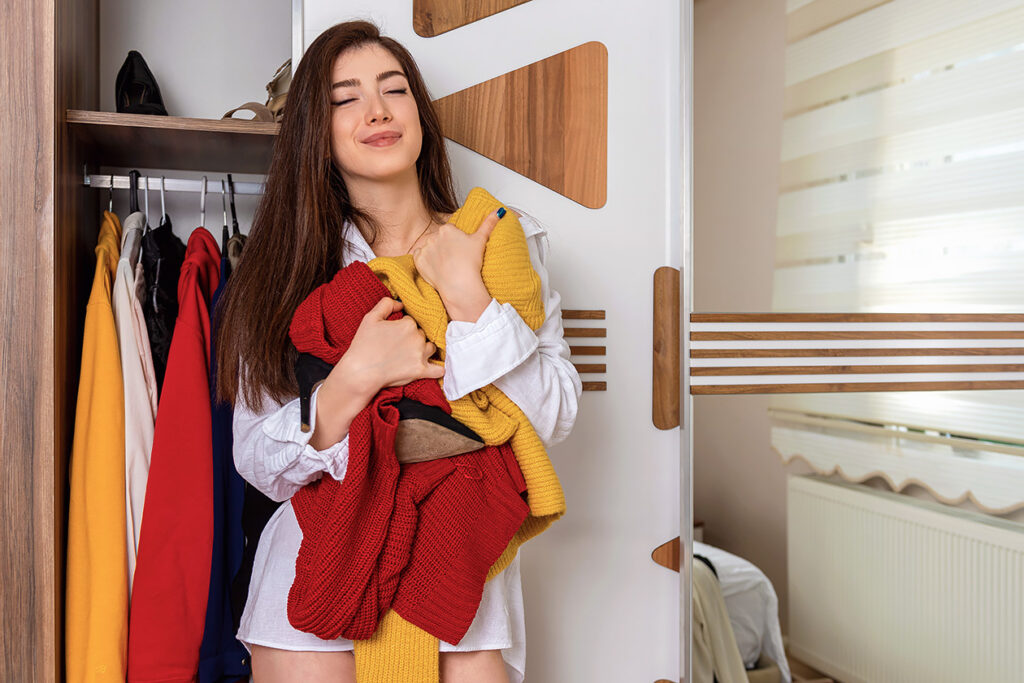 LIVEKINDLY: Sometimes people think that organizing just means obtaining more organizational items and getting more stuff. How do you gently teach them to limit that?
Kondo: One of the things you do before you tidy, as well as a way to keep clutter away after tidying, is evaluate where you can repurpose storage. Look for storage options that can move from room to room as well. For example, a toolbox can be used for craft or office supplies, but can also be used for make-up brushes, a pantry or kitchen for utensils, or for gardening supplies.
LIVEKINDLY: What are the sustainable or eco-friendly organizational items you love recommending to clients right now?
Kondo: I like to use sustainable products as much as possible. I worked with The Container Store to launch a collection earlier this year that includes many of the products that my clients find useful in tidying, (such as a) bamboo kitchen collection (that) features drawer and shelf organizers, and other food storage solutions crafted from sustainable bamboo.
I also worked with Soapply to create an eco-friendly home cleaning kit. This helps cut down on the waste that comes from plastic cleaning containers. The kit includes three essential products: a reusable dish soap bottle, a reusable all-purpose cleaning spray bottle, and a cleaning concentrate. The pure, natural and unscented cleaning concentrate can be diluted and fill the kit's refillable dish soap and glass spray bottles. In addition to waste limiting, each order of concentrate is tied to a $4 donation that funds global water, sanitation and hygiene initiatives.
LIVEKINDLY: After all the organizing you've helped people do, do you think minimalism and slowing consumption is the answer to our waste problem?
Kondo: There is a misconception that the KonMari Method™ is minimalism, but actually I don't advocate for living with less. Instead, I encourage people to live among items they actually cherish. Taking the time to tidy isn't about eliminating things from your life; it is about taking the time to evaluate what brings you joy and surrounding yourself with those things.
What brings someone joy is very personal; it is as unique as the vision they have for their ideal life. So, while that may be minimalism for some, others may find joy from many items. Find more of Marie Kondo's low-waste and tidying recommendations on her website.