Department stores may not be renowned for their plant-based cuisine—or for hosting craved-after cuisine in general. But iconic vegan chef Matthew Kenney, owner of an impressive portfolio of vegan restaurants from Dubai to Los Angeles and pioneer in global plant-based cuisine, wants to change that with his new restaurant Adesse, which debuts at Selfridges London in January. 
Partnering with Project Earth, Selfridges' sustainability initiative aiming for ultimate net-zero carbon goals by 2040, Kenney has planned an approachable, lively and forward-thinking new restaurant for the grand dame of London department stores.
"Selfridges has a really comprehensive sustainability initiative focused on nature, healing, and sustainability, and we're happy to follow that because that's what we're about as well," Kenney said.
Meaning "to be present" in Latin, Adesse will focus on local, seasonal fare that is both comforting and elegant. Joining Kenney's restaurant Althea in Chicago's Saks Fifth Avenue, Adesse is the second largest mainstream department store restaurant to debut as completely vegan, which lowers a restaurant's carbon footprint significantly.
"Selfridges feels, and we also feel, that it's a great year to highlight the environmental synchronicity we have with them, and most importantly, how plant-based foods can be so pleasurable," the chef said.
According to Kenney, Adesse will be so craveworthy, omnivores and flexitarians will barely note its plant-based menu. Instead, they'll debate over which was better: the jackfruit crab cake with smoked red pepper remoulade or the kimchi dumplings with foamed ginger.
It's all part of the mainstreaming of plant-based cuisine that Kenney says is perfectly normal—and incredibly exciting. We spoke to the longtime vegan chef about his soon-to-open restaurant and its fashionable future plans.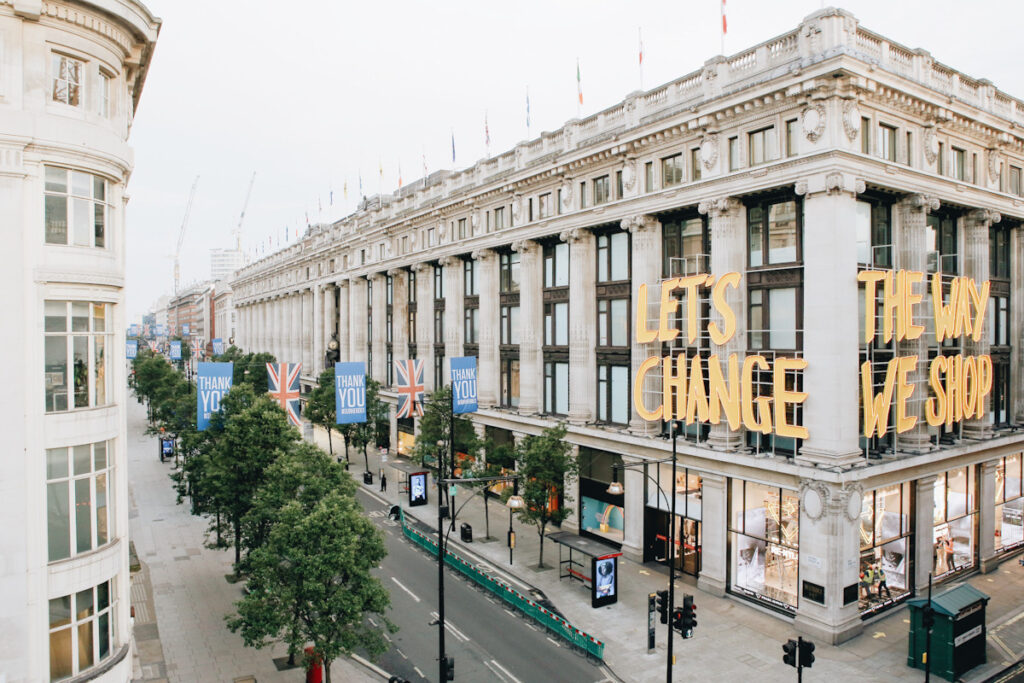 Plant-based culture is trending right now, but your restaurants have been treating it as the mainstream for years. You've always welcomed omnivores, flexitarians, and vegans alike. Is your message shifting as more people accept vegan menus?
You know, we're a vegan company 100 percent, but we don't push that, and we don't really use the word on our website—we don't even use the word "plant-based" on our site. We always expected this to be the path.
We might say the word "plant-based" because it's a little softer, but the real message we're trying to send is we don't have to make an apology and say you can't get something here because it's a vegan restaurant. With Sestina, our pasta restaurant, we truly can stand behind it being the best Italian food and a global restaurant. Plant-based is fashionable now, which is amazing. But that's part of the plan: to recognize it as the cuisine, not a cuisine. Just as a non-plant-based restaurant doesn't advertise that they're not vegan, we don't advertise that we are vegan. The paradigm is shifting, and plant-based is how we eat if we're eating in an enlightened way.
As that paradigm shifts, plant-based cuisine has gotten more creative, but also blander in some ways. How do you resist the monotony of the standard vegan burger?
We do that by finding a balance between our classics and more esoteric dishes. Adesse's menu is 30 to 35 percent classics like heirloom tomato lasagna, geared toward seasonality because London is a seasonal city. We also have company classics like our "crab cake," which has a smoked red pepper remoulade, and our poke, and a curried cauliflower with Indian spices, which is a cuisine that's well-received in London. But some things are more esoteric, like our beetroot carpaccio with yuzu kosho and poppy seeds, our spicy udon which is made more unique with roasted cashew, radish and tempeh, and our kelp noodle cacio e pepe with snap peas, pea shoots, and dehydrated black olives. Every dish will pair with one of our extensive organic and biodynamic varietals or thoughtfully-curated spirits and elixirs. For dessert, we'll stay comforting like the chocolate and salted caramel crunch, but with a twist, like the lime parfait with avocado and spiced macadamia.
Fashion is encountering a revolution toward sustainability similar to the food world. How will Adesse synergize with Selfridges' Project Earth vision?
Our cuisine will be plant-based and local, because that's in our DNA—so there are environmental benefits there. But I also think about our narrative and what's going to be transformative right now—what's going to provide our guests with things that are innovative and refreshing, so they'll talk about it. I think about what's going to facilitate change in the global market for food and plants and sustainability. I look at the entire supply chain and what we can do to impact in a positive way, not just at Adesse. So Adesse is part of a wider chain of sustainability in the plant-based movement.
Will the decor and cuisine reflect your Los Angeles style, and bring a bit of California and Plant Food + Wine to London, or will it be more buttoned-up?
It's not an over-the-top design, but it's a little posh and elegant—very London and very Selfridges. It's not a huge restaurant, seating about 60 or 70, but it has a really beautiful bar. It feels like a European brasserie in a way, but not from a classical French perspective, more that you can grab lunch, dinner or a late afternoon snack there. You might want a glass of champagne from looking at the decor—not that it's fancy, but because it's very celebratory. It's warm and comfortable, with big windows, a beautiful view, and light streaming in.
Your restaurant Althea in the Saks in Chicago serves up all kinds of plant-based fare, like a porcini truffle cheese plate and a comforting brioche burger with sunflower cheddar. With the Midwest being especially meat-heavy, did that give you the confidence to launch Adesse to a London audience?
Definitely. It was really a big risk for Saks to do that as that was the only restaurant in that store, and we tripled the revenue that the non-plant-based restaurant had, and our audience is only growing. Adesse will be our London hub, and we'll use it to build our base in Europe, to show our guests and colleagues—we have dozens of affiliates and strategic partners across Europe.
Why is now the perfect time to open Adesse, and why London and Selfridges?
The UK is one of the most important markets in the world for us. We're excited about London's proliferation of fast casual—like Pret a Manger, which has a fast casual concept with Veggie Pret. Selfridges is a high-volume and high-traffic location, and we know there will be the demand, but also there's a little bit of space for something more elevated. London reminds me of Venice, which is very fashion-oriented and edgy, but the customer wants approachable food, and some of the restaurants that stood the test of time in London have been beautifully designed with great spaces and high quality ingredients, but with food that's relatively comfortable. Londoners love to eat, so we're being careful not to over-think or over-design it.
You're launching several other projects right now as well, including another Sestina, your beloved pasta spot. What else do you have in the works?
We're launching four plant-based pop-up dining concepts at Expo 2020 Dubai, an event focused on human innovation that will go until March 31 of 2022. We're highlighting the sustainability element of plant-based eating on every level, from food truck to high-end, and employing food tech like the JUST Egg in our burritos and breakfast sandwiches. It's important for us to show our support for the food tech that will change the world.
Selfridges' Project Earth vision is incredible, but as you said, you're looking beyond lowering one restaurant—or even a dozen restaurants'—carbon footprints. On a broader scale, how are you affecting change beyond plant-based cuisine?
We're really doing a lot with innovation and technology, and we partner with innovators and creators who are disruptive in their fields. We add value by bringing our audience to them. For example, we're a partner in NOEM, the no-emissions company, which has an encapsulated indoor growing system.
You've always been forward-thinking in your restaurants and your programming. What do you see happening in the future—what will be the ultimate impact of this current plant-based boom?
The future of plant-based food is as vibrant as the ingredients that shape it. This is no longer a trend—people are embracing a world with less animal consumption, and it's becoming clear that it will continue to gain in popularity, which leads us to the impact. Aside from exploring new types of cuisine and experiencing the joy of plant-based eating, the environmental impacts are significant and we are already seeing evidence of that. I'm optimistic that we are working towards a sustainable world and to reversing climate change through the choices we make with our forks. 
Editor's note: Since publication, the opening of Adesse has been pushed back to January. LIVEKINDLY has updated the article to reflect the new date.