World-renowned restaurant Eleven Madison Park is now plant-based.

The upscale New York City restaurant made the switch after it reopened this past June following an extended closure due to the coronavirus pandemic, featuring an all-new, meat-free menu.
The idea to go plant-based came from the restaurant's award-winning chef and co-owner Daniel Humm, who has been the executive chef at Eleven Madison Park since 2006. While Humm is known for an array of meaty dishes including lavender honey glazed duck and butter poached lobster, the new menu will be vegetable-centric.
Per the Eleven Madison Park website, the restaurant will offers "an eight to ten course menu in the main dining room consisting of entirely plant-based dishes." However, Humm clarified in an interview with the Wall Street Journal that this new menu is not entirely vegan because customers will still be able to have milk and honey for coffee and tea.
In a lengthy statement shared on the homepage of the Eleven Madison Park website on May 3, Humm explained how and why he reached the decision to omit meat from the menu.
"In the midst of last year, when we began to imagine what EMP would be like after the pandemic – when we started to think about food in creative ways again – we realized that not only has the world changed, but that we have changed as well," he wrote. "We have always operated with sensitivity to the impact we have on our surroundings, but it was becoming ever clearer that the current food system is simply not sustainable, in so many ways."
This decision makes Eleven Madison Park only the second three-Michelin-star restaurant in the world to serve no meat or seafood. The other plant-based restaurant is King's Joy in Beijing.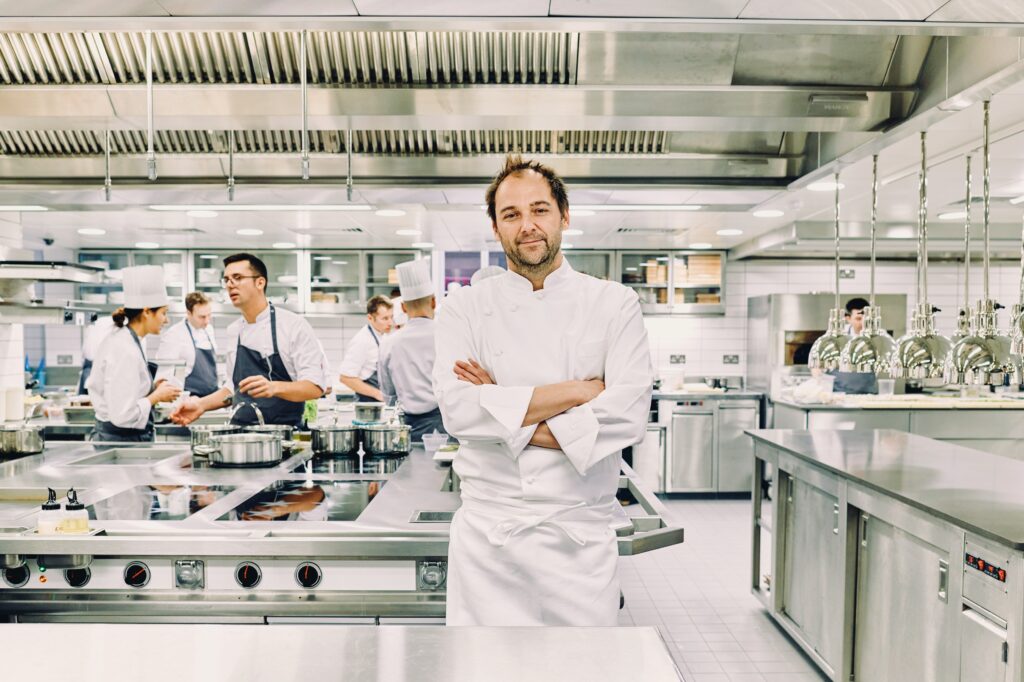 A Michelin Star plant-based menu
Humm's statement specified what guests could expect to see on the revamped plant-based menu. "I'm excited to share that we've made the decision to serve a plant-based menu in which we do not use any animal products—every dish is made from vegetables, both from the earth and the sea, as well as fruits, legumes, fungi, grains, and so much more," he added.
Still, the choice to go meat-free didn't come without apprehension, especially since Eleven Madison Park is widely regarded as one of the finest restaurants in the world, with tasting menu prices that begin at $335 per person.
"When we set out on this journey we promised ourselves that we would only do this if the meal could be as delicious as it was before," Humm told the Wall Street Journal. "My goal is to create these beautiful dishes, give people beautiful experiences; unexpected, surprising experiences that make you feel satisfied, as a meal with meat would."
He continued: "If Eleven Madison Park is truly at the forefront of dining and culinary innovation, to me it's crystal clear that this is the only place to go next."
While Humm began working in kitchens at 14 and received his first Michelin star a decade later, cooking without meat or animal byproducts of any kind is still relatively new for the culinary pro. In his statement on the Eleven Madison Park website, Humm noted that he and his staff had been "working tirelessly" to immerse themselves in the world of plant-based cuisine. The process, he added, has included "so much learning" and a new approach to food.
"We asked ourselves: What are the most delicious aspects of our dishes, and how could we achieve the same level of flavor and texture without meat?," he explained. "This decision was inspired by the challenge to get to know our ingredients more deeply, and to push ourselves creatively."
Eleven Madison Park now works with local farms, and preparing known ingredients, such as beets and grains, in new ways. The change has pushed Humm to gravitate towards a more plant-based diet himself, and he said that he is now "moved and inspired by dishes that center impeccably-prepared vegetables."
Humm also acknowledged that he's taking a risk in "abandoning dishes that once defined us," but believes it will pay off based on the plant-based dishes he and his team have created so far.
According to the Swiss chef, these include "the most flavorful vegetable broths and stocks," as well as fully plant-based milks, butters, and creams. He also noted that the culinary team is exploring fermentation to add new levels of flavor to a dish.
"What at first felt limiting began to feel freeing, and we are only scratching the surface," he wrote. "All this has given us the confidence to reinvent what fine dining can be. It makes us believe that this is a risk worth taking."
Going plant-based for the environment
As Humm intimated in his explanation for why Eleven Madison Park would go plant-based, eating fewer animal products is much better for the environment.
Per the Food and Agriculture Organization of the United Nations, roughly 14.5 percent of global greenhouse gas emissions come from livestock. Additionally, the New York Times notes that beef and lamb have the biggest climate footprint per gram of protein, while plant-based foods typically have the smallest impact. Pork and chicken fall in the middle.
"The way we have sourced our food, the way we're consuming our food, the way we eat meat, it is not sustainable," Humm recently told NPR.
He also hopes that Eleven Madison Park's new approach, which includes providing five free meals to food-insecure New Yorkers with every dinner purchase, will foster "a genuine connection to the community" and strengthen people's connection to New York City and to the planet.