The holiday ham has historically been the hearty centerpiece of many African American tables, with exact recipes and traditions dependent upon each cook's regional cuisine and passed-down family traditions. To make it vegan for my table, I employed the same glaze, but substituted smoked tofu, smoked paprika, and liquid smoke to evoke that long-smoked ham.

Before arriving in America, most Africans did not consume pork. Instead, their diets consisted mainly of small portions of other meats and mostly vegetables. However, during slavery, it became one of the few animal proteins they were able to eat. Slaves were typically given the most unsavory parts of the meat and had to improvise creatively with seasonings, spices, and vegetables to doctor their dishes into edible fare.
Occasionally during the holiday season, slaves were occasionally given more substantial portions of the pig and allowed to briefly cook and commune with each other. These short moments would become a time of fellowship that is reflected in the culture's holiday meals today.
In the South, the traditional holiday ham is prepared with a brown sugar glaze. This sweet and salty combination goes back more than 100 years and was likely created by slaves, since molasses and sugar cane were readily available to them and used for cooking a variety of dishes.
Today, this sugar glaze has become a Southern holiday staple in and outside of the African American community. This mustard-glazed ham recipe combines the creativity of plant-based ingredients with the comfort of the traditional dish, to create a holiday centerpiece that celebrates the sweetness of the holiday season.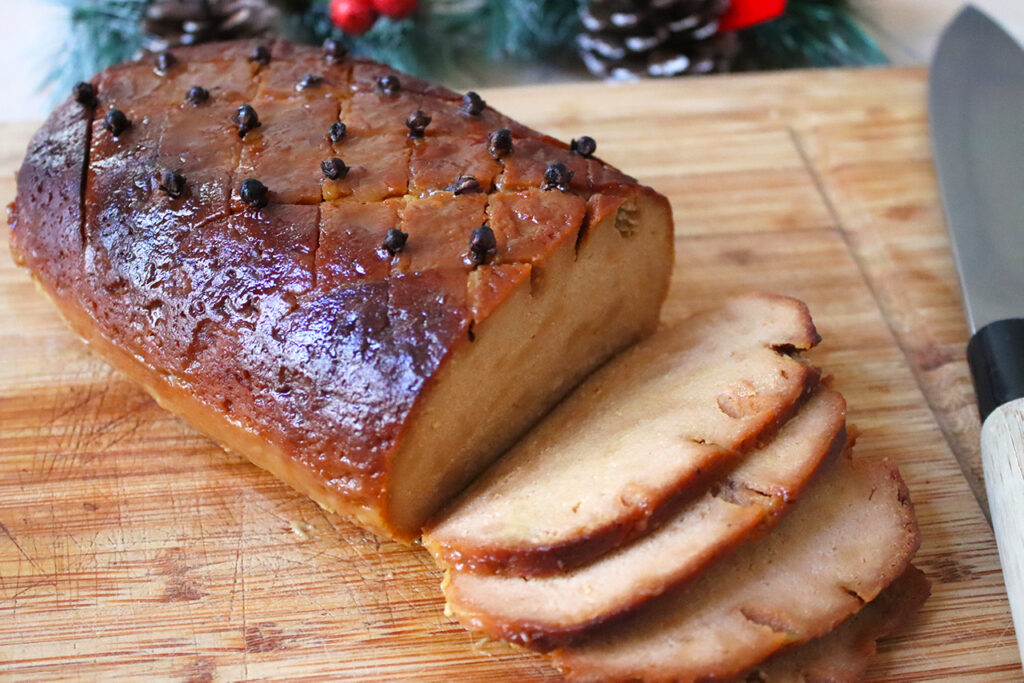 More vegan soul food recipes
To cook more of my vegan soul food recipes, including sweet corn crème brulée, vegan smothered pork chops with cauliflower mash, and my vegan version of turkey and cranberry sauce, read up on all the deliciousness here.