Ice cream has always been a comfort food for me, which I strongly suspect comes from the childhood ritual of going to Carvel at least once a week for a big swirl of chocolate and vanilla soft-serve. While my days of eating dairy are gone, the same cannot be said of ice cream. If I'm being honest, my diet is about 20 percent ice cream—vegan, of course. So, it goes without saying that I'm always on the hunt for the best of the best among NYC's dairy-free ice cream options. (Like Liam Neeson's relentless quest to find the bad guys in the Taken series, but for dessert. That's me.) I recently ate my way across Manhattan to find the best vegan ice cream in New York City and here's what I loved:
Located in Manhattan's Lower East Side on Orchard Street, just a short walk from the Delancey Street subway station, Whipped – Urban Dessert Lab serves up housemade oat milk soft-serve ice cream in classic flavors: Chocolate, Sweet Creme (think of this as an elevated vanilla), and a twist of both. On its own, Whipped's dairy-free soft-serve is creamier than New Yorkers' favorite soft-serve on wheels, Mister Softee, and missing the ice shard-speckled texture that's so frequently found in other vegan ice creams. I want my ice cream cold, not dangerous.
While the plain ice cream is delicious on its own, I highly recommend you try one of the Hand-Selected Fusions. The Strawberry Shortcake, pictured above, is a summery creation that features a Sweet Creme base coated with strawberry crumble and house-made strawberry sauce. The popular Chocolate Peanut Butter Pretzel starts with Sweet Creme soft-serve and is then topped with crushed pretzels and drizzled with chocolate and peanut butter sauce. Just sit and think about that decadence for a minute.
Ice creams can be served in a cup or a housemade cone (which you can slather with housemade sauces like Coffee, Mint Chocolate, and Apple, in addition to the ones mentioned above.) If ever there was a justification for ice cream for breakfast, this is it!
Orchard grocer, also located on Orchard Street (the LES loves to monopolize good stuff), is a mini vegan supermarket and sandwich shop that also serves a crave-worthy dairy-free ice cream. Its soft-serve ice cream features a creamy cashew and olive oil base and was developed by chef Isa Chandra of Modern Love (Omaha and Brooklyn) fame. Olive oil in ice cream may sound odd but trust me, it makes the texture DECADENTLY creamy and adds richness to the flavor. Yes, please! It's also not overly sweet, which makes it tempting to immediately get a second cone. (With two flavors on tap daily, why not?)
The flavors rotate regularly—blueberry and vanilla were on the menu when I visited—and are announced on Instagram. You can get it in a cup, cone, or you can order it as a dairy-free, whipped cream-topped milkshake as an accompaniment to one of the shop's vegan versions of classic NYC deli sandwiches, like a bagel with lox or a reuben stacked a mile high with corned beef.
Van Leeuwen, thy name is decadence. With 17 locations across Manhattan and Brooklyn (dear Van Leeuwen: if you're reading this, please come to Queens), this scoop shop is almost always just a short walk or subway ride away. And for a place that isn't exclusively vegan, its dairy-free offerings are impressive. You won't be restricted to just one flavor here.
Van Leeuwen vegan ice cream, which is made from a base of either house-made cashew milk or oat milk, always has several flavors on offer ranging from plain chocolate to Cookies and Cream Caramel Swirl, the sweet Cookie Crumble Strawberry Jam to the monthly seasonal flavors, and more. The latter, my go-to scoop, features a Tahitian vanilla base swirled with ribbons of sticky strawberry jam and soft oat cookie crumbles. But don't miss out on the ever-changing seasonal flavors, which are always a creative, indulgent, dairy-free experience. Pictured above is the Vegan Caramel Almond Praline Chip and the seasonal flavors have since been changed to Vegan Banana Pudding and Vegan Earl Grey Tea. (You'll see me again very soon, Van Leeuwen.)
Try it in a cup, a cone, a milkshake, or a sundae—what sets Van Leeuwen apart from other ice cream shops with dairy-free options is the fact that you can get your sundae topped with hard-to-find vegan whipped cream and chocolate sauce. Thank you, may I have another?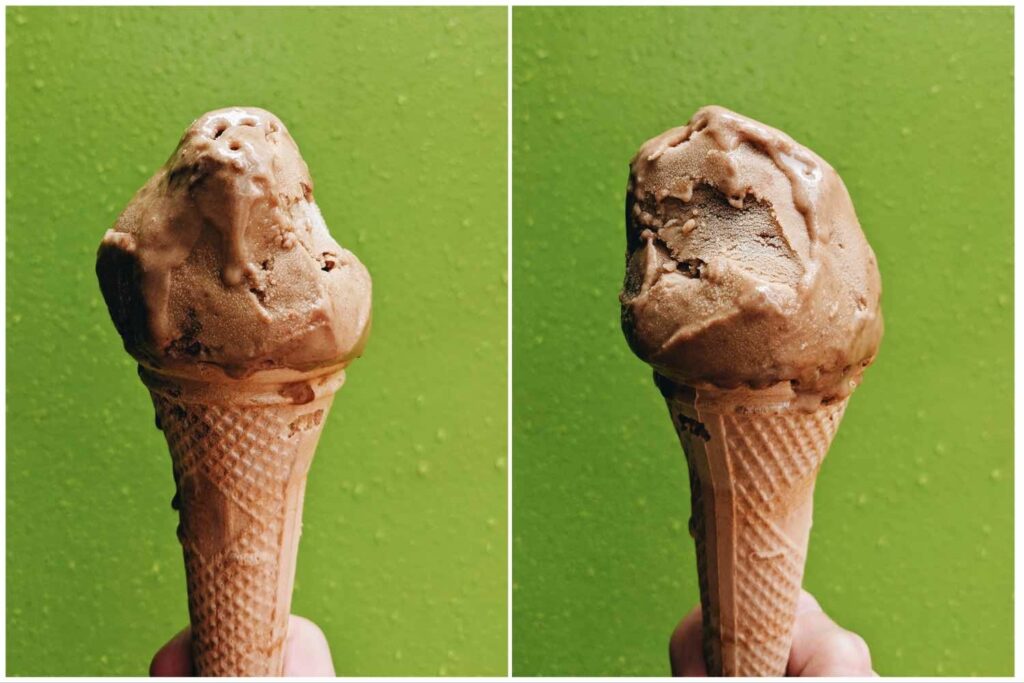 Situated in walkable distance from The Highline and the Flatiron Building in Chelsea lies Pura Vita Super—not a vegan ice cream shop, but a gelato shop. Founded by a brother-sister duo from Italy, this little gelateria scoops dairy-free, housemade gelato and sorbets in flavors such as chocolate, vanilla, pistachio, and mango, all of which are made from either a coconut milk, oat milk, or real fruit base.
I tried the chocolate, with an oat milk base. It had a smooth, creamy consistency that brought me right back to the days of getting scoops of gelato at the Italian supermarket.
True to its Italian origins, Pura Vita is as much a coffee shop as it is an oat milk shop, so enjoy a cappuccino with your dessert or better yet, try the affogato (that's a scoop of gelato topped with a shot of espresso). Get a dessert to go, too—carrot cake, croissants, and cookies can be found in the pastry case.
Fro-yo chain 16 Handles isn't completely vegan, but its dairy-free offerings make it worth the visit. The shop is the only place in NYC to serve Oatly soft-serve ice cream, which has a delightfully creamy flavor whose sweetness is not overpowering. The current flavors are chocolate and chai, but the chain likes to switch it up. You can also get a swirl of vegan sorbet, with rotating flavors including Belgian Chocolate Fudge, Berry Medley, Coco Loco, Mango, and more.
I had the chocolate and chai flavors topped with almond pieces and Oreo cookie crumbles. It also left me wondering about their Oatly sources in the wake of the recent shortage of everyone's favorite oat milk.
With 11 locations across Manhattan and Brooklyn, it's also fairly easy to get to. Much like other fro-yo establishments, it's self-serve, so you can mix-and-match your flavors and then choose your toppings, including plenty of vegan options like nuts, fresh fruits, and carob chips.

Look, I know people are passionate about their ice creams, so I'd love to hear your favorites. Send in your recommendations for the best ice cream in New York City to editorial@livekindly.com. Include your name and a photo of the good stuff!