Orlando Bloom's diet is almost entirely vegan! In a revealing interview with the British newspaper The Sunday Times, the actor shared that nearly all of his meals are entirely plant-based.
Bloom, 44, discussed his "quite L.A." daily routine, which begins Buddhist chanting, quality time with his 6-month old daughter Daisy, whom he shares with his vegan fiancée Katy Perry, and a meat-free breakfast that the Pirates of the Carribean star must "earn" each morning.
Bloom told the publication that after spending some time with Daisy, he begins his day with 20 minutes of Buddhist chanting, before reading a "bit of Buddhism" and typing it up and adding it to his Instagram Stories.
The British star also revealed that he tries to avoid looking at his phone as he doesn't "want to be sucked into the black hole of social media."
When it comes to mealtime, Bloom noted that he is now "90 percent plant-based." What's more? The actor intimated that his decision to ditch (almost) all meat stems from his love and admiration for animals.
Orlando Bloom's (Mostly) Vegan Diet
Bloom typically begins each day with a healthy vegan drink.
"I like to earn my breakfast so I'll just have some green powders that I mix with brain octane oil, a collagen powder for my hair and nails, and some protein," he shared. "It's all quite L.A. really."
An outdoor hike while listening to "some Nirvana or Stone Temple Pilots" follows, and then it's time for the actor's first full vegan meal of the day. "By 9 a.m., it's breakfast, which is usually porridge, a little hazelnut milk, cinnamon, vanilla paste, hazelnuts, goji berries, a vegan protein powder and a cup of PG Tips [tea]," he explained.
Bloom added: "I'm 90 percent plant-based, so I'll only eat a really good piece of red meat maybe once a month. I sometimes look at a cow and think, that's the most beautiful thing ever."
Although this is seemingly the first time the Lord of the Rings star has confirmed his almost entirely vegan diet, it's most definitely not the first time he has spoken about consuming and enjoying vegan foods.
In October 2019, Bloom took a road trip to California's Joshua Tree National Park and shared a peek at some of the vegan foods he enjoyed on the journey. More specifically, the Romans star uploaded an Instagram Story of a picture of the Impossible Whopper sign at Burger King. He captioned the post, "a road trip must."
Burger King rolled out the Impossible Whopper nationwide in 2019, after a successful trial period in Missouri.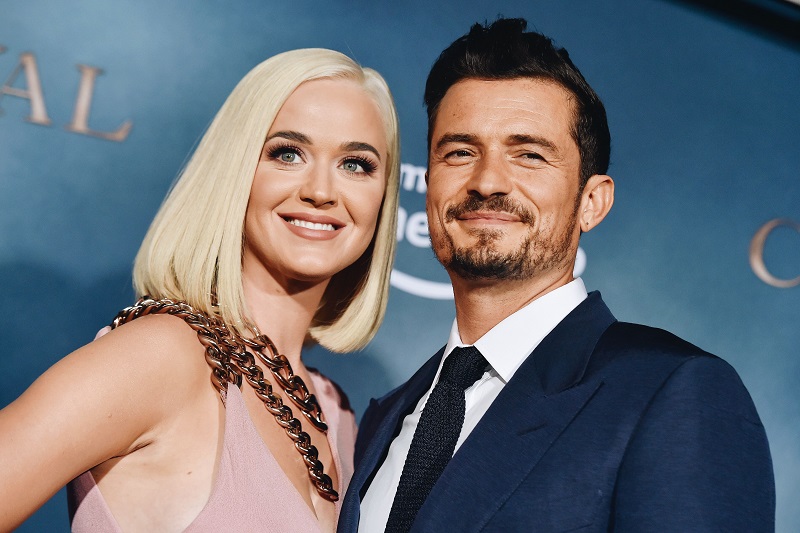 Why Is Orlando Bloom (Mostly) Vegan?
As Bloom implied in his chat with The Sunday Times, his decision to cut almost all meat and animal products from his diet comes from his connection with animals, especially "beautiful" cows.
According to A Well-Fed World, an organization that focuses on plant-based hunger solutions, more than 10 billion land animals are killed each year in the U.S. alone to produce meat, dairy, and eggs. That's more than one million animals every hour.
But animal welfare aside, it's also possible that the actor's choice to eat very little meat has to do with the environment. In an October 2020 Instagram post encouraging Americans to vote early in the recent presidential election, Bloom shared a photo of himself holding a still-living fish that he'd seemingly caught on a fishing trip.
"Vote for the planet – electing representatives who care about public lands, air quality, water quality & overall health of our beautiful home ?," he wrote in the caption. "Vote early today ?? #catchandrelease #vote #votefortheplanet."
The animal agriculture industry is responsible for high amounts of greenhouse gas emissions. This includes methane, which—according to NASA—traps heat 28 times more effectively than carbon dioxide.
Lastly, Bloom's choice to embrace more of a vegan lifestyle was likely influenced by people he loves, namely his bride-to-be Katy Perry.
Is Katy Perry Vegan?
The "Firework" singer, who has been dating Bloom on-and-off since 2016, confirmed she was going vegan in a January 2021 tweet.
"I'm about 95% ready to be 100% vegan," she wrote at the time. "My dog Nugget has been joining me on this journey for the past 4 months."
She added: "Pray for us ok."
Like Bloom, Perry seems to have taken a gradual approach to veganism, but it looks like it has stuck so far. When a Twitter follower asked the American Idol judge earlier this month what she was snacking on during auditions, she confirmed that her snacks are completely plant-based.
"Honestly it's a fruit and nut season," she replied. "#vegan."
Interestingly enough, before she fully committed to a vegan diet, Perry said it was actually Bloom who was trying to convince her to give up meat. "He's always trying to get me to go hike, or do yoga or eat vegan," she explained in November 2018, joking that she would rather go to Taco Bell.
And while the Grammy nominee still loves her Taco Bell, which has a bevy of vegan options to choose from, she's embraced brands with more of a plant-based focus as well.
In fact, Perry is one of the many celebrity investors in Impossible Burger, and she even dressed up as the popular plant-based food for the 2019 Met Gala, and then again for an appearance in Taylor Swift's music video for her single "You Need to Calm Down."