Hosting a vegan Passover seder? We've got you covered!
The Jewish holiday of Passover, which celebrates the Jews' liberation from Egypt by Moses, lasts for eight days. This year, according to the Jewish calendar, the holiday begins on Saturday, March 27, and concludes on Sunday, April 4.
Passover is often celebrated with great pomp and ceremony, especially on the first night, when a celebratory family meal called the Seder is held. There, the Passover story is retold using a special book called the Haggadah.
At the Seder, foods of symbolic significance that commemorate the Hebrews' liberation are eaten. Prayers, traditional songs, and recitations are performed, such as the four questions.
In addition to symbolic foods that are consumed, there are also foods that Jews are forbidden to eat during Passover. Eating leavened breads isn't permitted because, when the Jews were fleeing persecution in Egypt, they didn't have time to wait for their bread to rise. (The rules vary slightly depending on what sect of Judaism you belong to.)
This is why matzo—an unleavened flatbread that's typically made quickly with flour, water, and salt—is such a large part of the Passover cuisine and celebrations. 
Symbolism and the Passover Seder Plate
The story of Passover, and the liberation of Jews from oppression, is retold over the course of the Seder. The significance of each of the six foods that make up a traditional Seder plate is as important as the story itself.
Maror
Maror (horseradish) and chazeret are bitter herbs that symbolize the bitterness and harshness of the slavery that the Hebrews endured. Charoset, one the other hand, is a sweet, apple-based mixture that represents the mortar and brick used by the Hebrew slaves to build the pyramids. 
Karpas
The Seder plate also includes karpas, which is typically parsley or another green vegetable. Karpas represents hope and renewal and is dipped into a bowl of salt water at the beginning of the Seder. The dipping of a simple vegetable into salt water and the resulting dripping of water visually represents tears and serves as a symbolic reminder of the pain felt by the Hebrew slaves in Egypt.
Zeroah
Next is zeroah—the shankbone—which is the only element of meat on the traditional Seder plate. It symbolizes the Pascal Lamb, which was offered in the Temple in Jerusalem. The zeroah serves as a visual reminder of the Passover sacrifice.
Beitzah
The beitzah—a roasted egg—symbolizes the festival sacrifice that was offered at the Temple in Jerusalem. To some, the egg also represents springtime and renewal. The egg isn't used during the formal part of the Seder, but some people eat a regular hard-boiled egg dipped in salt water or vinegar.
Matzot
The sixth item on the Seder table is a plate of three whole matzot, which are stacked and separated from each other by cloths or napkins. The middle matzo will be broken and half of it put aside for the afikoman, which the leader of the Seder hides for the children to find once dinner is over. Whoever finds the afikoman, which some say is a symbol of the ultimate redemption from suffering, which comes at the end of the Seder, is often given a small prize for their efforts. The afikoman is then eaten for dessert.

The top and another half of the middle matzot will be used for the hamotzi—the traditional blessing over bread. The bottom matzot will be used for the Hillel sandwich. It consists of a piece of matzo on either side, surrounding a combination of maror (horseradish) and charoset.
What Foods Are Permitted During Passover?
While eating leavened breads on Passover isn't permitted, other specifics can vary based on people's Jewish ancestry.
For example, Ashkenazi Jews have historically avoided rice, beans, corn, and other foods like lentils and edamame at Passover. The tradition goes back to the 13th century, when customs prohibited wheat, barley, oats, rice, rye and spelt, according to Rabbi Amy Levin. And since rice and legumes were sometimes mixed with wheat—which is avoided during Passover unless it's in its unleavened form—the Times of Israel notes that those items were avoided, too.
However, the kosher food rules with regards to Passover have changed. In 2015, the Rabbinical Assembly, a global group of Conservative Jewish rabbis, ruled that rice, corn, beans, popcorn, and other similar items that were previously prohibited would be allowed at Passover Seders.
These new kosher foods have always been a part of the Passover diet of Sephardic Jews, whose ancestry can be traced back to the Middle East, North Africa, and areas around the Mediterranean Sea. Rice, bean, and lentil dishes have long been served at Sephardic Jew Passover celebrations.
Still, according to Orthodox Ashkenazi and some Sephardic customs, "kitniyot"—the Hebrew word for legumes—may not be eaten during Passover.
If you're ever unsure of what is considered kosher for Passover, consult a rabbi for guidance.
How to be Vegan During Passover
Many items on the seder plate are vegan. Foods such as legumes, grains, corn, and beans are typically Passover-approved, so there are tons of vegan dishes you can whip up to celebrate the holiday.
One interesting fact to note, however, is that seitan isn't considered kosher for Passover according to Yeshiva Rabbi David Sperling. This is because the popular vegan protein source is considered "hametz."
"Hametz is defined as when any of the five Biblical grains (wheat, rye, barley, oats and spelt) come into contact with water and are left to rise—which will happen quite quickly if the dough is not baked immediately, as we do when making matzo," Sperling notes.
Since seitan isn't allowed, many main dishes for Passover incorporate grains, matzo, and whole vegetables, as well as various nuts and beans.
Celebrate Vegan Passover with These 10 Recipes
LIVEKINDLY reached out to food bloggers of Jewish faith for some of their favorite vegan Passover dishes. Each blogger included personal details about what the dish means to them.
Vegan Chopped Liver
"Growing up in a Jewish home means eating chopped liver or pate during every holiday!" says Estee Raviv.
"Unlike chopped liver, there is no aftertaste with the vegan version! The sweetness of the sautéed onion combined with the creaminess of the beans, create a delicious vegan pate. The bonus is that It is so much better for us. Packed with protein and vitamins, it is the perfect elegant, traditional, holiday appetizer."
Get the recipe here.
Charoset
Charoset is typically made with chopped apples, nuts, a sweetener, cinnamon, and sweet red wine, like Manischewitz.
"Passover can be a difficult holiday to navigate with food allergies, especially to tree nuts," notes Chelsey Amer. "This nut-free charoset is an allergy-friendly dish my family makes every year for Passover for an inclusive holiday table!"
Get the recipe here.
Matzo Ball Soup
"This cozy vegan matzo ball soup is just like my grandmother's, but of course veganized," says Liz Madsen. "Veganizing her recipes always makes me feel closer to her, like she's watching over me in the kitchen. The soup is herb-infused and is the perfect complement to your Passover Seder or any meal."
This recipe calls for baking powder, which some Jews don't eat on Passover. Feel free to substitute it with Passover-approved potato starch.
Get the recipe here.
Spinach and Potato Matzo Gratin
"This recipe is inspired by the layered matzo casseroles, called minas, that are traditionally served as part of Sephardic Passover Seders," notes Nava Atlas. "Consisting of layered matzos and vegetables, you can almost think of them as matzo lasagnas. It's perfectly appropriate for the Ashkenazi Seder as well. Leave out the optional vegan cheese if you're strictly adhering to Kosher for Passover; however, if Kosher is good enough, go ahead and use it. I've been making this gratin for years, and it's always a favorite!"
Get the recipe here.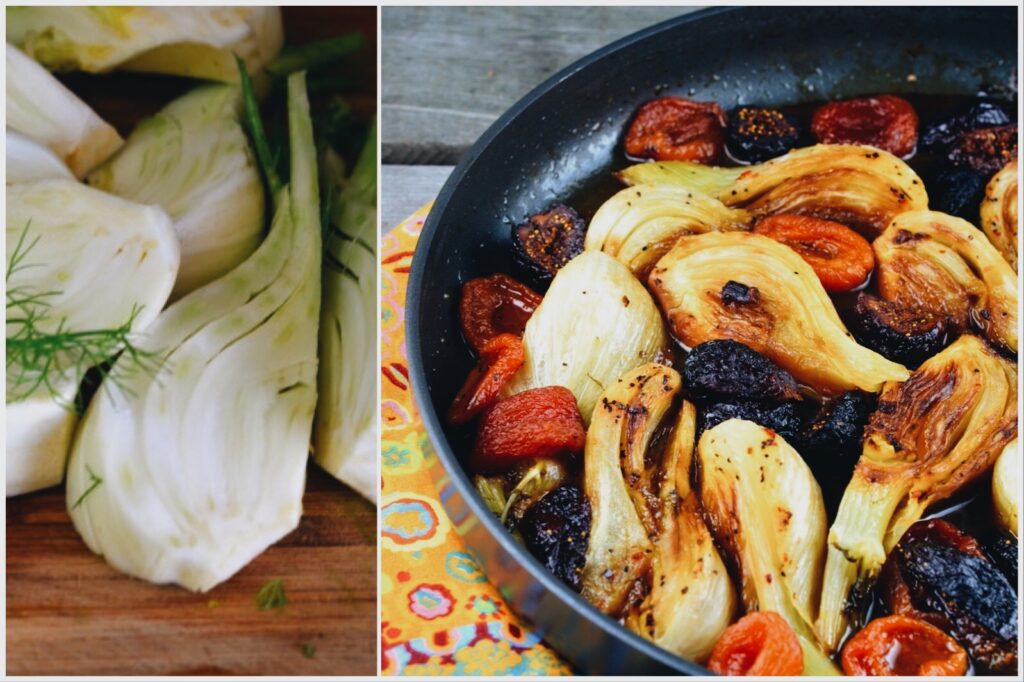 Braised Fennel With Apricots and Figs
"Our mom loves to make sweet and savory recipes for the Jewish holidays. She feels it gives dishes a festive flair, and we love following the same tradition," explain sisters Vicky Cohen and Ruth Fox.

"During Passover, we love cooking with fennel because it is so versatile and we can make so many different dishes with one vegetable—from raw fennel salad to roasted vegetables with fennel. Our favorite is this holiday braised fennel with apricots and figs. It's sweet, savory, has a beautiful festive presentation, and it's always a crowd-pleaser."
Get the recipe here.
Sweet Potato Spinach Quinoa Gratin
"This sweet potato spinach quinoa gratin is a favorite for our vegan Passover guests because it's unexpected," says Tori Avey. "It's not a salad or a vegetable side or an afterthought, it's a real entrée with layers of unique flavor. The secret is in the sauce—a coconut saffron 'gratin' sauce that has a creamy, dairy-like texture, with a hint of exotic flavor from the saffron. It also looks great on the table!"
Get the recipe here.
Carrot Tzimmes
"This is a traditional Jewish recipe for Carrot Tzimmes (or glazed carrots). Sweet, syrupy and absolutely delicious, everyone eats their vegetables when they taste this good!" says Rachel Pauls. "My low-FODMAP version uses fresh squeezed orange juice for a fresh flavor. A must-have for the Passover table!"
Get the recipe here.
Dark Chocolate Coconut Banana Matzo Brei
"Matzo brei is one of my favorite Passover dishes. Usually it is matzo fried with eggs either savory style with salt and pepper or sweet with sugar and jam," explains Amy Kritzer. "I had the idea to do a vegan version of this classic dish, and the bananas created a similar texture while lending itself to a sweet version with chocolate and coconut! Sounds strange, but it totally works!"
Get the recipe here.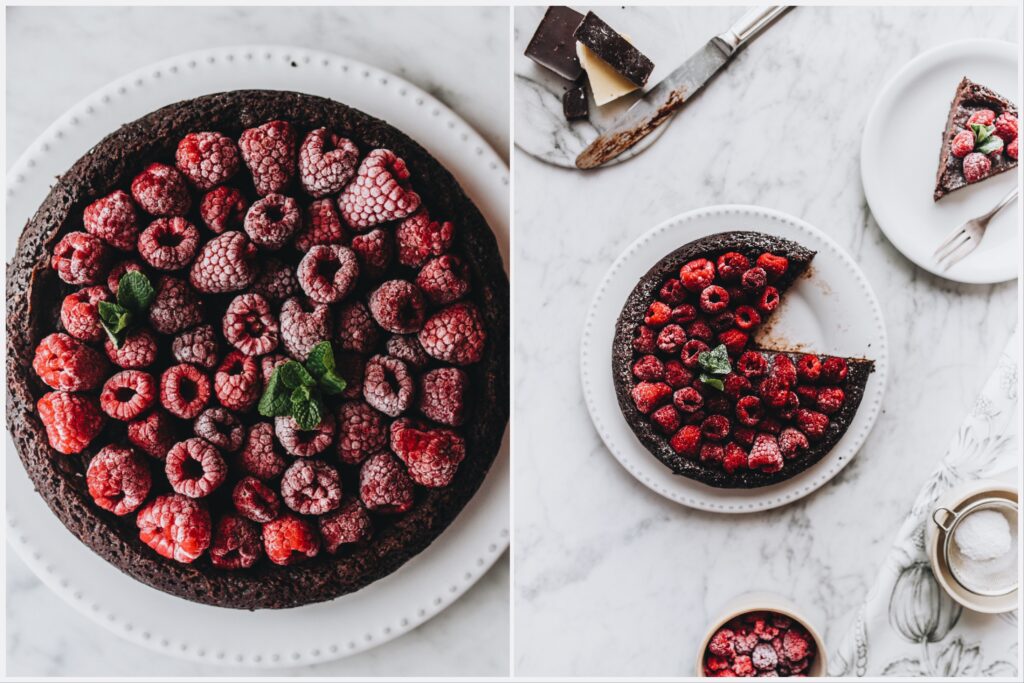 Flourless Chocolate Cake
"Grain-free chocolate cakes are a modern favorite Jewish dessert during the holiday of Passover, during which eating any type of grain-based leavened products is prohibited," explains Kenden Alfond.  

"This healthier flourless chocolate cake is gluten-free, dairy-free, vegan and insanely delicious. It is also oil-free and lower in sugar than most traditional flourless chocolate cakes. The cake is very fudgy and velvety with a slight crunch around the edges and a deep chocolate flavor."

Get the recipe here.
Chocolate-Covered Matzo
"If you're looking for a Passover friendly dessert that isn't a macaroon or flourless chocolate cake to switch it up, you'll love the sweet and salty crunch of this brittle," says Abbey Sharp.
Get the recipe here.