When Christopher Griffin, the creative force and face of the Instagram account "Plant Kween," first moved into their Brooklyn apartment, they put their phone away, put on some music, sat on the floor, and watched the sunlight as it moved throughout the day. It was so much more than a peaceful experience—they were taking extensive notes about where the sun's rays landed and already thinking about which plants would thrive in their new space.
This is the kind of hybrid plant-care/self-care that they're bringing to their first book, You Grow, Gurl! Plant Kween's Lush Guide to Growing Your Garden, out on March 22.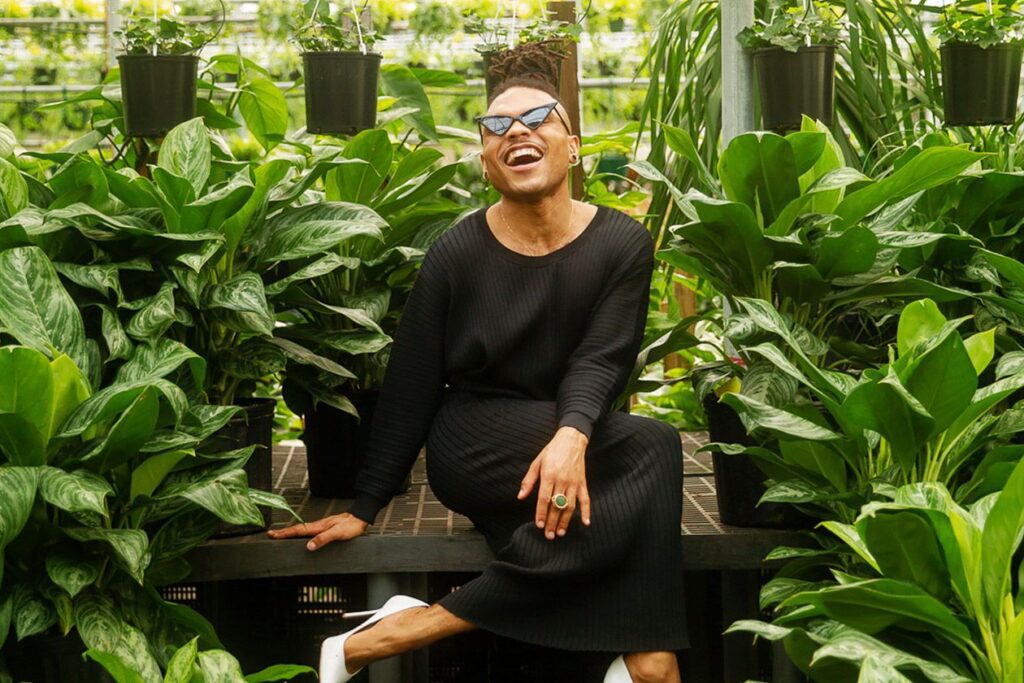 Becoming the Plant Kween
Today, Griffin's apartment is filled with more than 200 plants, all of which you can find photos of on their account, often paired with a caption offering nuggets of wisdom about watering schedules, authentic self-love, and family memories that helped the "Plant Kween" become who they are today. By their own account, their Instagram success is unexpected—but they've hit 360,000 followers and have created campaigns for a wide variety of companies, like Warby Parker, Ruggable, and KitchenAid. They even created a series about plant care for Architectural Digest. Griffin's joy is hard to miss, whether they're posing among parlor palms in a red floral dress, or lounging in a fluffy white robe with persnickety staghorn ferns.
Griffin, who works as the assistant director of NYU LGBTQ+ Center, never loses sight of the influence that caring for house plants has on us. We spoke with Instagram's resident plant educator extraordinaire about how our house plants can help us be more mindful of ourselves, their family's green legacy, and how their love of plants extends to being kinder to the Earth.
LIVEKINDLY: The last time we spoke, you shared some very timely spring plant care tips. And, your Instagram continues to be this wonderful green space full of gorgeous plants, tips on keeping them alive, and so many nuggets of joy and wisdom about self-care and being yourself all year round. What led you down this path of becoming a hybrid plant-care/self-care educator?
Christopher Griffin: My plant journey started without me really knowing. My grandmother grew up on a farm in Clayton, Georgia, and our family grew most of our own food. So gardening, whether it was indoor or outdoor, is ingrained in my family's legacy. My grandmother left Georgia and eventually settled in Philadelphia. She started a little garden for herself—a little oasis of joy that brought her roots and family legacy to Philadelphia. She had the best garden on the block—she was even known as "the plant lady."
When I was five or six, she just took me under her wing. I never got to experience my great-grandmother's farm in its heyday, but my grandmother did. And the lush lessons she learned she passed on to me.
As a kid, I got to see my grandmother, this strong, beautiful Black woman create her own spaces of joy, which she shared with me. She let me pick out plants to take home and was like, "When you come over to my house, you have to water them. 'Cause they're your responsibility." And that's how it really started. My grandmother was the original "green goddess" in my life.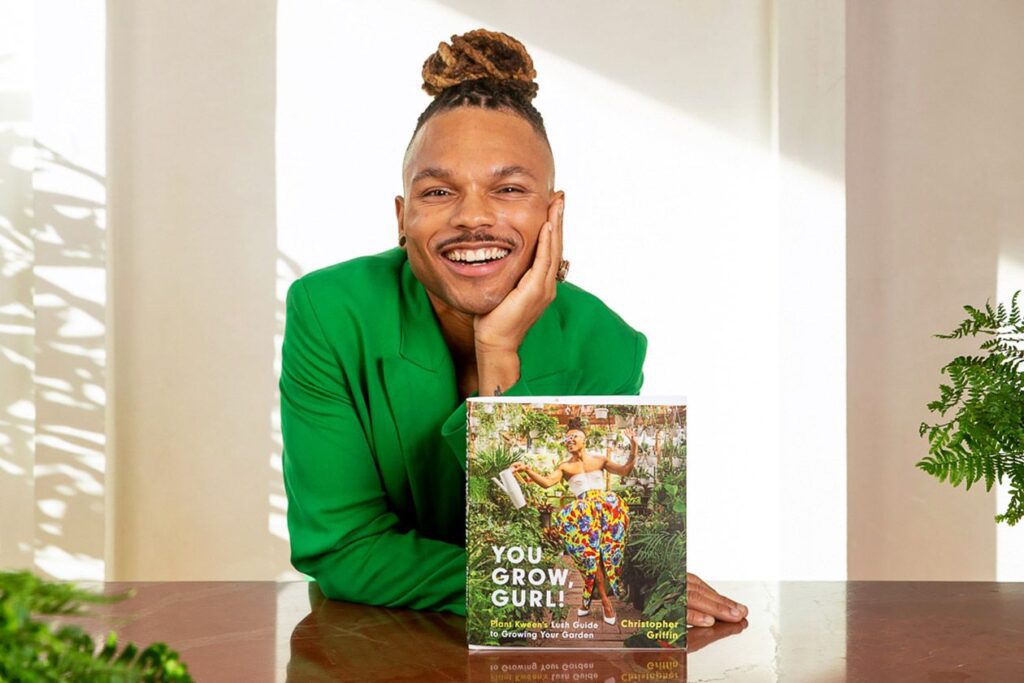 LIVEKINDLY: And eventually, that led to you buying your own plants. When did that happen?
Griffin: Even though I knew that I enjoyed plants, it wasn't until I bought my first one (in the summer of 2016) that I realized how special of an interaction that was for me. I was reliving the memories of my grandmother, and as a nurturer, I got to put love into something and the response was growth.
Plant Kween started from me documenting my own experience, for my own purposes. Back then I wasn't really seeing a lot of folks like me in the online plant community—Black, brown, and non-binary. So I was like, let me start putting my joy out there. It became like a diary entry, documenting my thoughts and ponderings as I navigate plant parenthood. I'm a storyteller, so I like to talk a lot (laughs).
LIVEKINDLY: So you were growing your Instagram following, documenting your growing indoor jungle. Was there anything about your followers' response that surprised you?
Griffin: There was a moment back when I started the account when nobody knew who was in charge of it. It was all about the plants, so no one ever saw me. But then I decided that I need to get in front of the camera. As a Black non-binary person who had been bullied, who had been harassed, just for existing unapologetically, I knew how real cyberbullying was. So that was one of my first hesitations. But once I put myself out there, I got back so much love, happiness, and connection with other people. That's something that every person of color, trans or non-binary person, deserves. The community building surprised me, and it's something that I've really come to love about being online.
LIVEKINDLY: Plants are a lot more than decoration. They're living things that respond to the care that we put into them, which can be rewarding. Does that resonate with you?
Griffin: There's something simple, yet intricate, and beautiful about plants. Bringing them into our homes has obvious aesthetic benefits. But studies show that having them around can help reduce stress and anxiety. And from my experience, the love that we put into our plants can be a mirror into how we're treating ourselves.
LIVEKINDLY: How does your love for plants help connect you to nature?
Griffin: This appreciation for nature has manifested into a journey to green up the spaces I call home. But being a plant person can be more than just building that fabulous plant fam … it can extend into a whole lifestyle, from environmental politics, to the food you choose to eat, to the clothes you wear, to the products you use… It's a whole world out there, and this queen is learning more and more each day. I am getting better about practicing routines, habits, and ways of being that are ultimately healthier for me and healthier for this beautiful precious planet we call home.
LIVEKINDLY: What are some of the ways that you bring sustainability into plant care?
Griffin: I reuse planters instead of throwing them away and I compost non-infested house plant matter and soil. I also fertilize my house plants with eggshells, loose tea leaves, banana peels, and coffee grinds. And, I support local plant shops and avoid buying plants online to reduce packaging waste and cut carbon emissions.
LIVEKINDLY: What are some of the lessons you've learned from your plants?
Griffin: You know, the first thing I realized when I started is that this whole "green thumb" rhetoric, that you need some intrinsic skills in order to take care of plants, is completely false. It just provokes anxiety.
Another thing I've learned is patience. Growth can be slow. It takes time, energy, dedication, and resilience. So that's reminded me that I need to be patient with myself.
I also learned a lot while I was writing my book. I did a whole chapter on water—it's so interesting to me because it's this thing we're so used to having access to that we don't really think about it. So I looked into what tap water actually is. What's in it? How does it get to us? Writing my book made me more aware of my surroundings and how these essential, mundane things that we take for granted are really so intricate. The research I did gave me a moment to reflect on the things we take for granted, the resources we use without question, and how they eventually reach us. But the usage of various resources without understanding how they make their way into our homes is irresponsible, and so I have begun to be more mindful, and investigative what I have access to and the items I bring into my home.
Caring for plants has also taught me to be intentional with myself, and to listen to what my body is telling me. And one more thing about plants: when you pay attention to them, you notice that they each have their own personalities. The greenery that we bring into our homes is beautiful, but they're living, breathing things that have their own energy. And that's been something amazing to connect with.