The idyllic Greek island of Santorini is now home to its first-ever vegan boutique hotel.
Originally built in 1980, the hotel is still undergoing renovations. But with four new luxury suites, a vegan kitchen, and a rooftop ideal for yoga with a view, owners Christina Boutrou, a Greek Australian who moved to the island in 2019, and Anargyros Fousteris, a Santorinian, are ready to swing open the doors.
The couple founded MOD to share their love of Greek food and culture (trip packages include local wine tasting and visits to some of the island's traditional villages) but also their passion for plant-based living. Everything, from the sheets on the bed to the bathroom amenities to the food served, is 100 percent vegan.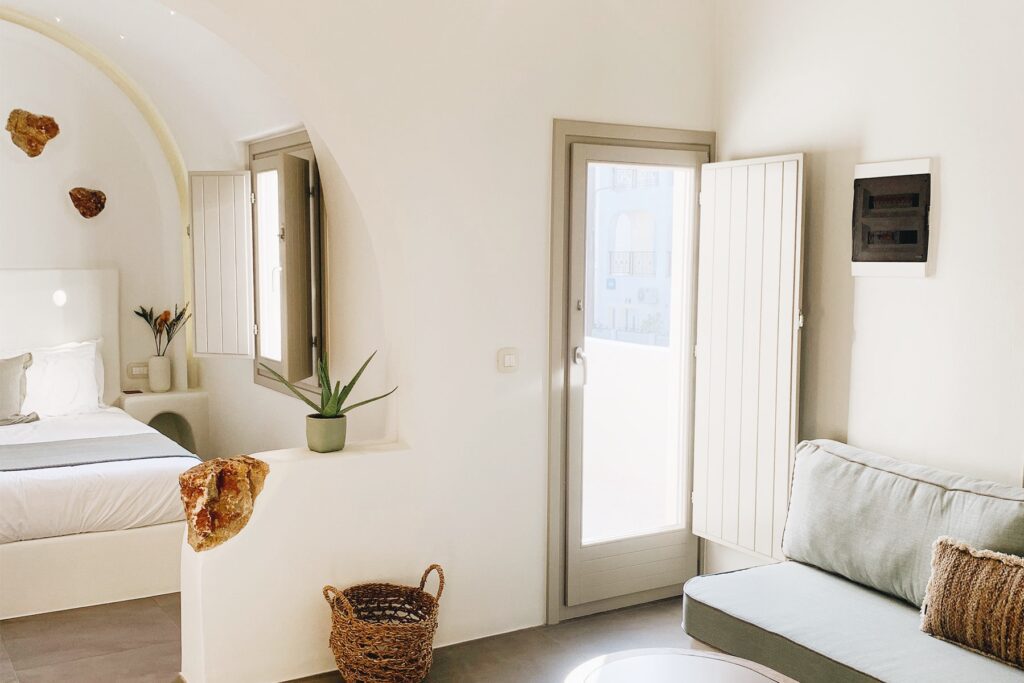 Greece, an easy place to eat vegan food
According to Boutrou, the hotel is a reflection of Greece's growing vegan scene. It's being driven predominantly by the country's younger generations, but plant-based living is becoming more popular with everyone. "Greece is a small country, a small community," says Boutrou. "People tend to do what others do."

It helps that an abundance of traditional Greek dishes are already totally free from animal products. Fasolada, for instance, is a white bean soup, and gemista consists of rice-stuffed tomatoes and peppers.

Plus, in the run up to Easter, meatless diets are common across Greece, Boutrou explains. The Greek Orthodox Church encourages its followers to fast for Lent and to consume predominantly plant-based meals during that time.
A low-waste, sustainable, vegan hotel
Boutrou and Fousteris follow a vegan lifestyle for their own personal health and wellness reasons, but they're also extremely conscious of their impact on the planet. This translates into their business: everything in the hotel was built with local materials, the water in the bathrooms is heated with solar, and plastic use is limited.
On top of this, MOD is as low waste as possible. Boutrou and Fousteris wanted to do something to mitigate the impact of the tourist industry, which produces around 35 million tonnes of solid waste per year.
"It is an emergency for the planet, businesses need to change," says Boutrou. "We have to do what we can to minimize our impact."
Find out more about how to stay at MOD Santorini here.