Seitan has been around for a long time, but it's still the ultimate plant-based meat replacement, loved by vegans and omnivores alike. But what is seitan? And where did it come from? And why is it still so popular today?
What Is Seitan?
Made from a mixture of water and vital wheat gluten, seitan has been used in Asian cuisine for centuries. The very first documented mention of wheat gluten is thought to be from 6th-century China.
While its origins are likely Chinese, the word "seitan" is Japanese. It came out of the Japanese macrobiotic food movement in the 1960s. The ingredient is still popular today for the very same reason it was back then: its texture is meaty and it absorbs flavor well.
Seitan can be used in a wide range of dishes in place of meat. Whether it's used in vegan fried chicken, hot dogs, or kebab meat, you'll barely be able to taste the difference.
Seitan Nutrition: Why Seitan Is a Good Source of Protein
A 100-gram serving of seitan contains approximately 75 grams of protein. That's more than steak, which contains around 25 grams of protein per 100 grams. Seitan is one of the best plant-based sources of protein you can find. It packs way more than tofu (8 grams per 100 grams) and lentils (9 grams per 100 grams). It also contains minerals, including iron (one serving contains around 8 percent of your RDI) and calcium (4 percent of your RDI).

Due to the fact it's made from wheat gluten, seitan is not suitable for coeliacs or people with wheat allergies.
How to Make Seitan: Top Tips From the Daughter of Seitan
The basics of making seitan are relatively simple. The key ingredients you'll need are wheat gluten and water. We spoke with Mimi Ace, the founder of vegan food blog Daughter of Seitan, to get her top tips for beginners on how to perfect seitan.
Follow the Recipe Exactly
"There are a couple of different ways to make seitan, and each recipe is designed to achieve a specific outcome. If a recipe tells you to steam the seitan, then don't try to bake it! Likewise, if a recipe lists a specific ingredient, don't omit it. Once you've made seitan a few times and start to understand how different cooking techniques and ingredients alter the seitan, then you can experiment on your own."
Pay Close Attention to the Cooking Technique
"The three different cooking techniques used to make seitan are simmering, steaming, and baking. Simmering the seitan allows it to absorb maximum flavor from the cooking liquid and keeps it juicy. Steaming also allows the seitan to retain some moisture as it cooks. However, baking will dry out the seitan in the oven. There is no best or worst cooking technique – it all depends on the type of seitan you want to make!"
Advanced Tips: Experiment with Adding Flavorful Ingredients
"To make seitan, all you really need is vital wheat gluten and water. But you'll see many other ingredients included in seitan recipes, such as different types of flours, beans, vegetables, tofu, etc. Seitan dough made with just vital wheat gluten and water can be quite tough and chewy (and bland!) on its own, so these extra ingredients are added to the seitan dough to achieve a softer texture and better flavor."
Try This 'Easy Seitan For Beginners' Recipe
"In my Easy Seitan for Beginners recipe, I use vital wheat gluten, chickpea flour, nutritional yeast, soy sauce, and vegetable broth. The chickpea flour and nutritional yeast are used to lighten the texture, while the soy sauce and vegetable broth add a bit of flavor. I recommend simmering this recipe for best results, but you can steam it as well!

This recipe was designed as simply as possible to remain versatile, but feel free to add additional spices if you desire. Many friends and family have had great results with this recipe as first time seitan makers. My favorite way to enjoy this basic seitan recipe is to cut it into strips and stir fry it with some rice, veggies, and a great sauce. I also love slicing it thin for sandwiches and chopping it into chunks for gravy."
Get the recipe here.
Why Seitan Should Be Your Go-To Meat Replacement
Seitan's main talent is its ability to mimic meat in taste, texture, and appearance. Once you have perfected your homemade seitan technique, you'll be ready to get creative with some delicious meaty recipes. To get you started, we spoke with some super skilled food bloggers to curate these meaty, tasty vegan recipes for you.
Pickled Plum's Seitan and Vegetable Stir Fry
"I've been experimenting with seitan for the past few years, after deciding to stop eating meat and chicken. I love the texture of seitan and how easy it is to incorporate into stir fries and other Asian dishes," Caroline Caron-Phelps of Pickled Plum tells LIVEKINDLY. "It imparts a smoky element to dishes with a texture more similar to meat than tofu. This simple seitan and vegetable stir fry is an easy Chinese recipe that's savory, nutty, and a little sour, and pairs beautifully with brown or white rice."
Get the recipe here.
Daughter of Seitan's Apple Sage Sausages
"These Apple Sage Seitan Sausages are a great Field Roast dupe," says Ace. "Each sausage has a whopping 28.9 grams of protein, which is more protein than beef or pork based sausages. This recipe yields a slightly softer seitan dough, using chickpea flour and blended apples + onions to lighten up the texture. It is also packed with spices for a smoky, subtly sweet flavor. This recipe is designed to be baked in the oven, which is very convenient."
Get the recipe here.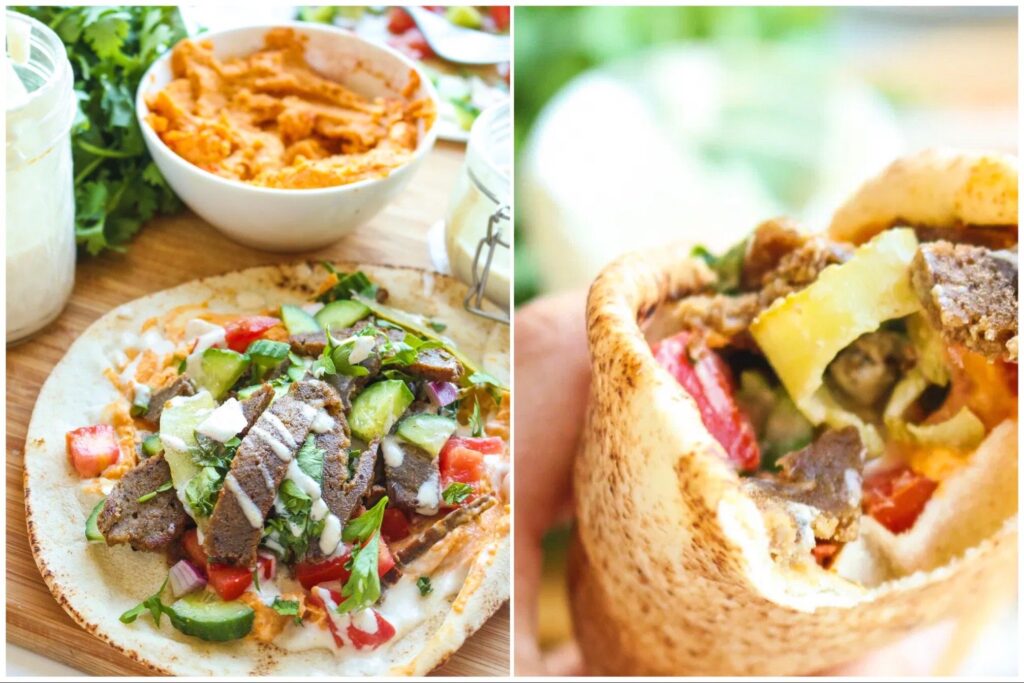 One Arab Vegan's Seitan Shawarma
"Shawarma is one of the quintessential "fast foods" of Middle Eastern cuisine that reminds me of my childhood growing up in Bahrain. Being able to recreate it using this Seitan recipe makes for the ultimate comfort meal," says Nada Elbarshoumi of One Arab Vegan. "Plant-based strips of "meat" slathered with tahini sauce, salad, pickles, and red onions all wrapped up in warm Arabic bread – what could be better!"
Get the recipe here.
The Stingy Vegan's Seitan Meatballs
"This recipe was born from a quest to make vegan meatballs that don't disintegrate in a sauce or soup," notes Melissa Copeland of The Stingy Vegan. "Vital wheat gluten is the binding agent that not only holds them together but also gives them their "meaty" texture. White beans and mashed potato are the secret ingredients to keep them soft on the inside."
Get the recipe here.
Sweet Simple Vegan's Kid-Friendly Nuggets
"These are the vegan chicken nuggets of your dreams," says Jasmine Briones of Sweet Simple Vegan. "They are perfectly crispy on the outside, moist on the inside, and taste just like the real thing. Seriously, these are too good to be true and transport me right back to my childhood!"
Get the recipe here.
Emilie Eats' Mango Stir Fry
Don't fancy making seitan from scratch? That's totally fine, because there are plenty of varieties out there you can buy. This stir fry uses Sweet Earth Foods' traditional seitan strips.

"It's coated in my tried-and-true homemade teriyaki sauce that gets deliciously gooey (thanks, tapioca starch!) and has the perfect amount of sweetness. Add vegetables and mango for a sweet, tangy twist," Emilie Herbert of Emilie Eats writes in her blog post. "We served this over jasmine rice, but feel free to use quinoa, brown rice, or any other whole grain."
Get the recipe here.
Not only is seitan protein-packed, but it's also versatile, and when you team it with the right spices and accompanying ingredients, it can be delicious too. So, what are you waiting for? Get out the wheat gluten!