We're all ready to get out and about for some summer fun — but whether you're on vacation, staycation, or are simply chilling in the garden or park, it's important to stay safe in hot weather. Overexposure to sun can bring on premature skin aging, and, much worse, melanoma. But this doesn't mean you have to sacrifice your healthy summer glow. You can still achieve that sunkissed look without excessive exposure (and please, step away from the tanning beds!) thanks to good old self-tanner. No longer packed with thick, gloppy lotions that smell like feet, this genre has come a long way. Not sure where to start? Here are our 7 sunless tanner top picks … some with built-in SPF, and all vegan and cruelty-free.
Isle of Paradise Dark Self-Tan Drops
Who is it for? People with darker skin tones or anyone looking for a deep tan. The brand also offers Light Self-Tan Drops and Medium Self-Tanning Drops.

Isle of Paradise uses color-correcting actives to help you get that "oh, I just came back from vacation" glow. The Dark Self-Tan Drops contain violet-colored actives, which help to neutralize any orange, yellow, and ash tones in your skin. (The Light drops contain peach actives and the Medium contains green!)

To use, add a few droplets (the amount depends on how dark you want your tan to go) to your regular moisturizer and mix together. (The drops can be applied to either just your face or your whole body, depending on your preference.) After that, your tan will begin to develop over four to six hours. Plus, your skin will benefit from the formula's hydrating blend of coconut, chia seed, and avocado oils.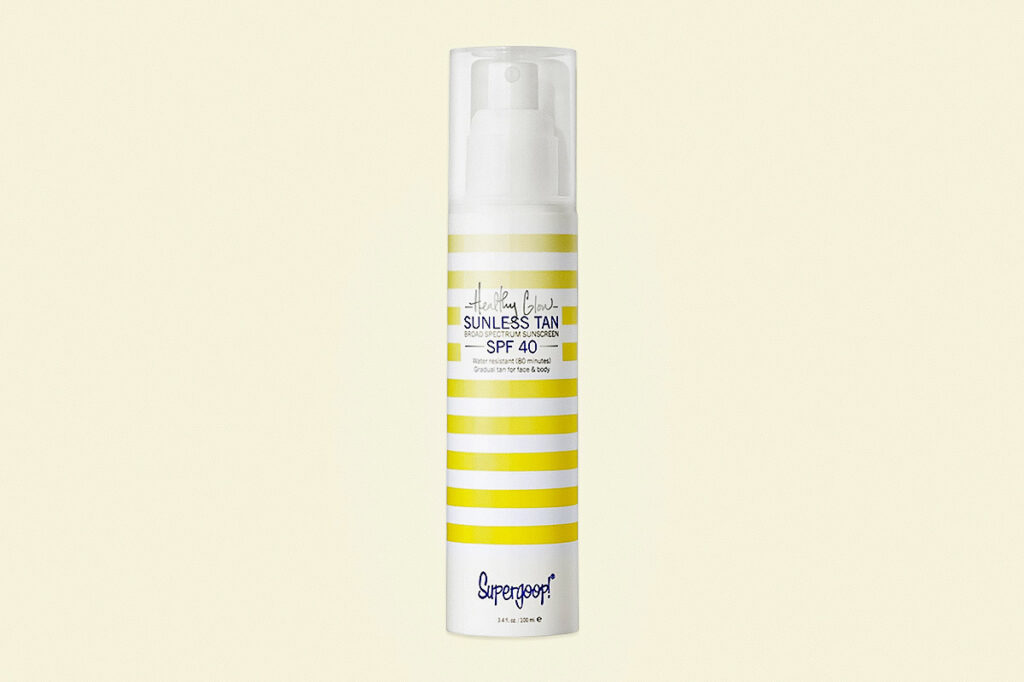 Supergoop! Healthy Glow Sunless Tan SPF 40
Who's it for? All skin types! And anyone who loves to swim, because it's water-resistant and reef-safe too.
Before you apply sunless tanner, start by cleansing and exfoliating your skin. This will help to ensure an even spread of the product you're applying, giving you a smooth tan without patchiness. This option by Supergoop! is really easy to use; for your body, just spray directly onto your skin and then massage with your hands. For your face, spray onto your hand first and then apply. The best thing about this product is its SPF 40 sun protection — you can maintain a great tan while shielding your skin from the sun's rays.
Tanologist Self Tan Water
Who's it for? Anyone looking for an easy, effortless, and mess-free way to glow up their complexion.
Seamlessly blend together your skincare regimen and your sunless tanning routine with this Self Tan Water. Available in three shades (Light Glow, Medium Tan, and Deep Bronze), you can use it as a body mist, a primer, or even a makeup setting spray. It'll leave your skin glowing, but also feeling amazing, thanks to a hydrating blend of pink grapefruit, goji berries, and juniper in the formula. Plus, because of its watery consistency, it won't stain your sheets like thicker self-tanning products.
Pacifica Mineral SPF 50 Body Butter
Who's it for? Those who want just a hint of bronzer in their SPF. No fuss.
If you're not interested in the time-consuming process of self-tanning and you just want to add a little glow to your skin while you're being sun-safe, Pacifica's SPF 50 creamy body butter could be right up your alley. You apply it just like a regular sunscreen (about 15 minutes or so before you go outside into the sun) and again once you've been in the water (but only if you've been in and out for around 80 minutes because the rest of the time it's resistant!). You'll be bronzed, protected, and thanks to the addition of shea butter, thoroughly moisturized too.
St. Tropez Purity Bronzing Water Face Mist
Who's it for? Those looking for a gentle, refreshing face mist that will also add just a hint of a sunkissed glow.
There's a reason St. Tropez is one of the biggest and most-trusted sunless tanning brands in the UK. Its high-quality products are easy to use, and when it comes to a realistic-looking tan, they get the job done. While the brand has a whole range of sunless tanners, varying in thickness and shade, this Bronzing Water Face Mist is for those looking for just a little hint of a deeper glow. Available in light and medium shades, the mist is also infused with hyaluronic acid for extra hydration and, for extra refreshment, it contains green mandarin water. Again, because this mist is so light, there's no risk of transferring the product to sheets or clothing.
Pai Skincare The Impossible Glow Bronzing Drops
Who's it for? All skin types and tones. Anyone who wants to protect and heal their skin, and achieve a dewy sunkissed look at the same time.
These bronzing drops are multitalented. Not only do they give you a glow, but they also contain ultra-hydrating and naturally cell-plumping hyaluronic acid, antioxidant-rich vitamin C, and light-scattering pigments (so that you don't just tan, you shimmer). It also contains sea kelp, which, thanks to its high iodine content, will help to soften, smooth, and moisturize your skin. Add a few drops to your daily face cream, or, if you want quicker results, add the drops directly to your face (dispense into your hand first, before lightly patting on with your fingers).
Coco & Eve Sunny Honey Bali Bronzing Foam
Who's it for? Anyone looking for a traditional, all-over, streak-free fake tan applied with a mitt. But without the biscuity smell.

This one is for those who want to look like they've just spent a fortnight lying on a sun lounger in Ibiza, without stepping on a plane. Made with a green-grey olive base, there are three different shades available: Medium, Dark, and Ultra Dark. Each is infused with a hydrating and skin-nourishing blend of natural fruit oils (including mandarin and banana), and it smells delicious, thanks to the addition of mango and guava. Apply with a tanning mitt (and a brush for your face) to ensure even coverage. Note: This one's thicker than some of our other picks on this list, so no brand-new white shirt or sheets right after use!
---
LIVEKINDLY is here to help you navigate the growing marketplace of sustainable products that promote a kinder planet. All of our selections are curated by the editorial team. If you buy something we link to on our site, LIVEKINDLY may earn a commission.