Updated June 22, 2021. If you type in Relentless.com into your search bar, it redirects to Amazon. (Go on, try it.) Why? Because, back in the nineties, it was one of the first names that founder Jeff Bezos suggested for the global e-commerce giant. And perhaps it would have been more fitting. Because if there's anything that sums up Amazon, it's relentless. Relentlessly efficient. Relentlessly innovative. We curse it for its environmental impact and condemn it for encouraging a consumer mindset of instant gratification. And yet, we can't stay away from it. Because to put it simply, it makes our lives easier. You know it, we know it, Bezos knows it. Amazon isn't going anywhere. So as the company's answer to Black Friday rolls around, we're asking: "Can you have a sustainable Amazon Prime Day?" 
We figure there is a way you can get the best deals without beating yourself up for neglecting the planet. Here's what Amazon is doing to minimize its environmental impact, what you can do to shop more sustainably, and some of our favorite product picks for Amazon Prime Day 2021.
Amazon's Environmental Efforts
Amazon delivers billions of parcels around the world every single year. (In 2019, in the U.S. alone it delivered an estimated 2.5 billion.) In an attempt to make its fleet more sustainable, the company has pledged to get 10,000 electric delivery vehicles on the roads by next year. By 2030, it says it can up that figure to 100,000. Its delivery partners UPS and FedEx have also pledged to use more electric vehicles, and the latter has stated it will invest $2 billion to convert its fleet to zero-emission vehicles.

But embracing electric-powered lorries is just one piece of the puzzle. When it comes to true sustainability, we need to consider multiple factors, like packaging, water use, and aviation fuel. The company says it is working to improve these and has even promised to reach net-zero by 2040. Bezos has also pledged $10 billion to fight the climate crisis.
Is It Possible to Have a Sustainable Amazon Prime Day?
Perhaps a sign of larger change in the e-commerce industry, Amazon has 75,000 products included in its Climate Pledge range, certified by organizations like Fairtrade International and circular economy nonprofit Cradle to Cradle. And while next-day delivery is a non-essential convenience for many, for those who live in remote areas, or who have mobility issues and can't just pop to a shop for essentials, Amazon's same and next-day delivery service is a lifeline. And this extended to many more people in the last year or so, as many sheltered in place due to the Covid-19 pandemic.

A good sustainable shopping habit to adopt, even during sales, is to slow down. Look at the materials the product is made from. Get to know the brand's environmental and social initiatives. Amazon is home to hundreds of thousands of small businesses, and many sell vegan, sustainably produced, cruelty-free, and/or zero-waste products. That's the sort of demand we want to show the world's biggest e-commerce retailer.
You can also look at where the brand is based (consider how far the product needs to travel to get to you). And if you're buying multiple items, consolidate shipments to cut the number of vehicles needed for delivery. And all shoppers can easily set up an AmazonSmile account, which earmarks donations to the charity of your choice with every purchase.
Amazon Prime Day 2021: Sustainable Product Picks
Here are our top sustainable product picks for Amazon Prime Day 2021, split into five categories: beauty, pet, fashion, kitchen, and gadget.
The Best Cruelty-Free Beauty & Sustainable Fashion
We Are Fluide Browzey Brow Gel
Cruelty-free brand We Are Fluide makes beauty products for all genders. This vegan, easy-to-use gel will help to tame your brows into shape, adding definition and dimension at the same time. Plus, it also conditions the hair, thanks to the additions of argan oil and aloe vera.

The brand is currently offering Amazon customers 20 percent off.
Thrive Natural Care Daily Defence Sunscreen Balm
This vegan, reef-safe, non-greasy SPF 30 balm glides on smoothly, protecting your skin from the sun, but also leaving it feeling hydrated and nourished at the same time. Thrive Natural Care cares deeply about the planet, and for that reason, it is pushing its business model beyond sustainability. Instead, it aims to build a regenerative supply chain that helps to restore the earth.

The brand is currently offering to save Amazon customers $4.99 on this product.
Vera Bradley Recycled Cotton Backpack
Made from super-soft recycled cotton, this Vera Bradley backpack is big enough to hold all of the essentials. Organization is the name of its game. The front zip compartment features four slip pockets, plus pen pockets, two side-zip pockets, and a hidden back zip pocket for all of your daily needs.
The brand is offering 44 percent off on this backpack for Prime Day.
Pet Treats to Spoil Your Fur Babies
Davie's Sweet Potato Dog Treats
Davie's Naturals produces environmentally friendly dog treats made with just one ingredient: sweet potato. The natural, locally sourced chews are the perfect vegan, sustainable alternative to rawhide and bone-based treats, which come with a risk of bacterial and chemical contamination, stomach irritation, and choking. Sweet potatoes are rich in vitamin A, vitamin C, iron, and B vitamins, and the naturally sweet root vegetables are popular with all kinds of dogs, regardless of diet.
The brand is currently offering Amazon customers 25 percent off.
At Ease Double Sided Pet Brush
At Ease has been creating eco-friendly home and pet products since 2019. The company's Double Sided Brush is ideal for both cats and dogs, whether they have long or short hair. The pin-and-bristles combination helps with efficient deshedding, and also stimulates blood flow and natural oils in your animal companion's coat. The modern design features At Ease Branding and is made from bamboo—one of the most popular sustainable materials in circulation today.
The brand is currently offering Amazon customers 20 percent off.
One Step Closer to a Zero-Waste Kitchen
Stasher Reusable Bags
This reusable alternative to single-use plastic storage bags are self-sealing to help keep food fresh. Made from food-grade silicone, they are BPA-free, PVC-free, and latex-free. On top of that, they are safe for use in the freezer, microwave, dishwasher, boiling water, and the oven up to 400 degrees Fahrenheit. Plus, in addition to using them to store fresh-cut veggies, snacks, and more, you can also use them to marinate your favorite plant-based protein. This set features four reusable bag sizes: half-gallon, sandwich, snack, and stand-up mid-sized.
The brand is offering 30 percent off for Prime Day.
Bayco 24-Piece Food Storage Container
This 24-piece glass food storage container set is a steal. Made from borosilicate glass, they're freezer-safe, oven-safe below 752 degrees Fahrenheit, microwave-safe, and dishwasher-safe. They're also leak-proof, which not only helps prevent mess, but it also helps prevent food from going to waste by keeping freshness locked in.
The brand is offering 42 percent off for Prime Day.
MMmat Silicone Baking Mats
Skip the parchment paper and tinfoil. These reusable silicone baking mats replace both. Made from a BPA-free, food-grade German silicone, this baking mat fits perfectly onto half-sheet size pans and is oven-safe for temperatures up to 500 degrees Fahrenheit. You don't even need to grease the pan to prevent sticking and clean-up is convenient: give it a good wash in the sink or just throw it in the dishwasher.
The brand is offering 20 percent off for Prime Day.
Gadgets & Gifts for Your Sustainable Home
VIVOSUN Indoor Herb Garden
This indoor herb garden is perfect for those looking to flex their green thumbs. It can grow plants in any environment because it is equipped with a timer connected to a system of LED lights so your plants can grow and flourish. You can even program the timer based on the type of plants you want to grow, and adjust the height of the lights so your plants absorb as many rays as possible. This herb garden also comes with four removable water tanks, so your plants stay hydrated and healthy. Each tank has five planting holes and a window so you can see when it's time to give your plants another drink.
This indoor garden is 20 percent off for Prime Day.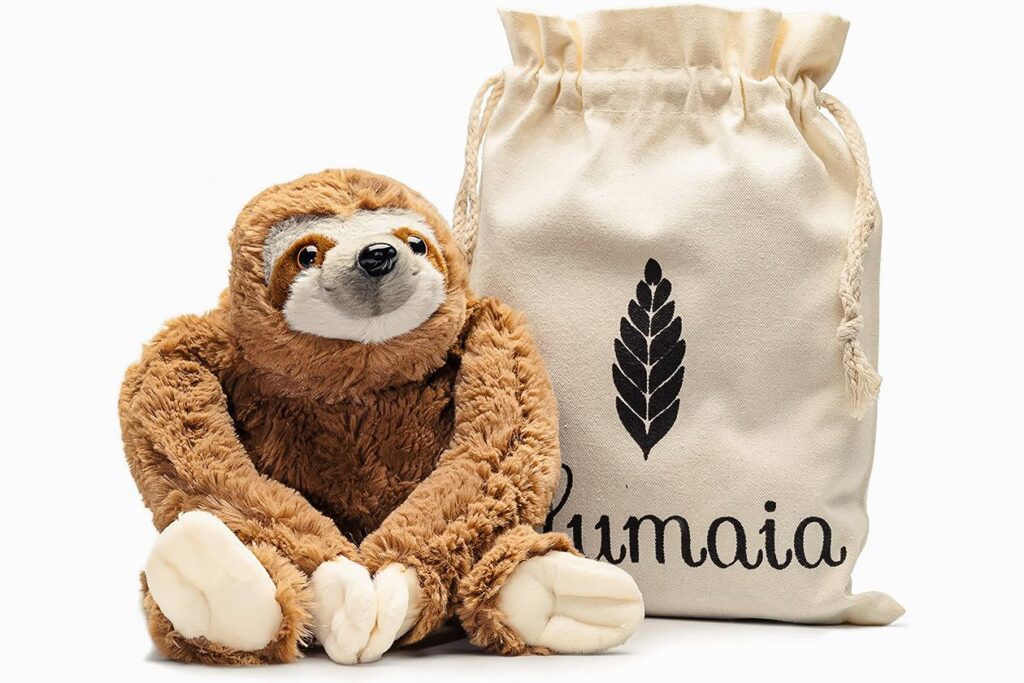 Lulumaia Sloth Heating Pad
No one likes cramps or sore muscles, but they're slightly more bearable if you've got a plush sloth to help ease the pain. This fuzzy fella actually doubles as a heating pad and can soothe an earache for your little one, menstrual cramps and more. The sloth comes with a microwavable heating pad insert that is filled with organic proso millet, which won't get greasy or attract bugs or mildew. The sloth also comes inside a reusable canvas bag. Not a sloth fan? There's an equally adorable llama version available too.
This sloth heating pad is 20 percent off for Prime Day.
SomerSide Sustainable Beach Towel
Summer is here, which means you likely have a few trips to the beach or park in your future. This sustainable towel from SomerSide is made from 85 percent recycled plastic bottles, which means each towel saves 8-14 plastic bottles from ending up in a landfill or in the ocean. It's also absorbent, dries quickly, and you have many bold patterns to choose from. What's more? Each super soft towel features a hidden zip pocket so you can store valuables, snacks and beach essentials without worrying.
This sustainable beach towel is 35 percent off for Prime Day.
LIVEKINDLY is here to help you navigate the growing marketplace of sustainable products that promote a kinder planet. All of our selections are curated by the editorial team. If you buy something we link to on our site, LIVEKINDLY may earn a commission.