Whether you opt for a minimalist ankle-strap or square-toed mules, put your best—and most stylish—foot forward this summer. We've got the best vegan, sustainable sandals for any occasion.
What Makes a Sustainable Sandal?
Leather is outdated. There is now an increased awareness about the leather industry's impact on animals and the environment. The process of turning cow skin into leather consumes resources and produces pollutants, which are often toxic. So, many brands are embracing sustainable plant-based materials that are kinder to the planet instead.
Vegan leather can be made from just about anything. Polyurethane, or PU, is one of the most widely used materials for animal-free leather. Although it is a plastic polymer, it's a greener alternative to PVC because it is more degradable and doesn't contain highly toxic chemicals. (PVC, on the other hand, can take up to just under 100 years to break down.)
But designers have also started using more innovative materials. They're creating vegan leather from just about anything: fruit, corn, mushrooms, reclaimed wood, coffee—you name it. These are a more sustainable leather alternative because they don't contain petroleum-based plastic like PVC.
10 Best Sustainable Sandals for Summer
So, what are the best vegan leather sandals to wear this summer? These are the most stylish options you never knew you needed. Until now. (Your feet can thank us later…)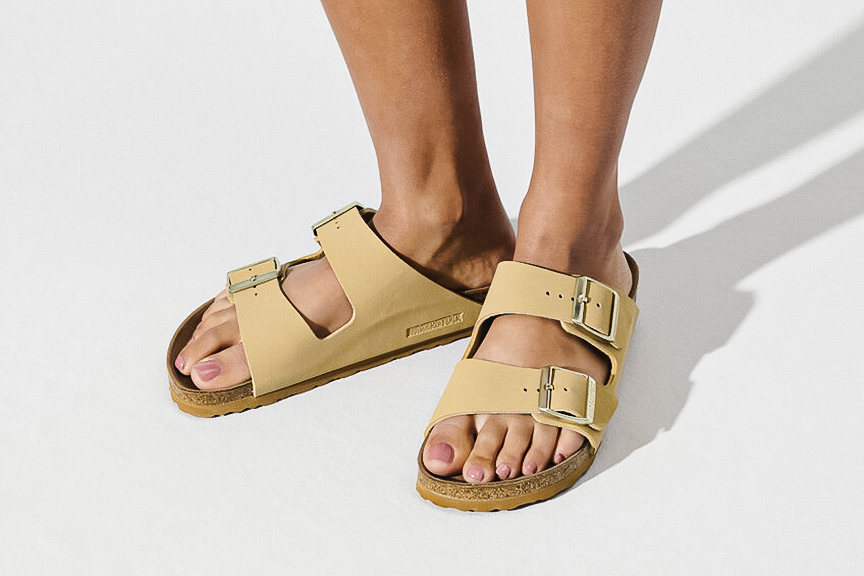 Birkenstock Arizona Vegan
You can't go wrong with a classic Birkenstock. And, thankfully, the German footwear brand does offer a wide selection of vegan sandals. In lieu of leather, the company uses non-animal materials to craft its vegan sandals, including cork, jute, and microfiber. Available in two colors—latte cream and black—the sandals feature an anatomically shaped cork-latex footbed for optimal comfort no matter where you're walking.
Matt & Nat Tilie Sandal
Available in black and maple, these simple flat sandals are anything but ordinary. Made with a biodegradable faux suede material, these slip-on sandals go with just about anything.
Indosole Flip Flops
Your pool outfit never looked better than with these waterproof flip flops at your feet. Available in a variety of colors reminiscent of the ocean, the sustainable sandals feature natural rubber and vegan uppers.
With 1.5 billion tires going to landfills each year, taking thousands of years to decompose, the company is on a mission to reduce tire waste. In lieu of using animal leather or plastic, It makes its soles from recycled tires. Pair these earth-friendly sandals with your favorite bikini or with a flowy dress.
Good Guys Don't Wear Leather Jenny Vegan Slide-On
This one strap, slide-on sandal is perfect for wearing poolside. Featuring a comfortable contoured footbed, these summer-approved sandals feature the award-winning material Appleskin. The eco-friendly vegan leather is made with 40 percent apple waste. The unisex slides have a mid-sole made of cork, which adjust to your feet. Just slide them on and get going.
Vivaia Jade Sandal
Dress up your favorite evening dress or keep it casual with these square-toed mules, available in cream ivory, deep ebony, denim blue, and pale turquoise. Feature a yarn upper and an ultra-soft microfiber sole, the sandals pair perfectly with a dress or jeans. In addition to being made with recycled materials, the sandals are packaged in 100 percent recycled cardboard.
NAE Vegan Shoes Kajam Bali
NAE Vegan Shoes has it all: boots, sneakers, heels, and the quintessential summer sandal. Perfect for kicking back or jetting around town, the company's unisex Kajam Bali slip-on sandals aren't just good for your feet, they're good for the planet. The eco-friendly sandals feature an upper made with 100 percent post-consumer plastic and recycled plastic, collected from the ocean in collaboration with the SEAQUAL initiative.The collaborative community works to fight ocean plastic pollution.
Handmade in Portugal, the chic sandals feature fiery red straps, as well as a footbed made of cork and natural rubber for optimal support. The soles are also made from recycled car tires.
Teva Flatform Universal
These platform sandals are equal parts stylish and sustainable. They feature recycled polyester and the quick-drying straps are made with 100 percent recycled plastic. Each pair of sandals helps keep four plastic bottles from winding up in landfills. (Since converting all of its straps to recycled plastic in 2020, the company has kept more than 40 million plastic bottles out of landfills.)
Even better, the company has its own sandal recycling program called TevaForever. Once your sandals become too worn to wear, simply send them back to the company to be turned into materials for race tracks, playgrounds, and more. The company also works to reduce its water usage and waste by promoting water conservation efforts and using less packaging, respectively.
Reef Cushion Vista
In 1984, two brothers—Fernando and Santiago—founded Reef out of their mutual love for the beach and surfing. The company creates a wide range of sandals and shoes—many of which are vegan. In order to help fight plastic pollution, the brothers launched the Reef x Surfrider Better Beach Alliance. The initiative organizes beach clean-ups and advocates for environmentally-friendly legislation. To date, the organization has led 2,000 beach clean-ups, removing 850,000 pounds of trash from beaches.
Sport the versatile Cushion Vista sandal—made with PVC-free vegan leather—with just about any look. With enhanced arch support, you'll never want to take these sandals off.
Carmona Collection Karla Desserto Cactus Vegan Leather Sandal
These platform sandals are giving off serious desert vibes. They are made with cactus leather, an OEKO-TEX certified organic vegan leather. The eco-friendly material is produced on sustainable farms in Mexico from the native nopal cactus.
In addition to being durable and breathable, producing the plant-based cactus material requires low energy and water usage and emits less carbon dioxide. Do these sandals prickle your fancy yet?
Stella McCartney Gaia Platform Espadrilles
Stella's done it again. While these canvas platform espadrilles carry a *very* hefty price tag, it's hard to deny they look darn good. The sandals feature multi-lace ties featuring a Stella McCartney logo ribbon, which criss-cross over the foot to tie at the ankle.
Made in Spain, the espadrilles feature an upper made with 100 percent organic cotton. The outsole is made from a combination of eva and jute, a vegetable fiber, as well as a lining made with polyurethane and viscose.
---
LIVEKINDLY is here to help you navigate the growing marketplace of sustainable products that promote a kinder planet. All of our selections are curated by the editorial team. If you buy something we link to on our site, LIVEKINDLY may earn a commission.